13 Sep, 2017
SANTA ANA, Calif.–(BUSINESS WIRE)–— Amazon is America's most trustworthy brand following by Marriott, Microsoft, Hilton and Southwest Airlines. Hotels and electronics are the country's most trusted brand categories while auto insurers and mobile communications rank lowest on the public trust spectrum.
Those are the findings of a first-ever national survey and peer review effort measuring the trustworthiness of the nation's largest brands in the fast food, airline, mobile services, auto insurance, retail, hotels and electronics.
The Values Institute (TVI), a leading social science research entity based in Santa Ana, Calif., calculated trust by looking at 25 trust dimensions in the five "macro" categories of Competence, Consistency, Connection, Candor and Concern. The national diagnostic survey measured brand strengths and weaknesses in each category, plus the trust outcomes of Loyalty, Advocacy and Satisfaction. The effort follows years of regional trustworthiness surveys and Trust Summit events designed to explore the levels of, and reasons behind, public trust in certain brands over others.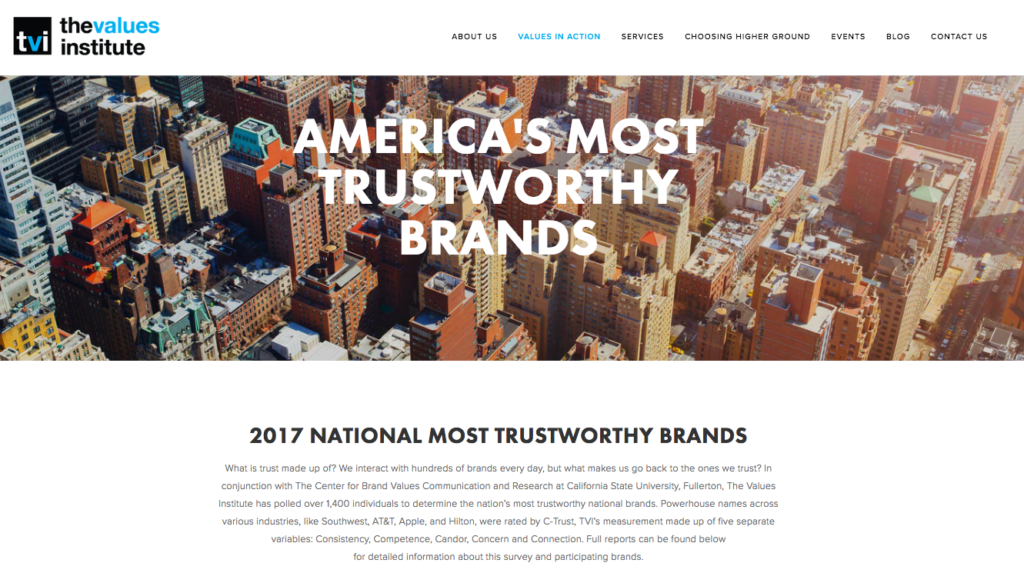 As a highlight of the findings released today for the first time, the most trustworthy brands in the seven measured categories were Amazon (retail), Marriott (hotels), Microsoft (electronics), Southwest (airlines), Subway (QSR), AT&T (mobile services) and Geico (auto insurance).
Building on TVI's five previous regional surveys, the 2017 National Most Trustworthy Brands Survey used a proprietary online survey developed by The Values Institute and Brand Values Research Center at California State University, Fullerton (BVRC) to rank the six largest national brands in seven key categories.
"Amazon is somewhat of a surprise to top the list because the brand actual lacks face-to-face human contact," said Mark Weinfeld, TVI's director of strategic planning who administered the survey. "In the past, we have seen the strongest Concern and Connection scores come from brands where there is a personal interaction with the customer. Amazon has done an amazing job of creating that personal touch that may even exceed what you get at a brick and mortar location."
According to Jason Teven, Ed.D., professor of human communication studies at California State University, Fullerton, and BVRC director, Amazon received the highest scores in the "Joy" outcome categories – loyalty, satisfaction and trust – of any brand in any category. "Amazon's success in the joy categories is effectively the holy grail of brand ambassadorship. That's because satisfied customers are much more likely to advocate for the brand they love, their products, services and website."
For a list of the 40 most trustworthy brands, an interpretation of other 2017 National Most Trustworthy Brands Survey results, and specific survey information, go to http://www.thevaluesinstitute.org/americas-mtb/.