7 Aug, 2023
Bangkok — Thousands of people hit the 41st Thailand Tourism Festival between August 2-6 to enjoy the best of the kingdom's creativity, culture, cuisine, community products, colour and crafts.
On the surface, it was just the usual holiday show, for visitors to eat, drink, get a massage, enjoy FREE music and dance performances, hear FREE talks and lectures, try pottery-making, painting and even wall-climbing. Tourism industry leaders gave rousing speeches hailing its role in promoting travel, distributing income and creating jobs nationwide.
But a closer look mirrored its real value: As a Confluence of Civilisations and unifying force for Peace, Friendship and Happiness which brings out the best in people and enriches their culture and heritage. That true purpose and value of tourism prevailed in exuberant abundance at all the stalls, booths and walkways.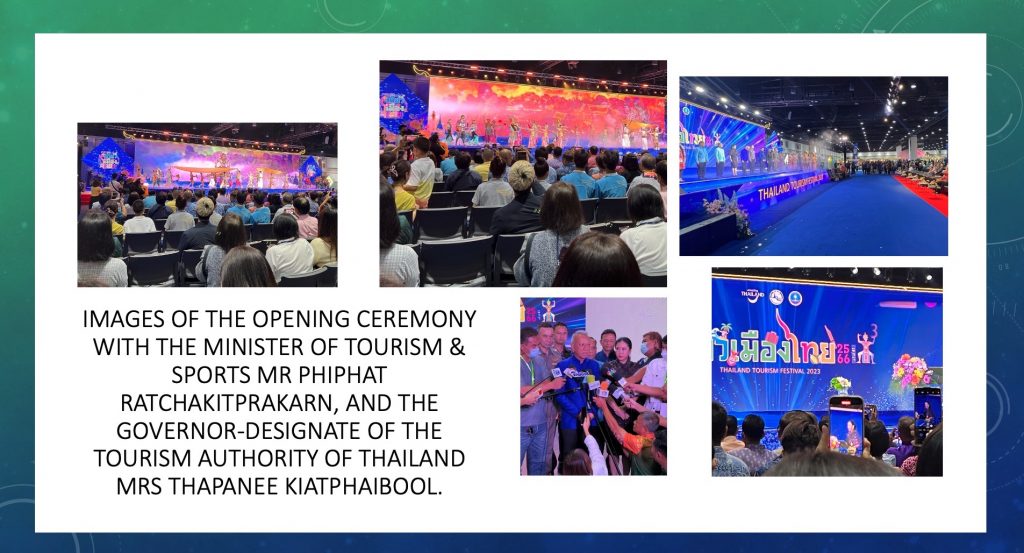 At the political level, Thailand and many other countries in ASEAN, Asia and the world are heading in the exactly opposite direction, wracked by polarisation and divisiveness. Not at a Tourism Festival where the feel-good mood proved to be a mental oasis and welcome relief from the cantakerous cacophony dominating the social media.
Small- and medium-sized entrepreneurs from all over the country showcased their wares, products and services. There was no sign of any Accors, Marriotts, Hiltons or Sheratons. No Visa nor American Express. Even the local Thai brand-name mega-corporations were conspicuously absent.
It was a true celebration of indigenous creativity, culture, cuisine, community products, colour and crafts.
A major blessing this year was moving the TTF out of the outdoor Lumpini Park and to the far more comfortable and accessible Queen Sirikit National Convention Centre. That made it far more convenient for senior citizens, people with disabilities, families with children in strollers. Toilets were readily available. It could be reached by MRT, parking was no hassle and weather vagaries posed no threat.
As a purely consumer show, with no travel trade booths, it did not compete with any of the other private-sector organised commercial shows. In fact, it complemented them.
A fitting farewell event for outgoing Tourism Authority of Thailand Governor Yuthasak Supasorn and outgoing Minister of Tourism & Sports Phiphat Ratchakitprakarn.