28 Jul, 2023
Bangkok – Relations between Thailand and Saudi Arabia took another positive step forward with the signing of a Memorandum of Understanding to promote collaboration between two leading rural/ecotourism associations in both kingdoms. Signed on 14 July in Bangkok, the MoU is one amongst a broad range of activities and projects being initiated across multiple sectors since the diplomatic detente between the two kingdoms last January 2022.
The MoU was signed between the Thai Ecotourism and Adventure Travel Association (TEATA), represented by its President Mrs Vasumon Netkijcharoen, and the Cooperative Agri-Rural Tourism Association of Saudi Arabia (REFANA), represented by Mr.Radhi Alforaidi, Chairman of its Board of Directors.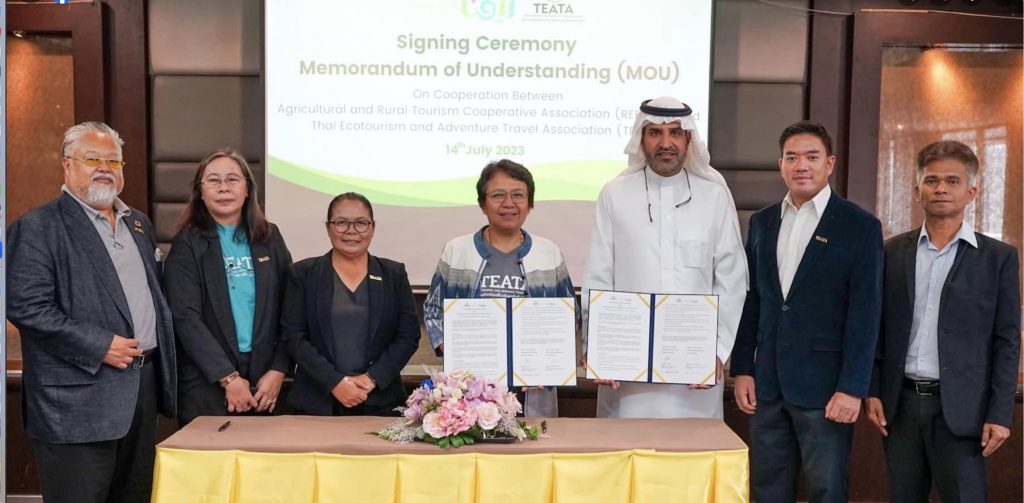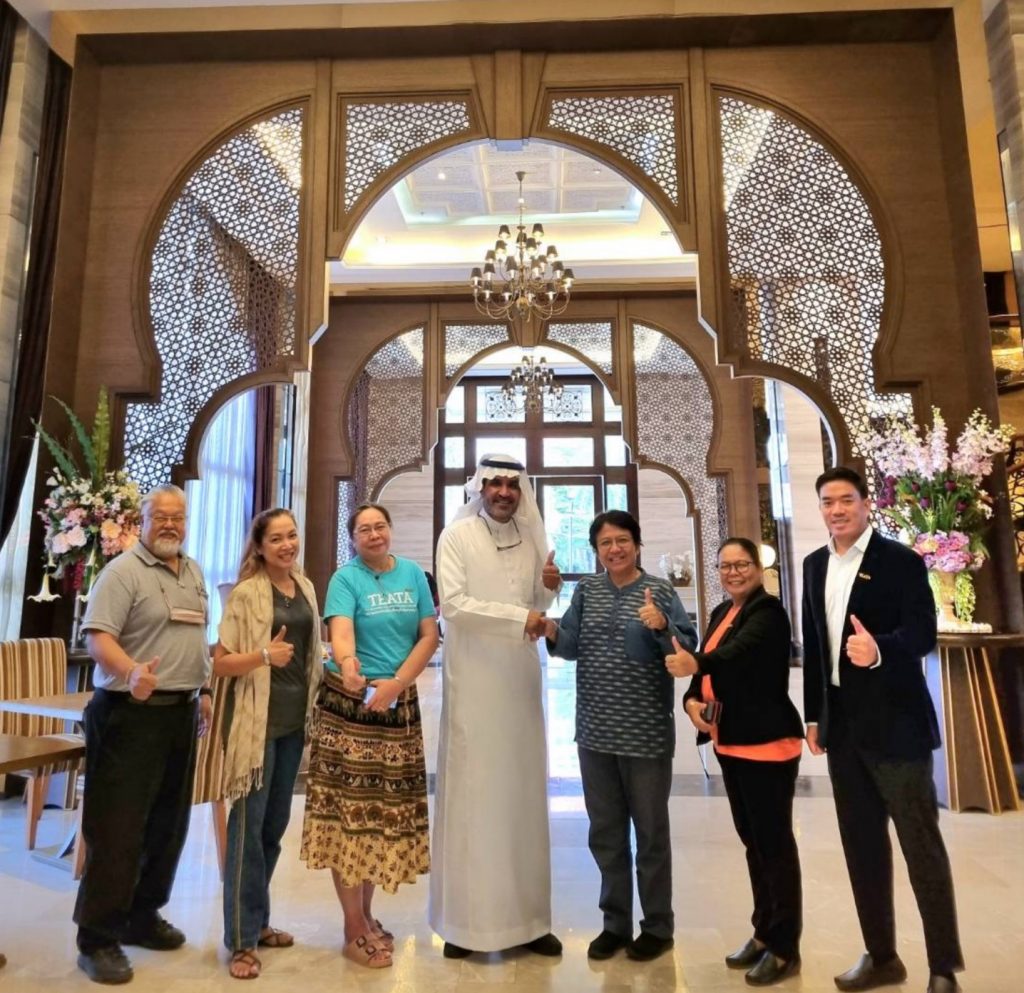 The MoU will present a boundless opportunity for environmentalists and ecotourism specialists from both sides to explore the socio-cultural-economic dynamics of two diametrically opposite ecosystems — Thailand with its lush monsoons, resplendent rivers and heavily-forested national parks on the one hand and Saudi Arabia with its parched deserts, low rainfall and extreme weather conditions on the other.
Both kingdoms abound with stories and experiences of human survival and the relationship between proper management of ecological, cultural and natural resources and their respective national economies. The knowledge exchange should contribute significantly towards achieving one of the most important goals of the Thai-Saudi joint communique issued on 29 January 2022, viz., to foster people-to-people relations as a "cornerstone of the two Kingdoms' growing relations."
TEATA posted the following announcement on its Facebook page.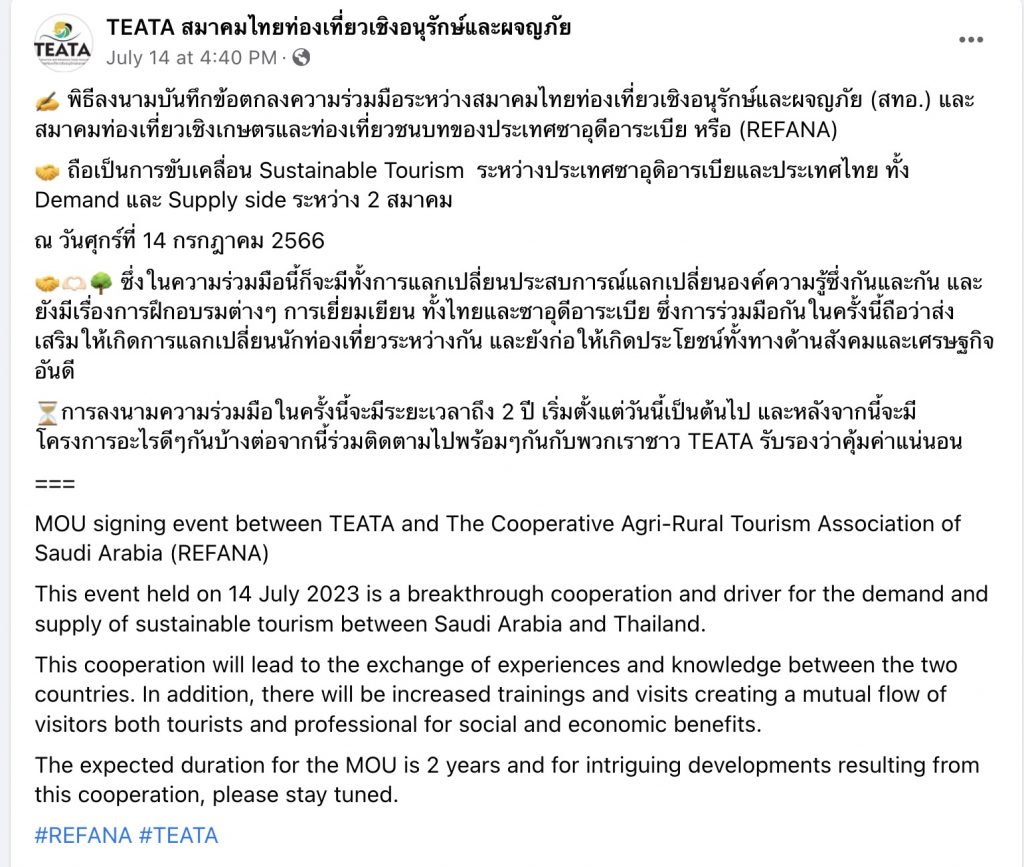 On July 15, (pix below) Mr Alforaidi and members of the TEATA board called on Mr Sripakorn Chaewsamoot, Deputy Governor for International Marketing – Europe Africa Middle East and Americas, Tourism Authority of Thailand, who oversees the Saudi market.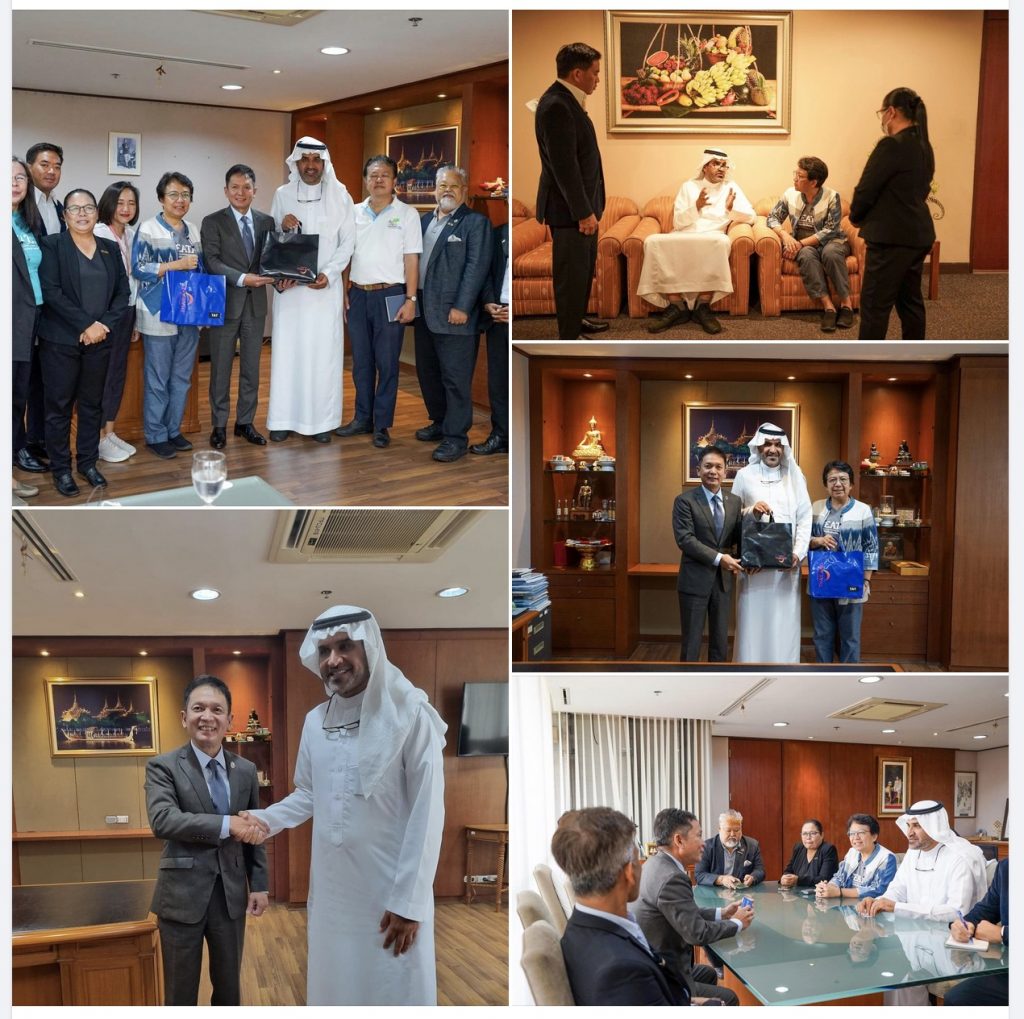 I was unable to meet Mr Alforaidi during his visit, but emailed him a list of questions, to which he responded thus:
Q. Is this the first MoU between Refana and a counterpart organisation outside Saudi Arabia?
A. Yes, this is our first memorandum of understanding in the Kingdom of Thailand, and we have partnerships and collaborations with other regional and international entities for sustainable environmental and tourism development in our rural areas.
Q. If so, what are some of the main reasons for this agreement with Thailand?
A. There are many reasons, but perhaps the most important are the good reputation and advancement in many programs and services that the Kingdom of Thailand enjoys in the field of tourism in general, and sustainable environmental agriculture and rural tourism. The Thai people's kindness and bright-faced gesture are also significant factors, as well as the presence of an active and supportive embassy and ambassador of Thailand in Saudi Arabia who has provided us with many services in his efforts to promote business visits and cooperation between Saudi Arabia and Thailand. In addition, the trips organized and executed by our association, Refena, to Thailand during the past period have significantly broadened our knowledge of the excellent and diverse potential that the Kingdom has in the field of sustainable tourism.
Q. What are some of the specific projects and activities you hope to organize?
A. Refana Association seeks to collaborate in all areas of sustainable agricultural, rural, environmental, cultural, social, and therapeutic tourism, in which the Kingdom of Thailand excels, in addition to adventure tourism. Furthermore, we seek to organize visits to Thailand, implement joint projects in Saudi Arabia, and participate in programs, workshops, and consultations that further develop sustainable tourism in Saudi Arabia.
Q. Do you think the Thai ecotourism operators can also benefit from a better understanding of the dynamics of life in the desert?
A. Saudi Arabia boasts a vast area that allows for unique geographic and climatic diversity. It is blessed with numerous beaches along the Red Sea and Arabian Gulf, mountainous areas with cold weather and stunning scenery, as well as plains, deserts, forests, and oases.
Saudi Arabia has dozens of tourist destinations that attract visitors from inside and outside the country. These destinations offer pristine nature and breathtaking landscapes, as well as various tourist facilities, amenities, and services. Additionally, the country has a massive road network and various means of transportation.
Due to its vast area of over two million square kilometers, Saudi Arabia enjoys great geographic, environmental, and climatic diversity. This has contributed to summer, winter, and moderate destinations throughout the year. Tourists can choose from a wide range of tourist and climatic diversity throughout the year in its various regions, from mild weather to cold weather that can reach zero degrees Celsius in some cities and regions during winter, to 26 degrees Celsius in summer. This diversity offers tourists and visitors a fantastic experience and opening-up options for different regions and climates throughout the year.
In our partnership with the Kingdom of Thailand, we will strive to achieve the goals of "Saudi Vision 2030" in the tourism sector. This includes increasing its contribution to the Kingdom's GDP to over 10% by 2030, creating one million job opportunities, and attracting more than 100 million annual visitors.
Q. Can you tell me a little about yourself please — your profession, education, place of work, etc…?
A. Sure. My name is Radhi Al-Foraidi. I am a nature lover and a supporter of rural life and environmental conservation. I hold a bachelor's degree in financial accounting, and I carry a working experience of more than 25 years with SABIC. Throughout my years of service, I followed my passion for nature by visiting more than 800 rural and environmental tourist farms in 40 countries. Today more than ever, I can say that I am an advocate for returning to nature and rural areas and am an active member in the field of environmental development.
Q Can you tell me a little about the history of Refana?
A. The Agricultural and Rural Tourism Association (Refena) is the successful outcome of a rural movement that has been ongoing for over 15 years. However, it has two years as an established and licensed organization in Saudi Arabia. We believe in the significant potential of tourism in Saudi Arabia; therefore, we have taken it upon ourselves to largely promote the importance of rural farm culture, rural tourism, and returning to nature. Also, and more importantly to create the concept of agricultural, rural, and environmental tourism, especially to achieve sustainable agricultural, environmental, and tourist development in our rural areas.
More about Refana can be found here: https://refana.sa/en/Home.html. The website appears to be still under construction, but include considerable background.