28 Aug, 2023
Bangkok – September 2023 will be an important month in the history of Thailand.
Within Thailand, a new Minister of Tourism will take charge in the Cabinet which has just been cobbled together after the contentious May 2023 elections. The Tourism Authority of Thailand will get a new Governor, Mrs Thapanee Kiatphaibool, the TAT's 11th CEO, its youngest and the third female.
Globally, September will see the commemoration of the International Day of Peace (21 Sept) and World Tourism Day (27 Sept). Also in the second half of September, world leaders will gather at the UN for the annual General Assembly session which is expected to be dominated by discussions of a Changing World Order, especially the growing clout of the BRICS caucus.
According to Mr. Suriya Chindawongse, Ambassador and Thailand's Permanent Representative to the UN, the three key challenges facing Thailand and all countries worldwide are: 1) The system reset of the post-Covid era; 2) Climate Change; and 3) Geopolitical Conflict.
These are the stormy seas through which Thai tourism, a proven economic lifesaver, now has to navigate.
A new era of this magnitude requires a new navigation path, a new agenda, new goals, new mindset, new structures.
A complete and total break from the past.
The currently fashionable Thai sustainable development models i.e. the Sufficiency Economy Philosophy (SEP) for Sustainable Development Goals (SDGs) and the Bio-Circular-Green (BCG) Economy Model, will simply not cut it. Neither will technological fixes such as AI, robotics, chatbots, smart cities, etc.
The new agenda has to go deeper, much deeper.
On 26 September, in my capacity as the Asia Pacific region's leading travel trade journalist and historian, I will officially present a new tourism branding for Thailand as the World's First "Alliance of Civilisations" Destination. I will also unveil my specially curated spots for Thailand's first "Peace Tours" itinerary.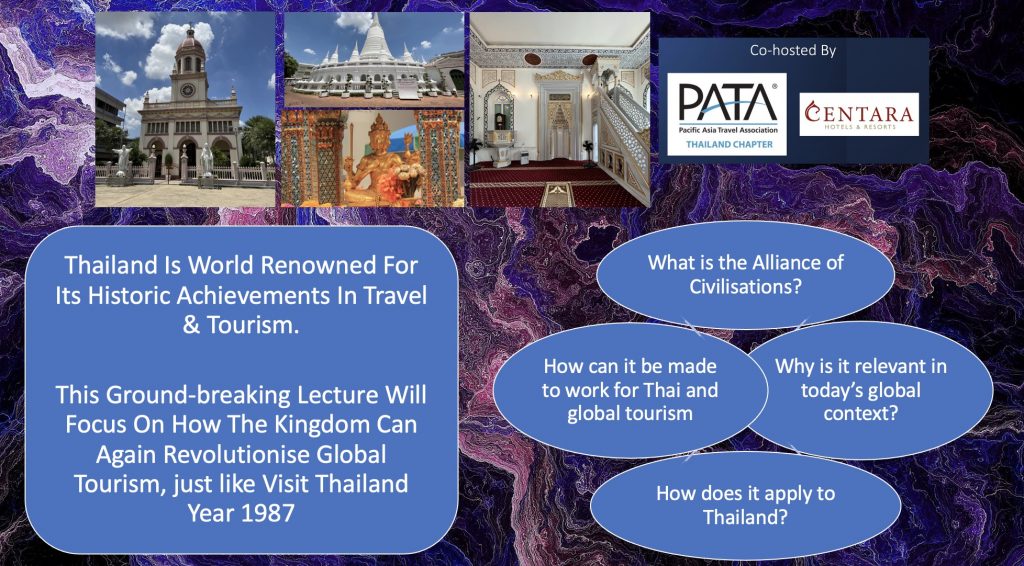 Having covered Thai tourism since 1981 with arguably far greater depth and context than any other journalist, I am proud to have labelled Thailand "The Greatest Story in Global Tourism HiSTORY."
In 1987, I wrote the first books on Visit Thailand Year, a marketing extravaganza that revolutionised Thai, ASEAN, Asia-Pacific and global tourism.
Today, Thailand is ready to take its next leap of faith, with Travel & Tourism again taking the lead.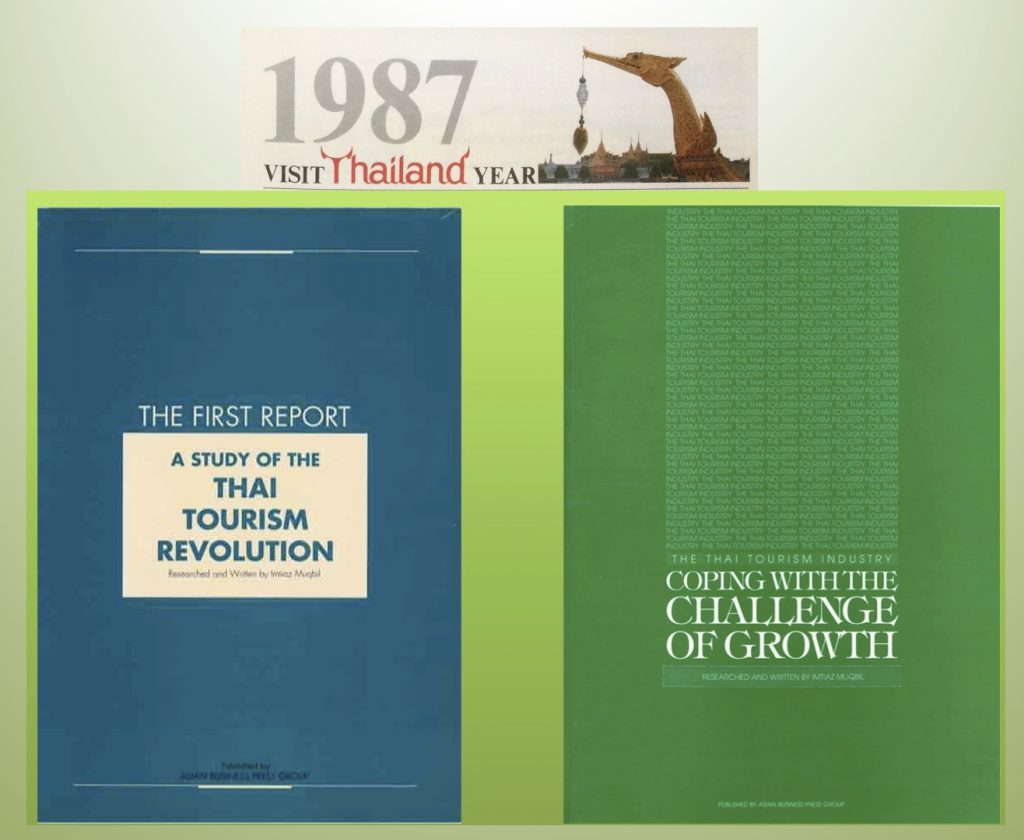 Thanks to the co-hosting support of the PATA Thailand Chapter under the leadership of Mrs Ben Montgomery, and Centara Hotels & Resorts, this lecture will be given FREE.
Attendance is restricted to 12 per session. To ensure a quality turnout and interpersonal discussion, it will be IN-PERSON only. No recordings will be made available.
Register now for what promises to be a historic, game-changing lecture in the annals of Thai tourism.