28 Nov, 2014
United Nations Asia-Pacific HQ, Bangkok – Thailand is proud to have recognised the state of Palestine, and "does not wish to see a colonial-like situation happening to fellow human beings such as the Palestinians in this 21st century," former Thai Foreign Minister Kasit Piromya told a high-level turnout here on Nov 25.
In a keynote speech at the annual Commemoration of the UN International Day of Solidarity with the Palestinian People, the man who spearheaded Thailand's 2012 recognition of Palestinian statehood under the Abhisit Vejjajiva government said the "camp-like and cage-like existence of the Palestinians is an affront to our humanity and dignity." As a member of the United Nations and a party to the UN Charter and a country which has experienced its share of colonial challenges and ideological conflicts, "there is no doubt in the Thai minds about the Palestinians having the right to self-determination and independence in their State of Palestine."
Declared Mr. Kasit, "The cherish and desire for freedom is ingrained in the Thai blood. The feeling of affinity to the Palestinians for their aspiration, determination and their rights is all there. For centuries and especially during the last century, Thailand has been the country of refuge for those fleeing from oppression and hardships while most of the time Thailand was itself struggling against authoritarian and arbitrary rules. Thailand does not wish to see a colonial like situation happening to fellow human beings such as the Palestinians in this 21st century. The international community through the United Nations has agreed and decided on the two-state solution for the Palestine – Israeli conflict. There is already a State of Israel with full statehood and all attributes of a Nation-State. When it comes to the Palestine its statehood is still partial and controversial. But they have the right to statehood. It is fair and it is just and justified."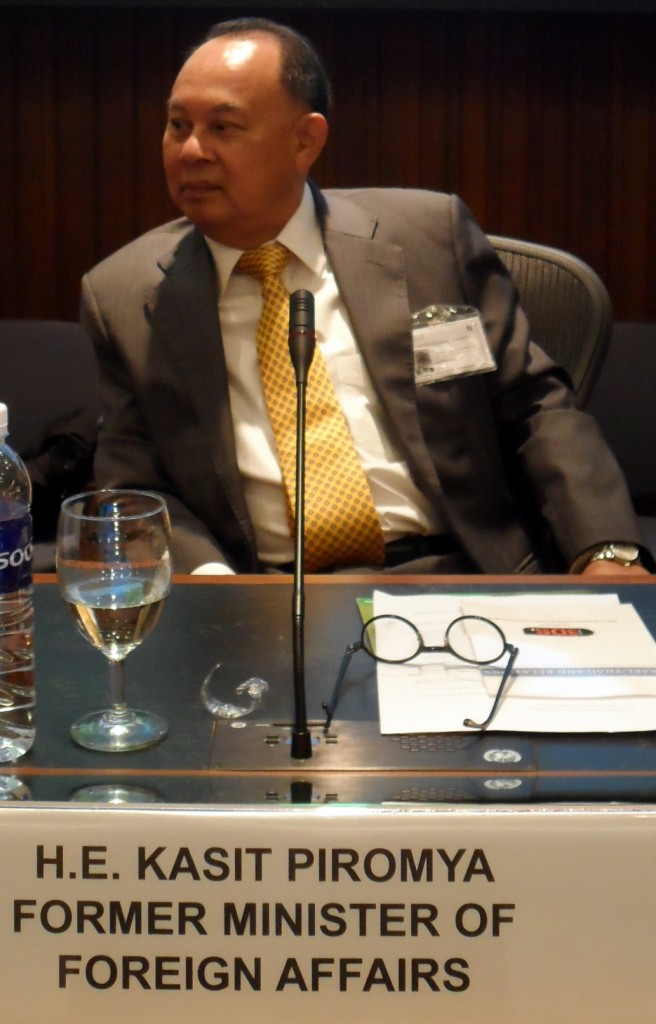 Mr. Kasit's speech was the highlight of the four-hour event which attracted senior diplomats from South Africa, Chile, Malaysia, Indonesia and Iran, former military personnel, activists, businessmen and journalists. The event was co-sponsored by the Palestine Solidarity Campaign Thailand (PSC Thailand) and the Council of Muslim Organizations in Thailand (CMOT). It has gained new momentum since Thailand's recognition of Palestinian statehood.
Former Thailand senator and noted Human Rights advocate Mr. Kraisak Choonhavan, who is also the honorary chairman of PSC Thailand, opened the meeting by introducing the dignitaries and then set the tone by noting, "The end of the year should be a time of happiness for us and our families – but not for the Palestinian people". A statement from U.N. Secretary-General Ban Ki-moon was read in which he declared, "…the mindless cycle of destruction must end…".
Thai Prime Minister Gen Prayut Chan-ocha sent a message of support, saying, "On the occasion of the International Day of Solidarity with the Palestinian People, the Royal Thai Government joins the international community in reaffirming support for the Palestinian people in their quest for freedom and basic rights, particularly the inalienable right to self-determination. Since the establishment of diplomatic relations in 2012, Thailand is fully committed to fostering bilateral ties of friendship, development and cooperation with Palestine. Thailand therefore stands by the international community in sustaining concern over recent developments in the Palestinian territories, particularly the hostilities in Gaza during July-August 2014 and their impact on the humanitarian situation."
Mr. Kasit, the quintessential diplomat, took a principled stand, noting that while "all countries must accept the fact and the right to existence of Israel," it was also up to Israel to review its "seemingly recalcitrant stance…towards the full realization of Palestinian statehood."
"There are now 138 member countries of the United Nations out of 194 that have recognized the state of Palestine. Thailand is proud to be one of them. Sweden is being the latest to do so and the first EU country. The UK Parliament recently voted overwhelmingly for its government to recognize Palestine. It is a strong message to Israel and for that matter to the United States whose cherish for freedom and justice is unsurpassed. I love to see Israel win more friends and allies in using its diplomacy and soft power to help obtain what it has already agreed to, namely a state of Palestine living side by side with it in respect and friendship."
He called for a sidelining of the "extremist ideas and radical groups" on both sides.
"In this civilized and globalized world of ours, problems of all sorts do tend to come from extremist ideas and radical groups that accept no differences and no compromises and reject pluralism. In both camps respectively, the Palestinians and the Israelis, there are intellectuals, moderates, rationalists, internationalists and humanists. But these good and reasonable and peace-loving personalities cannot and should not allow themselves to be dominated, led by the nose by extreme and radical elements in their respective societies. Violence cannot solve or resolve conflict of ideas. One's unilateral wish and stand cannot overwhelm others.
"Expansion of settlements does not ensure safety and security. Rocket launchings do not achieve victory. Mutual annihilation of antagonists usually affects children and the innocents. Let us come to our senses. Let the non-extremes and the non-radicals come out to the forefront."
He also called on Thailand to take the initiative in the ASEAN Community and speak with one voice on peace-building efforts. "Thailand can take a lead in the coordination of policies and efforts. Camp-like and cage-like existence of the Palestinians is an affront to our humanity and dignity. There is an urgency and there must be a sense of urgency. Thailand and fellow ASEAN members can do and act more. Solidarity with the Palestinians is also solidarity with the Israelis in this peacemaking endeavour. We are all to gain from peace and cooperation."
Also making his first appearance at a Palestine Solidarity Commemoration event was Gen Ekachai Srivilas, Director of the Office of Peace and Governance, King Prajadhipok's Institute. He said that a close study of the decades-long conflict would show that it is not a religious conflict but a systematic plan to steal the land of the indigenous Palestinian people.
Citing the origins of the conflict in the Balfour Declaration dating back to the British colonial days, Gen Ekachai called it "a strange document that was signed by someone who did not have the authority to issue it and the local people had no say in this."
Today, he added, the situation of the Palestinians was a stark violation of every principle of the United Nations, especially those referring to human rights as enshrined in the UN charter. "The UN has not done enough to move the process forward. The people of Palestine are being terrorised by Israeli forces but in the eyes of the international community they are portrayed as terrorists. That is really sad. Israel enjoys military, political and economic support (from the West) but Palestine does not have any support near that."
He said that the emergence of China as a world power may improve the situation. However, while the world waits to see what kind of role China will play, Israel is continuing to build settlements that will soon make it "almost impossible (for Palestinians) to get an independent state."
Another powerful presentation came from representatives of the Boycott, Divestment & Sanctions (BDS) Campaign in Thailand.
Ghislain Poissonnier, a French activist who is involved in the global BDS campaign, said that a consumer boycott campaign against Israeli products is an entirely legal way to put pressure on Israel to respect international law. "We need this pressure from civil society, because without this pressure, the international community itself will be slow to pressure Israel. All individuals can do something to stop the purchasing of Israeli products."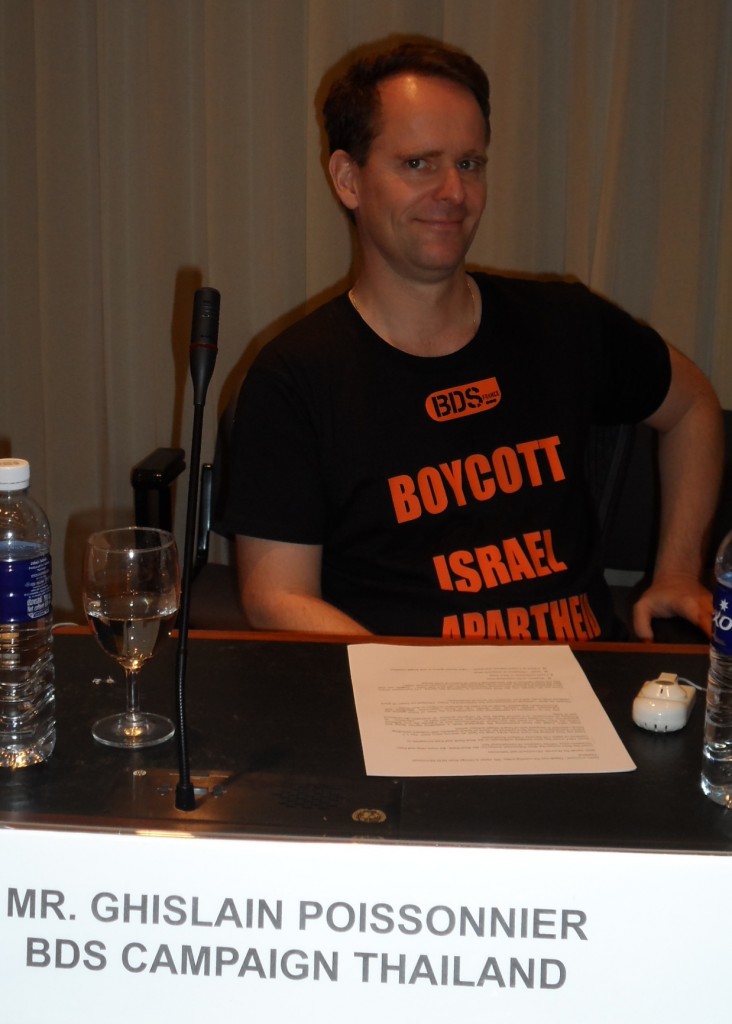 He said that since 1967, Israel has been occupying West Bank, Gaza Strip and East Jerusalem in violation of International Law. It has been building settlements in the West Bank and East Jerusalem in violation of many UN Security Council Resolutions. Since 2007, Israel has been putting the Gaza Strip under siege by land, air and sea. The 1.7 million Palestinians in Gaza have endured the worst of Israeli impunity and violence including being subjected to frequent acts of Israeli illegal military action. Since 2002, Israel has been constructing the Apartheid Wall, a separation barrier along and within the West Bank.
"Palestinians are at receiving end of deadly use of Israeli force, oppression, apartheid, discriminatory legislation, and denial of the right for refugees to return to their home. Despite all these violations of international law by Israel…Thailand keeps good relations with Israel and even increases its level of cooperation," he said.
He cited the Advisory Opinion of the International Court of Justice issued in 2004 which clearly referred to the "Illegality of the Apartheid Wall and Israeli settlements in West Bank" and cited Israel's obligation to dismantle both. That legalises the right of all countries (including Thailand) to exercise three obligations: not to recognize this illegal situation; not to provide any kind of aid or assistance to abet it; and pressure Israel to end (and if needed to sanction) it.
In line with that ICJ Advisory Opinion, Mr Poissonnier said, "Palestinian civil society has called on all civil society organizations around the world to join the BDS campaign and pressure their governments to ensure respect of international law. Now active in 40 countries, the BDS movement is entirely non-violent and uses only legal means, is against all forms of racism, discrimination and anti-Semitism; and targets only institutions (State of Israel, Israeli institutions & Israeli companies) and NOT individuals from Israel (who, on the contrary, are invited to join).
The three-pronged strategy covers:
Boycott : – for consumers / businessmen / procurement officers / to boycott Israeli products; – for academics / artists / sport community / NGOs / trade-unions / religious leaders to boycott Israeli institutions and events;
Divestment : – for all companies (including banks and pension funds) / universities / trade unions / churches/ investment portfolios to divest from Israeli companies and institutions;
Sanctions :- for government and public agencies to reduce or cancel all ties with Israeli and its institutions incl. military embargo / trade sanctions / ban on investments / freezing on capital.
He then handed the floor to BDS Thailand coordinator Ms Nuntanit Bumrungsap to discuss specifically the situation in Thailand.
She said that Thailand, the second largest economy of ASEAN, is the first destination of Israeli products within ASEAN market. Bilateral trade between Israel and Thailand has reached US$1.3 billion in 2012. Israeli companies in Thailand are in the fields of Agro-Technology and Chemicals; IT and Telecommunication; Pharmaceutical Industry; Real Estate; Jewelry; Airline; Electronics, Machinery and Optical Equipments; Clothes; Cosmetics; Food and beverage.
Most of these companies are involved in the occupation, in the construction or extension of settlements or have links with the Israeli army and the military sector, she said. The following companies and products were cited:
Adanim Tea, an Israeli tea made with herbs collected in the Jordan Valley in the West Bank; Adanim Tea can be found in all Au Bon Pain stores in Thailand;
Mehadrin fruits and vegetables (especially Medjoul dates) produced in Israeli settlements in the West Bank ; Mehadrin products can be found in Central stores in Thailand;
Jericho Cosmetics use mineral from the Dead Sea shore located in the West Bank ; these cosmetics can be found in some Department stores in Thailand;
Fox Wizel and Castro Model stores sell clothes for teenagers and young adults in Thailand, Bangkok and Pattaya ; these Israeli companies operate in Israeli settlements;
Trima and Teva medicines are being sold in pharmacies all over Thailand; Trima and Teva are two Israeli companies that benefit from the exploitation of the Palestinian market by the Israeli occupation.
She said BDS Thailand recommends an immediate freeze on any pending trade agreements and for Thai companies divest from and stop doing business with Israeli companies.
Dr. Amara Pongsapich, Chairperson of the National Human Rights Commission of Thailand, reviewed the history of establishing an international human rights institute. She also remarked on the UNHRC acceptance of investigating the many human rights violations committed in Gaza this year. Unfortunately, the USA has blocked this action on behalf of Israel, she said.
After the formal presentations, Mr. Deon Seals, Counsellor from the South African Embassy, gave the audience a preview of the state visit to South Africa by Mahmoud Abbas, the President of Palestine beginning November 26, 2014, at the invitation of South African President Jacob Zuma. Seals announced that during the bilateral talks it is expected three joint agreements will be signed, adding to the nine already signed. The agreements are: establish a joint commission on cooperation and to institutionalize the two country's relations; an MOU on establishing political consultation twice a year; and an MOU on increasing access to higher education for Palestinian students. South Africa is steadfast in supporting a viable Palestinian state based on the June 4, 1967 borders.
The morning also a screening of the video Gazonto by filmmaker John Greyson who reimagines Israel's massive bombardment of the Israeli-occupied and besieged Gaza Strip in July 2014 as if it were an attack on his home city Toronto. Delegates also saw the South African documentary Village Under The Forest, which explores the role of the controversial Jewish National Fund (JNF), in building the South Africa Forest over the Israeli-destroyed Palestinian village of Lubya. According to the PSC, the JNF is criticized by human rights activists for its involvement in the Israeli oppression and ethnic-cleansing against the indigenous Palestinian people, and specifically, what amounts to, the greenwashing of the construction of forests above Israeli-destroyed Palestinian villages in an attempt to erase all traces of Palestinian life.
Background note:
The International Day of Solidarity with the Palestinian People is observed by the United Nations on or around 29 November each year. On that day in 1947, the General Assembly adopted resolution 181 (II), which came to be known as the Partition Resolution. That resolution provided for the establishment in Palestine of a "Jewish State" and an "Arab State", with Jerusalem as a corpus separatum under a special international regime. Of the two States to be created under this resolution, only one, Israel, has so far come into being. This day has traditionally provided an opportunity to focus attention on the fact that the question of Palestine remains unresolved. The whole issue of Palestinian statehood has come to the fore recently with the recognition of Palestine as a state by the Swedish Government and the overwhelming vote recommending such a move in theUK Parliament.