21 Jan, 2018
The ASEAN Tourism Forum 2018 to be held between 22-26 January in the northern Thai city of Chiang Mai will have the lowest turnout of buyers and sellers in the last 10 years. The figures reported by the Tourism Authority of Thailand of 240 buyers and 275 seller organisations continues a downtrend that began three years ago and will gain pace in the years ahead. Rather than treat this as an embarrassment, it should be seen as a long-overdue opportunity to re-engineer and restructure the primary annual event of ASEAN tourism in line with changing times.
The decline in buyer-seller turnout has several reasons. Technology is rendering the Travex business networking format obsolete. Multi-format travel trade shows are multiplying across Thailand, ASEAN and Asia. The role of buyers is no longer as important as it once was. There are many more, but the trend is clear. Once the apex component of the ASEAN Travel Forum Version 1, the Travex will continue to lose influence. Vietnam, host of the 2019 ATF, may chose to give the moribund event some life-support assistance. By the time Brunei hosts the event in 2020, the Travex will be in a coma, if not dead.
Before outlining some ideas for an ATF Version 2, a good look at the past is vital. As required for the treatment of any medical condition, unless past history is thoroughly analysed and the symptoms accurately recognised, there can be no cure.
If ASEAN tourism is in full flow today, it is because of the solid structures built by its founders.
It was exactly 30 years ago that the agreement to set up the ASEAN Tourism Information Centre was signed in Kuala Lumpur in Sept 1988. This was right after Visit Thailand Year 1987 galvanized the entire region and raised the status of travel & tourism to new heights. Because ATIC was autonomous of the ASEAN secretariat, it was free to undertake its own marketing campaigns. When ASEAN was first set up in 1967, it was intended as a geopolitical security bulwark against the expansion of communism. The economic component came later. Indeed, travel & tourism was the first of ASEAN's economic sectors to raise the brand image of the entire association. By documenting the early days of trials and tribulations, journalists-cum-historians such as this editor contributed to the success.
Over the years, the Jakarta-based ASEAN secretariat has released numerous plans, strategies, declarations and agreements to promote the region as a single destination. Today, the ASEAN tourism sector admits branding failure; its own ASEAN Strategic Tourism Plan/Marketing Plan says that the brand image is weak. This editor has written extensively about the reasons for the failure, and challenged the flawed strategy to promote a parallel "Southeast Asia" brand. Click on the following links:
Visit ASEAN or Southeast Asia? Branding mess on full display at ATF 2017
ASEAN branding disarray on full display at ASEAN Tourism Forum 2016
ASEAN branding confusion at ASEAN's premier travel trade show
In pictures: Utter failure of ASEAN's single-destination brand campaign
ASEAN@50 campaign brand confusion: Historic look at how it transpired, and how to fix it
ASEAN secretariat under strain, overwhelmed by workload, inadequate resources, tourism ministers told
How Thai tourism's history deficit saw it lose a huge ASEAN@50 opportunity
Just like any patient living in denial about an ailment, all these looming symptoms were long ignored in the interests of maintaining the "traditional spirit of ASEAN friendship and solidarity". Today, with irrefutable statistics on the declining buyer-seller trend reported exclusively here, living in denial is no longer an option.
So, what next?
If the era of marketing is ending, a new of management is dawning. To some extent, this shift is under way on the ASEAN tourism agenda. This year, for the first time, awards will be given for ASEAN Public Toilet, Clean Tourist City, Spa Services and MICE Venue. The Thai hosts have broadened the agenda of the ATF to cover Gastronomy Tourism, which will facilitate a stronger linkage with agriculture, ASEAN's other bedrock economic sector.
But many more important issues remain unaddressed. They were all clearly identified in the ASEAN Tourism Strategic Plan in this SWOT analysis chart: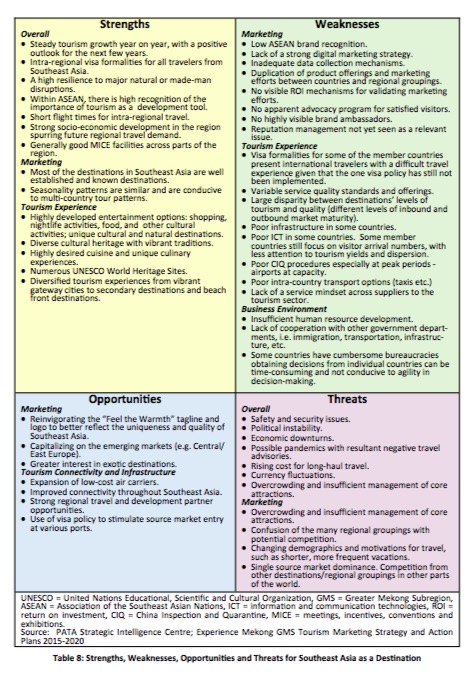 It would seem fairly obvious that the over-arching need of the hour is for a dedicated platform for the entire ASEAN tourism fraternity to jointly address the weaknesses and threats, take advantage of the opportunities, build on the strengths and establish a set of Key Performance Indicators to monitor progress. A revamped and restructured ASEAN Tourism Forum would fit the bill perfectly. Along with the content, the discussion format also needs to be re-engineered in line with a new OTA and 3D philosophy conceptualised by this editor (OTA = Openness, Transparency and Accountability; 3D = Debate, Dissent and Democratise).
A good starting point would be the ASEAN secretariat itself. In November 2017, the World Economic Forum and Asian Development Bank issue a joint report calling for a sweeping administrative, operational and financial overhaul of the ASEAN secretariat to make it more functional and efficient in meeting its own over-arching goal of closer socio-cultural, economic and political-security integration. Have any ASEAN tourism ministers or NTO executives read the report? No? Why not? They should. Details are here: World Economic Forum report calls for sweeping overhaul of slow, top-down, backward-looking ASEAN bureaucracy.
Using that report as a base, the ASEAN tourism structures can be similarly overhauled to make them more functional and efficient.
The ASEAN tourism meetings would come next. The Travex is preceded by a number of the ASEAN ministerial and NTO meetings, including several with dialogue-partner countries such as Russia, India, Japan, Korea, China, etc. All are held behind closed doors. Government delegates hear the results of many reports and studies commissioned to external consultants. Although paid for by taxpayer money, the private sector and general public has no access to them. These are not military state secrets impacting on national security. They are high-calibre research studies on topics identified in the ASEAN tourism plans. They can and should be shared with the taxpaying public. To keep them under lock and key is a travesty and an insult to public intelligence.
This proclivity for unwarranted secrecy actually retards both the qualitative and quantitative progress of ASEAN tourism – a claim which can be easily verified.
Tourism is only one of many other economic, military-political and socio-cultural sectors under the ASEAN umbrella, all designed to fulfill the vision of establishing a people-oriented, people-centred, environmentally friendly and sustainable ASEAN. Hundreds of meetings are held across the ASEAN ecosystem to advance the cause.
For example, ASEAN economic ministers have long been working on the ASEAN Free Trade Area, which benefits the business travel & the MICE sector. ASEAN transport ministers are plotting advances in infrastructure to facilitate freedom of movement across air, land and maritime borders. ASEAN finance ministers are working on maintaining currency stability. ASEAN immigration directors general are working on an ASEAN Business Travel Card. ASEAN Information technology ministers are working on expanding Internet coverage and ecommerce opportunities. ASEAN Culture ministers are working to promote the Socio-Cultural blueprint. ASEAN Environmental ministers are looking at water, air quality and natural resources.
All these comprise the "operating environment" in which travel & tourism flourishes. They contribute to the growth and management of travel & tourism, but the taxpaying ASEAN private sector is largely unaware of them, except what they read in the media and the ASEAN website. To date, the ASEAN Tourism Forum has never been given a comprehensive briefing on any of these topics. Why not? Indeed, if the private sector could be updated with the goings-on, it could better position itself to take advantage of the changes to come.
That, in fact, is the primary objective of all those taxpayer-funded ASEAN meetings in the first place.
The only opportunity for the briefest of interaction occurs at the ASEAN tourism ministers press conference. This is another a waste of time and taxpayers money. The ministers squander half the allotted time reading out a pre-packaged press statement (which journalists can pretty much read themselves). The floor is then opened for a few questions, most of which are superficial and parochial. Later, a ministerial communiqué is posted on the ASEAN website, written in the same boring, bureaucratic format used over the last 20 years.
In addition to the SWOT analysis, the ASEAN Tourism Strategic Plan flags many external factors which will shape the future of ASEAN tourism. These include changing visitor expectations, changing demographics, technological advancements, sharing economy, rapid urbanization, increasing uncertainty and the experience economy. Again, no industry briefings on these.
Also in need of some heavy duty rethinking are the annual ATF themes, a mishmash of meaningless terminology, as follows:
Bangkok, 18-26 Jan 2008: Synergy of ASEAN: Towards Unity in Diversity
Ha Noi, 5-12 Jan 2009: ASEAN Tourism – Striving for a New Height
Bandar Seri Begawan, 21-28 Jan 2010: ASEAN, the Heart of Green: 10 Destinations, One Conservation Vision
Phnom Penh, 15-21 Jan 2011: ASEAN – A World of Wonders and Diversity
Manado, 8-15 Jan 2012: ASEAN Tourism for a Global Community of Nations
Vientiane, 18-24 Jan 2013: ASEAN: Hand in Hand, Conquering Our Future
Kuching, 16-23 Jan 2014: ASEAN: Advancing Tourism Together
Nay Pyi Taw, 22-29 Jan 2015: ASEAN – Tourism Towards Peace, Prosperity and Partnership
Manila, 18-22 Jan 2016: One Community For Sustainability
Singapore, 16-20 Jan 2017: Shaping our Tourism Journey Together
Chiang Mai, 22-26 Jan 2018: ASEAN – Sustainable Connectivity, Boundless Prosperity.
The core issue, however, is an objective evaluation of the Travex. Taxpayers of the host ATF country pay dearly to transport, accommodate, wine and dine the Travex buyers and media. A more scientific analysis could raise serious questions about the value of the return on investment.
If the Travex is scrapped, it will have zero impact on ASEAN visitor flows. But all the money and manpower can be very productively redirected into areas where it could have a very positive impact. Armed with all the SWOT analysis issues and challenges identified in the ASEAN ecosystem and the ASEAN Tourism Strategic Plan, the ASEAN Tourism Conference can be elevated to a realistic, solutions-oriented event with a free-wheeling discussion based on the new OTA and 3D philosophy mentioned above. Instead of vamoosing after their own secrecy-shrouded meeting, ASEAN tourism ministers should stick around to dialogue with the private sector as well as other related groups such as NGOs, trades union, activists, etc. These people work at the grassroots of travel & tourism, and deserve to have a voice.
Some of the saved funds could also be diverted to helping the ASEAN Tourism Association, the private sector counterpart of the ASEAN NTOs, rebuild itself and regain its former glory. Indeed, ASEAN secretariat executives pay a lot of lip service to the dialogue with the private sector. The reality proves otherwise.
Like any software or app, the ATF is badly in need of an update to clear out the bugs. The most important priority, which could in fact be an apt theme for the 2019 ATF in Vietnam, is to restore a sense of ownership of ASEAN Tourism to the people who work in it. This was recommended in the book "The ASEAN Miracle: A Catalyst for Peace" by Prof Kishore Mahbubani and Jeffry Sng. As always, this editor was the only travel journalist to see the significance of the book's conclusions and report on them, here: ASEAN@50: New book shows how ASEAN tourism undermined the ASEAN Miracle
If anyone in the ASEAN travel & tourism industry had read this great book, inviting these two distinguished gentlemen as keynote speakers to this year's ATF would have been a no-brainer.
The ASEAN Tourism Strategic Plan ends with this statement, "The NTOs recognize that the strategy is a living document and will be updated on a consistent basis to reflect changing forces as well as priorities." The time to walk the talk is here.