8 Dec, 2017
U.S. President Donald Trump has just proved that terrorism works – Jewish terrorism, that is.
It was on 4 November 1995 that the Jewish extremist fanatic terrorist Yigal Amir, then only 25 years old, shot and killed former Israeli Prime Minister Yitzhak Rabin, a joint Nobel Peace prize winner with the late Palestinian leader Yasser Arafat for their bid to negotiate an end to the decades-long Israeli-Palestinian conflict.
The only Asian journalist in Tel Aviv that fateful night, I have described that pure evil act of terrorism as the event that really changed the world.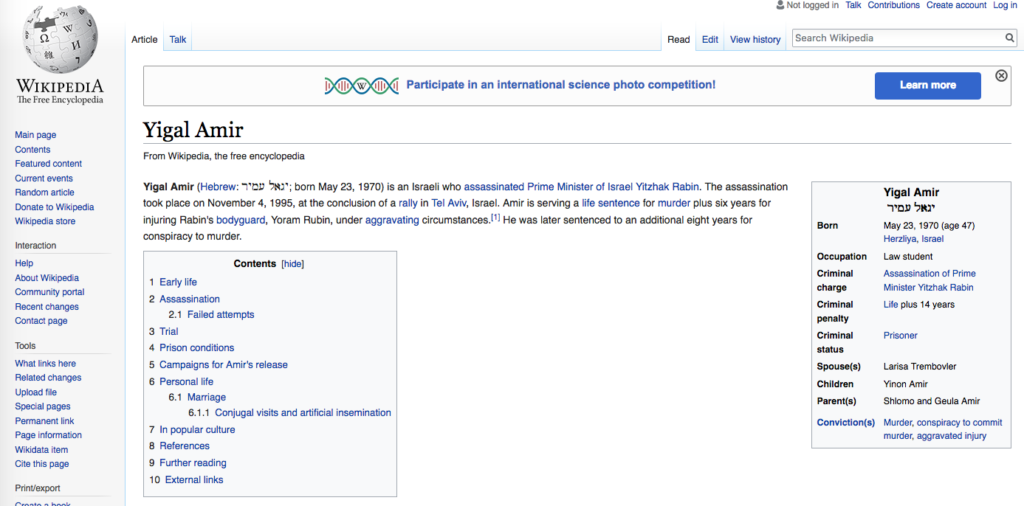 Like many other Jewish extremists in Israel, the United States and now surreptitiously well-embedded in key positions around the world, especially in the Islamic countries, Amir's goal was to kill the peace and ensure that Palestine is wiped off the map.
On 6 December 2017, Mr Trump's announced decision to move the U.S. embassy to occupied Jerusalem in advance of a negotiated settlement brought Yigal Amir's evil designs a giant step closer to reality.
Although it was met with all the predictably fiery condemnations, denunciations, warnings and name-calling, Mr Trump is unlikely to reverse course.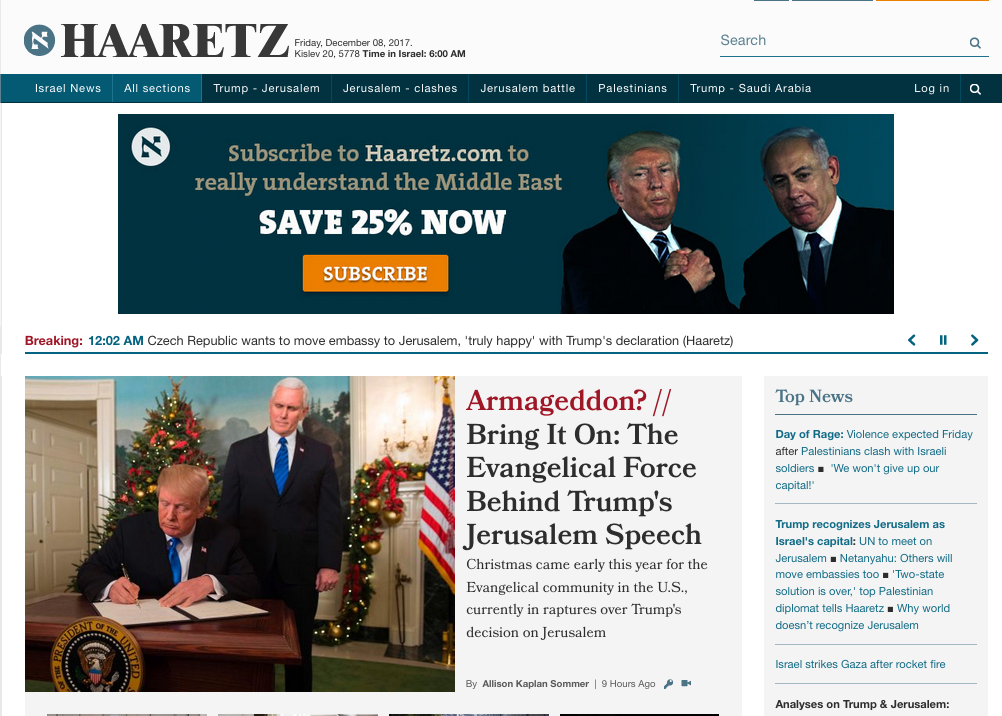 Many media outlets are flagging the behind-the-scenes role of one of Mr. Trump's most important backers, the Jewish financier Sheldon Adelson, owner of many casinos in Asia. The infamous Jewish lobby, which even former Singaporean leader Lee Kuan Yew warned the world about, has succeeded in hijacking U.S. foreign policy yet again to serve Israeli interests.
In his speech, Mr Trump trotted out the usual talking points. The United States is still interested in a negotiated settlement and a two-state solution. And then he said the following: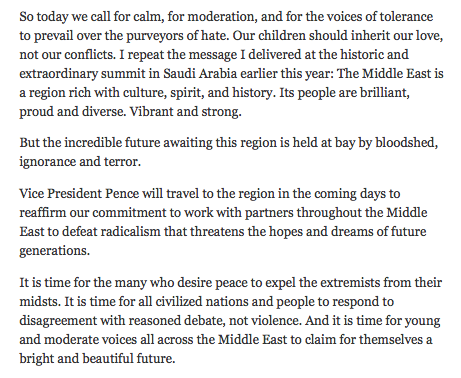 I agree with all of the above, perhaps with one point of difference: Identifying the real source of "radicalism" and "extremism."
Mr. Trump did not mention the 'I' word but it does not take much to see which radicalism and extremism he is talking about.
Yigal Amir and thousands of his fellow Jewish extremist fanatics today prove that both Jewish and Islamic extremists are birds of the same feather.
Hence, it is time to level the playing field. It is also time to defeat the Jewish radicalism "that threatens the hopes and dreams of future generations." It is time to expel the Jewish extremists from their midsts. It is time for reasoned debate about the global destruction and mayhem caused by Jewish extremism.
What will happen next? Certainly, a lot more killings and conflict, all of which will be blamed on (Islamic) "radicals" and "extremists". Mr Trump's action will never be blamed. Neither will Jewish radical extremist terrorists.
This is exactly what Jewish extremist terrorists want. More mayhem and discord which they can exploit to distract global public opinion and continue their war on Islam while wiping Palestine off the map.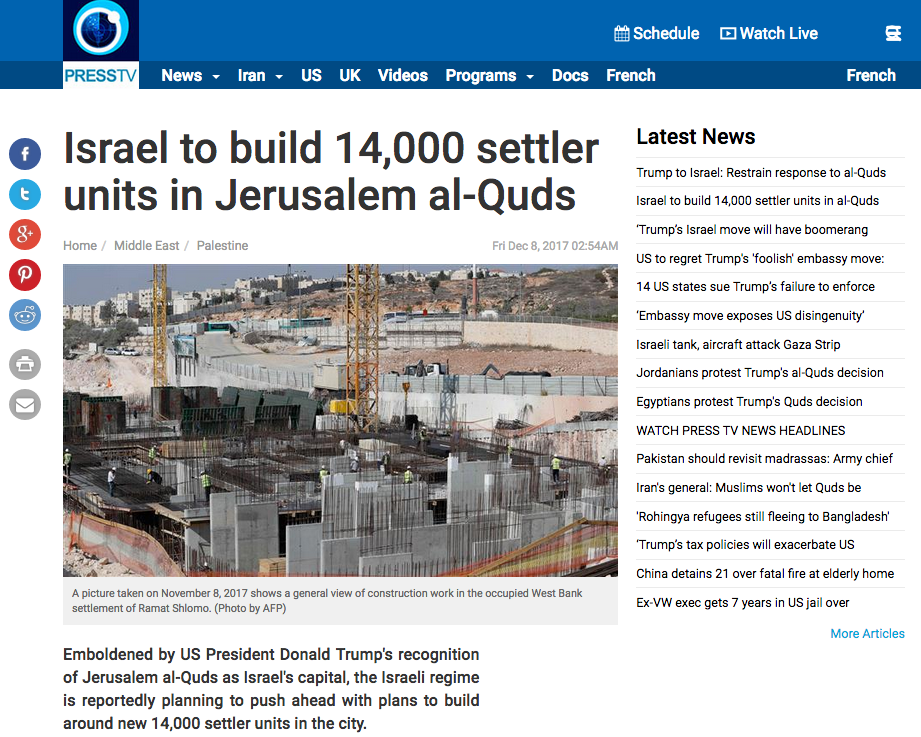 The Jewish people should be ashamed of themselves. Like the Muslims, Judaism has been hijacked by its home-grown radical fanatic extremists. The extremist-in-chief is the Prime Minister of Israel.
On September 29, 2014, in his speech at the United Nations General Assembly, Benjamin Netanyahu boasted: "Today we, the Jewish people, have the power to defend ourselves. We will defend ourselves against our enemies on the battlefield. We will expose their lies against us in the court of public opinion. Israel will continue to stand proud and unbowed."
Mr. Netanyahu's chest-thumping public comments after the Trump announcement were full-blown proof of the "power of the Jewish people", of whom Yigal Amir is one.
Mr. Trump has banged yet another nail in the coffin of U.S. credibility. After Gen Rabin's assassination, the U.S.'s role as an honest broker in the peace process went downhill. Its abject dishonesty ever since has been a primary cause of the continued conflict and the decades of drain of precious time, intellectual resources and money in pursuit of a solution.
Global trust in the United States is now dead. No other U.S. leader has caused so much global disruption and pandemonium in so short a time.
In just his first year in office, Mr. Trump has pulled the United States out of the climate change accord, UNESCO, the Global Compact on Migration and the TPP. He has instituted a Muslim travel ban, and is now set to attack Iran, the next step in the grand plan of the Jewish extremists. Domestically, he has pushed a tax cut for the rich and mounted an assault on Obamacare. All this, while continuing to attack the media and promote demagoguery.
And there are still three more years left in his presidency.
It's time to make him walk his talk and pursue a "reasoned debate" about where all this is heading.
Like Mr. Netanyahu, I too stand "proud and unbowed" — proud to have been proved right in my analysis and forecasts. Like Mr. Trump, I welcome reasoned debate on the basis of a level playing field. This, and my other exclusive commentaries over the years may be a good starting point:
(+) Flashback: Historic reports, speeches show how a Jewish terrorist destroyed Middle East peace and tourism
(+) Historic Pictures: Israeli PM Who Hailed Peace at Hotels Confab, & Shot 2 Days Later
(+) Remembering The Day The World Really Changed
(+) The Judeo-Christian world's great betrayal of its own values and principles
(+) Rabin's Death Anniversary: Jews and Travel & Tourism Need Some Soul-Searching
(+) Rabin's Death Anniversary: Time for Jews to do Some Soul-Searching
(+) Israel continues to shatter Rabin's dreams, and fulfill those of his terrorist killer
(+) "I did it! Now bring me schnapps!" How Rabin's assassin greeted news that Israel's champion of peace was dead – The Guardian
(+) Israeli Mayor: Partners of Rabin's Assassin Now Rule Israel
(+) Israel wants occupation, not peace: Full text of brilliant speech by Gideon Levy
(+) Hebrew University to Establish Yitzhak Rabin Fellowship to "Create a New Generation of Statesmen"
(+) Clinton at Rabin Rally: Israelis Must Decide if They Stand for Peace – Haaretz
(+) Netanyahu Marks Rabin Murder With Nightmare Prophecy of Israel's Future – Haaretz
(+) Anniversary of Rabin's murder stirs what-ifs amid violence – The Guardian
(+) The Rabin Assassination: When Judaism Failed – Haaretz
(+) 20 Years since the Jewish terrorist assassination of Yitzhak Rabin – Haaretz Bookshelf
(+) Rabin in 1976 Interview: Settlements Are a Cancer – Ha'aretz
(+) Yitzhak Rabin memorial rally draws thousands – Haaretz
(+) WTTC Report on Peace & Tourism Wipes Palestine Off the Map
(+) RAND Corp Report Puts Multi-Billion $ Value on Israel-Palestine Peace and Tourism
(+) History Lesson for ITB Berlin : 20 Years Since the Finest Travel & Tourism Speech Ever