25 Aug, 2012
BANGKOK – A prominent Thai Buddhist monk has called on the world's Buddhists to visit Pakistan if they wish to get a better idea of Buddhist history and the centres of learning that contributed to its spread. Describing himself as a "salesmonk" rather than a "salesman" for the Buddhist heritage sites of Pakistan, the Venerable Phra Dr Anil Sakaya said that while the spots in India provided a spiritual experience, the real centres of Buddhist learning were in Pakistan. He hailed the country for its efforts to preserve these sites, citing his visit as a guest of the Pakistani government two years ago.
Phra (the Buddhist honorific for 'monk') Anil was speaking at trade and investment promotion seminar organised by the Pakistan embassy in Thailand on 23 August to mark both the 60th anniversary of Thai-Pakistan diplomatic relations and the 50th anniversary of the first visit to Pakistan by the King and Queen of Thailand. About 100 businessmen attended the forum and heard some interesting insights about promoting trade and economic relations between the two countries.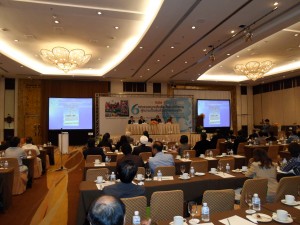 Pakistani Ambassador Sohail Mahmood (biodata) is understood to be the first of a new generation of professional diplomats assigned to Bangkok in view of the city's growing importance to bilateral relations, linkages with the ASEAN region and home to the regional commission of the UN. Since his arrival in 2009, a number of social, cultural and economic activities have been organised, including business and educational forums, arts and painting exhibitions, and visits by media, academics, religious leaders and parliamentarians.
Objective Appraisal

During the seminar, Thai company executives received an objective appraisal of Pakistan's trade and business potential. It's strategic location, large population base and flight connections with Thailand are key advantages but there are concerns about safety & security, infrastructure, corruption, energy, etc. However, a number of Thai company executives doing business with Pakistan outlined a largely positive picture of how business could be done in spite of these concerns. Phra Anil's talk on promoting tourism from Thailand to Pakistan, was in itself a refreshing change from inviting a tour operator to do the job.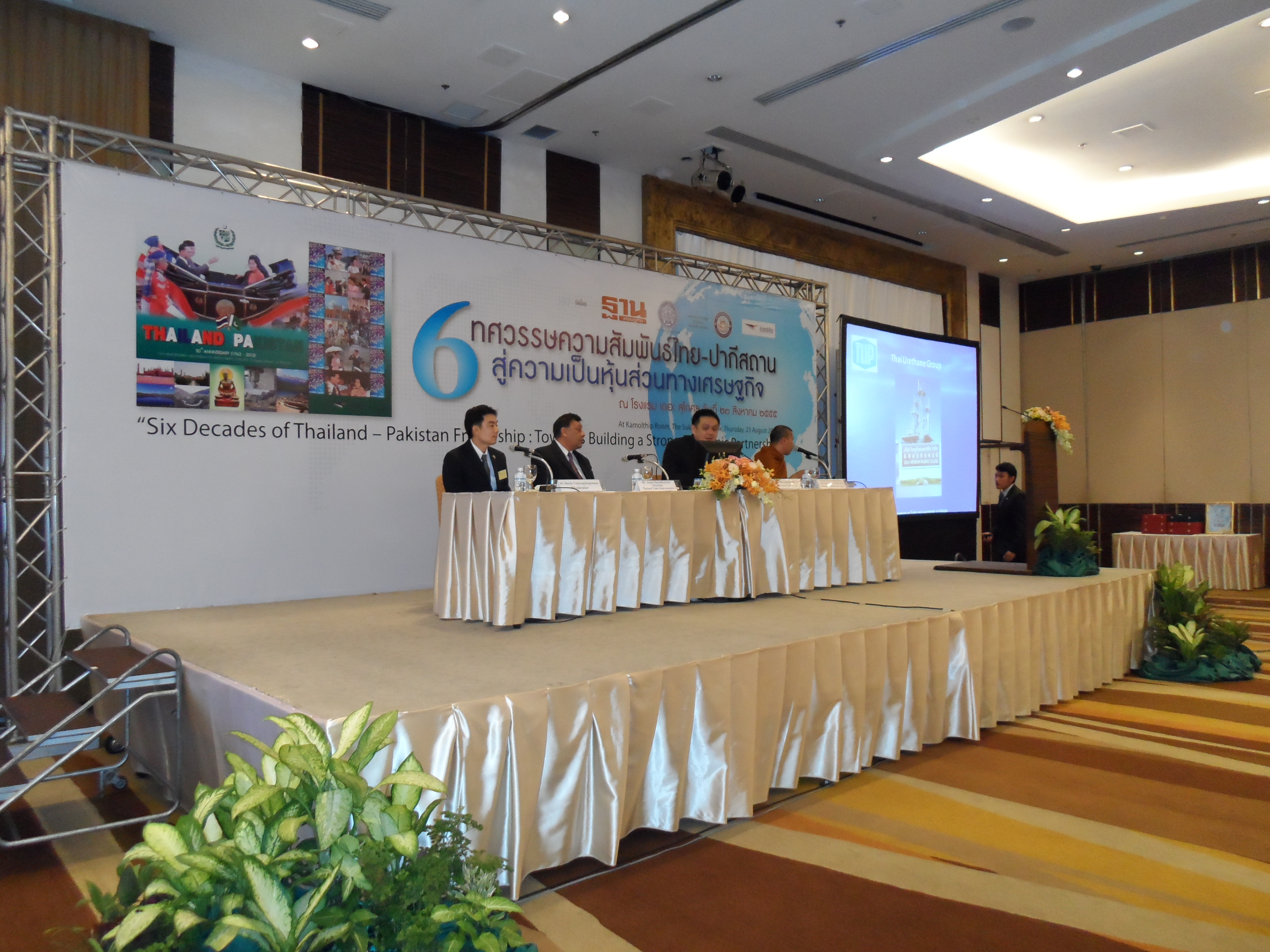 In fluent English, Phra Anil began by discussing the image of Pakistan in the Thai media. "We never hear good news about Pakistan. The perception of Thai people is always shaded by violence which is taking place from time to time. But if you look at it from a bigger perspective, it is nothing alien to us. Violence is everywhere, even here in Thailand. We are a peaceful country but look at the news every day. Even the traffic can kill you."
Citing the violence even at the global level, he voiced optimism that political wars will end eventually, and economic wars will fade when concepts like the ASEAN economic integration dilute the idea of a nation-state and dismantle economic borders. He said it was a sign of globalisation in the 21st century that he, a monk who should theoretically remain in a temple, is speaking at a seminar on economic and tourism issues.
However, he said, there is a connection. He is also part of a group of eminent persons invited to work with the United Nations to create "a new policy for the world". One aspect of this is developing "a new economic paradigm" — the linkage between economics, happiness and well being.
Money, Money, Money
"You are all businessmen. You are only talking about money, money, money. But is that the only crucial part of our economy? Why do we need money? For happiness? For well-being? But can we guarantee that money can buy happiness and well being? They are two different things. In focussing only on making money, we totally forget about the other crucial part of who we are.
"And that's why I am here, to talk about an entirely different focus, which is spending money to 'buy' happiness. While businessmen only talk about making money, I am talking about spending money and through that spending, getting some kind of peace of mind to try and find happiness.
"I personally have no concept of money. I have been a monk since I was 14. I do not need money, even to buy food. I go out in the morning with my bowl, and beg for it. And people give it to me. I get enough to eat and also share with others."
He said, "Pakistan is seen as being far from Thailand, but if you look at the past history, you will see that Pakistan is a neighbour of Thailand. During the British colonial era, the entire swathe of territory from Pakistan to Burma was one country and Burma and Thailand were next to each other, and people movements were ongoing from one side to the other."
Buddhist History
In the far west in what is now Pakistan, he said, there were places like Kambuja and Gandhara which was known as Taksila. In fact, he said many Thais did not know about these places until March 2001, when one of the oldest Buddha images was blown up by the Taliban in Afghanistan. "Only then we did realise that in the Islamic countries there are important Buddhist images."
He highlighted the role of Taksila in Buddhist history, as a seat of learning and knowledge which had flourished in the Mauryan era. Even the Europeans came across Buddhism when Alexander the Great expanded his empire and east met west in what is now Pakistan. The whole idea of Mahayana Buddhism was created in the Buddhist sites of Pakistan and then spread to China.
Phra Anil added, "Sometimes our Muslim friends have a wrong image. They say we are idol worshippers. It is true that in Thailand, we have more Buddhist images than any other place in the world. But who gave us this culture? The whole idea of icon worship all came from Pakistan. Now they have changed but we have already taken the legacy from them. If you really want to know about the authentic Buddhism, go to Pakistan. We are lucky (these Buddhist spots) are not in Afghanistan. They would be gone. We are indebted to Pakistan for maintaining those places."
He said during his visit to one of the spots, the group was accompanied by a local military commander who told the monk that he felt it to be his responsibility to protect all the spots of Pakistan, not just defend the borders. "Although I am Muslim," Phra Anil reported being told by the commander, "I know that my ancestors were Buddhist and these are legacies left to us by them. I don't see any problems in doing my duty to protect this heritage." He said his troops also were helping to protect the sites from looters and keeping them clean.
Amazing Sights and Sites
He said he was amazed to see all the Buddhist sites in Pakistan. "We went to museums in Lahore, Peshawar and Islamabad. I asked myself, where am I? This is an Islamic country and 80% of the exhibits are Buddhist. I saw no foreign tourists in the museums, only locals, all Muslim brothers and sisters.
"Sometimes we have a very strong perception of our Muslim friends – as hiding behind hijabs and being close-minded. When I was there in the museum, in the beginning, I felt alienated. Everyone was looking at me in a different kind of way. But then some saw the resemblance. They looked at the Buddha images and they looked at me. Then one of them asked me, "Why are you wearing robes just like those statues?" That was a good point for me. So I explained. The staff, curator and everybody came to listen to me. Soon, many others started listening. I got a new job there."
Phra Anil went through a whole slew of pictures he took (all included in his presentation at the bottom of this dispatch). He noted UNESCO's involvement in many of the Buddhist sites such as the Buddhist Takht-e-Bahi monastery, in the Swat valley.
He noted that most of the Buddhist sites like Taxila were within short distance of Islamabad, some of which had been excavated and others had not. "We have many Buddhist spots in India. People go there for spiritual meaning. But if you really want to know what Buddhism gave to the world, if you really want to know the impact of Buddhist history, go to Pakistan. You can see every episode of the life of the Buddha which is well preserved.
"I am not a salesman but a salesmonk for Pakistan tourism. As a salesmonk, this is a place for many Buddhists, art-lovers and lovers of civilization. This is a place where they have kept things at a pristine level. I am worried that if something changes, what will happen. How things have changed in Afghanistan. They destroyed everything and all the antiquities. I don't want to see that happen in Pakistan."
Many Treasures
He said he had come into contact with many Buddhists in Pakistan. "Buddhism is not a religion, it can go with any culture. Sufism was influenced by a lot of Buddhist precepts. I know in some places there is religious conflict, but it is mostly caused by unreasonable political input. In terms of people, I never had any problems. Everyone appreciates each other. That is the whole essence of being a human. Everything is based on compassion and beneficence. If you just look at that point, we will never have any boundaries that keeps us apart. We are brothers and neighbours.
"We have many treasures left in the hands of our friends and Pakistan. So I would suggest you all visit there. I would say that after listening to all the speakers and making a lot of money, please go and spend it to buy happiness and see those wonderful treasures in Pakistan."
Thanking Phra Anil for his remarks, Ambassador Mahmood said that on 10 Oct 2012, the day marking the 60th anniversary of Thai-Pakistan relations, the Pakistan government will be presenting a replica of one of the most famous Buddha images in the Lahore Museum, The Fasting Buddha, to the people of Thailand. The image will be placed for permanent public display at a yet to be determined spot in Thailand.
He also reinforced some key points made by Phra Anil, specifically the contrast between the monk's good experience during his visit and the perception of Pakistan gleaned from international media. "So, please make the difference between perception and reality," the Ambassador said. "Seeing is believing."
He did not deny that safety and security concerns did exist. However, he noted that Pakistan has been part of a region that has seen conflict for decades. "But even such incidents which create headlines are mostly in the areas near Afghanistan. The rest of the country is peaceful and inviting for foreigners to see and to make long term partnerships."
Download the slides of Phra Anil's address by clicking here. Warning: File size is 46 MB. All pictures are copyrighted and must not be reproduced on public websites without permission.
Click here to read the full text of Ambassador Sohail Mahmood's address at the Seminar.
Editor's Note: I claim to be the only travel industry journalist based in Bangkok to have visited all the Buddhist religious and historic sites in both India, Pakistan and Nepal. By settling political differences and refusing to allow parochial politicians to divide and rule us, the peoples of South and Southeast Asia can become our own best travel & tourism source-markets. Religious and spiritual travel is the greatest bridge-builder of all. These dispatches are my contribution to the cause. Activist journalism that other publications can never hope to match.
Read my account of the Journey of a Lifetime to the Buddhist sites in India "In the Footsteps of the Buddha" here.
Also read: Buddhist Scholar's Point-Blank Pitch: Visit India to Walk the Talk