13 Feb, 2023
Bangkok – Thai tourism is bouncing back robustly, thanks to open doors, vigorous marketing campaigns and a hungry private sector. But a closer look will show that Thai foreign policy, not tourism policy, is the bedrock reason for the recovery. Recognising the significance and importance of that could prove to be a turning point in the post-Covid tourism era. It will help redefine the components of "resilience" and rethink, redirect and reinforce the efforts to strengthen them.
All of Thailand's lead source-markets are countries with which the kingdom has good political and diplomatic relations. Each of them may be facing their own internal, regional and international challenges. But their economies have not entirely collapsed and many of their citizens still have the means and desire to travel. For them, Thailand is high on the list. Having visa-free or visa-on-arrival access, thanks to good diplomatic and political relations, figures prominently in the decision.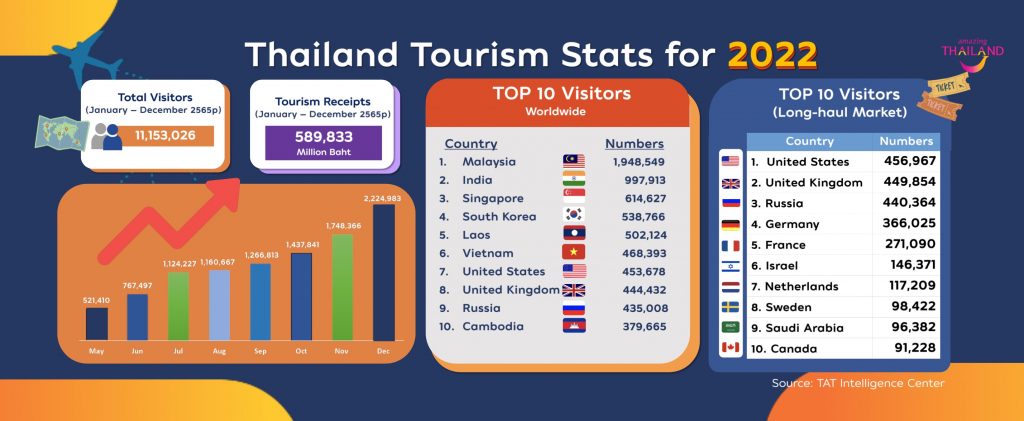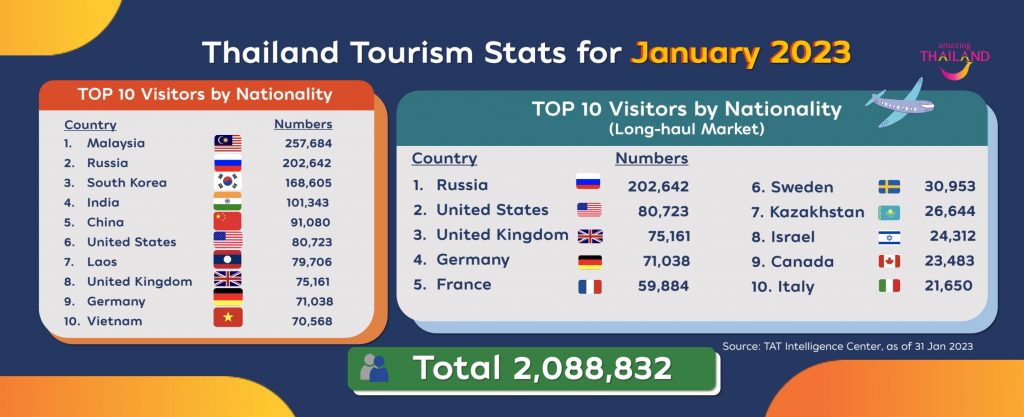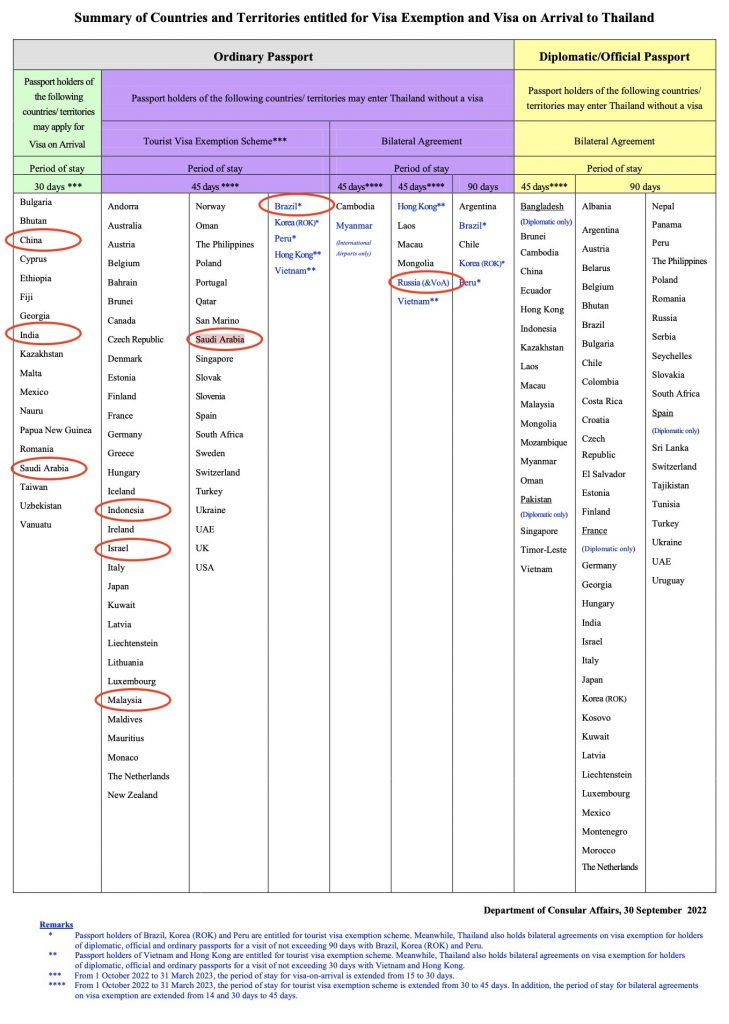 On 08 Feb 2023, I covered the first Impact summit of WebBeds, an aggregator of hotel rooms. With an inventory of 450,000 rooms worldwide and five billion transactions a day, WebBeds has real time data on global travel trends. It tracks bookings right across the value chain, the volume and categories of rooms, earnings, lengths of stay, average daily rate. It can measure the impact of marketing campaigns as well as any crises, be they geopolitical, natural disasters, economic turbulence, etc.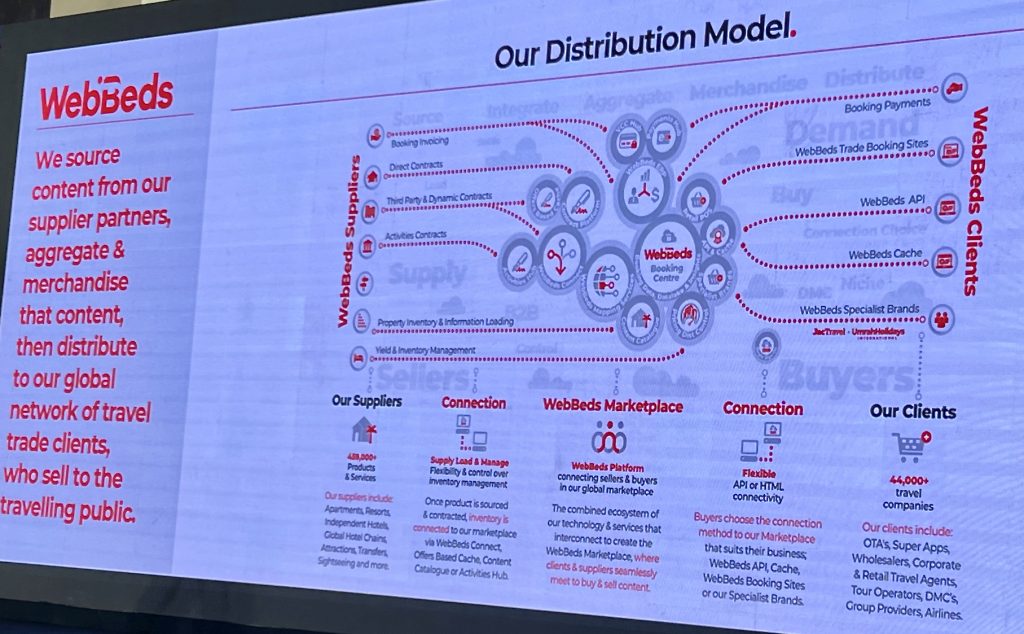 Thailand is leading all the WebBeds indicators. At the Impact Summit, representatives of just under 1,000 Thai hotels were given what WebBeds Dubai-based CEO Daryl Lee called "greater insights and intelligence into various source markets." The company outlined its efforts to expand distribution channels and other opportunities for hotels to launch the right products at the right price at the right time to the right audience and raise both the volume of bookings and average daily rates.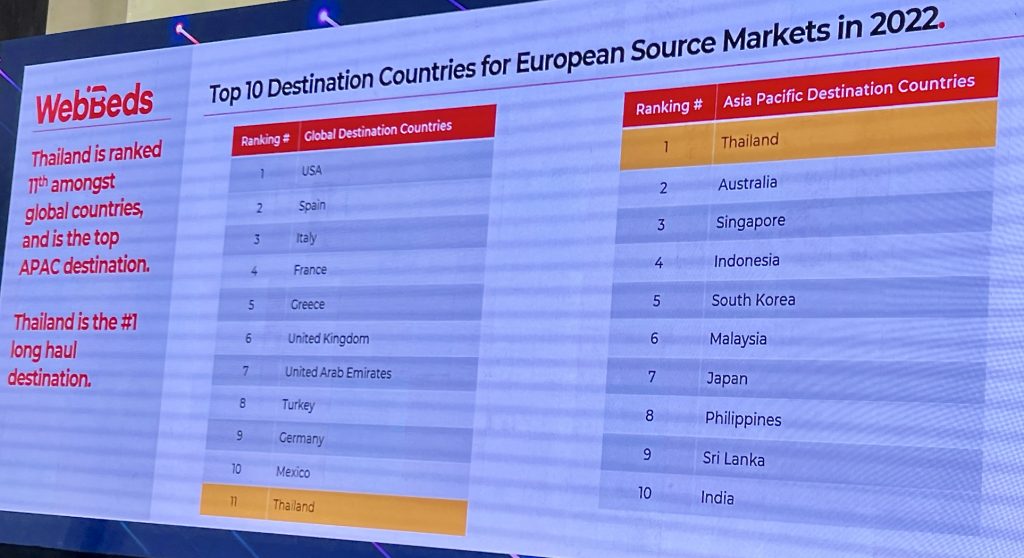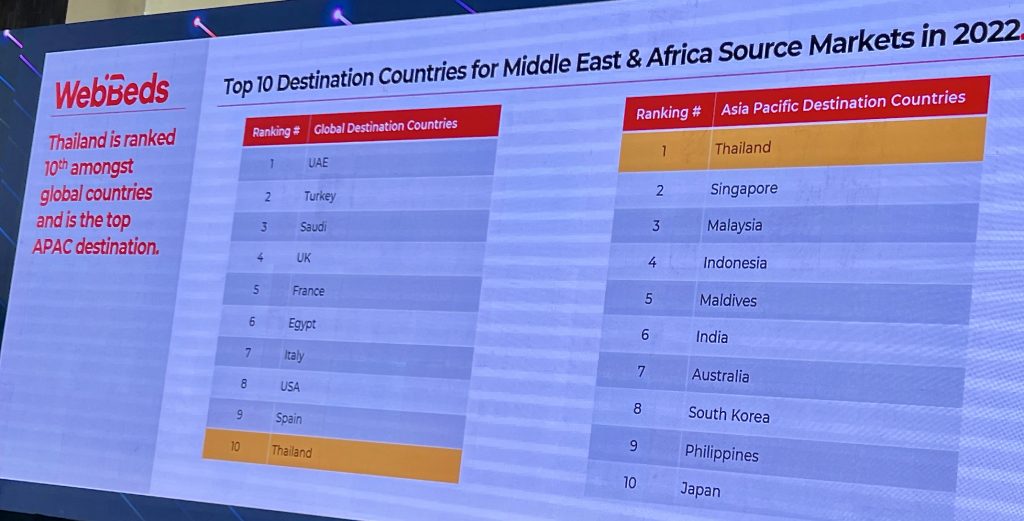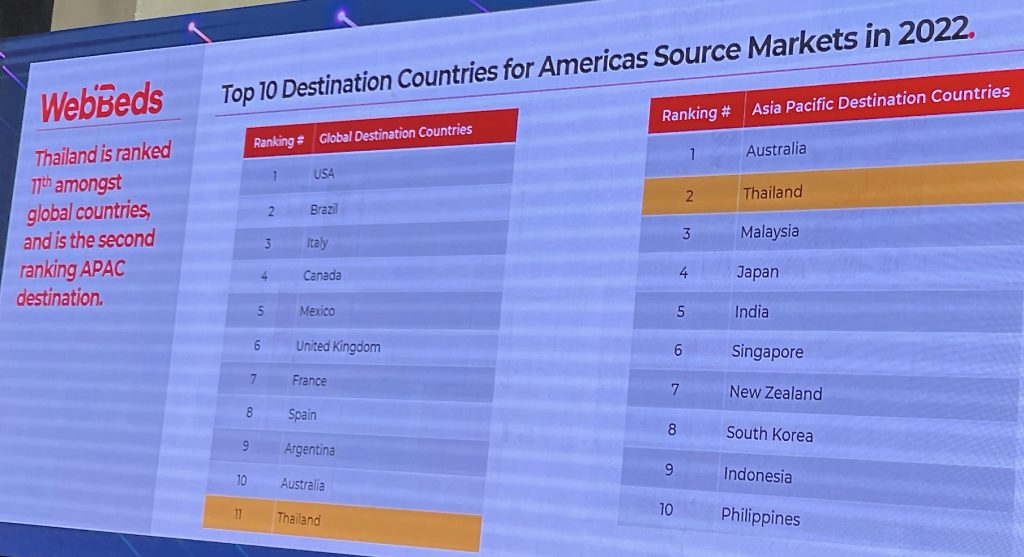 The TAT's Deputy Governor for Long Haul Markets Mr Sripakorn Chaewsamoot provided an update of the TAT's campaigns and strategies to generate demand for Thailand. The TAT is doing what it has historically done best: Conduct the right campaigns with the right partners in the right cities and countries at the right time at the right target segment. Mr. Chuwit Sirivajjakul, Executive Director, East Asia Region, provided additional info about the TAT's recovery campaigns in China and East Asia.
All speakers attributed the robust recovery to the fundamentals of Thai tourism – a great product in terms of both hardware and software. That is only half the story.
Having covered the country which I call The Greatest Story in Global Tourism HiSTORY since 1981, and watched it crash and recover from multiple crises, this bounceback is no surprise. But because the Covid catastrophe was unlike any other, the key question is whether Thai tourism wants a temporary, short-term recovery or a more long-term and sustained and stable one.
The answer lies with the Thai Foreign Ministry, which I began covering in the early 2010s. The Ministry's post-Covid public engagements and speeches now stress that the Covid era may be fading, but still very much alive is the challenge of keeping the Thai ship afloat in a swirling storm of wars, conflicts, famine, poverty and other human insecurities. Global geopolitical tensions are rising with NATO-Russia-Ukraine, U.S.-China-Taiwan and Israel-Palestine. The global economy is teetering on the edge of a recession. Adding to that is the triple planetary crisis of climate disruption, biodiversity loss, and pollution.
In a speech at Thammasat University on January 13, 2023, Mrs. Eksiri Pintaruchi, Director-General of Department of International Organizations, said, "We stand at a crossroad between a world full of perpetual crises, or a world full of promises for a more peaceful and sustainable future." She added, "A revised world order should be one of optimism. It should promote solidarity and trust among nations so that we can cooperate better in the interest of humanity."
The WebBeds Impact summit provided solid proof that Thai diplomacy and foreign policy is delivering tourism results. Maintaining good relations with all countries and preserving the peace at international, regional, bilateral and local levels is critical to ensuring stability, accessibility and facilitation.
Here is evidence of that direct correlation between visitor arrivals and foreign policy.
Saudi Arabia: The number of Saudi visitors in 2022 was a whopping 96,382. This was the immediate result of the landmark diplomatic breakthrough in January 2022 that overcame 32 years of a political breakup. As a result, Saudi Arabia is now flying 10 flights a week and Thai Airways 5 weekly flights. The diplomatic patch-up followed years of behind the scenes efforts across multiple channels. The TAT and the private sector followed through only AFTER the diplomats had cleared the path.
The Islamic world: The Thai-Saudi rapprochement has boosted Thailand's image across the Islamic world, including the multi-million Muslim diaspora in the Muslim-minority countries. Airlines from the Islamic countries, especially Qatar Airways and Emirates, are bringing visitors from around the world to Thailand via their hubs in Doha and Dubai. The neighbouring countries of Malaysia and Indonesia are already top performers. Thailand also has observer status in the Organisation of Islamic Countries, thanks to the diplomatic efforts of the late Dr Surin Pitsuwan, the first Muslim to become foreign minister of Thailand and the first Muslim secretary-general of the ASEAN. Further improvement is expected in the wake of Malaysian Prime Minister Anwar Ibrahim's Feb 2023 visit to Thailand.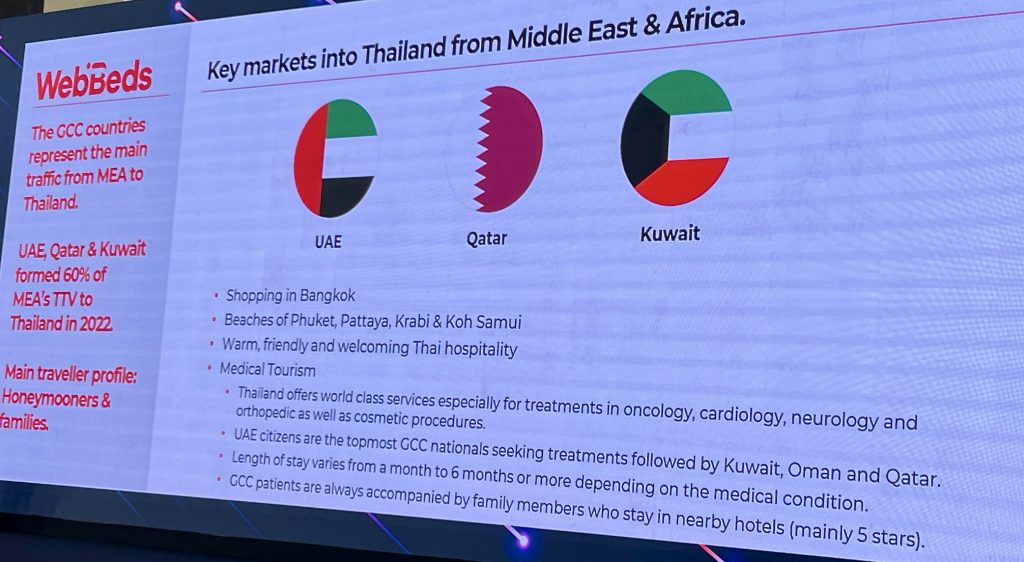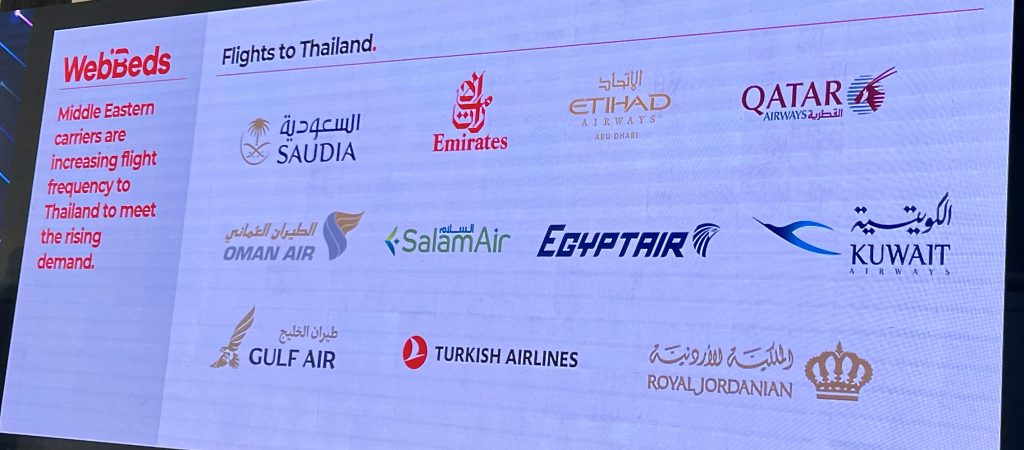 Israel: While Thailand has good relations with the Islamic world, it also maintains good relations with Israel. Israelis do not need visas for Thailand. The Israeli airline El Al was the first to start flying to Phuket after the launch of the Phuket Sandbox project and is now flying six times a week to Phuket and Bangkok.
Russia: Due to the war with Ukraine, Russians no longer travel to Europe. Instead, they head for Thailand where they can enter without a visa. In spite of the war and the sanctions, which are supposed to be crippling Russia economically, many Russians are clearly unflustered and have the means to travel.
China: This is set to boom again, led by long-standing good Thai-China relations. Chinese get visas on arrival. The TAT has more offices in China than any other country.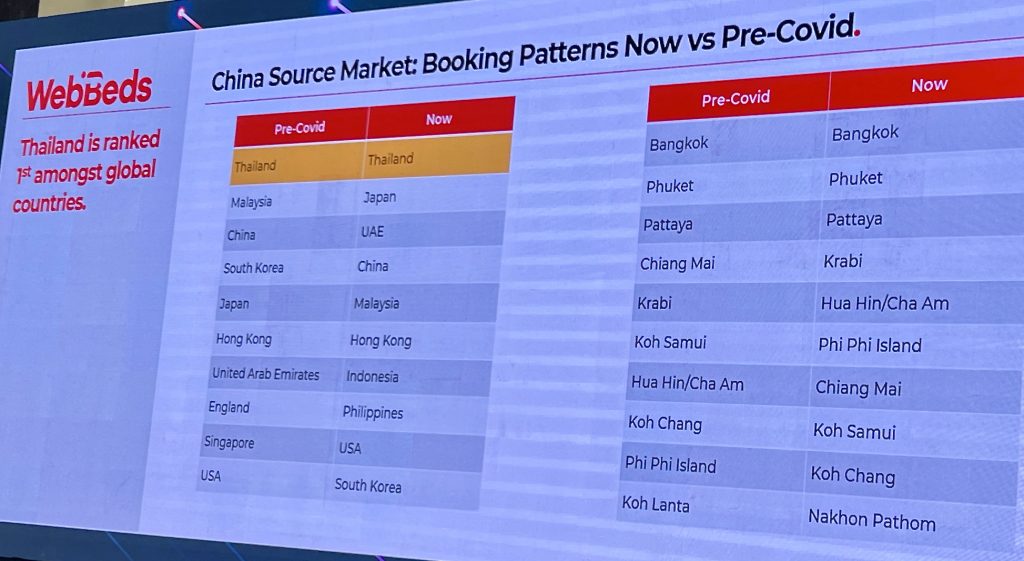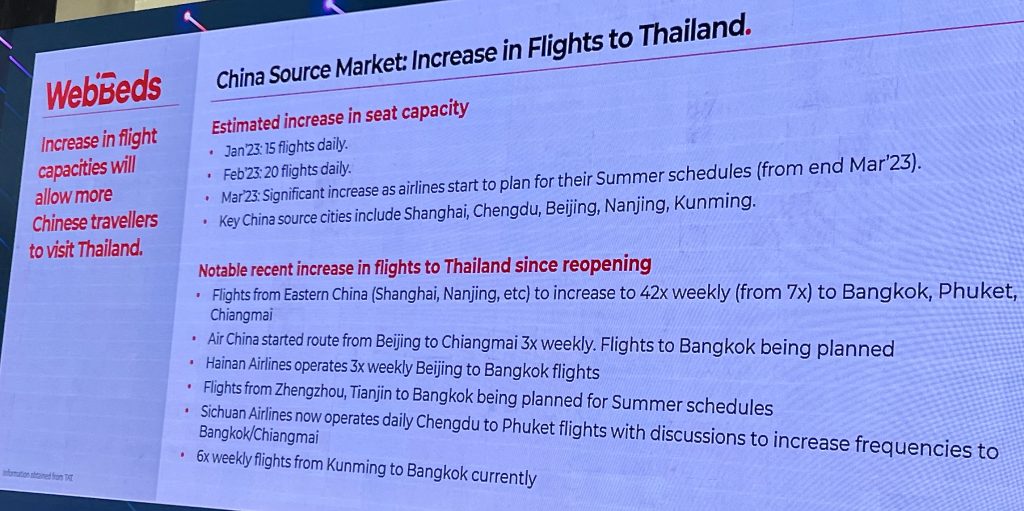 India: This mass market, too, will soon return to its boom days. Thailand and India are expanding relations as part of India's Lookeast Policy and the Indo-Pacific Economic Framework. Indians get visas on arrival.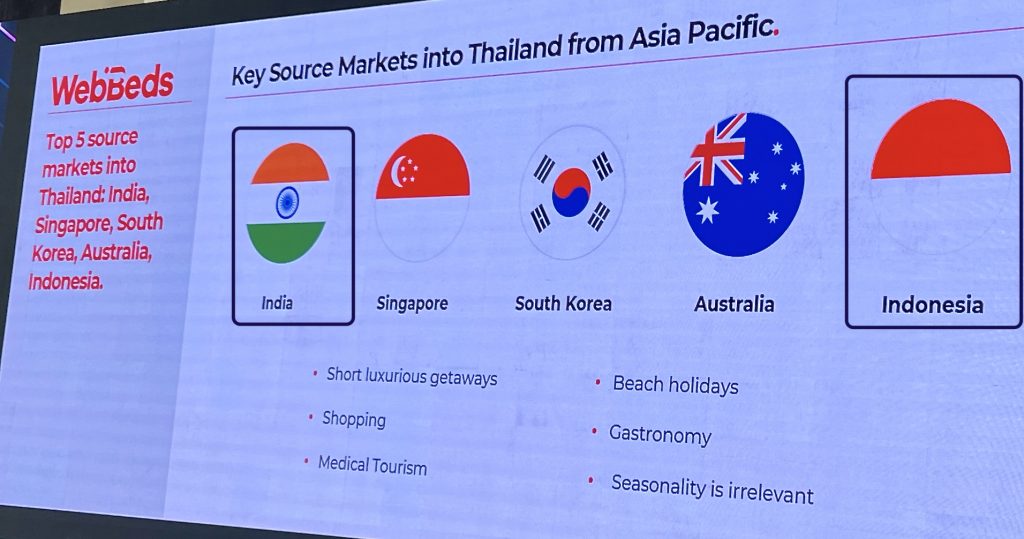 Brazil: Brazilians are coming to Thailand because they can no longer go to Mexico without a visa, but they don't need a visa for Thailand. Although the economy is not in the best of shape, those with money can still hit the road. They usually fly through hubs in Doha or Dubai, or via Europe or Japan. The TAT has done a good number of promotions in Latin America in the pre-Covid days.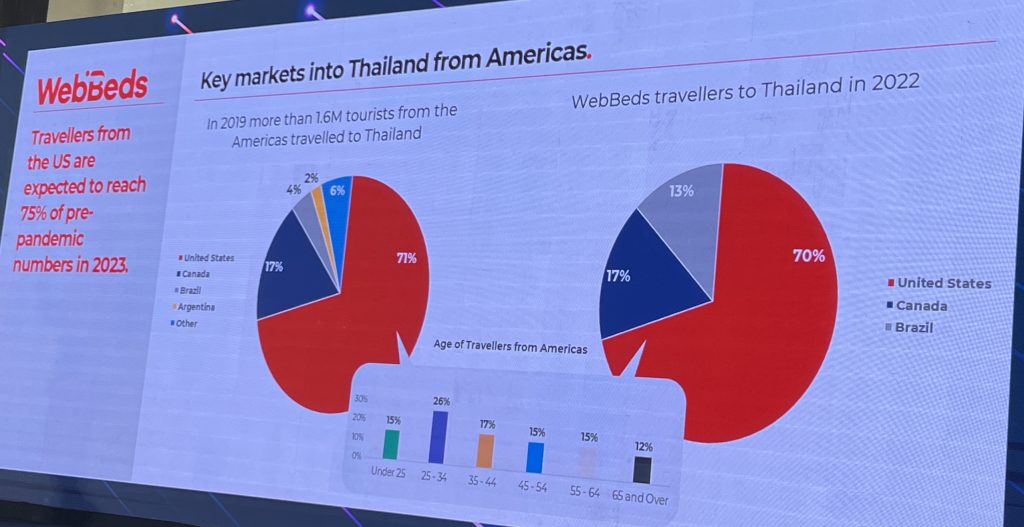 Mekong Countries: Thailand's neighbouring countries of Laos and Cambodia are now generating significant cross-border traffic, also thanks to open borders and infrastructure development. In the 1960s and 1970s, these countries were mired in war. The Thai policy of converting those former battle-fields into trading fields and "Prosper Thy Neighbour" has no doubt delivered results five decades later.
Finally, Thailand is recognised as an "evergreen" destination. Its multi-cultural, discrimination-free society welcomes visitors of all shades, regardless of caste, colour, creed or sexual orientation. As WebBeds CEO Daryl Lee said, Thailand is complete different , totally out of the ordinary… There is always something for everyone. It holds a very special place in the hearts of travellers."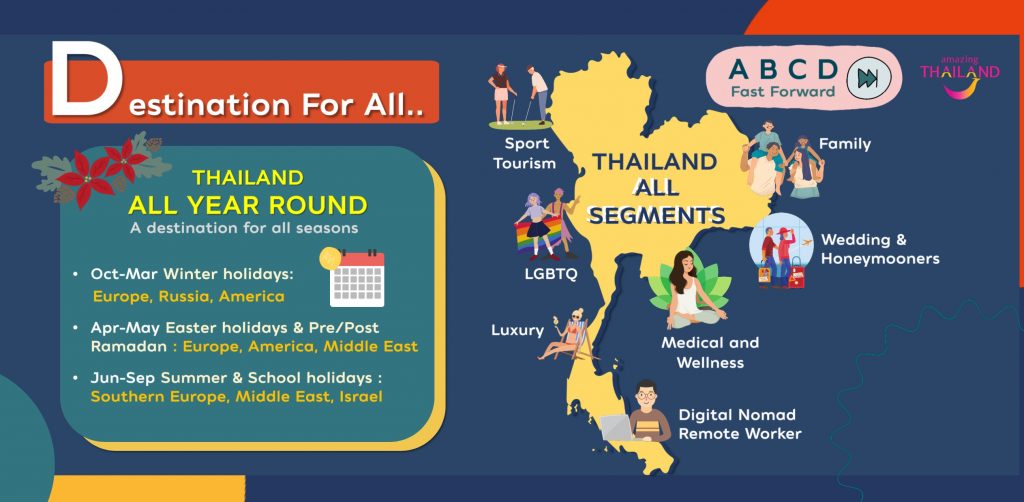 Conclusion
Yes, a robust tourism recovery is under way, but it is fragile, perilous, insecure and unstable. This is because of the absence of the most important prerequisite for all forms of progress and development: PEACE! Internal, external, spiritual, social, cultural, multilateral, geopolitical PEACE! Minus that peace, all forms of recovery are temporary.
Thai foreign policy and diplomacy has been deftly managed to ensure the best possible peace. This can change in a split second. Within Thailand, too, challenging days lie ahead. An election is coming up by May, as is a succession in the Royal Family, one of the four pillars of Thai society. Young-Gen protests are rising over the lese majeste laws.
Over the years, Thailand has done an A-grade job at bouncing back from its multiple crises. But it has had to do so by treating the symptoms and not the cause. That course of treatment may now need a second opinion, taking a cue from Thailand's highly-popular health and wellness "treatments", both preventive and curative. Living in denial about the reality of the ailment is a one-way ticket to the next disaster.
That applies to the Thai and the global tourism industry at large. It deserves to get serious attention at the first-ever Global Tourism Resilience Conference to be held in Jamaica from February 15-17, 2023.