28 Feb, 2023
Bangkok – The first female and Asian-American appointed as CEO of the Pacific Asia Travel Association (PATA) has also turned out to be its shortest-serving. The 27 February 2023 announcement of the resignation of Ms Liz Ortiguera and the accompanying statement to the PATA membership by Chairman Peter Semone beg two questions: 1) What Happened? and 2) What Next?
No reason was given for the resignation. Instead, the press release lauded all her accomplishments. The CEO blog on the PATA website is full of rah-rah information about her activities. If she was so good, why did she resign?
Zipped lips are perhaps necessitated by a range of legal, personal and professional factors. But they don't stop the truth from eventually surfacing. Dues-paying members are well within their rights to know the truth, should they choose to exercise that right.
Ms Ortiguera replaced Mr Mario Hardy at the helm of PATA in May 2021. The "situation vacant" announcement she responded to ran to six pages, of which two pages listed the exhaustive almost superhuman criteria as follows:
She took office in May 2021 with great fanfare. Here is what the press release said: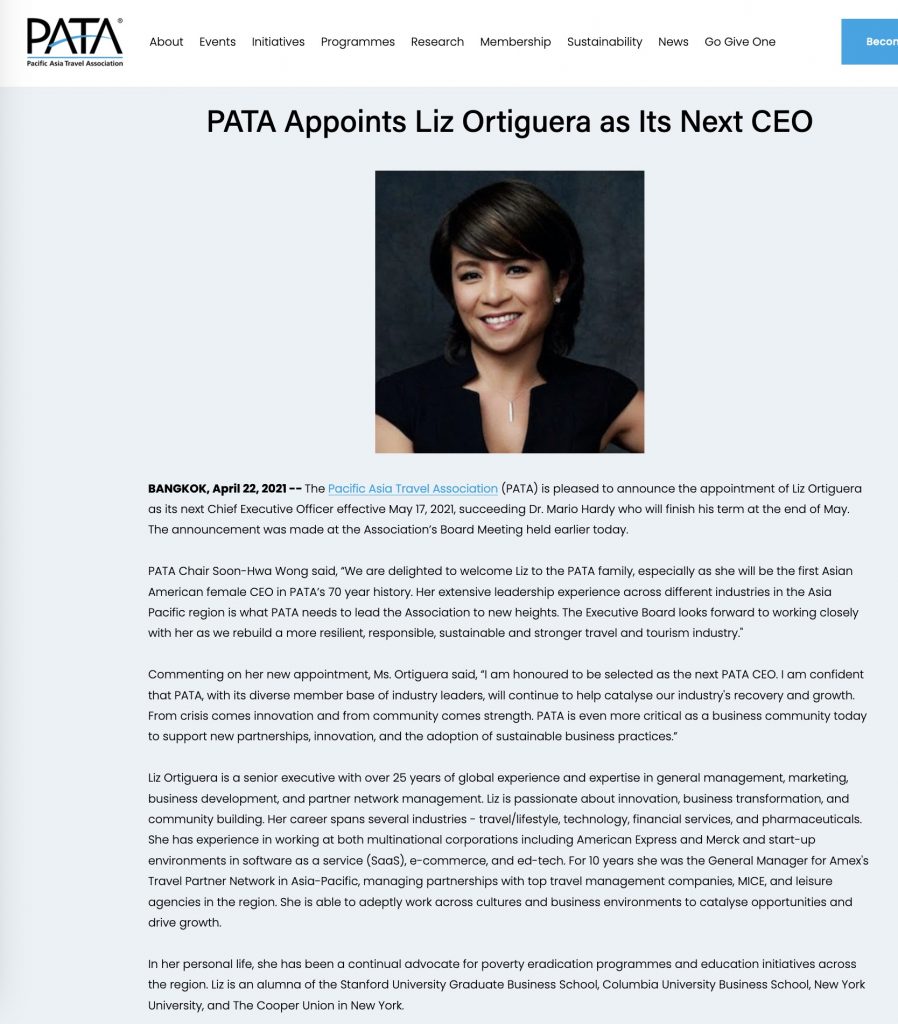 I knew she would not go the distance of her three-year contract. Coming from a formidable corporate background with a list of gilt-edged degrees to her credit, her first task was to deal with the impact of Covid, the worst crisis in tourism history. Although some signs of recovery were on the horizon, I knew she would soon become a victim of over-expectations, internal politics, the influence of the "old guard" and many other factors.
News about Ms Ortiguera's testy relations with some of the board members began making the rounds late last year. As of early January 2023, it was commonly known that she was no longer in charge. Emails were either going unresponded or being referred to Mr Pairoj Kiatthunsamai, the Chief Financial Officer. Members knew something was amiss.
So did I, but I had to sit on the story, partly due to conflict of interest. In mid-2022, I was invited by the PATA Thailand Chapter Chairman Mrs Ben Montgomery to rejoin the Association and sit on the Executive Committee as an Advisor on Tourism History. The PATA leadership issues were raised in the committee meetings. For professional and ethical reasons, I could not put that information into the public domain.
That helped me stay clear of another potential problem: Personal attacks by some of the PATA "old guard" who in the past have blamed me (and/or my journalist colleague Don Ross) for exposing PATA's dwindling fortunes. Now, as they clearly cannot blame me, who will they blame? Many fingers are being pointed at Ms Ortiguera, but in fairness, some of the old guard need to start blaming themselves. As Mr Semone said in his statement, the pathway to the future will require some honest and humble introspection of the past.
To action that objective, take a look at the lineup of CEOs since PATA's move to Bangkok 25 years ago:
Joe McInerney: Nov 1997 – Oct 2001
Peter de Jong: Nov 2001 – Oct 2008
Brian Deeson (Interim CEO): Oct 2008 – Dec 2008
Greg Duffell: Jan 2009 – Feb 2011
Bill Calderwood: (interim CEO) March 2011 – Sept 2011
Martin Craigs: Oct 2011 – Oct 2014
Mario Hardy: Nov 2014 – May 2021
Liz Ortiguera: May 2021 – Feb 2023
All the CEOs, except Ms Ortiguera, fit a common demographic profile. But they were chosen for what the selection committees thought were some unique qualifications. One was known for his strength in running associations. Another had an airline background. Another was well versed in technology. One of the interim CEOs oversaw a blueprint known as "Building the Business."
As many CEOs find out, running PATA is all about managing inflated egos and juggling individual demands. Being a "visionary and thought-leader," and having a string of degrees, corporate experience and background in travel is all well and good. Having a deep understanding of history, the core issues impacting the industry at large and membership relationship management skills is far more important. "Unity in Diversity" can be at once a major asset and a major liability.
During Ms Ortiguera's entire tenure, I stayed away from her and from reporting on PATA. I did not ask for an interview, nor did I cover any PATA events or publish any PATA press releases. Experience has taught me that all CEOs expect journalists to sing their praises, and get quite upset when they don't. I was told that she had been "warned" about my past coverage of PATA. So I just kept my distance. I knew she would find out for herself.
I can proudly claim that I am totally free of blame for her resignation. In fact, the past tendency to blame the media has now been irrefutably proven false and misguided. That alone is worth reflecting on.
Arguably the biggest challenge all PATA CEOs faced is dealing with the external shocks which battered the industry over the last quarter century, Covid being the worst. That requires an entirely different mindset and skills-set.
In 1998, Asia was still recovering from the crippling 1997 financial crisis. Then came the Sept 2001 terrorist attacks, followed by the Oct 2001 attack on Afghanistan, the Oct 2002 Bali bombing and the March 2003 U.S.-led invasion of Iraq. Then the 2004 Tsunami, followed by a number of economic, sub-prime, real-estate and stock market crises worldwide, plus other natural disasters, geopolitical conflicts and instability. In Thailand, too, a number of domestic crises were unfolding such as the 2006 military coup, the violent political confrontations in 2008 and 2010 and another military coup in 2014. This was followed by a year-long mourning period after the Oct 2016 death of the country's revered monarch, His Majesty King Bhumibhol Adulyadej the Great.
The travel industry always felt the pinch but the Asia Pacific was somewhat buffered, thanks to the rise of China, India and Russia as mass tourism source-markets. Still, many PATA members took a hit, especially the small and medium sized enterprises. In addition, technology was offering alternatives to business, communications, research and networking. Many ageing PATA pioneers were in transition. Numbers were dwindling at the annual conference and travel mart, both signature events on the global calendar in the late 1990s. The new generation had no emotional attachment to PATA. Nor did it see PATA as offering any unique selling proposition.
No wonders that, as Mr Semone says, the association dwindled in influence and importance.
So, What Next?
Mr Semone now wants PATA to "Take Leading Role in Redefining Tourism in Turbulent Times." He says, "It is in such turbulent times that members turn to their associations for solutions, for hope, for a sense of optimism." But before it does that, he says, "it is important to reflect on our own past… PATA moved to Asia to take advantage of the emerging Asian Century by embedding PATA in the center of the action. We must ask whether or not we lived up to that mission, and if not, why? Did PATA embrace and align its agenda in line with the emerging generation and their new ways of thinking? Or were we too fixated on past glories?"
He adds, "There are many views, all of which deserve to be respectfully heard. In going forward, we must harness them, learn from our mistakes and approach the future with honesty and humility. Only then, can we walk the talk and set PATA on a pathway that addresses future challenges." He called this a "transformational moment" for PATA and laid out a six-point roadmap for "Building Forward Better."
Referring to PATA as "truly the most valuable piece of tourism real estate on the planet," he appealed to all the members to join him in creating a PATA which can "Contribute to Peace and Prosperity for the People, Profitability for Businesses, and Preservation for the Planet."
That's a tall order. It will require PATA to democratise and broaden the discussion, dismantle the "preaching to the converted" format of its events, and become more receptive to what it needs to hear rather than what it wants to hear. With some honesty, humility and hindsight, it can be done. The next few months will be critical.