22 Jan, 2023
Bangkok — The search for solutions to the climate change crisis is dominated by expensive and complicated technological and financial fixes. But a three-day conference organised by the Southeast Asia Cultural Heritage Alliance (SEACHA) jointly with Thailand's pre-eminent natural history and heritage institution, the Siam Society, cited the region's centuries-old cultural and spiritual wisdoms as far more sustainable and cost-effective solutions. The trashing of these wisdoms in pursuit of "economically-driven development" was repeatedly cited as a primary cause of the decades-long crisis, with ample evidence of the price now being paid. The challenge is how to avoid going from the frying pan into the fire by blindly adopting the "solutions" peddled by the same mega-corporations and industrialised countries which caused the problem in the first place.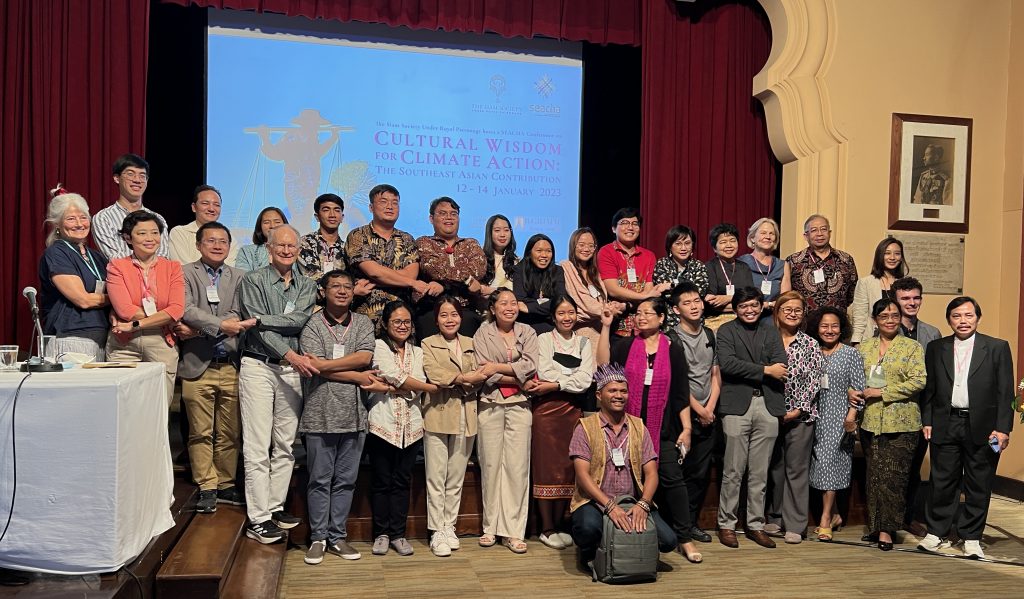 Funded largely by B. GRIMM, one of Thailand's leading energy and infrastructure construction conglomerates, amongst other private and public sector groupings, the conference brought together nearly 100 speakers, activists, spiritual leaders, students and academics for rivetting democratic debate that crossed multiple comfort zones and lines of political correctness. It's most important takeaway was the need to redirect the global economic and ecological systems towards wisdom-based "balanced development," a more precise term favoured by prominent Buddhist monk the Venerable Anil Sakya.
Just as the Covid pandemic respects no borders, spares no-one and causes enormous suffering, so too does the climate crisis, only in slow motion. Survival is at stake in both. While Covid was tackled urgently via draconian restrictions, vaccinations and behavioural change, climate crisis decision-makers are taking their time.
In line with the guiding "Unity in Diversity" mantra of the Association of Southeast Asian Nations (ASEAN), the conference brought together a colourful kaleidoscope of participants, from Burmese to Bruneians, Karens to Temuans, archaeologists to architects, students to professors. It was was a goldmine of ideas on everything from building design to conservation, from protecting indigenous people's rights to peace-building.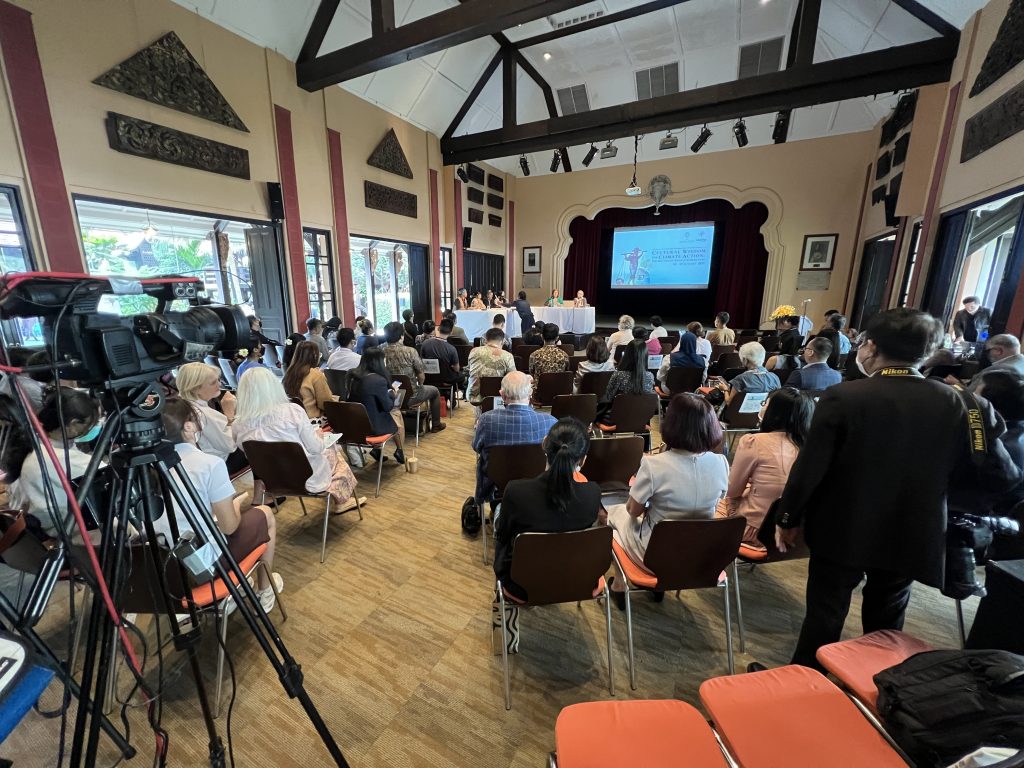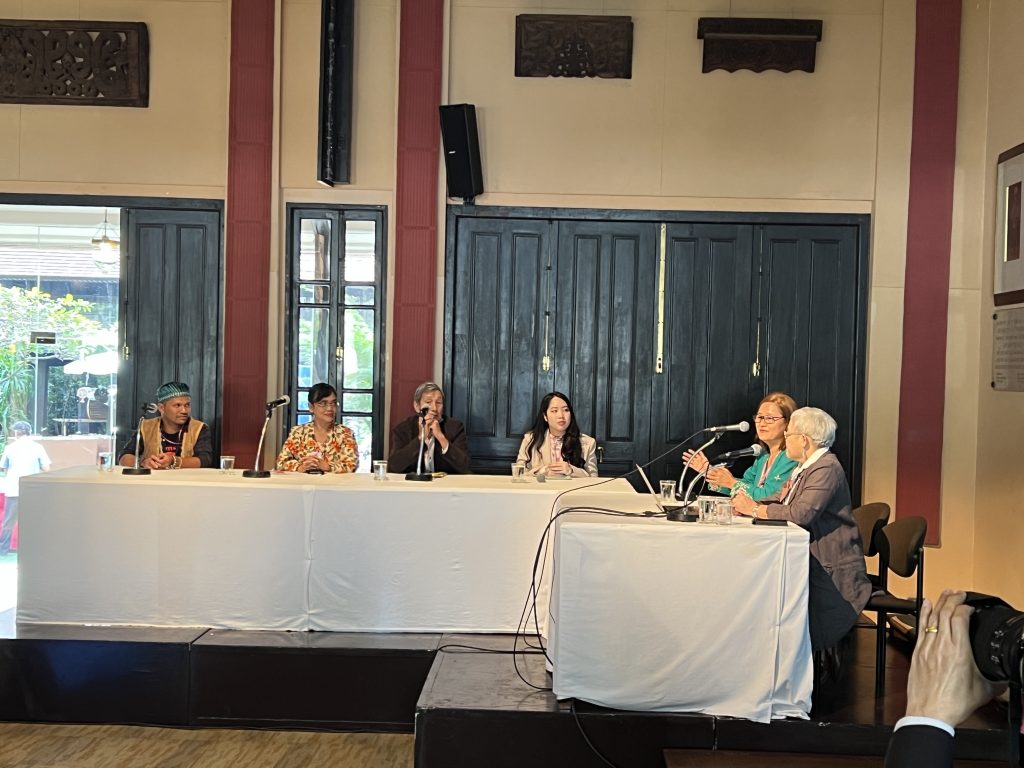 Like the participants, the conference content reflected the inter-connectedness of everything, everywhere. They talked about how old ways of architecture and construction were much more sturdy and sustainable than today's tech-driven systems and material, how entire cities have become so congested and polluted that they have to be moved to different locations, how mangroves can protect coastal areas against tropical storms, how the holistically-designed shophouses were the original work-from-home structures, and much more.
The prime focus was on simplicity and sustainability of Cultural Wisdom dating back to the pre-fossil fuels era when peoples meticulously protected and/or worshipped the Creations of God or Nature. For the first time at the Siam Society, representatives of all the major faiths of Southeast Asia (Buddhists, Muslims, Christians and Hindus) joined forces in a true Alliance of Civilisations against a common threat. Their spiritual and philosophical perspectives varied but they were all united in asserting the commonality of the borderless elements, Earth, Wind, Fire and Water as the source of human survival.
The three days of heavy-duty presentations (summarised visually in the free downloadable PDF file below) all came together on the last day in a session devoted to the Young Gen's reflections and action plan.
One young lady said she wanted more education, with a specific focus on the impact of climate change, targeted at students as well as all workers and corporate employees. Another said she had become cognizant of the "irrational race" for getting ahead, which leads to more consumerism and consumption of natural resources. At the same time, she felt there was hope for a better world if public energy could be redirected towards building communities, supporting marginalised societies and boosting business. She also called for the public to make a sustainability a choice by buying clothes that reflect their values.
One young man said he would like to see a louder voice for the indigenous communities and a more sympathetic hearing by business leaders. A fourth young activist said she wanted to see a better quality of communications both amongst the climate activists as well as with all stakeholders. She referred to communication as a common bond to bridge the gaps and make their voices heard.
The common thread was a call to be heard and heeded. However, the forum was almost totally devoid of those people who most need to hear and heed those voices: The media, multinational corporations and governments. That absence alone said a lot. Elitist decision-makers eventually veer towards the money and media coverage. The fact that their solutions are prioritised based on their economic and commercial value NOT by freely available and time-tested wisdom itself poses a clear and present danger.
One participant confessed: Governments fear that today's climate activists could become tomorrow's political activists. They fear demands for transparency and accountability. Young-Gen keynote speaker Joshua Anak Belayan of Brunei Darussalam wanted to know the reason for the never-ending round of COP conferences organised by the UN Framework for Climate Change. Why do thousands of people fly in repeatedly from all over the world to exotic locations merely to agree to the status quo? Questions were also raised about the need to pay reparations to those who are suffering most by those who benefitted most. I asked why the global military-industrial complex is never held accountable for its devastating environmental impact.
The forum's venue itself conveyed a powerful subliminal message. The Siam Society is just a little distance from the Asoke-Sukhumvit intersection, one of the busiest in Bangkok. It is one of the last remaining pieces of wisdom-based real estate. Its showpiece structure, Khamthieng House, is a prime example of the zero-carbon structures of the pre-fossil fuels era. Today, Asoke road is an ugly example of development gone wrong, a stark contrast between one of the few sites of Cultural Wisdom holding out against the pile-drivers of Contemporary Development wiping them off the map.
The lopsided profile of the participants was another indicator of the skewed level of interest. Most were like-minded NGOs, academics, representatives of cultural and environmental groups, including some Thai ministries and a few foreign diplomats. Not a single Travel & Tourism association or organisation showed up. What does this say about the mentality of an industry that survives on selling both nature and culture for a living? Cultural Wisdom still abounds in Southeast Asia and beyond, but is rapidly dwindling. Unless it sees a bottom-line benefit, Travel & Tourism has zero interest. That mindset needs to be reset post-haste if the industry seriously wants to walk the talk of preserving cultures and warding off climate change.
The conference could prove to be a watershed, thanks to funding support which can provide continuity. B. GRIMM has signed a three-year sponsorship pact with the Siam Society pledging two million baht a year for further activities to support arts and culture, history, knowledge and wisdom both nationally and internationally.
Said B.GRIMM Chairman and CEO, Dr Harald Link, "It's the wisdom we received from our ancestors, to bring good things to this country through business operations, to provide assistance and support, while continuing to promote the values of arts and culture, wisdom and knowledge, which is something that B.Grimm has consistently valued." He added, "Increasingly, climate change is impacting everyone worldwide, socially and economically, from all walks of life. It is a global problem, and will only be solved if we all work together. Today, we are facing a reversal of globalisation and regional cooperation will play an even greater role. It is important for Southeast Asian countries to work closely together. The most important players are the young people who will shape the future of Southeast Asia."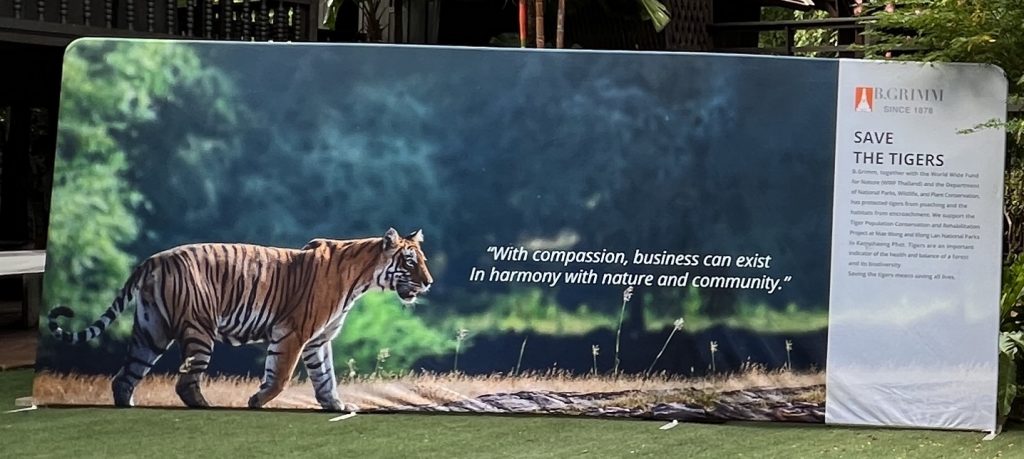 Serious problem-solvers in Travel & Tourism are encouraged to study the forum contents in detail. For the time-poor, I have compiled key slides and photographs into a quick-look summary, which can be downloaded FREE by scanning the QRcode.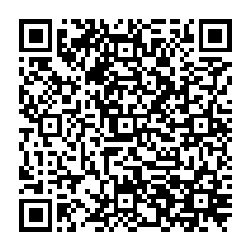 Here is a QRCode link to the full conference, include all the presentations, interventions and Q&A.