3 Nov, 2022
Bangkok: Sukamal Mondal is one of a rising generation of Indian-born management executives in global Travel & Tourism. Since moving from China to Thailand in 2012, the Mandarin-speaking hotelier has risen to Area General Manager of eight properties of the Onyx Hospitality Group, owned by the Thai business conglomerate Italthai. As Thai tourism goes from bust to boom in the post-Covid era, he says the biggest challenge is neither sustainability nor technology but finding, training and retaining human talent to meet guest expectations.
"We are not in the tourism industry but in the feelings industry," he said in an interview. "Many things are changing but the basic principle of hospitality has not changed. It is all about making guests happy. The way we do the business of tourism may change but its core value does not. Guests have chosen our hotel for a reason, and we cannot challenge that. If we damage their holiday, how sad it will be. Our job is to make our guests happy. And my job is to try my best to make my team happy."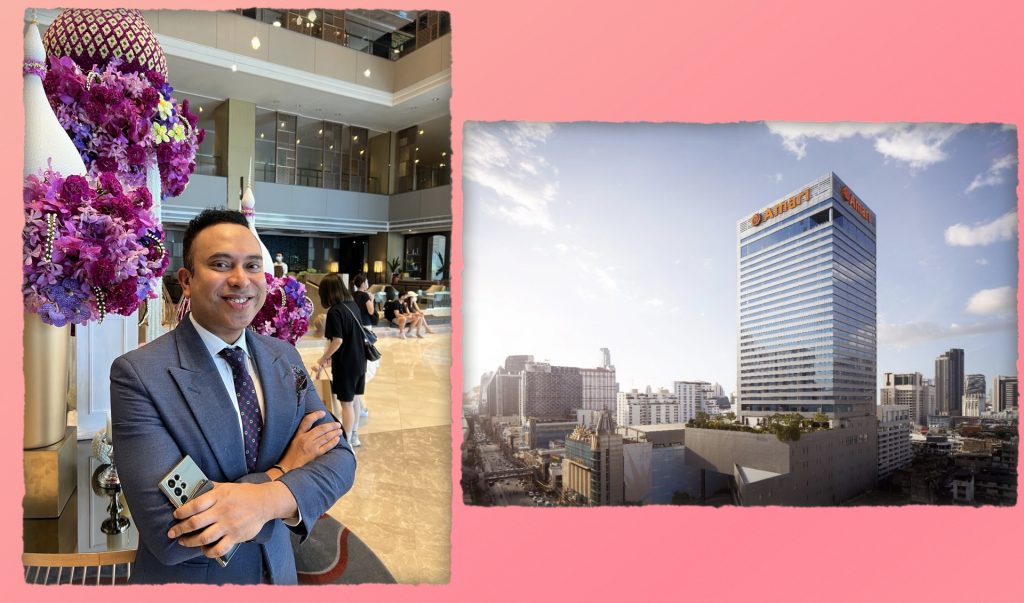 After graduating with a degree in Hospitality and Tourism in his native Kolkata in 1998, Sukamal Mondal moved to China in 1999 as a bartender at the Jin-jiang International Hotel in Shanghai and worked his way up to restaurant services manager. In 2006, he joined Onyx Hospitality as Resident Manager of Shama Century Park in Shanghai. In 2012, at age 32, Mr Mondal was appointed GM of Shama Sukhumvit Bangkok and promoted in late 2021 to Area General Manager covering eight Thailand properties with 895 "team members", as he calls them. Of that number, 390 are at the Amari Watergate, the group's flagship which he is striving to transform into one of Bangkok's top MICE and corporate hotels.
Making the team happy is a formidable task, after a tough two years when the pre-Covid team was heavily downsized. Many positions were eliminated on the last-in, first-out basis, especially in non-operations areas. But one that remained untouched was the Head of Learning and Development. All through the Covid period, staff training continued every month, both live and over Zoom. "We trained them on how to be multi-talented. Different workshops and training on how to drive Topline sales by thinking out of the box and streamlining the most profits. We had courses on English-speaking skills and Visionary Leadership skills for director levels and up."
Today, as occupancies rise, so does the demand for "team members". This search, already difficult in the old pre-Covid days, means dealing with a technologically-driven young generation who can change jobs at the press of a button. Loyalty is all but dead and short-term thinking prevails. Managing this requires new ways of management thinking. Flexible pay and working conditions are important, Mr Mondal says, but even more important is to be compassionate, empathetic and fair in the way staff are treated.
"If there is one thing COVID-19 taught us, it is that things change rapidly and life can be extremely uncertain. The new generation needs to be able to adapt to change and still show the same perseverance. Your attitude determines your behavior and if you think you can handle this environment, then you are good to go."
According to him, hiring and training young talent is like giving back to the community. "We have just launched a culture service training called 'Brighten Your World'. We are here to brighten your world. Compassionate leadership works. Being generous with compliments works."
He sends staff personally hand-written compliments, not computer-generated print-outs. "Young people these days don't want to put in 10 hours of work, so six-hour work periods are okay. They prefer more free time over money. That's okay as long as the job gets done. Being flexible sometimes means breaking the rules, too. If they want an extra holiday, they get it. If the production is as expected, I don't care about the hours. If they want to go home early, I don't care. However, it also doesn't mean you have to be super nice all the time. You are not here to sell ice cream."
"The younger generation comes with a new mindset, a new perspective towards life. They like to think "outside the box". For leaders like us, it can be a little tough to relate to them. We still prefer doing things using conventional methods but the generation of today wants to be "different." It is imperative to strike a balance in all aspects of life. I work with a young, dynamic team and I can say we have learned to find a middle ground. As innovative as they might be, they still lack experience so that is where the leaders play a big role. We work together as a team to make things happen," Mr Mondal says.
Hotels are now hiring more casual staff, such as for ad hoc functions and events. Others are hiring trainees from Indonesia, Philippines and Myanmar who "are amazing people and are very useful in dealing with guests because of their higher level of English."
Mr Mondal is a strong believer in female empowerment. "For us, International Women's Day does not come just once a year, but every day. The current staff ratio across all properties is 40:60 male:female, but in one property, the Shama Yen-Akat, it is 60:40, with all the department heads, except the Chief Engineer, being women. "If I could find a woman to do that job, I would have done so," he said. "Women in many ways perform better than men. Men are more strategic, but women are more creative. Women think about the big picture and think ahead. They are more compassionate. The Shama Yen-Akat came up with the idea of becoming a pet friendly hotel. We don't give fruit-baskets, we give amenities for dogs and cats."
Mr Mondal is happy to see many Indians working in hotels across Asia and Australia, especially with the major chains. The mentality of owners is also changing. However, he says, it's not about nationality or ethnicity. It's simply about people serving people. Also, he adds, "Indians judge. Westerners do not judge. That's why is it important to be seen to be treating the team fairly. You cannot fix the community but you can fix the person."
He said budgeting these days has become like writing a story with no certainty about whether it will be published. "There are two kinds of budgets these days. One budget is what you want to have. The other is what you can make based on current market conditions. Smart leaders and smart owners will find a balance between them. What will happen next year no one knows. Hospitality is no longer about just demand and supply. The current supply (in Thailand) exceeds demand, and more hotels are still coming on. They all need talent."
In spite of the volatility, Mr Mondal believes the travel sector still offers good career-path prospects. "We are back and growing once again. There are numerous job prospects for the newer generation to learn and gain experience. Such jobs can also provide a sense of security for employees to rise to greater heights."
He says his way of dealing with people is heavily influenced by his relationship with his mother, a teacher by profession who was strict but very creative and patient, and very conscious about doing the right thing, even if it meant offending people. "She worked hard and raised two kids. It has rubbed off very well on me."