14 Jun, 2022
Phuket — Thailand's rebounding tourism industry is set to gather steam following a successful Thailand Travel Mart Plus in Phuket between 8-10 June 2022. A total of 277 buyers from 42 countries and 62 international media got a first hand look at the leading Thai resort island's range of products and services. And a total of 264 sellers from all over the country were able to present mouth-watering deals and gain updated information on the opportunities and trends in multiple source-markets. Assuming global conditions do not sink further, the kingdom is projecting between 7-10 million international arrivals by the end of 2022.
Put together in just six months, the TTM marked a continuing cascade of good news for Thai tourism after two years of misery. Multiple Covid-related restrictions are all but gone. Flight connections are resuming daily. The TAT has crafted a new campaign backed by a range of glitzy promotional imagery. The private sector is reopening and rehiring big time. As the tourists return, so are the smiles on the faces of industry workers. Even the geopolitical stars are aligned. China and Russia, the two big-ticket markets of the pre-Covid era, are totally down, but the Saudi market is looking bright following the historic diplomatic patch-up in January 2022. One day before the TTM opened, the Thai Cabinet approved a 30-day visa-free stay for Saudi visitors.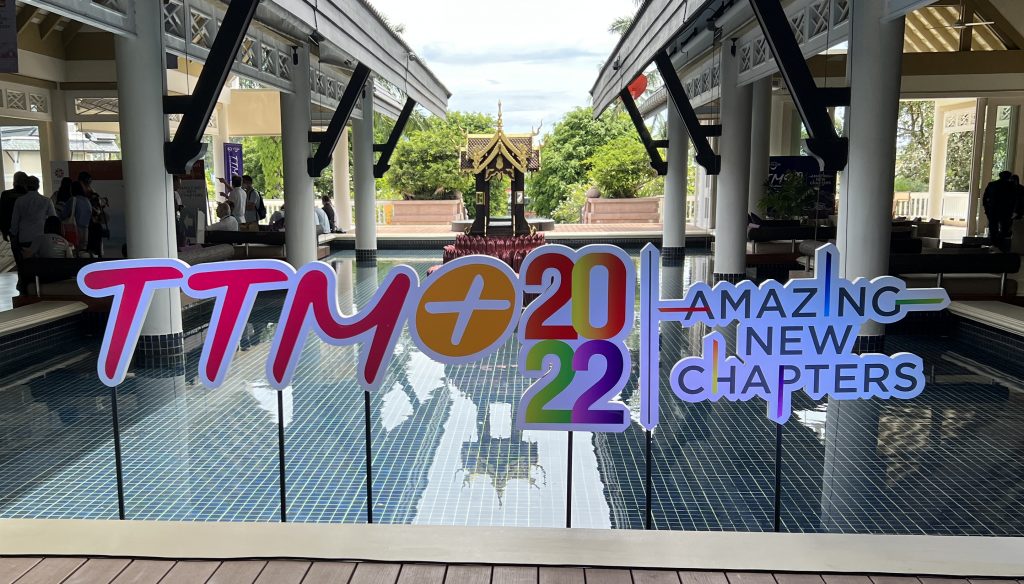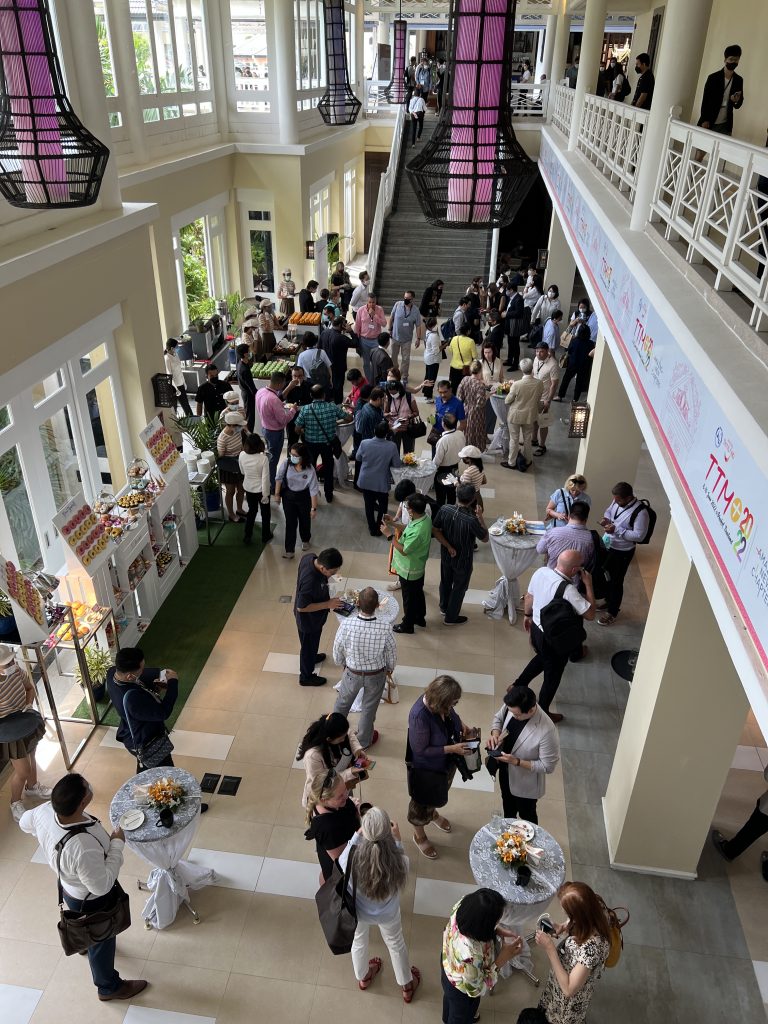 Phuket is proving to be a saving grace. Although the island has over-developed in terms of infrastructure and tourism plant, it is clearly proving to be a lifeline as Thailand's second most important gateway.
The TTM+ was vintage TAT, arguably Asia's most crisis-experienced national tourism organisation. For two years, it has tried valiantly to keep up with the twists and turns in Covid-related entry restrictions in accordance with the government's efforts to balance lives and livelihoods. All through, the strategy was to remain in touch with the various stakeholders, suppliers, partners and airlines, monitor conditions and be prepared to swing into action when the clouds cleared.
That is exactly what has happened. When the first signs of improvement began to emerge, the TAT decided in January 2022 to proceed with this year's TTM. It was risky call, but it has paid off. The Ukraine-Russia war added an element of uncertainty but was offset by the promise of improved Thai-Saudi ties for tourism, trade and transportation links. Pressure from the private sector gave it further impetus. When the airlines began looking around for popular, easy-access destinations, Thailand was high on the list.
In his media conference, TAT Governor Mr Yuthasak Supasorn said the visitor arrival forecasts are based on various risk-management scenarios, but the three source-markets from which the TAT saw reasonably good potential to attract both numbers and high-spenders were India, the Middle East and Indonesia. In terms of customer segments, TAT Deputy Governor for Marketing Communications Mr Sripakorn Chaewsamoot said the TAT would be looking to attract remote workers, health and wellness seekers, gastronomes and the MICE sector.
The TAT knows that there is both pent-up demand and purchasing power. The Deputy Governor for International Marketing (Europe, Africa, Middle East and Americas) Mr Chattan Kunjara na Ayutthaya said he was one told by one buyer that Belgium, a small European country with a population of 11 million, had 300 billion euros lying unused in the banks. As life returns to normal, that money is available for discretionary spending, and the travel industry's multinational hotel groups, airlines, credit cards and the OTAs are ready to tap it.
The TTM+ was designed around this market prognosis. These two slides show which way the TAT is heading …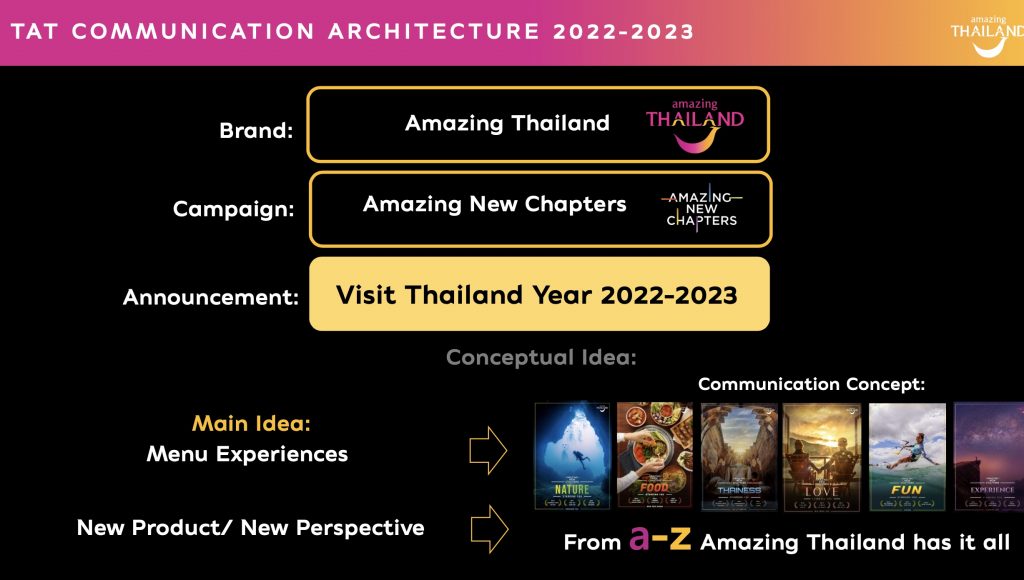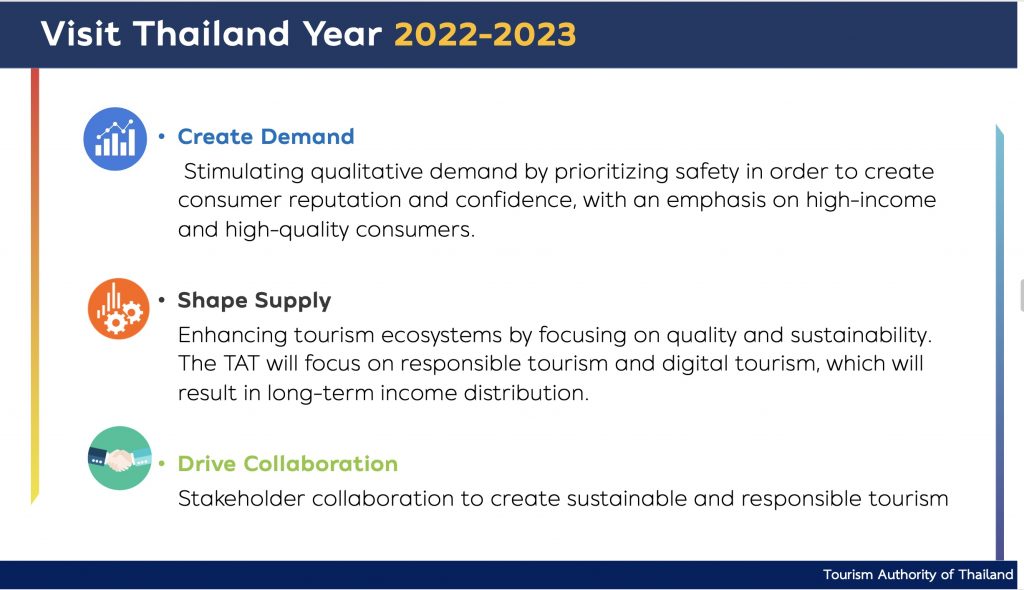 Sellers paid a nominal 17,500 baht for the participation. The majority were hotels and hotel groups whose superb products, designs, facilities and services are now the bedrock driver of Thai tourism. As part of the effort to "maintain the balance between the economy, society, and the environment," the TAT gave priority to sellers who could show proof of sustainability activities. They also had to have a clean professional record. Those blacklisted or under investigation for violation of the Covid-19 marketing subsidy campaigns were barred.
In turn, the hosted buyers paid a nominal US$300. They, too, had to be free of a "No-show" and / or "Blacklisted" record in the TTM+ 2017 – 2019.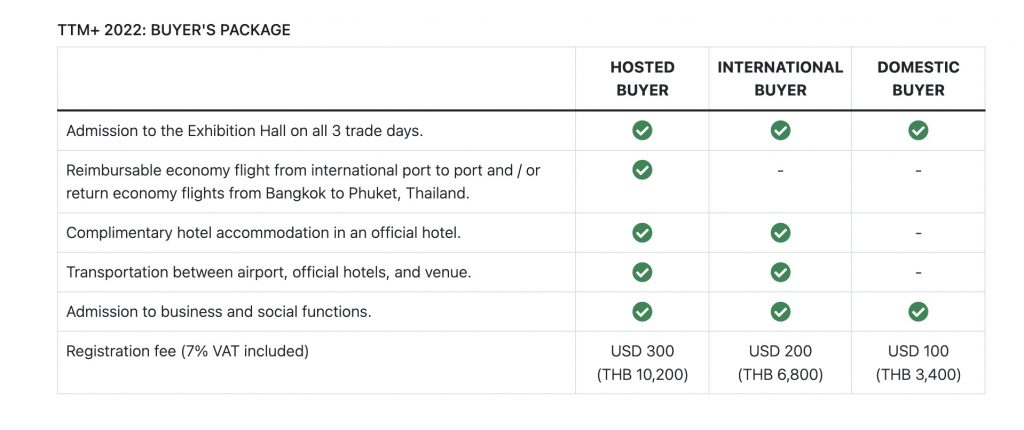 The TTM was also heavily high-tech. The entire registration and appointment system was automated. While face-to-face meetings were clearly back, virtual meetings were also possible, as in the case of the Chinese buyers. The TAT also opened opportunities for a large number of first-time buyers and sellers, but accompanied it with a quality control mechanism that allowed both buyers and sellers to give instant feedback on each appointment.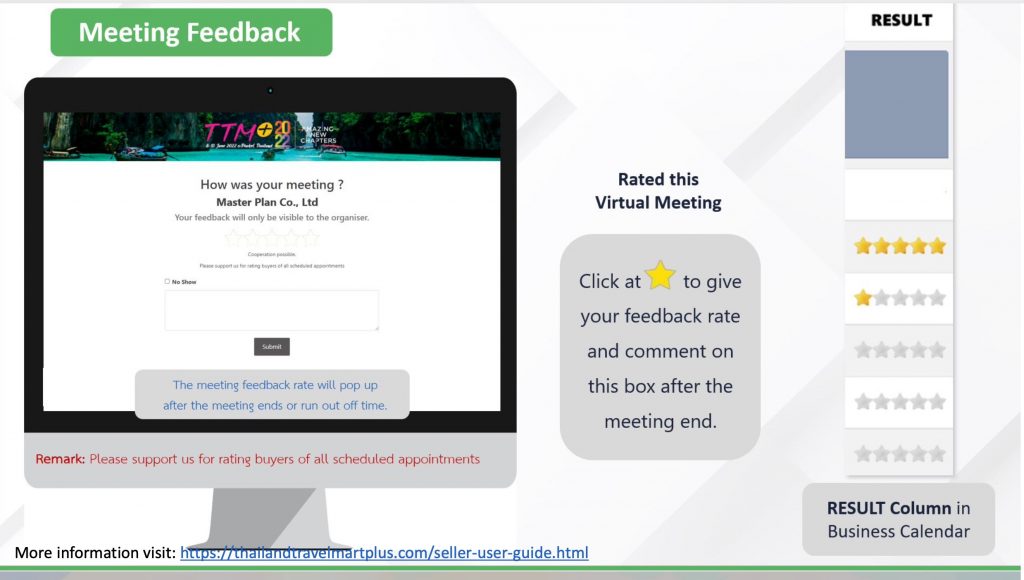 Although the TAT's new marketing campaign is about "Amazing New Chapters", a whole new era is opening up, in the way people both travel and do business. Those trends are being monitored too, primarily because the TAT is facing severe budgetary constraints. Mr Chattan said the TAT is "rethinking" its future presence in several markets but would strive to retain some kind of a representation in all stations. I also asked the TAT Governor if the TAT's current operational structure was suited to handle the changing circumstances. He indicated that some changes would be required, especially to handle the new responsibilities of technology and sustainability, but did not quite specify what would be forthcoming.
Budgetary curbs will also mean that the TAT will review its presence at global trade shows. In the survey form, the TAT asked the buyers point-blank which one they considered the best.
I asked Mr Chattan what were the key lessons the TAT had learned from the Covid-19 crisis. He mentioned two: 1) A need to talk more to local governments and local communities, travel trade and private sector representatives on how to respond to such situations and get their OK on how to proceed. He said the TAT perhaps had been talking a lot with people at higher levels and while there was nothing wrong with that, more grassroots consultations would be beneficial; 2) "Always a have Plan B, maybe even a Plan C or D, a procedure so that you won't be frozen in place when such crises strike. You never know what is going to happen," he said. "Nothing is written in stone any more. Before the pandemic, we always thought the industry was bulletproof, maybe affected by some temporary incidents like floods or political unrest, but nothing that would last as long as this, and affect the whole world."
Assuming that no more external shocks strike, the future is looking good. All the overland borders with Laos, Cambodia and Malaysia (perhaps excluding Myanmar) will soon be open normally, which will allow a better balanced visitor arrivals count between North/Northeast and Southern Thailand. Cannabis tourism is now the flavour of the month following its legalisation, and casinos are on the way. Legalised sex work is not far away, which will give Thailand an unbeatable competitive advantage. Reopening Thailand after a two-year shutdown will open up a whole new set of challenges and certainly keep the TAT and the entire tourism industry busy for a long time. The TTM+ was just one step in that direction.