13 Oct, 2021
Bangkok – In his speech to the UN General Assembly (UNGA) annual summit on 25 September 2021, Prime Minister Prayut Chan-o-cha said, "I believe that the crises and challenges we face today have presented us with an opportunity to learn from past lessons, to reorient our approach and to better prepare for the future."
If that very powerful statement, delivered to the entire world, is used as the benchmark cum checklist for a recovery of Thai Travel & Tourism, it would beg the questions: Which "past lessons" does the industry need to learn from? Which approaches need to be "reoriented"? And how can it "better prepare for a future" in a world which the Prime Minister himself says is "full of chaos."
On 11 October 2021, the Prime Minister delivered another speech to advance the reopening of a ruined Travel & Tourism industry, citing his earlier promise to do so within six months. He cited very specifically the very painful balance that his government has had to strike between saving lives and saving livelihoods, and Thailand's successes in these areas.
Now, it may be useful to establish what Thailand's Ministry of Foreign Affairs refers to as "connectivity and complementarity" between the Prime Minister's UNGA speech which took a macro, long term approach and the Tourism Reopening speech which took a micro, short-term approach.
As the hard part has now just begun, the key to a better Travel & Tourism future will depend on how well that gap can be bridged.
First, a reality check. Fancy speeches and sloganeering such as "new normal," "build back better," and "convert crisis into an opportunity" always come easy. I have heard pretty much the same after just about every previous economic crisis, environmental disaster and political conflict.
But little actually changes. It all quickly goes back to business as usual.
So the first question is: "Which past lessons does the industry need to learn from?"
I will leave it to you, my readers, to decide from your own perspectives what those past lessons are.
But once those are inventoried, here's Question Two: Which approaches need to be reoriented?
Today marks the 5th anniversary of the death of His Majesty King Rama IX the Great, Thailand's longest reigning monarch and the Father of the far-sighted Sufficiency Economy concept. All through his 70-year reign, Travel & Tourism squeezed Royal events and anniversaries for every drop of marketing and promotional value, but never seriously mainstreamed any of his nation-building principles.
The end result? Again, I quote the Prime Minister's UNGA speech: "Due to unbalanced growth and development, the world is facing a growing existential threat of natural catastrophes connected with climate change on an unprecedented scale. Over the past centuries, we have carelessly enjoyed and, at times, exploited Planet Earth's environment without listening to the repeated warning signals sent over time. We are now inevitably left with self-inflicted consequences that we have to bear with for the next 30 years."
FACT: Global Travel & Tourism, in its pursuit of unbridled, unbalanced growth, contributed heavily to these "self-inflicted consequences".
If Thai Travel & Tourism had heeded King Rama IX's words right from the beginning, it could have avoided the consequences. That is both a past lesson to be learnt and a pointer to the approaches which need to be reoriented.
Will either of those actually happen?
To be realistic, I am somewhat pessimistic.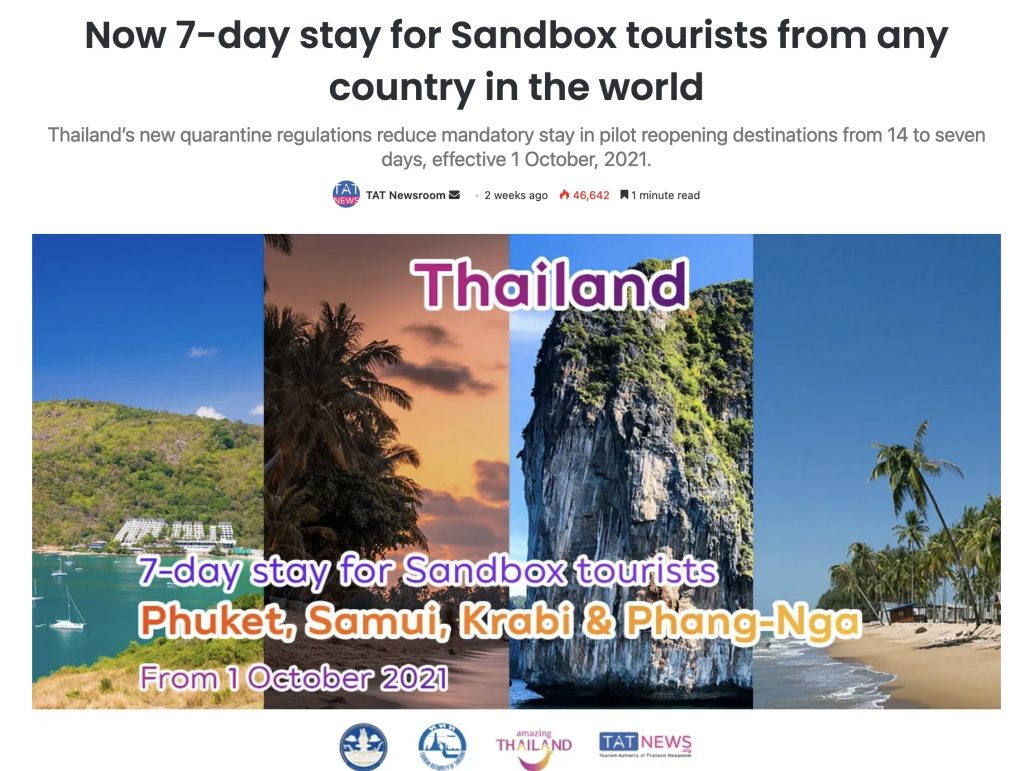 Take for example the "Phuket Sandbox" project. It is being touted as a great success. The criteria is the usual set of numbers: Flights, visitors, and the revenue they are generating. The statements exulting in this "success" are being juxtaposed with the "business as usual" demands for bigger budgets to address the "competitive threats."
No mention, at least none that I have seen, of how Phuket will prevent a long-term return to "unbalanced growth and development".
This blind-spot is not without precedent. In 2004, Phuket and other spots along the Andaman coast were devastated by a monstrous tsunami. In the reconstruction, they promised to "Build Back Better". Did they? Or did it all just go back to business as usual?
Finally, the Third Question: How to "better prepare for the future?"
Can a new long-term Tourism Magna Carta be crafted based on the concepts outlined in the PM's UNGA speech?
To fix that problem, Thai Travel & Tourism will have to first recognise that there is one.
That will mean recognising the existence of child sex tourism, corruption, land-grabs, forest encroachment, wastewater and garbage problems, vested interests, deforestation, over-development, crime, safety & security, sexually-transmitted diseases, alcohol-related casualties, and much more. All these are self-inflicted. So are our political crises, one of which led to the disastrous 10-day shutdown of Suvarnabhumi airport in 2008.
None of them have gone away, and still pose a risk. Do we sweep them all under the carpet?
If the world is "full of chaos," the future of Thai tourism certainly will be chaotic. Competition will be intense. A buyers market will lead to a race to the bottom. Thailand is an ageing destination. Cosmetic nips-and-tucks may work temporarily but eventually will fail to disguise the reality.
In the short term, no doubt, Thailand's tourism marketing genius will prevail. The promotional and discounting campaigns will kick in, and visitor arrivals will jump, accompanied by the triumphant press releases.
To "better prepare for the future" over the long-term, and vaccinate ourselves against future crises, it may help to encourage transparent debate and critical thinking and listen less to the usual motley of "futurists, visionaries and thought-leaders".
Tomorrow (Oct 14) the Tourism Authority of Thailand Governor Mr Yuthasak Supasorn is due to give a speech at the Association of Thai Travel Agents monthly meeting. No doubt, he will tell the industry what it wants to hear. I hope he also tells the industry what it needs to hear.
The rubber will hit the road in 2022. The 2022-2026 five-year National Economic & Social Develoment plan will be under way. Thailand will host the Asia Pacific Economic Cooperation (APEC) meetings. As the Asia-Pacific region's leading Travel & Tourism historian, I can point out that 2022 will mark the 35th anniversary of 1987 Visit Thailand Year and the 30th anniversary of 1992 Visit ASEAN Year, both landmark events that revolutionised global tourism.
Combined, they offer a perfect opportunity for Thai Travel & Tourism to walk the Prime Minister's talk, "learn from past lessons, reorient our approach and better prepare for the future".
Readers may also want to check out this lecture I delivered in December 2014 at the PATA Engagement Hub on the topic "Prepare, Prevent, Pre-empt"….https://www.youtube.com/watch?v=eO8LlaMYfa8…