1 Jun, 2021
01 June 2021
Attn – Khun Bill Heinecke, Founder and Chairman, Minor International Corporation
From – Imtiaz Muqbil, Executive Editor, Travel Impact Newswire.
Ref: Your letter of 27 May to Thai Prime Minister Gen (Retd) Prayuth Chan-ocha
Dear Bill – Greetings.
As always, your latest letter to the Prime Minister proved to be a popular read. Your recommendations to the PM on ways to facilitate a tourism recovery, business survival and staff welfare are all commendable. However, I would like to complement your proposals with some historical context and a more balanced, long-term perspective.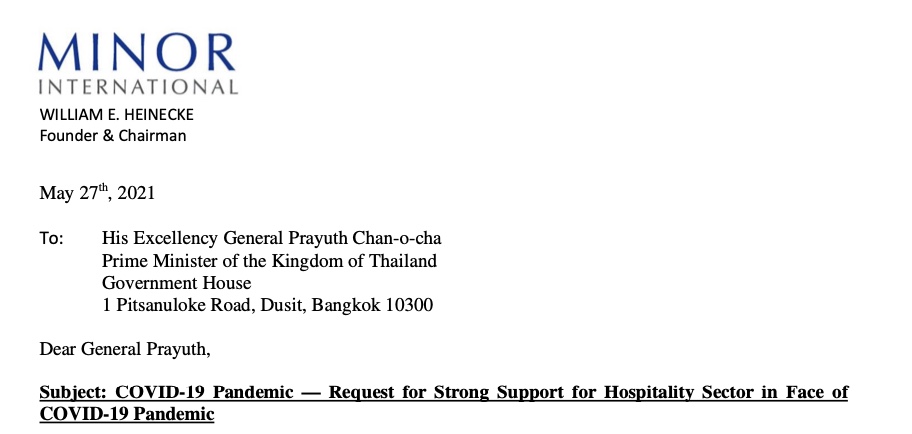 Click here to download Mr Heinecke's full letter to Gen Prayuth.
We both ventured into Travel and Tourism in its early days. Your first property, the Royal Garden Resort Pattaya opened in 1978. I began covering Thai tourism in 1981. The 1980s were a Golden Age, peaking with Visit Thailand Year 1987, a global marketing extravaganza which I chronicled in a 1988 book. In 1988, you listed Royal Garden Resorts on the Thai stock exchange.
Clearly, we both recognised the long-term potential of this great industry.
Today, as the anti-Covid vaccinations are fast tracked, Travel & Tourism is cranking up its marketing campaigns, discounts and deals – as it always does after every crisis. That's the easy part. The real challenge is getting the industry to walk the talk of its numerous slogans to "Build Back Better", turn "Crisis Into An Opportunity" and forge a "New Normal."
If history is any indicator, we are not very good at learning the lessons of history. We both have seen Thailand and Thai tourism ride through many crises. In 2004, a monstrous tsunami devastated large swathes of Phuket and the Andaman Coast. Clarion calls were made to Build Back Better. Not everything went according to plan.
This July, Phuket will lead the post-Covid tourism revival drive. Like many Thai destinations, it has a split personality. It boasts a luxury yacht marina, the Laguna complex, dozens of elegant health and wellness resorts, a university, many great hotels, superb roads and a gleaming airport. But the post-tsunami, pre-Covid development was messy, like children playing in a sandbox. The population grew and natural resources came under immense pressure, from both locals and tourists. Land use patterns changed dramatically. Garbage and sewage output surged. Fresh water supply fell short.
Phuket was squeezed for every golden egg it could lay. Losing all sense of balance, the so-called "Pearl of the Andaman" simultaneously got it both right and wrong.
In future letters, you may wish to counsel the Prime Minister to rebuild Phuket as a destination which adheres uncompromisingly to the principles of People, Planet and Profits, becomes a shining practitioner of the UN Sustainable Development Goals, the ASEAN Socio-Cultural Blueprint and the Sufficiency Economy, and reduces and/or eliminates not just plastic and food waste but crime, corruption and child-sex tourism, too.
Although it loves dispensing advice, the Thai tourism private sector is a physician which first needs to heal itself. Multiple associations with multiple agendas are all doing their own thing, also like children in a sandbox. Instead of constantly calling for government action, how about drafting a unified plan to rebuild Thai tourism better, across the board, and setting time-bound, measurable targets and indicators to implement and enforce it.
If that can be achieved, Phuket could become a leading example of post-Covid tourism recovery and revival in Thailand, ASEAN and globally.
Next year, 2022, will mark the 35th anniversary of 1987 Visit Thailand Year, which commemorated the auspicious 60th birthday of our beloved His Majesty King Rama IX the Great. He died with his dreams for an environmentally sustainable, economically stable, culturally integrated and politically mature country in tatters. During his lifetime, many tourism marketing campaigns were launched to celebrate Royal events. All were designed to drive visitor arrivals and commercial profits. It was all about the numbers. His advice on nation-building never figured.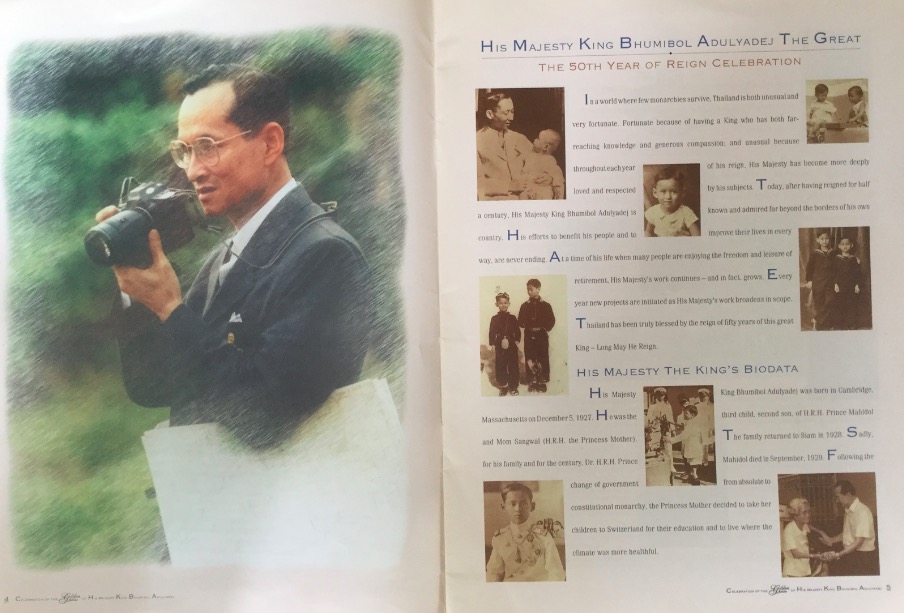 In the post-Covid era, we have a perhaps final opportunity to heed the late King's advice and fulfill his vision, using Travel & Tourism as a unifying glue. The new-found respect for cleanliness, sanitation and hygiene needs to be broadened well beyond virus protection to include the systems and structures of Thai travel & tourism, and Thailand at large. Both are in dire need of deep thinking, deep cleaning and deep surgery.
Finally, we will only be able to convert Crisis Into An Opportunity if we add a fourth "P" to the People-Planet-Profit equation: "P" for Peace, locally, regionally and globally. This can be done if:
1) The United States stops destabilising the geopolitical environment, curbs its obscenely wasteful military spending and strives to live in peace with China, Russia and the Islamic world; and
2) The oligarchs helming the giga-corporations pull their trillions out of the tax havens and redirect the funds into a global post-Covid Marshall Plan, with no strings attached.
If you agree, perhaps your next letter can lead the charge by publicly calling for both.
In your May 27 letter, you wrote, "This pandemic has triggered the most serious economic crisis since World War II. It will take many years to recover and resume normalcy." Assuming that does actually happen, what next? Another crisis? Déjà vu?
I echo your comments to the Prime Minister: "Thank you for your consideration of my comments. My suggestions are offered in good faith and with the best interest of Thailand at heart."
So are mine. I hope you will take them in the same spirit.
Yours in solidarity,
Imtiaz Muqbil, Executive Editor, Travel Impact Newswire.
imtiaz@travel-impact-newswire.com