6 Nov, 2020
BANGKOK, 5 November 2020 – Volvo Cars Thailand has launched a new dedicated Volvo warehouse for the first time in Thailand. The "Volvo Car Thailand Central Distribution & Training Center" (VCT CDTC) on Bangna-Trad Road Km 23, Samut Prakan Province, spread over an area of 23,331 square meters, is set to become Volvo's one-stop hub in ASEAN and is the result of an investment of over 1 billion baht.
The warehouse can store up to 550 Volvo cars with efficient spare parts management. There is also a comprehensive vehicle condition inspection department with world-class technology ensuring that every Volvo delivered to dealers across the region, and for direct delivery to customers, is in perfect condition. In addition, there is an international training center and a dedicated performance-testing center for the press. This warehouse has been developed to support future growth and expansion for Volvo's business in Thailand and is in line with Volvo's strategic plan and vision of becoming a regional leader in the premium car business.
| | |
| --- | --- |
| | |
Mr. Chris Wailes, Managing Director, Volvo Car (Thailand) Limited, said, "Our new is specially designed for Volvo Cars Thailand, in collaboration with our partners, the WHA Group. It is equipped with cutting-edge technology to manage warehouse and spare parts stock and has been designed to support our long-term strategic plans for Thailand. Our focus, as always, is on quality; all our new cars undergo a thorough quality check and steps before being delivered to our retailers and customers.
"This level of care and attention ensures every vehicle that leaves the warehouse is in perfect condition for the customer. We have also planned ahead and installed a new battery charger for recharging cars the electric cars we will be launching next year. We are confident that this new warehouse will play a major role in moving Volvo's business forward in the future."
Volvo has a comprehensive warehouse management plan developed to be the center of five key Volvo business units:
(+) Distribution Center: a large distribution center equipped with a high-tech management system conveniently located to facilitate easy transportation access and enable Volvo cars to be efficiently delivered to customers and distributors across the region.
(+) Pre-Delivery Service (PDS): this service provides Volvo vehicle condition inspection services that meet our stringent world-class standards, with a software station for ensuring that all software and systems are in perfect condition before the car leaves for delivery and is the first of its kind to be launched in Thailand. This dedicated software program has been developed specifically for Volvo cars only, ensuring each and every car that leaves the center is in perfect conditions, this adds an additional level of confidence for distributors and customers across the region.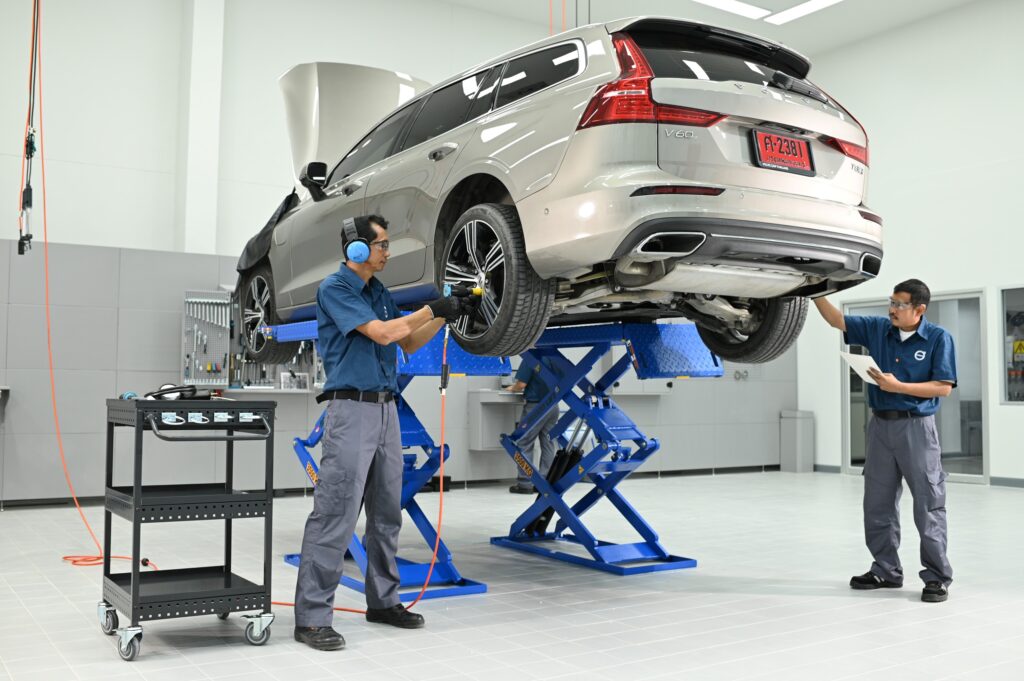 (+) Parts Distribution Center: providing the management and distribution of Volvo car parts and accessories supported by the latest in warehouse technology so as to enhance the efficiency of both before and after-sales services as well as supporting the lifetime warranty for Volvo parts and accessories (Customer Lifetime Parts Warranty).
(+) Training Center: the new Volvo mechanic and sales consultant training center, operated by a team of experienced professionals from Volvo Cars (Thailand) Co., Ltd. The training center has been transformed into a modern new workshop under the concept of Volvo Personal Service (VPS) with an atmosphere that is elegant, airy, and resplendent in Scandinavian style, reflecting the aesthetic found at all Volvo car centers throughout the country.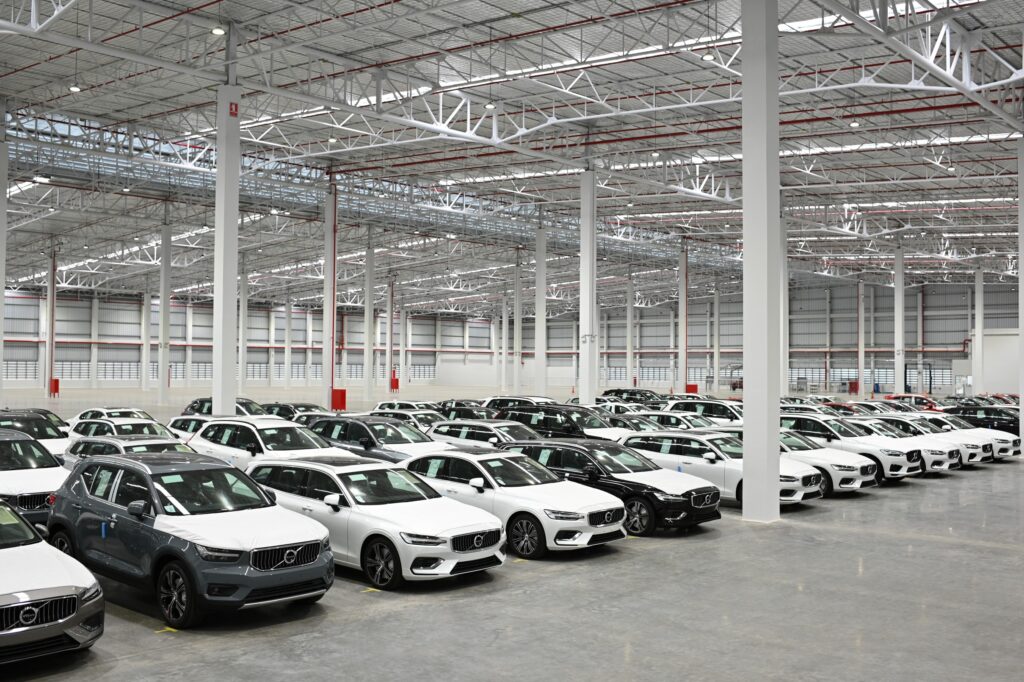 (+) Press Car Center: developed specifically for the testing and performance of Volvo cars for the press, all coordinated under the supervision of the PDS Center (Pre-Delivery Service Center) and the Press Car staff, so as to provide Volvo car test drives for the media. With VCT CDTC's extensive space, there is ample private parking space for the press with a 24-hour a day security system, including a lounge area, and Volvo staff on hand to give professional and informed advice on all cars and services.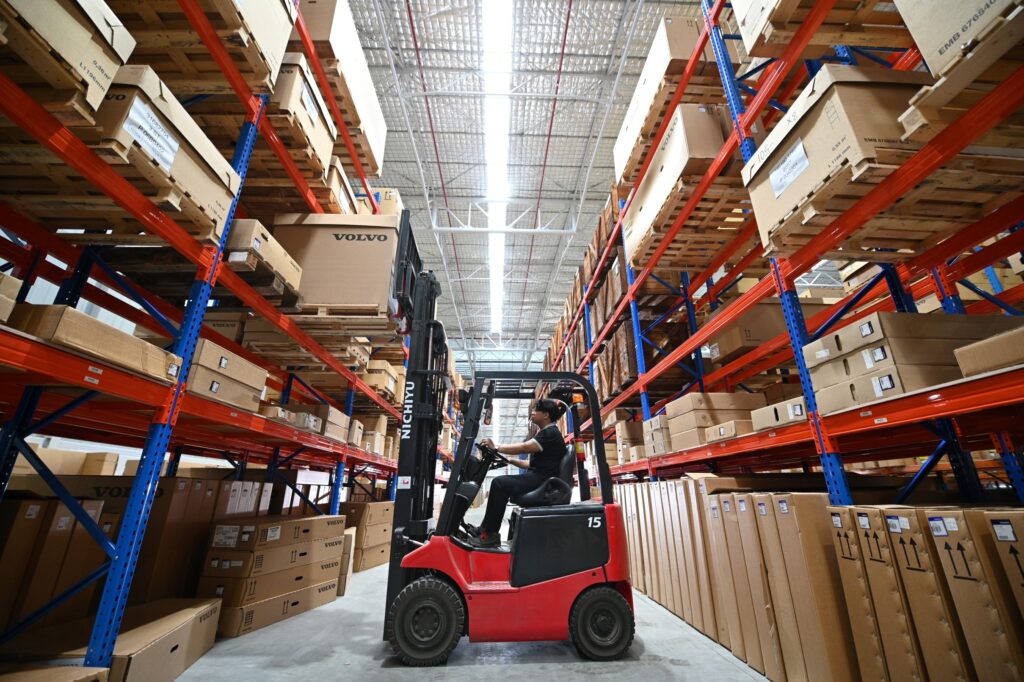 "Our goal is to provide a streamlined, efficient, and advanced experience for all our staff whose job it is to coordinate all sectors of our business, including working with all our distributors, customers, and the media. Volvo can clearly see the great potential for current and future growth in the premium car sector in Thailand. The opening of this new and expansive one-stop warehouse is an integral part of Volvo's vision to become a true leader in the premium vehicle business in this country and is part of our infrastructure plans to make Thailand Volvo's future business center in the region," Mr. Chris Wailes added.