9 Jul, 2020
Bangkok – The first Thai domestic travel promotion event launched after the gradual relaxation of the Covid-19 lockdowns saw the tourism private sector turn up for another resilience-and-recovery campaign. True to form, it repeated all the same mistakes of previous post-crises campaigns. Focussing on the popular Samui island, the event was awash with discounts and deals designed to restore the financial and economic health of local businesses but devoid of any commitment to safeguard the environmental health of the island as a whole.
This all-too-familiar imbalance between marketing and management has been the bane of Thai tourism over many decades. Unless the gap is narrowed in future post-Covid bounceback campaigns, Thai tourism will see the "New Normal" reverting to the "Old Normal" in no time.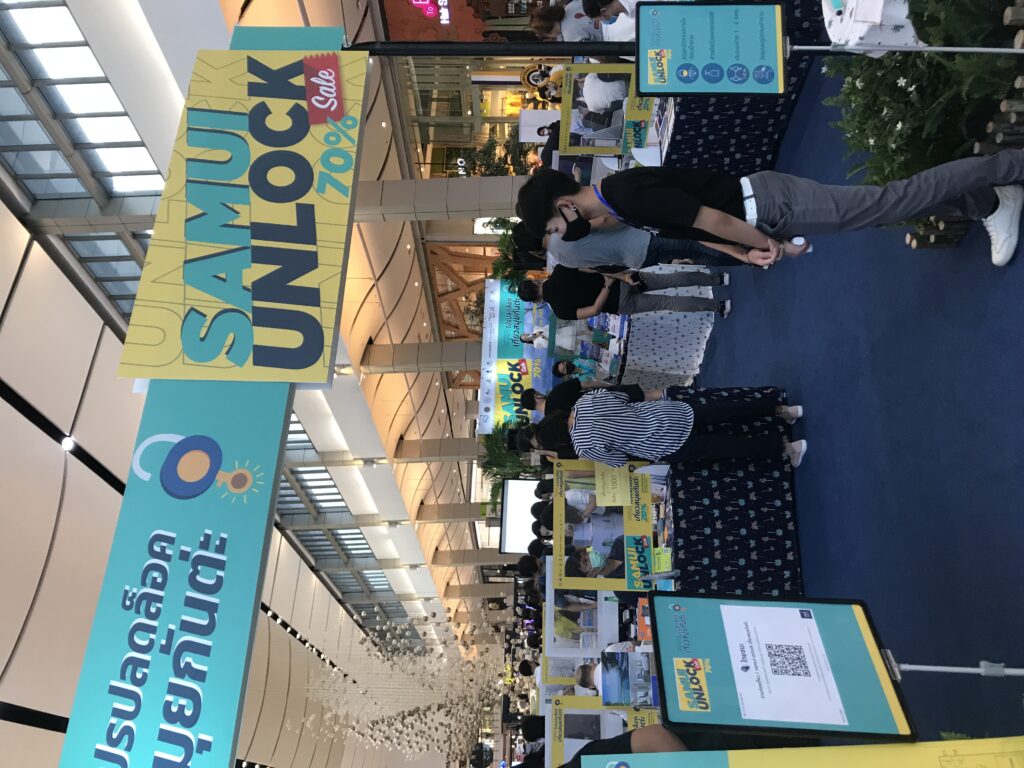 Held between 3-5 July, 2020 at CentralWorld, Bangkok, the event bore the branding campaign slogan of "Samui Unlock Sale". It was organised by the Tourism Authority of Thailand (TAT) Samui Office, Tourism Association of Samui, Thai Hotel Association Southern Chapter – East Coast, Samui Spa Association, Bangkok Airways and other partners. The 24 participating establishments included hotels, marine tourism operators, and health and wellness facilities, all armed with mouth-watering special offers (reproduced at the bottom of this dispatch). Missing entirely was any communications on how tourism businesses plan to prevent a resumption of the island's pre-Covid slide to environmental ruin.
| | |
| --- | --- |
| | |
| | |
| --- | --- |
| | |
The TAT press release admitted that the absence of tourists actually has been good for the environment: "Due to the COVID-19 lockdown measures, Ko Samui has seen a revival of its natural and marine environment. Sea turtles have been spotted laying their eggs in 18 nesting areas, especially in the Maret sub-district, Taling Ngam sub-district from Laem So Beach until Thong Takian Bay. Hundreds of hornbills have also been sighted on Ko Phaluai.
It said visitors will also be able to avail of island cruises, excursions to Ko Tan, and exploration of bat caves. Other experiences include watching the dolphins swimming along the ferry route Samui-Phangan-Tao, and enjoying the fresh air and beauty of Ang Thong National Park.
So what next? The discounting frenzy will bring the tourists back. What happens to the turtles, dolphins and hornbills? Back to the "Old Normal"?
Like many other Thai beach resorts, Samui has seen explosive tourism growth since the 1990s, thanks to its status as Bangkok Airways' hub airport, the construction of a Japanese-funded pan-island ring-road, and the ferryboat linkages to the mainland. On my last visit two years ago, I saw a split personality. Some beaches were still in good shape, but others were crowded and congested. The influx of thousands of job-seekers has converted many inland areas into urban residential and commercial eyesores. In the higher-altitude central region, randomly-discarded garbage was in full view, albeit far from tourists' eyes.
At a press conference last February 20, Samui officials announced a two-year, 153 million baht project to clear up a backlog of 325,000 tons of garbage, the residue from which is seeping into the soil and water supply. In the pre-Covid era, the island was generating 150 tons of new garbage a day, they said.
Samui has seen many past ad hoc campaigns to curb waste, plastic and energy usage. Had the Samui Unlock Sale gig been balanced with an equivalent commitment to Build Back Better, it would have set a benchmark for the entire Thai tourism industry to follow. The fact that it didn't is a clear sign of current priorities.
Social distancing and wearing masks is a "New Normal" requirement to protect public health. Discounts and deals are required to restore corporate financial health. But ensuring the island's environmental health — its real asset – obviously is not an immediate requirement.
Such oversights are usually blamed on the TAT, the long-standing whipping-boy for all Travel & Tourism ailments. False. The private sector is more to blame. As Thailand's sole tourism marketing agency, TAT has done its job well. But it has no legal authority or power to enforce destination management rules. It can only guide, advise, plead and persuade, which it has done rigorously for decades. Private companies heed these pleas selectively. Right across Thailand, many get-rich-quick investors brazenly violate local laws, especially the so-called "influential people." Taking punitive action is the job of the provincial administrations or the Ministry of Tourism and Sports or other government agencies. Why that does not happen could be the subject of an entire thesis. Either way, the private sector can neither deny responsibility nor feign innocence.
The successful anti-COVID campaign offers a powerful learning curve. It proves that the private sector and the general public can voluntarily change behaviour when faced by a common threat. Building on this momentum will be an intrinsic part of the kingdom's National Reform Agenda, in which tourism figures prominently. Leading by example and from the front, the Prime Minister himself went to the hotels and tour operators associations to get a personal account of their plight. The wish-list contained one small but significant indication of a mindset-change. The Association of Thai Travel Agents agreed with the need to shut down national parks for specific periods to allow a revival of Nature. Clearly, businesses are realising that allowing all parts of Thailand to be overrun by tourists is not a good "New Normal" option.
One of the TAT's anti-Covid measures is a certification scheme for tourism establishments which can guarantee basic standards of hygiene, safety and security. The TAT Governor Mr. Yuthasak Supasorn says the Safety & Health Administration project is a critical factor in gaining the trust of consumers and visitors. Perhaps Thailand's elephant farms, turtle breeding grounds, rivers, canals, forests, wildlife, flora and fauna could be covered by similar safety, protection and certification schemes. That, too, would go a long way towards building trust.
As Samui blew the opportunity to balance marketing with management, other Thai resort islands and other destinations can step up to the plate. In fact, Samui has a comparative disadvantage, viz., no direct road access. When the lockdowns began easing, and the Thai government began encouraging domestic travel, the resorts within driving distance of Bangkok were running jam-packed in no time. So, Samui will need more than just discounts to regain visitors and restore corporate health. Upgrading the island's hygienic and environmental health status will be imperative. Too bad none of the Samui Unlock Sale exhibitors grasped that.
For sure, the era of measuring tourism "success" with the same old indicators of job creation and visitor arrivals has ended. These need to be replaced by other indicators to monitor air and water quality, garbage and waste reduction, road accidents and drunk driving deaths, deforestation and sewage output, even the number of turtles and dolphins.
These statistics are available. Converting them into permanent strategies and action plans requires no help from overpriced consultants, branding gurus or erudite academics. As proved by the anti-Covid campaign, strong government leadership and cooperation from the public and private sector is all it takes. Once a balance is struck, it can and must be made to stick.
Thailand has hundreds of private sector travel associations, from MICE to guides, river-cruising operations and ecotourism operators. They all need to start assuming much wider self-enforcement and product/destination management responsibilities. Simply mounting more discount campaigns and then crowing about resilience and recovery when the rush resumes will not cut it. If Thailand wants to attract Health & Wellness tourists as a priority niche-market, it will have to first put its own national environmental Health & Wellness house in order.
Only then will the term "New Normal" take on new meaning.
See the full range of Samui island discounts and deals below.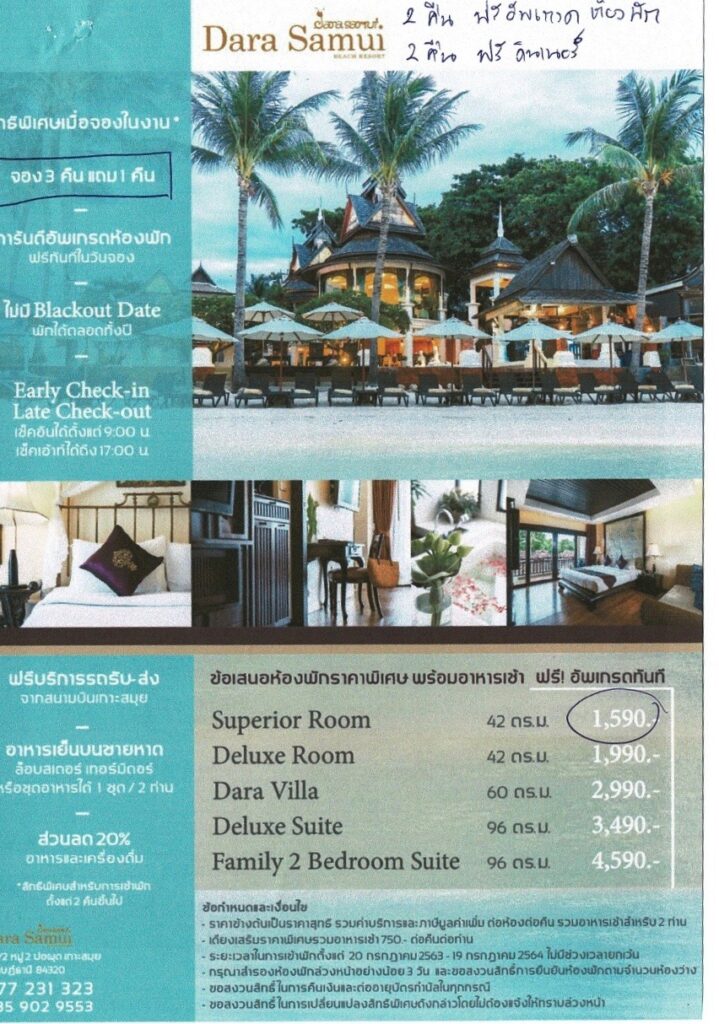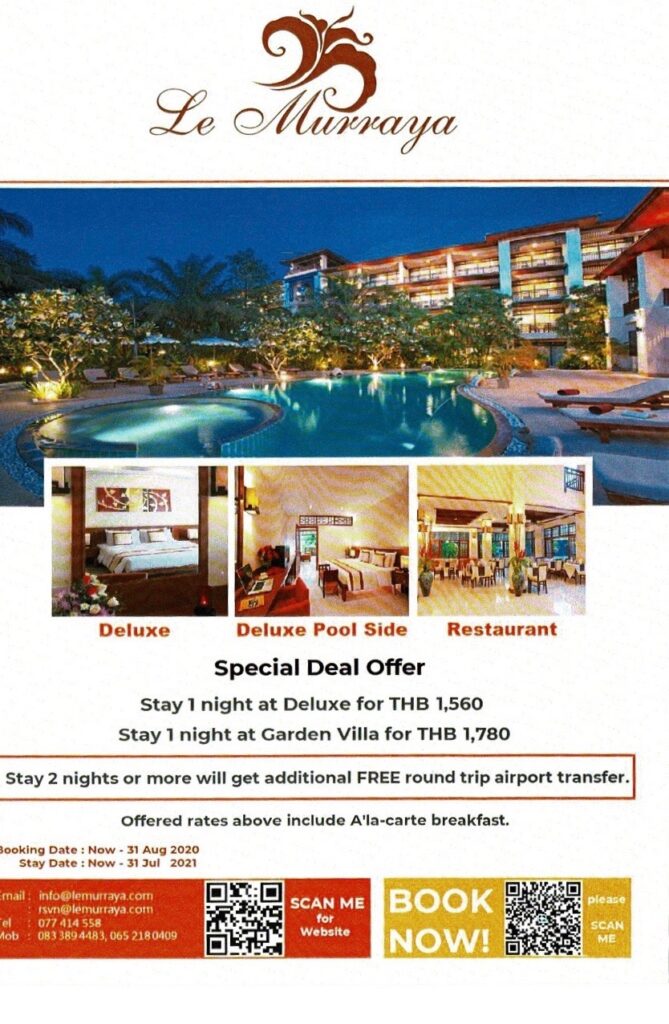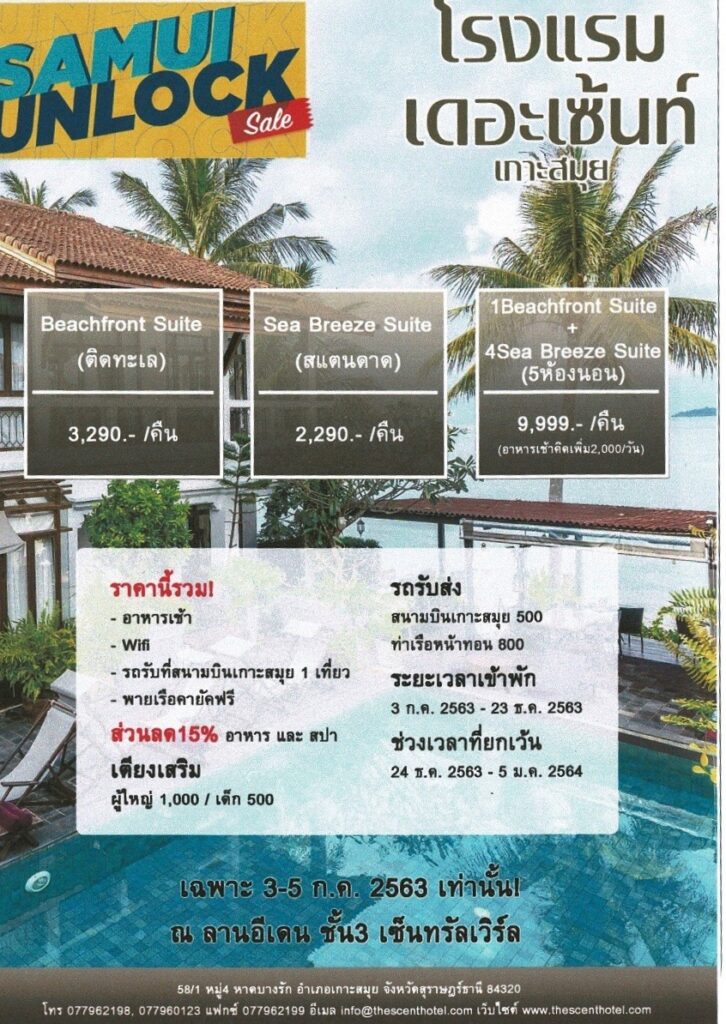 \