23 Jun, 2020
Bangkok – The Travel & Tourism industry should dump bloggers and influencers and redirect its marketing budgets into quality journalism and communications platforms if it wants to attract "quality tourists." As a self-proclaimed "industry of peace," it should also start paying more serious attention to the trillions of dollars wasted on global wars and conflict and push for that money to be used instead to combat hunger and poverty in order to make the world a safer, more peaceful place.
Those were amongst my core messages in a webinar organised by the Tourism Authority of Thailand on 22 June, on the topic of "Enhancing Effective Communications in the post-Covid19 era." Breaking free of the traditional line-up of content, usually technobabble and stereotype academic fluff, I used the webinar to promote a five-point agenda:
(+) Challenge conventional wisdoms
(+) Move beyond Recovery and Resilience
(+) REset the Mindset
(+) Provide a REality check
(+) Make Travel & Tourism a Part of the Solution
I began by quoting the 17 June 2020 nationwide speech by Prime Minister Gen Prayut Chan-o-cha on the future of Thailand in the post-Covid era: "This crisis must help us re-shape our nation….We should emerge from this terrible Covid ordeal a new nation that is stronger, more respected, and as one nation bound together tightly by our common heritage, our common sacrifices, and our love for each other. We must now lay down the fundamentals for sustainable prosperity, and open the way for Thais to rediscover who and what they really are and all that they are truly capable of achieving."
In those 78 words, the PM mentioned neither "resilience" nor "recovery". Instead, he used the words "reshape", "respect" and "rediscover." These words should now be adopted to reshape, respect and rediscover the future of Travel & Tourism not just in Thailand but all over the world.
As effective and focused public communications had played a critical role in helping Thai health authorities pull off a remarkable success story, global Travel & Tourism has an opportunity to use its own widespread communications networks to do the same in striving to "Build Back Better".
I urged viewers to take a good hard look at the operating environment today: The world is in a mess. Problems are becoming crises. Travel & Tourism is reeling from the fallout of the pandemic. Information is in a state of anarchy. And he Communication and Information explosion is contributing to a global DUMBING DOWN.
Hence, I said, the Most Important "Re" is… "REality Check" in confronting the future, which may not necessarily be as rosy as everyone expects.
I noted that Thai Tourism's biggest challenge in the post-Covid era will be how to really "Build Back Better" and prevent a return to the "Old Normal".
"It can be done," I said. "Thailand is the Greatest Story in Global Tourism HiSTORY. It has overcome many past crises. It can and will do the same again."
I then highlighted the role of the people I consider three of the greatest communicators in Thai tourism history. (Please download the full presentation to know who they are, and log in to the TAT webinar site to get the full commentary.)
I then gave more details on the role of the Thai communications apparatus in dealing with the pandemic. The slides focussed on how Dr Thaweesin Visanuyothin, the spokesperson for the Command Centre set up to combat the pandemic, had explained how he had done his remarkable job. His quote: "A sense of fear, panic and misunderstanding had to be transformed into courage and action. When the public is in the right frame of mind, they are willing to accept the message. It requires wholehearted public cooperation."
I said Travel & Tourism could and should easily learn from this experience to enhance the quality of its own "Old Normal" communications.
In the past, Travel & Tourism had to "Understand Your Customer". Today, I said, it is all about how to "Understand the Operating Environment" based on the following 11 points:
1) Understand the country
2) Understand the region
3) Understand Travel & Tourism
5) Understand your Destination
6) Understand the SDGs
7) Understand your product
8) Understand your people
9) Understand yourself
10) Focus not on what is changing but on what is NOT CHANGING AND WILL NEVER CHANGE: Peace, love, friendship, happiness, beauty, justice, compassion, humanity, goodness.
The final point: 11) Communicate not to sell or market your product but to solve a problem.
I closed with a few personal reflections on the future of travel in an unstable, insecure and volatile world.
(+) Travel & Tourism's biggest nemesis is the prevalence of global conflict and war in its various forms – trade wars, hot wars, cold wars, war on terror, etc etc. All take a toll on Travel & Tourism. Helping the world recover from the economic impact of the pandemic is going to be a prolonged and expensive exercise, and the money will have to come from somewhere. I urged viewers to think carefully about the trillions of dollars wasted on military budgets and how that money could contribute to global peace if it were to be diverted to funding the UN SDGs, build schools, hospitals and fight poverty and hunger.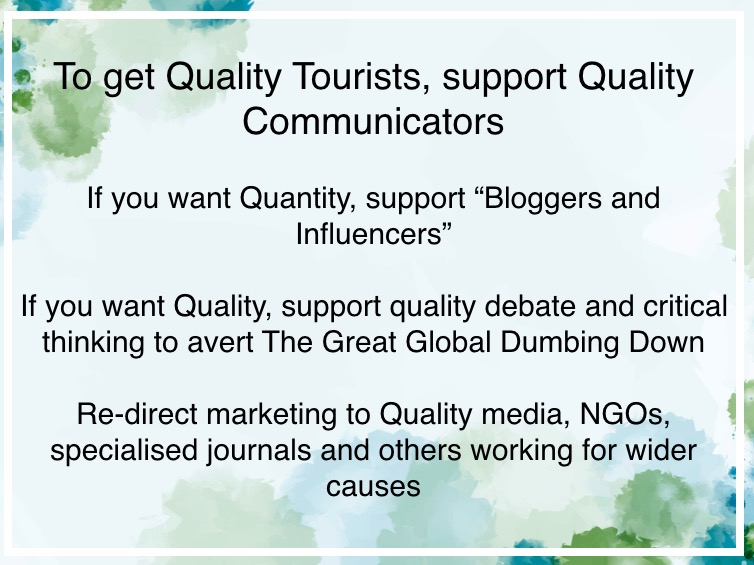 (+) I urged Travel & Tourism communications professionals to use their marketing budgets wisely and support quality communicators rather than influencers and bloggers. The industry badly needs quality debate and critical thinking to avert The Great Global Dumbing Down. If tourism marketing budgets are redirected to Quality Media, NGOs, specialised journals and others working for wider causes, it would go a long way towards ensuring the survival of quality, thought-provoking journalism.
(+) Finally, I urged listeners to REalise that Covid-19 was NOT a Health Crisis but a National Security Crisis. It was fought and curbed with the same tools and strategies used in regular warfare. "Manage your Communications in the same way," I said.