10 Mar, 2020
Bangkok – At a time when public events are being cancelled and/or postponed worldwide, a grouping of young Thai-Muslim business leaders forged ahead with the World Halal Fest 2020, a long-planned event designed to promote Islamic cuisine, culture and commerce in Thailand. Attended by high-profile Thai politicians as well as business and religious leaders, entertainment stars, academics and bloggers, the March 5-8 event delivered high-value programme content, attendance and impact and sent a strong message of socio-cultural bonding to the country and ASEAN at large.
The event narrowly averted becoming yet another casualty of the coronavirus threat. Mr Vasu Sensom, President of the Thai-Muslim Trade Association (TMTA) said the organising committee had some intense discussions about it. A lot of time, effort and money had gone into planning and organising what was only the second Halal Fest, a full four years after the first in 2016. Executives of the venue, the CentralWorld commercial complex in downtown Bangkok, were consulted. "Finally, we made the call to go ahead, and leave it up to God Almighty to decide the outcome," Mr. Vasu said.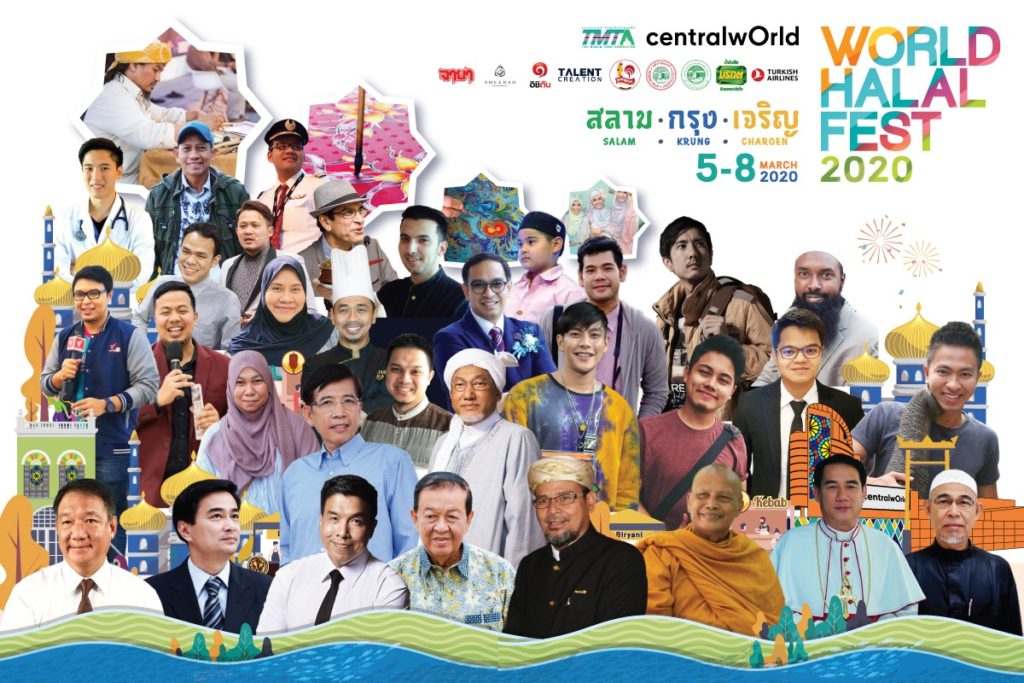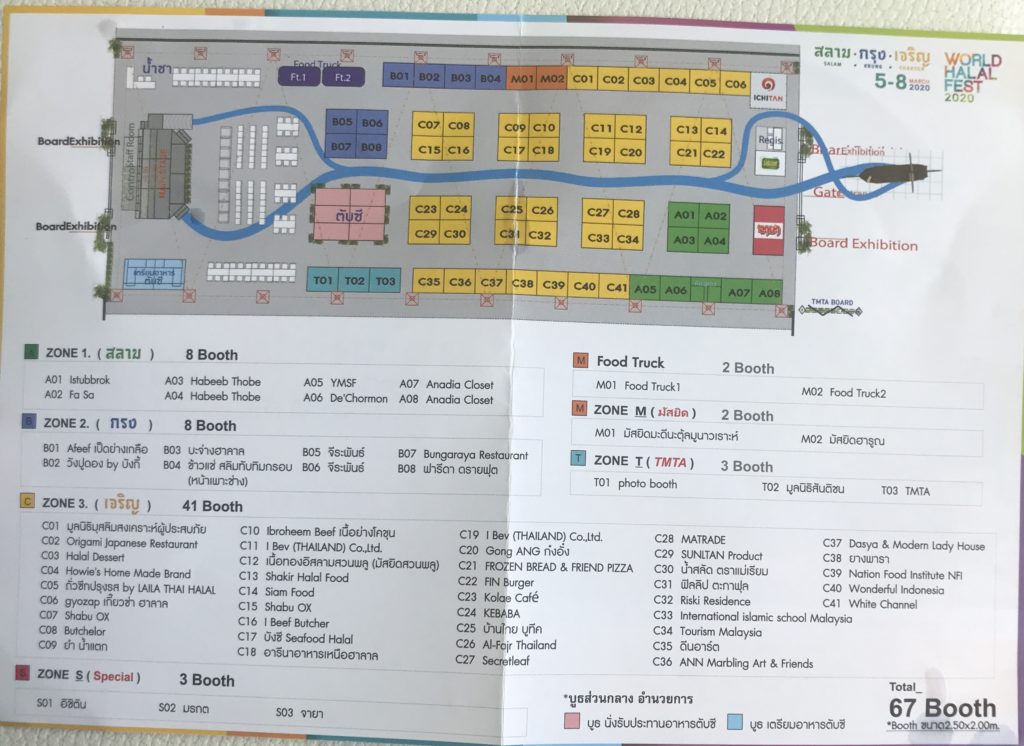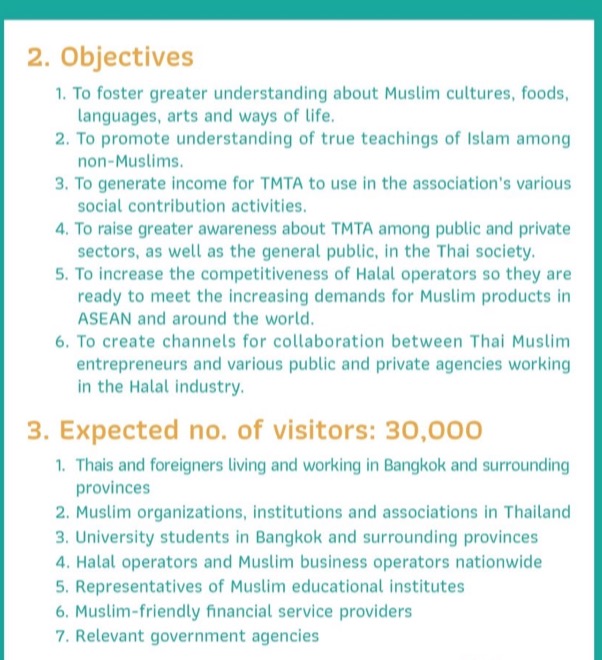 It turned out to be a truly blessed decision for the organisers, sponsors and especially for the nearly 80 exhibitors, all small and medium sized Thai-Muslim-owned enterprises selling everything from halal food to fashion, perfumes to radios, accommodation to tours. The daily rush of people, predominantly Thai-Muslim residents of Bangkok, lit up the CentralWorld area, normally the busiest shopping and commercial area in Thailand but now experiencing a virus-hit slump. The outdoor pavilion was in plain sight of everyone entering or leaving CentralWorld. Occasionally, tourists were seen walking through the Halal Fest, out of curiosity, genuine interest or to enjoy local food and drink at bargain prices.
Watch some of the YouTube clips here:

https://www.youtube.com/watch?v=yKFNsPVbY-Y

Main Sponsors

– Central Islamic Committee of Thailand
– Office of the Sheikhul Islam of Thailand
– Jaya Instant Noodles
– Ameenah Enterprise
– Ichitan
– TALENT Creation
– Jeeraphan Restaurant
– Morakot Cooking Oil
– Turkish Airlines
In his presentation on the final day, former Thai Deputy Prime Minister, Finance and Commerce Minister Kittirat Na Ranong hailed the TMTA's "far-sighted decision" to stay the course. "Many events are being cancelled," he said. "But if everything is cancelled, life will come to a stop. And then what? Yes, there is a virus going around, but we have to live with it. If we take the basic health precautions, as you have here, life can go on and contribute to business and social activities. I commend the TMTA President and its committee members." Declaring that he would also respect the next speaker at the podium, Mr. Kittirat took out a disinfectant and sprayed the microphone before leaving the stage.
The event's success marked a coming of age for the TMTA, a small club of 300 mainly young Thai-Muslim members. Founded in 2015, the TMTA describes itself as a "Non-Profit, Society-Serving Organization aspiring to become the center of collaboration for Muslims doing businesses in Thailand." But the Halal Fest was far more than just a business event. Under the concept "The Beauty Of Celebrating Our Differences," it was built around three showcase themes: "Salam, Krung, Charoen," which signified:
Salam (Peace) —Visitors could learn about the halal life in Siam through Islamic culture and architecture, be they Thai-Muslim homes, attire and food. The Halal Fest crafted a narrative from the past and the present.
Krung (City) — Showcase why Bangkok is the capital of delicious halal food and discover delicacies from Muslim communities across the city.
Charoen (Progress) — Offer a wide range of products, food items, innovations, and interesting contemporary halal businesses from Thailand that are getting ready to take the world's stage.
The theme clearly attracted high-level attention. Along with Mr. Kittirat, a string of political figures turned up to offer support and encouragement.
Former Prime Minister Abhisit Vejjajiva talked about the global impact of the Muslim market, including the demographics and economic value. He said building Thailand's trade and commercial relations with the Islamic world had gained even more importance in the context of the U.S.-China trade war, European restrictions on Thai exports, and the potential impact of Brexit. All this made it imperative to pursue new export markets. He also cited the advantages of stepping up Muslim-friendly tourism. Mr Abhisit said he had visited the 2019 Thai Halal Assembly (a separate event organised annually by other Thai-Muslim organisations) and learned about the work being done to utilise Artificial Intelligence, blockchain and algorithms to improve the halal certification process, which would further enhance Thailand's competitive advantage in the halal supply chain. The combined impact of this would benefit not just Muslims but all of Thailand, he said.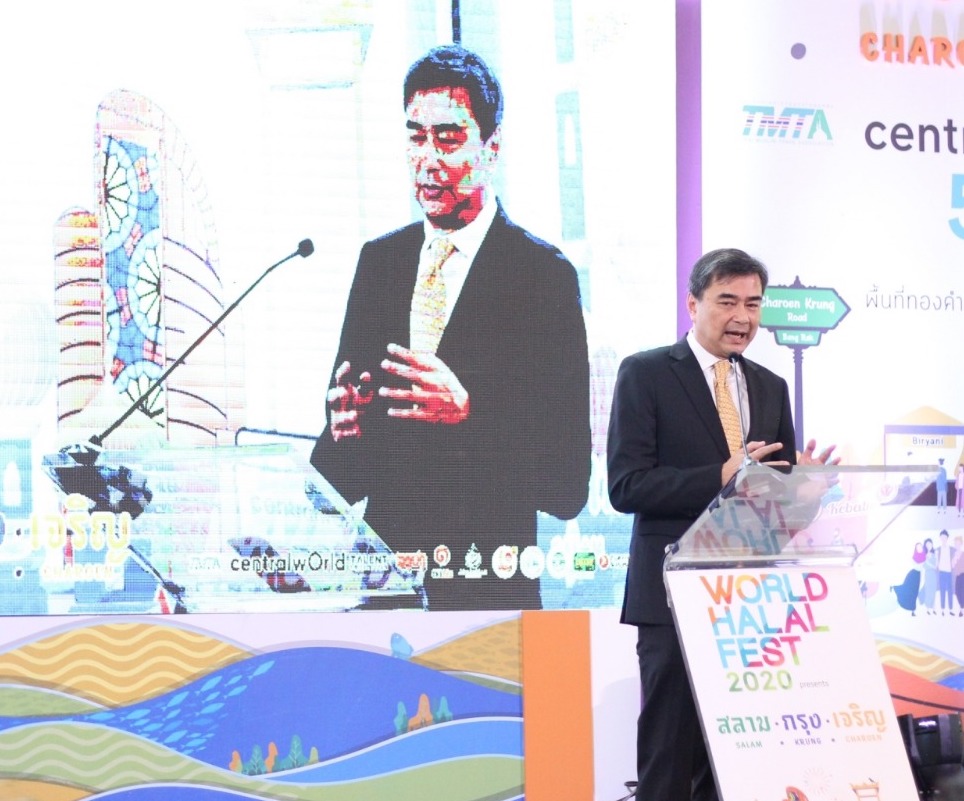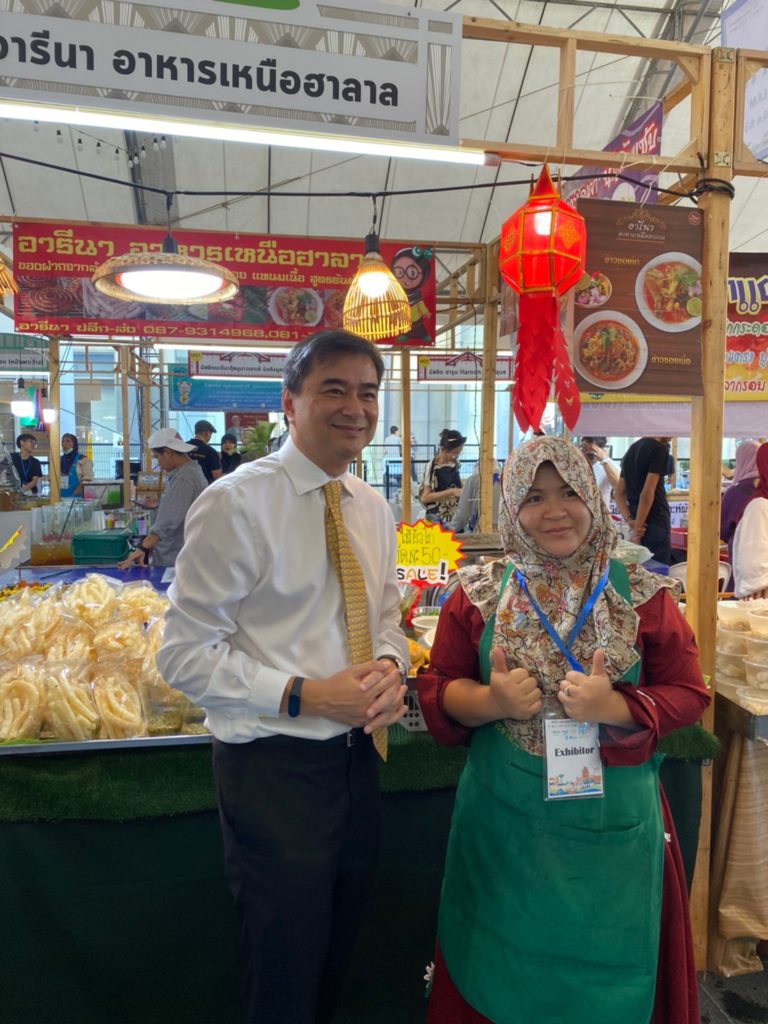 One rising-star politician flagged the role of the Halal Fest and the contribution of the Thai-Muslim community to the rich melting-pot culture of the Thai capital. Mr. Chadchart Sittipunt, a former Deputy Transport Minister who is campaigning to become the next Governor of Bangkok, said although he previously had no detailed knowledge of things Muslim, it didn't take him long to see that Thai-Muslims were an integral and vibrant part of the city. A crash course on Islam at the Halal Science Centre, a unit of the prestigious Chulalongkorn university, helped him grasp some of its fundamental tenets, many of which he said were similar to Buddhism. The title of his talk "A Happier, Healthier Bangkok – The Halal Way," could become reality, he said, thanks to 193 mosques co-existing in peace with dozens of Christian churches and Buddhist temples, as well as hundreds of Muslim-owned businesses, from street-food vendors to five-star hotels.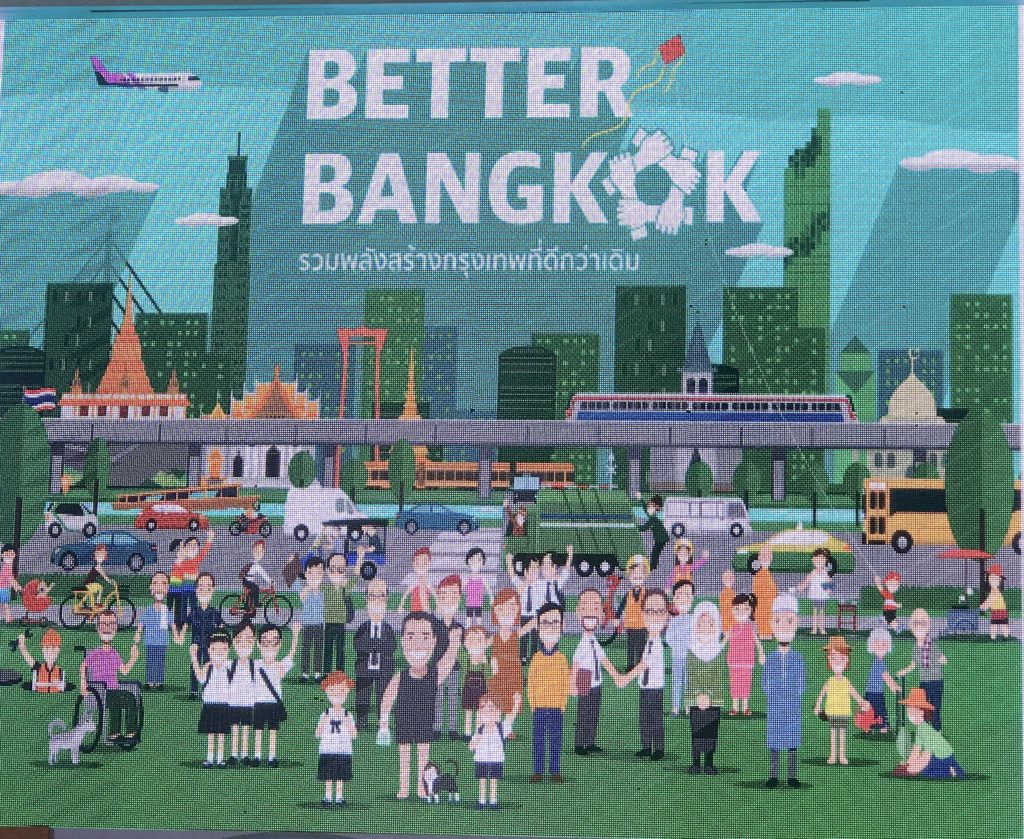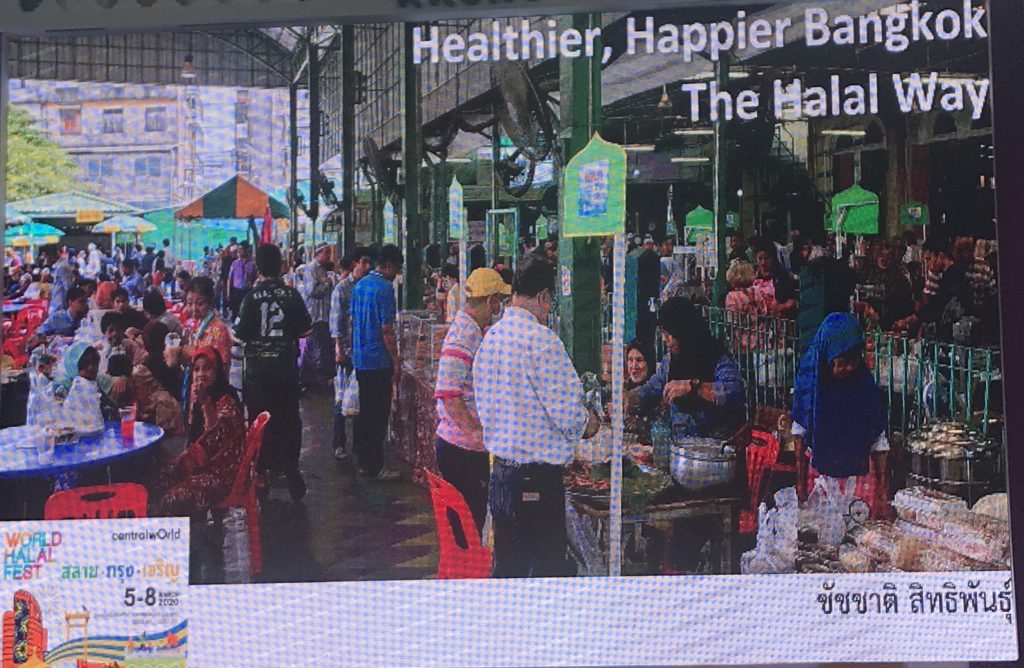 Mr. Wan Mohammed Nor Matha, a Muslim and former Minister of Transport, said the Covid-19 crisis had made the world realise the value of halal food. The halal 'symbol' signifies cleanliness and hygienic preparations. Citing reports that the virus had originated in wildlife which Muslims consider "haram" (not permitted), he said this is why practising Muslims do not consume forbidden dietary items. In fact, he said, the principles of 'halal' apply not just to food and drink but other products such as finance, fashion and cosmetics
Another politician Mr. Alongkorn Poonlabutr, Advisor to the Minister of Agriculture and Cooperatives, turned up as a "Surprise Visitor." He said, "I only got to know about the TMTA just a few weeks ago. But I am very impressed by the energy and objectives shown by the young Muslim entrepreneurs. I can feel that they are trying to create a positive change for society. And when I knew that they are hosting a big event like today, although my schedule is very busy, I made it a point to find time to visit and encourage them all. I have many ideas that I would like to take forward with TMTA to help strengthen the Thai economy and Halal businesses. And I hope that when I invite them, they will not decline."
One programme highlight was an interfaith panel discussion by religious leaders, Phra Phayom Kalyano, Asst. Prof. Dr. Abdulloh Noomsuk and Bishop Joseph Chusak Sirisut. Raising the level of intellectual discourse at such events, that panel was in line with a call by His Holiness the Pope during his visit to Thailand in November 2019 for the Thai people to take advantage of their core assets – the kingdom's ethnic and cultural diversity. Convening faith leaders to promote peace, fraternity and understanding highlighted the fact that people could and should set aside minor parochial differences to focus on the common good.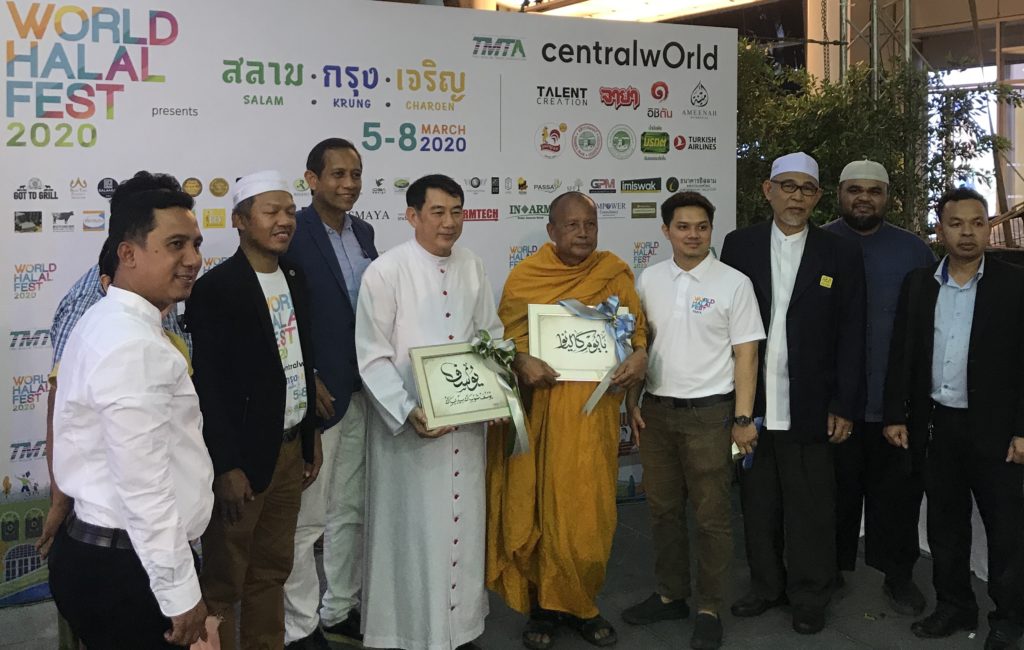 This editor was invited to speak on the topic of "Ten Reasons why Thai Tourism Needs to Prioritise the Muslim Market". I noted that the global presence of 1.6 billion Muslims scattered around six continents presented a perfect opportunity for the Thai tourism industry to rebalance its source-markets in the aftermath of the collapse of Chinese visitor arrivals. Promoting Muslim tourism was a one-stop chance to meet multiple social, economic and cultural development goals, locally, regionally and globally.
It created jobs for emerging young-generation Muslims, spread the benefits to Thailand's Muslim-majority southern provinces, promoted exports of Thai-made halal products as well as cross-border travel with neighbouring Malaysia, enhanced the value of ASEAN's Socio-Cultural blueprint and met many of the UN Sustainable Development Goals, specifically the forging of an Alliance of Civilizations. It was also in line with the umbrella marketing campaign of the Tourism Authority of Thailand "Open to the New Shades of Thailand." Most important, I pointed out, it sent a strong message to anti-Muslim religious fascists in Asian countries such as India, Myanmar and Sri Lanka that at least one country could live in peace with its Muslim minority.
Although small in physical size, the Halal Fest had plenty to keep visitors well-fed and -entertained. They could dress up in Muslim attire and have their names inscribed in elegant Islamic calligraphy. Female visitors could have astounding henna designs painted on their hands and arms. These were accompanied by Muslim cultural performances, a "Salam Halal Food" photo contest, songs by Islamic faith groups and activities with lucky-draw prizes, including round-trip domestic and international flights courtesy of Turkish Airlines.
Other speakers included popular Youtubers and influencers, and a representative of Generation Z, the amazing 12-year-old human calculator Master Abdulbari Kareesor, who demonstrated his prowess with numbers. The Malaysian ambassador Dato Joji Samuel also called on Thai-Muslims to attend a similar event, the Malaysia International Halal Showcase (MIHAS) to be held between 1-4 September in Kuala Lumpur. Speakers were presented with calligraphic artworks, featuring either their names or passages promoting peace and understanding from the Muslim Holy Book, The Quran.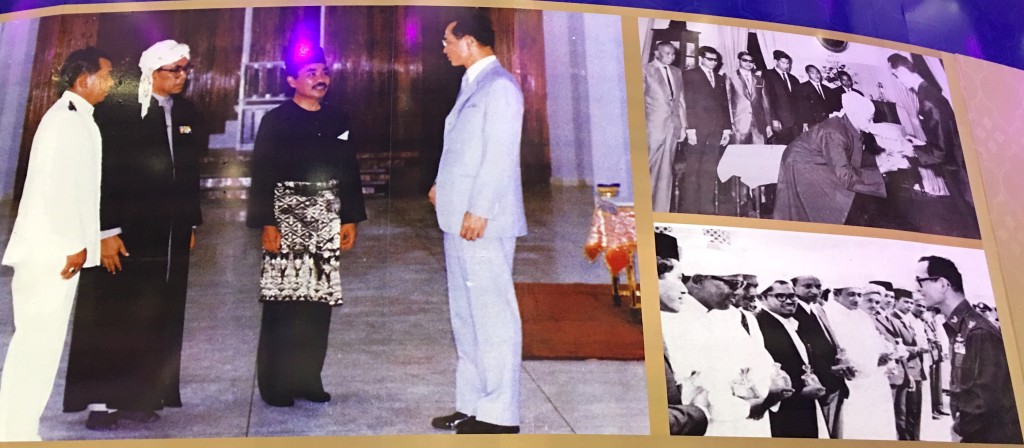 The decision to buck the event-cancellation trend achieved far higher ideals. It was an affirmation of the principles of building inclusive societies long championed by His Majesty the late King Rama IX the Great and a living embodiment of the vision of the late Dr Surin Pitsuwan, Thailand's first Muslim Foreign Minister and ASEAN Secretary-General, for the ASEAN region to build on its socio-cultural history and heritage. If other local and ASEAN trade events can rewrite their programme content away from than just parochial doing-business opportunities, they will go a long way towards making peace and understanding the real pathway to profit.
Mr. Vasu Sensom said the organising committee had left the outcome of the green-light decision up to God Almighty. He/She certainly showered it with positive results. A portion of the proceeds will go to four charitable organizations for orphans and the underprivileged. God Almighty will certainly smile on that decision, too.
For more information, please contact: Mr. Marut Mekloy, Vice President, TMTA Tel. +66 85-826-3300