17 Dec, 2019
SINGAPORE–(BUSINESS WIRE)– – With only two weeks until New Year's Eve, digital travel platform Agoda.com reveals Tokyo, Paris and Las Vegas are the destinations-of-choice respectively in Asia Pacific, Europe and North America for travelers celebrating New Year's Eve.
In Asia Pacific, Tokyo steadfastly continues to be the most popular destination to ring in the New Year taking top spot again in 2019, while Taipei moves up to number two spot, and knocks Bangkok into third place. Thailand has, however, the most destinations for New Year Eve celebrations in the Asia Pacific region, with three of its bustling cities featuring in the rankings (Bangkok at #3, Chiang Mai at #7, and Pattaya at #10). Manila makes an entrance at number six.
In Europe, Paris and London have both held on to their spots as the two most popular destinations, while Rome leapfrogged Barcelona to take the third most popular destination title. The top climber in the European rankings this year is Milan which with its free New Year's Eve shows, traditional fireworks displays and buzzing nightlife has moved up three places to become the seventh most popular New Year's Eve destination.
This year, in North America, the party city of Las Vegas has edged out New York as the number one New Year's Eve destination. Meanwhile, similar to last year, the City of Angels Los Angeles remains the third most popular destination to ring in the New Year. Hawaii's Honolulu entered the list of the first time this year, coming in strong at the fourth rank with its beaches, lively parties and rich culture.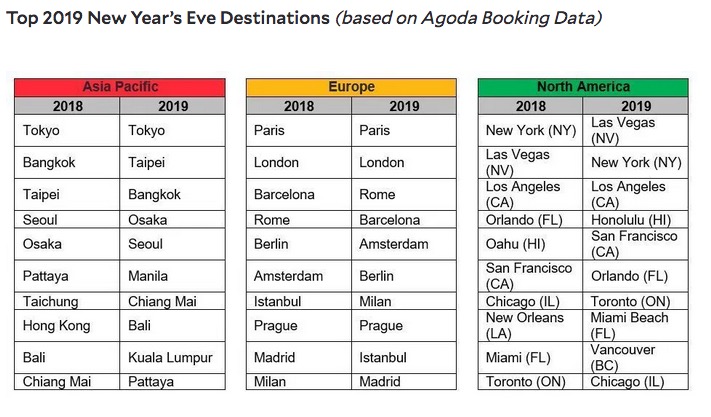 Overall Top 2019 Destinations
According to 2019 booking data from Agoda, Japan and Thailand continued to win hearts as the top Asian countries to visit for travelers across the globe. Among European countries, France took the crown, nudging the United Kingdom and Italy into second and third place for the year.
Meanwhile, Bangkok, Paris and Las Vegas were the top destination cities in Asia, Europe and North America respectively for the last 12 months. Bangkok and Las Vegas held on to their crowns as top destinations in their regions as compared to last year, while Paris replaced London as the most popular destination in Europe