24 Nov, 2019
SCOTTSDALE, ARIZ. (PRWEB) NOVEMBER 22, 2019- The Arabian Horse Association of Arizona (AHAA) is preparing for the return of the 65th annual Scottsdale Arabian Horse Show at WestWorld of Scottsdale. The world's largest, family-friendly horse show runs Thursday, Feb. 13 through Sunday, Feb. 23 and is expected to attract hundreds of thousands of spectators.
"More than 2,400 Arabian horses from all over the globe will participate in this year's event," said Taryl O'Shea, executive director of the AHAA. "The competition includes a wide variety of class events where more than $3 million in prize money is offered, as the best of the best vie for the coveted title of Scottsdale Champion."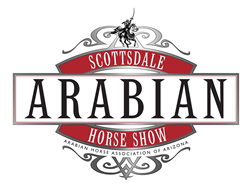 Spectators can also browse the amazing Shopping Expo with more than 350 unique commercial exhibitors overflowing with treasures, baubles, bangles and one-of-a-kind beads for every taste and budget. The trade booths will offer everything from lavish jewelry, clothing and works of art, to boots, saddles, gifts and trinkets. Additionally, the international cuisine court will feature more than 50 food vendors.
Families will have several free activities to choose from including ice cream socials, ceramic horse painting, art contests, behind-the-scenes barn tours, educational round pen demonstrations, and the opportunity to meet an Arabian horse.
"This show is the first of the competition season and it's always a grand event where owners, breeders and trainers unveil their superstars for the new competition year," O'Shea said. "Families who come out for this one-of-a-kind experience won't be disappointed."
The 2020 Scottsdale Arabian Horse Show is proud to benefit several local charities including Healing Hearts Animal Rescue and Refuge, Horses Help TRC, Scottsdale Community College, Youth For Troops and March of Dimes.
The 11-day event starts at 8 a.m. from Feb. 13-23 at WestWorld, located at 16601 N. Pima Rd. in Scottsdale. Tickets are available at the gate or online at Ticketmaster. General admission tickets cost $10, tickets for seniors cost $7, while children age 12 and under are free. Military members and their families can attend for free on Military Appreciation Day which is Tuesday, Feb. 18.
For additional information and a schedule of events, visit http://www.scottsdaleshow.com.