13 Dec, 2018
Bali, Indonesia — A new era for travel & tourism requires new genres of travel journalism. Today, I am proud to launch a new kind of travelogue that transcends the traditional been-there done-that narrative. Instead, it will track how well destinations are faring in relation to the UN Sustainable Development Goals. Bali, the Island of the Gods, will be the launchpad.
The motivation came in the wake of a shared-values idea presented by two millennials in my landmark Olive Tree essay-writing contest on how Travel & Tourism can contribute to the UN SDGs. They suggested the development of apps to allow visitors to rate destinations on the UNSDGs. The techno-savvy young essay writers knew the power of apps. I am a techno-ignorant journalist, but I aspire to the same goal, albeit via a different path.
I visited Bali between 11-19 November with my family, after a gap of several years. In the nascent days of travel to the Asia-Pacific, Bali was way ahead of the pack, one of the early-generation beach resorts favoured by long-haul European travellers. It's brand was so powerful that Indonesian tourism authorities would often joke publicly that people thought Indonesia was somewhere in Bali.
Like many other popular destinations, this 9,500 sq km island, ten times the size of Singapore, is facing the challenge of managing growth. Surging visitor numbers, flights and room capacity are putting enormous pressure on natural resources, cultures and communities. As I have visited Bali several times since the 1980s, I skipped the official itinerary and instead opted for something entirely new — a first-time visit to Gilimanuk, the port on the Western coast of Bali where the ferry boats land passengers and goods crossing from Java.
What I saw surprised me. The path to the UN Sustainable Development Goals begins not at the airport but at the land-crossing. As the vehicles exit the ferry landing zone, they are greeted by a giant image of the Hindu god Siwa (Shiva). Almost right next to it is another giant image of the Buddha. And less than a kilometer down the road is a mosque. Take a look (all photographs are mine, and protected by copyright regulations).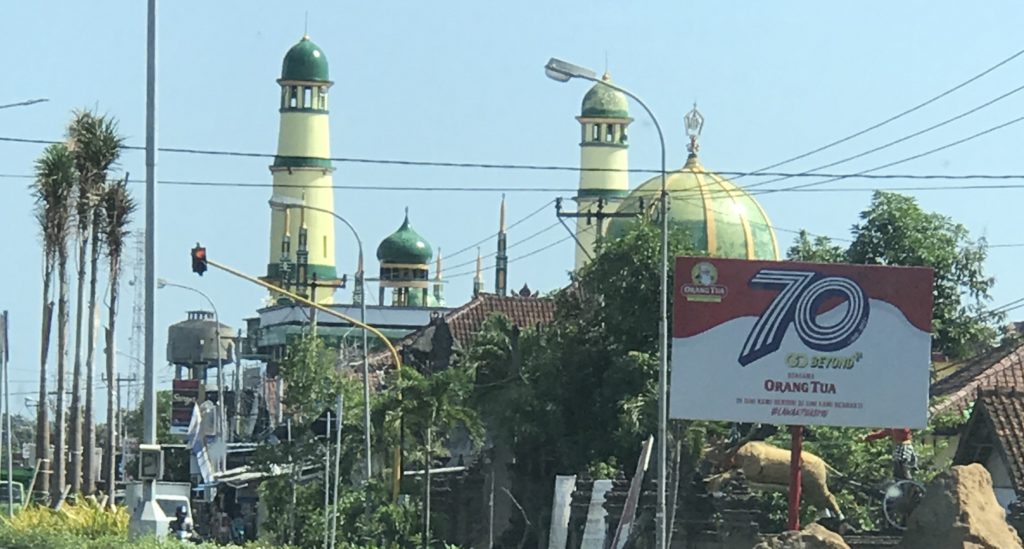 As all gods and goddesses want their people to live in peace, monuments that bear witness to the most important SDG, the prevalence of peace between peoples, are all right there at the doorstep of the overland gateway to the Island of the Gods.
Bali has gone from being an agricultural economy to a tourism economy in the span of three decades. Over the years, it has hosted numerous travel industry events, two of the most important being the 1991 PATA Annual Conference and the 1993 UNWTO General Assembly. I am one of the few surviving travel industry journalists to have covered both. The 1991 PATA conference marked the start of the sustainability era for Asia-Pacific travel & tourism. The 1993 UNWTO General Assembly was where the late UNWTO Secretary-General Antonio Enriquez Savignac launched his blueprint to revamp and breathe new life into what was then a moribund organisation.
With Bali as the epicentre, those events were supposed to help Asia-Pacific travel & tourism tap its full economic potential without disrupting its environmental, cultural and social assets. Last month, nearly three decades after those monumental events, I got the distinct impression that the scorecard is not half as balanced as it should be.
My journey begins in Gilimanuk.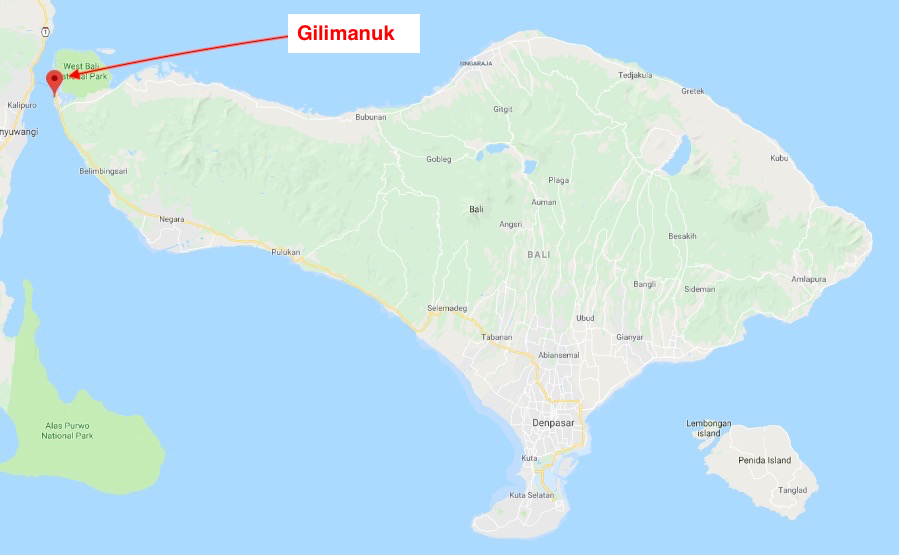 Gilimanuk is located right at the western tip of Bali, 133 kilometres from Kuta Beach.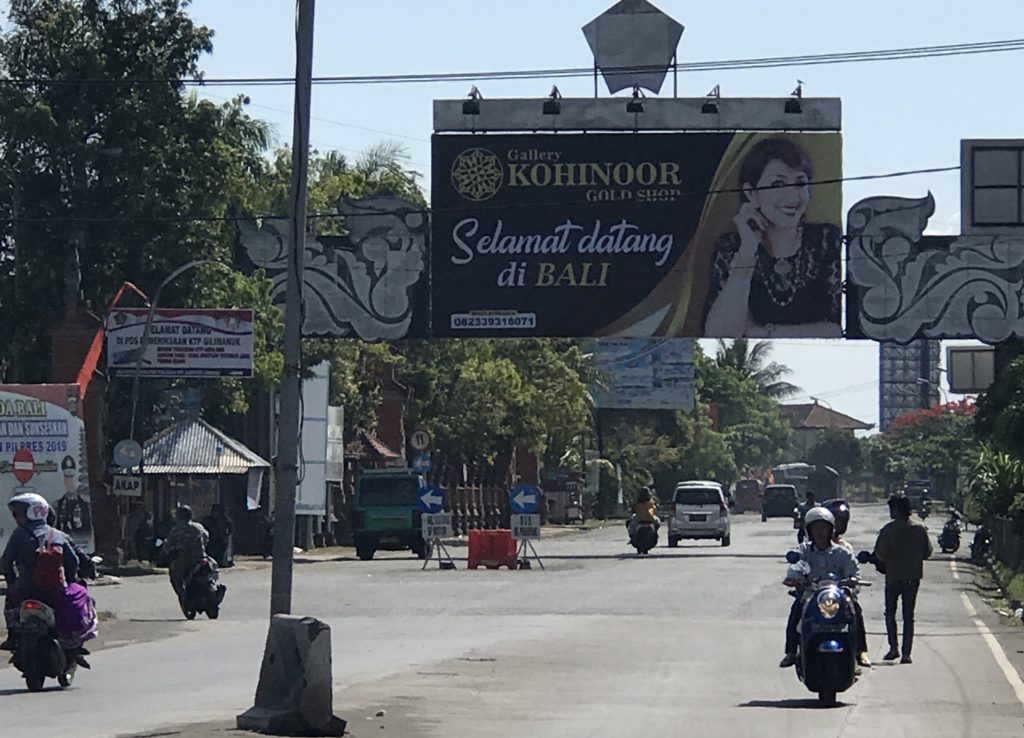 Indian visitors to Bali are on the rise. If they come via Gilimanuk, they will be welcomed by this huge sign advertising a jewellery store named after one of the world's most famous diamonds, the Kohinoor. All Indians are familiar with the rich history behind this name.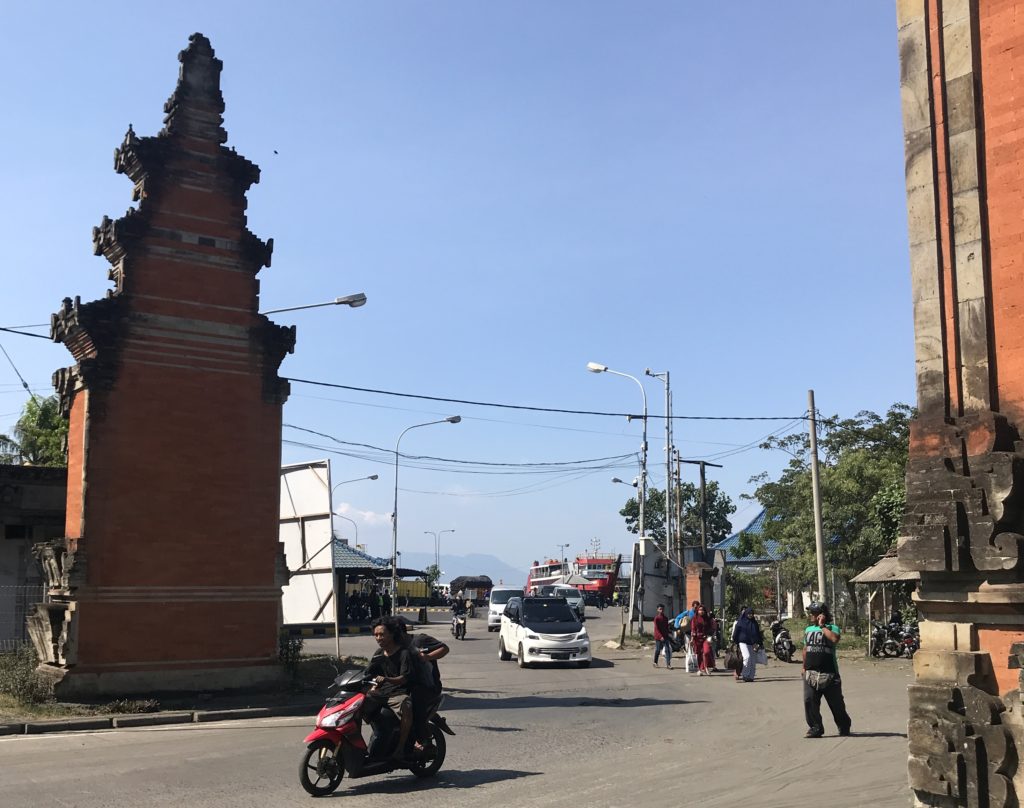 This is the exit point of the vehicles as they leave the port landing zone.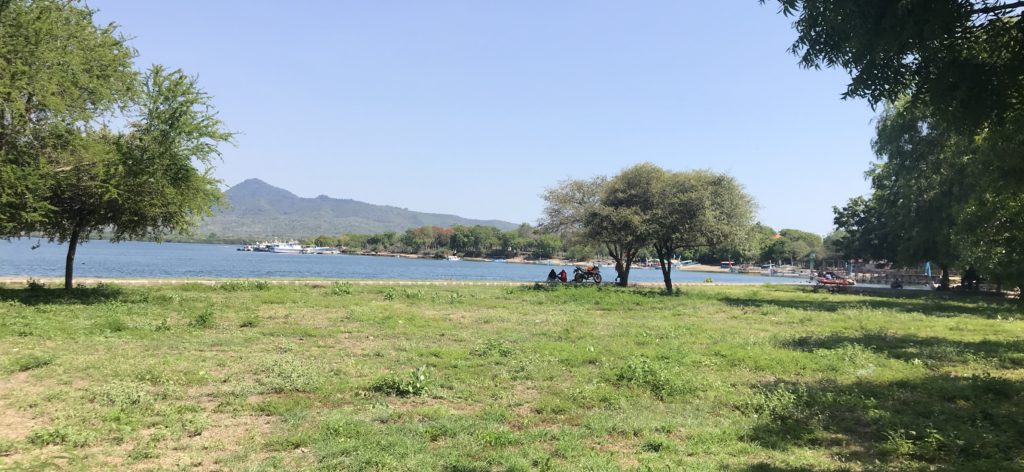 On the other side of the road from the ferry landing is a wide open public area (above). In spite of the many boats and fishing vessels, the water there is crystal clear (below).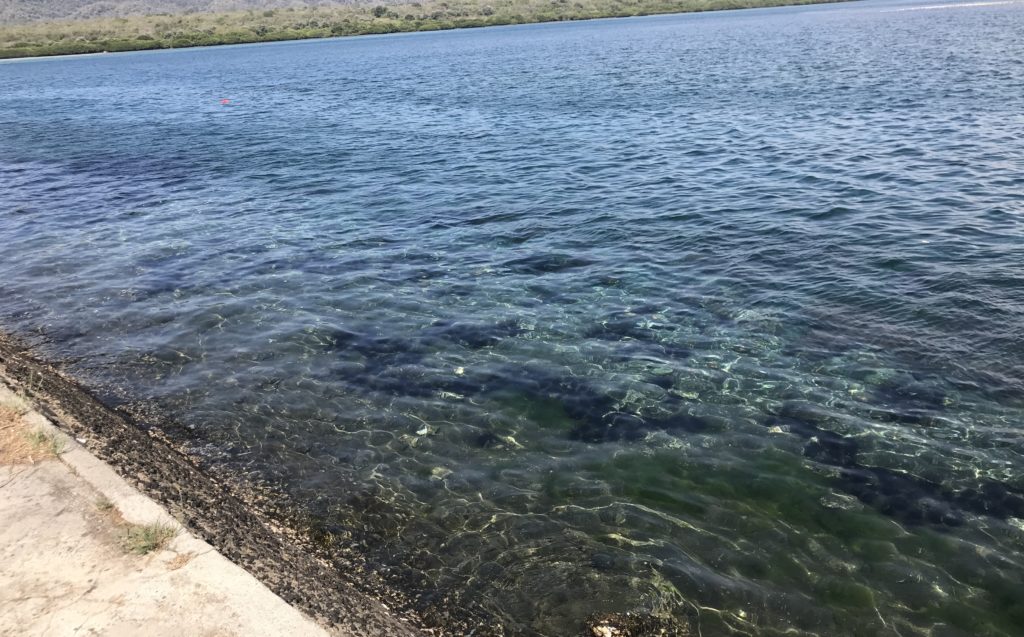 The drive from Kuta to Gilimanuk can take up to four hours. The single-carriageway road is crammed with environmentally-destructive private vehicles, tour coaches and trucks (below). It has not been expanded. That in a way is good as it caps the carrying-capacity. The flip side is that it aggravates the imbalance by curbing investment in the Western part of the island, which worsens congestion in the existing commercial areas.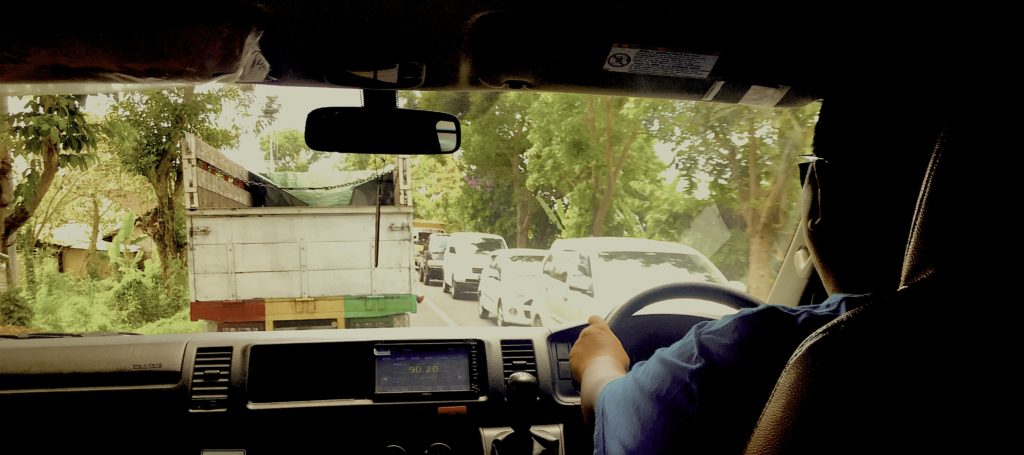 About 30 kilometres of the highway hugs the coastline, with great scenery like this (below).
Gilimanuk itself is located in the Bali Barat national park. The final stretch of the road runs right through this rich canopy of trees and greenery.
The two aerial pictures below taken from my aircraft window as it was coming in to land show how the land-use percentage of the coastline is changing. The one immediately below is of Bali's southern coast and the second one further below is of the northern coast.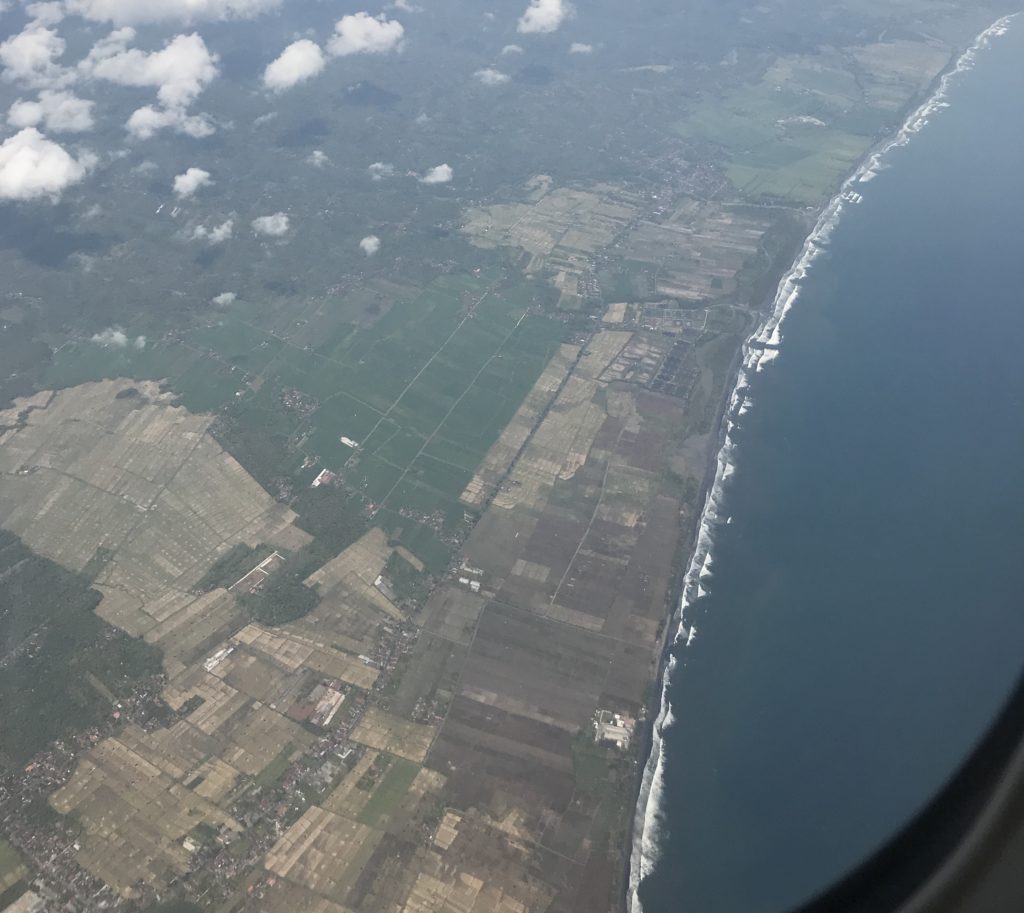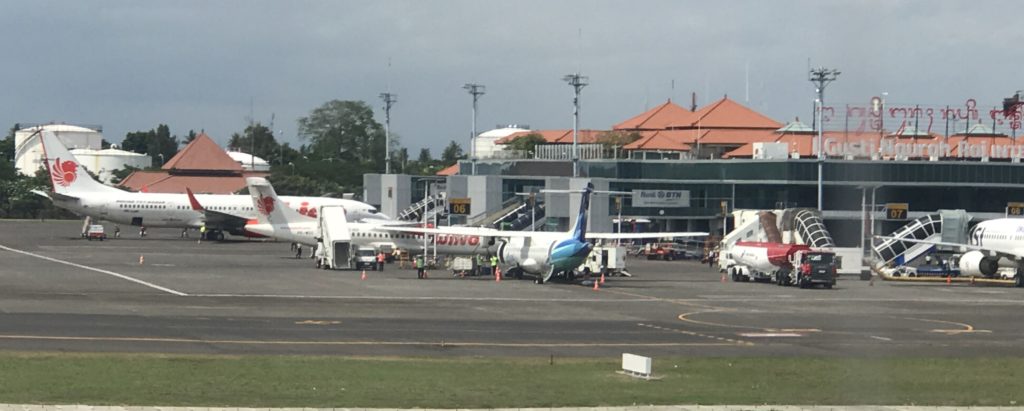 The airport (above) has been expanded significantly, but it's already at peak capacity. It reported 21 million total passenger movements in 2017, up from 19.9 millon in 2016. That is second only to Jakarta. The result? See pictures below.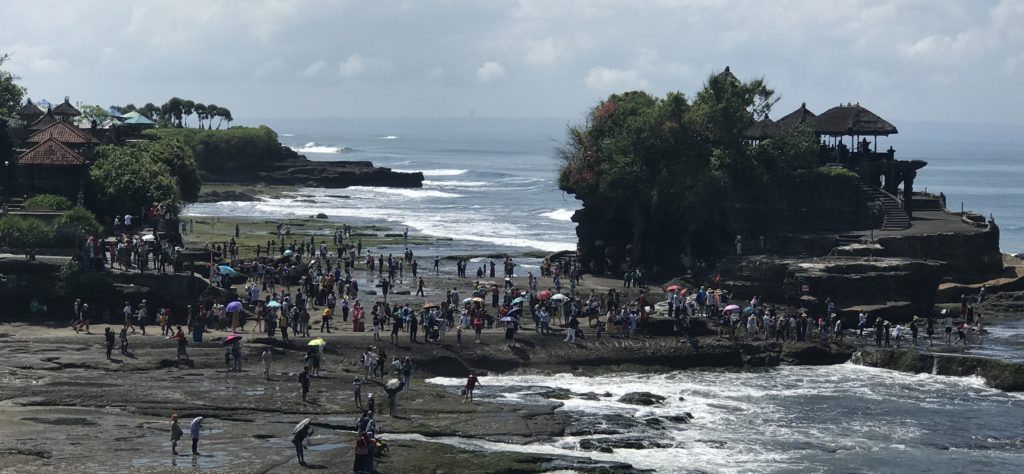 Termite tourism at the famous Tanah Lot temple (above), one of Bali's iconic tourist spots.

Termite tourism at Kuta beach.
No doubt that visitor numbers contribute to job creation and income generation, especially for the hundreds of small beach vendors. All the SDGs related to poverty alleviation and economic opportunities are certainly being met.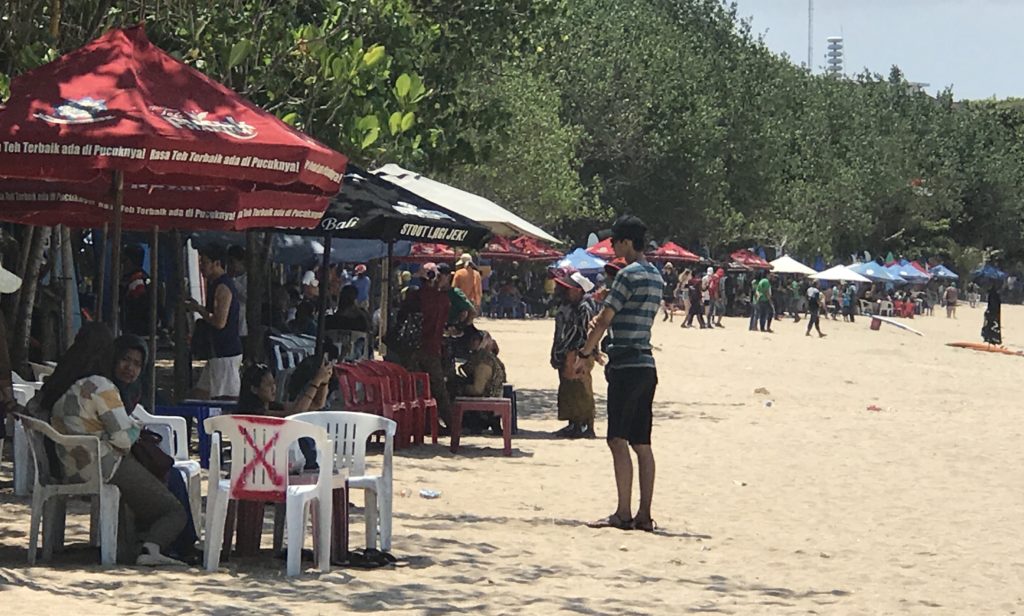 Job-seekers have flocked in from all parts of Indonesia to this tourism El Dorado.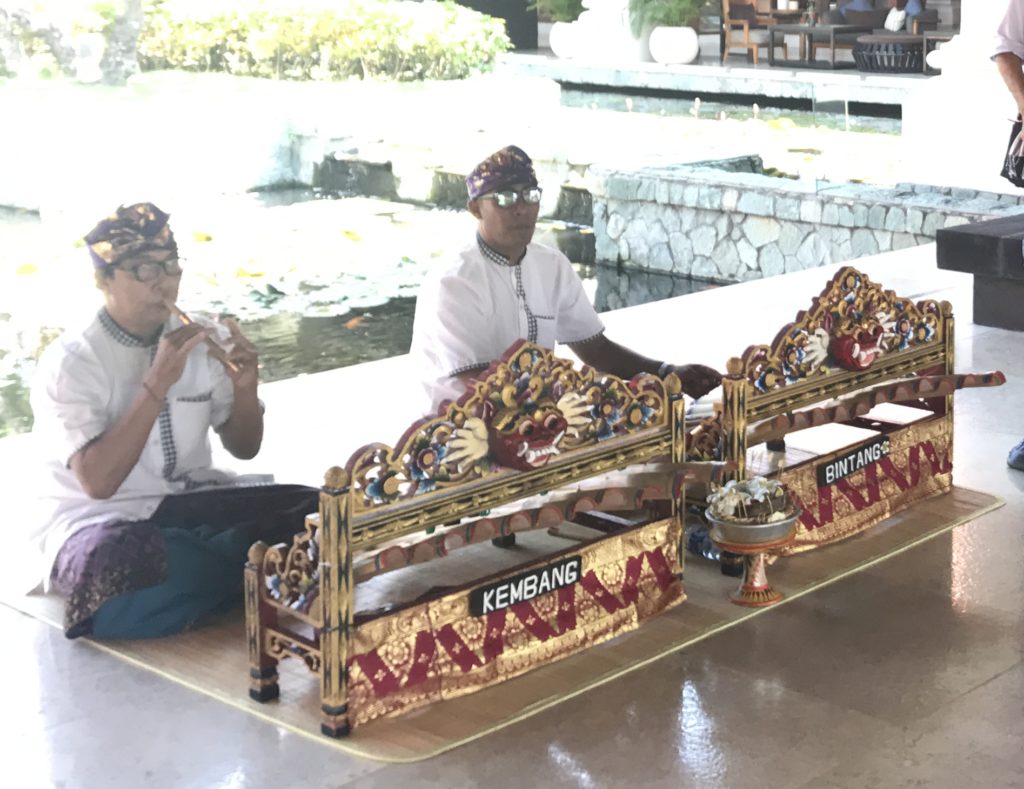 The enormous volume of garbage produced by both locals and tourists at Kuta beach is stacked against the barrier separating the beach from the public road (below) before being carted off either to an incinerator or landfill. How much garbage is produced by visitors and hosts on a daily, monthly or annual basis by Bali, and indeed by tourism destinations worldwide, is one of the travel & tourism industry's best kept secrets. One website says just south Bali alone produces up to 240 tonnes of garbage a day.
As Bali has no public transport system for the local citizenry, the motorcycle business booms. Bali has a population of 4.2 million. Each family is estimated to have at least two. I could not find any statistics on motorcycles in Bali. My van driver estimated between 5-6 million island-wide. That raises questions about environmental impact, in terms of both direct emissions as well as disposal of the various mechanical fluids and oils. Bali also has a high rate of motorbike accidents.
The footpaths at Kuta beach are all wheelchair-friendly, meeting SDG 16 on building inclusive societies. An excellent move. Not many Asian beach resorts can boast the same.
Another good point: The entire beach is totally free of eyesore high-rise buildings In fact, I didn't see any ugly high-rises anywhere on the island.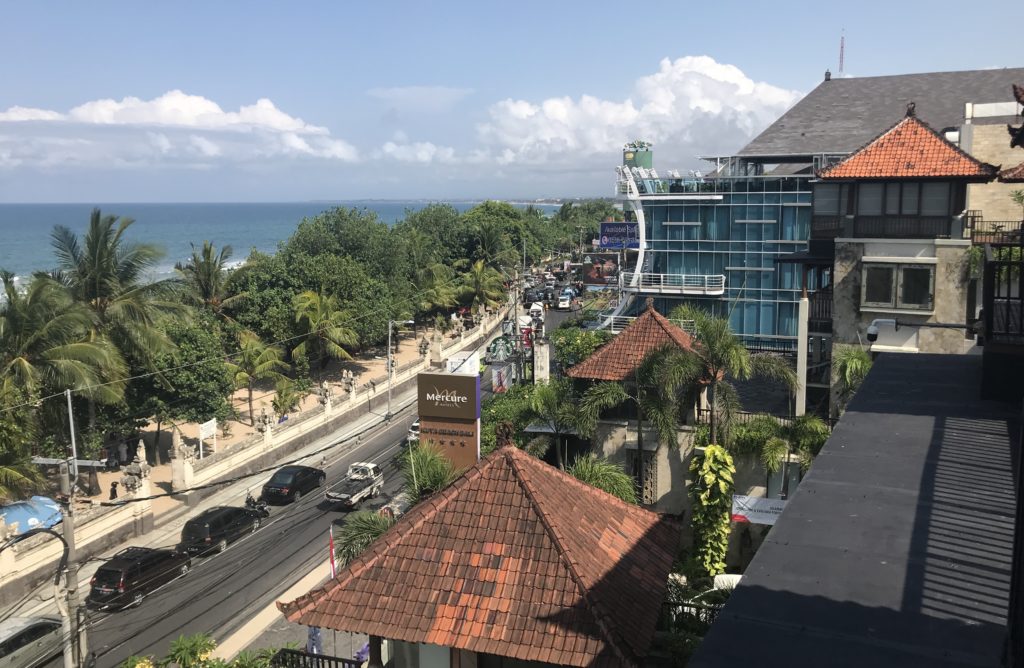 The pictures above are of the high-rise-free Kuta beach. Below is Sanur beach, another popular but less congested area.

Below are some of the more elegantly designed properties in Ubud, with the accommodation units well blended into the rice-fields or the surrounding environment. Again, no high-rise buildings anywhere.
Ubud is also home to some very exclusive Airbnb units. I stayed at this charming villa (below) owned by my friend Peter Semone and his wife Ari. It's called The Nest Pool Villa. Check it out.
Perhaps the most sustainable place I visited was Taman Nusa, an extensive display of indigenous dwellings in different parts of Indonesia. An Indian architect on the tour was taking detailed photographs. He said he planned to apply the designs in his work. Everything from the location, positioning, structure and material used in the dwellings were far more creative and sustainable than modern buildings, he told me. Sadly, there were hardly any other visitors there. In fact, it's a perfect place to organise forums, conferences and exhibitions on indigenous architectural wisdom, which is far more in line with SDGs.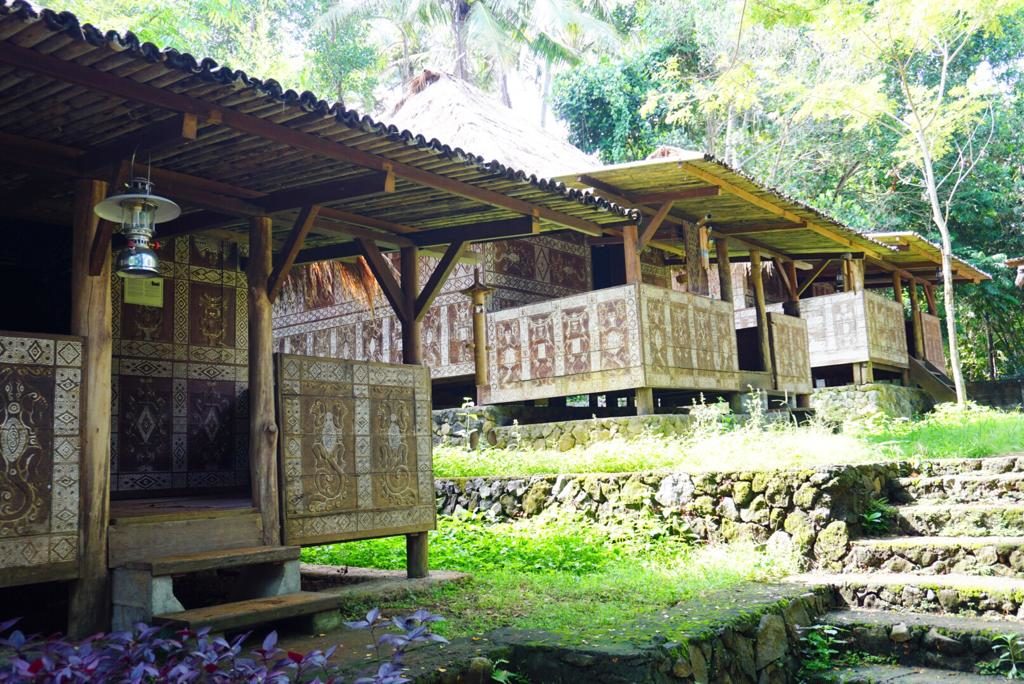 Cruises are obviously very popular, like this Pirate Ship below which my grandchildren enjoyed. The sunset is simply mind-boggling.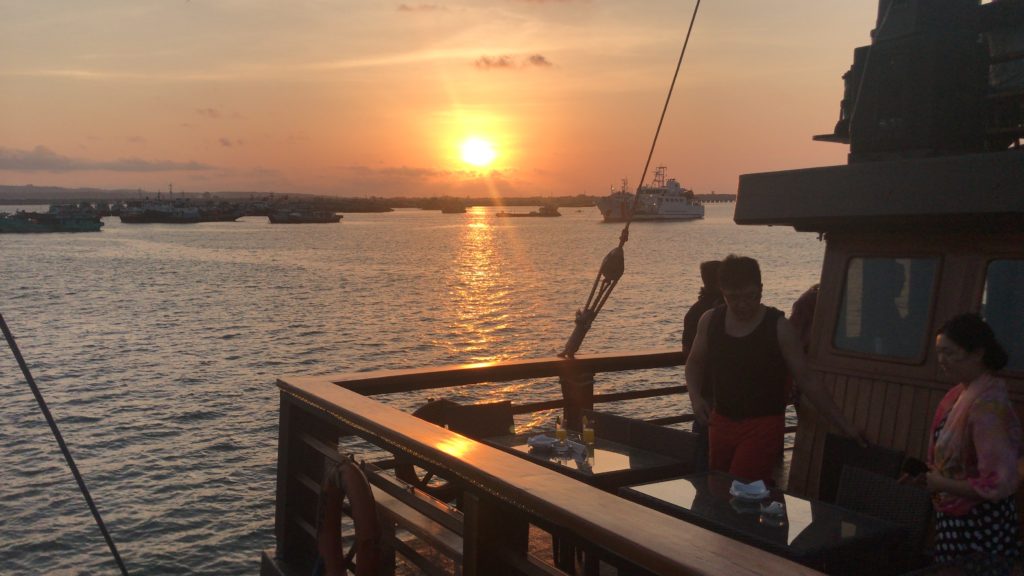 We also visited this Turtle Conservation Centre where my grandchildren "adopted" two baby turtles and named them. The conservation centre has no entrance charge, but visitors can make a voluntary donation or adopt a turtle.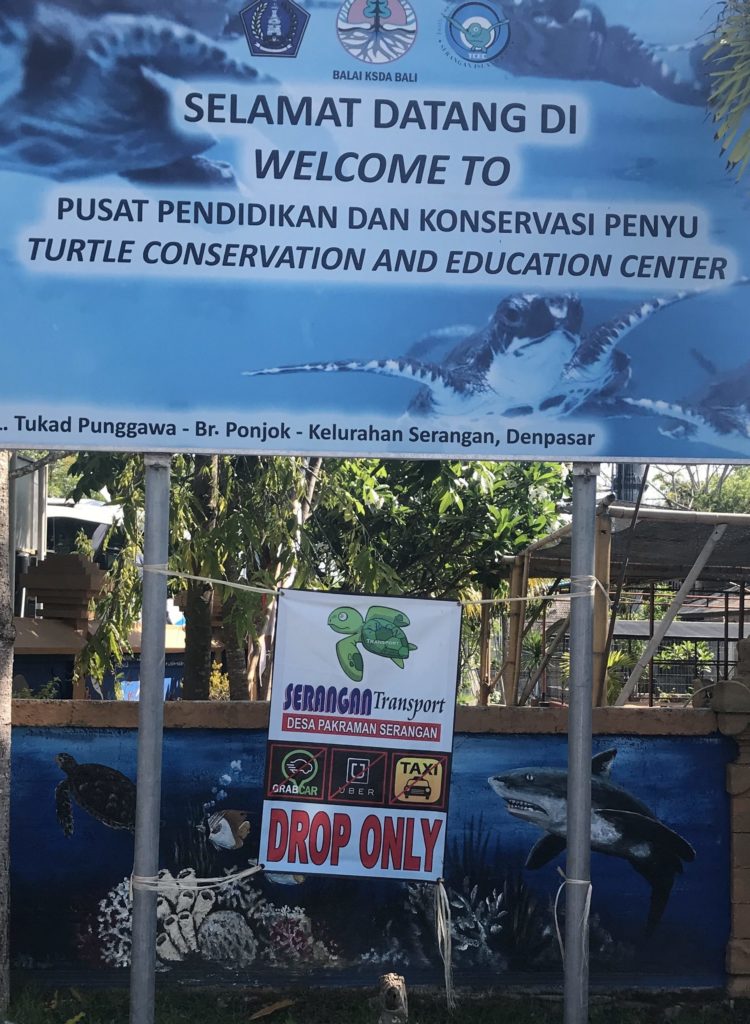 These signs banning Uber and even regular taxis from picking up passengers can be seen in many parts of Bali. These services are allowed to operate, but vigilante groups have emerged to protect what they claim to be their turf against ride-sharing services. I personally experienced this at one place where the Uber car I had booked just drove off without stopping. Doesn't make sense.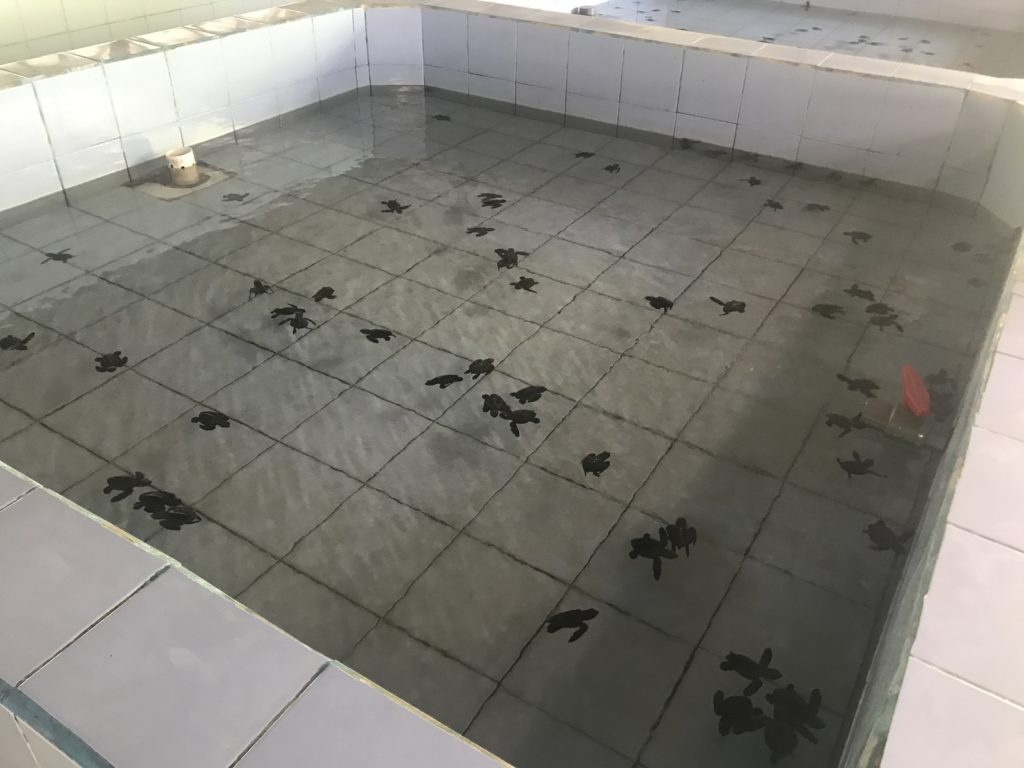 Finally, (below) this is the memorial monument to the Bali bomb blast of 12 Oct 2002, with the names and nationalities of the 202 innocent victims enshrined forever. The perpetrators had no value for human life. They were branded terrorists, rightly so. Today, many global leaders, too, have no value for human life, or, in the best tradition of George Orwell, feel that some lives are more valuable than others. Today, Bali is at peace. Many other parts of the world are not, thanks in one way or another to what seems be an endless "War on Terror."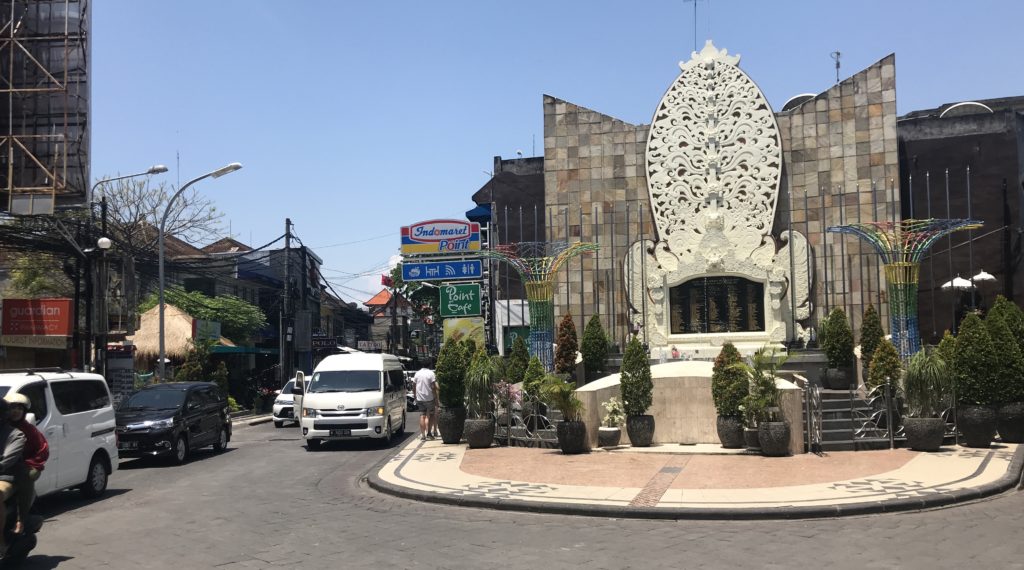 Conclusion
The objective of this landmark report is to offer studied observations, not scientific conclusions. In this new era, generating tourism numbers is no longer a problem, all things being equal. Hence, the "success" of tourism will be measured by their contribution to other indicators, such as the UN Sustainable Development Goals.
I will set the ball rolling with what is arguably the first informal grading scorecard of a major Asia-Pacific beach destination in relation to the SDGs. Clearly, there will be debate, which is exactly what I want – to initiate a healthy discussion, trigger a ripple-effect across all destinations and give new meaning to the entire concept of "competitiveness", raising the indicators of "success' beyond financial and economic parameters to the much wider SDGs.
(+) SDG 1: End POVERTY in all its forms everywhere. My rating: Excellent. The Balinese tourism economy is a job-creator beyond compare, generating direct and indirect income that is alleviating poverty across the island and many other parts of Indonesia through remittances.
(+) SDG 2 End HUNGER, achieve food security and improve nutrition and promote sustainable agriculture. My rating: Good. Certainly no-one is going hungry on the island. But there is no doubt that what once used to be a self-sufficient agricultural economy has now become an import-dependent tourism economy.
(+) SDG 3: Ensure HEALTHY lives and promote well-being for all at all the ages. My rating: Fair. I have no official statistics on the status of public health. But there certainly appeared to be a high level of cigarette and alcohol consumption.
(+) SDG 4: Ensure inclusive and equitable quality EDUCATION and promote lifelong learning opportunities for all. My rating: Good. Literacy levels are high. Everyone has to have some skill to survive. Those who work in travel & tourism have even more opportunities to advance their careers via specialised training courses.
(+) SDG 5: Achieve GENDER EQUALITY and empower all women and girls. My rating: Excellent. Nearly everywhere we went, we found women at the frontlines of customer contact. I'm not sure how many are in leadership positions, but it would be worth researching further.
(+) SDG 6: Ensure availability and sustainable management of WATER AND SANITATION for all. My rating: Poor. This website says Bali is facing a serious water crisis. Our hotel had the customary signs appealing for less water usage. As both visitor numbers and the local population grows, so will water consumption.
(+) SDG 7: Ensure access to affordable, reliable, sustainable and modern ENERGY for all. My rating: Poor. Usage of alternative energies such as solar and wind power appears to be minimal. I couldn't understand why.
(+) SDG 8: Promote sustained, inclusive and sustainable ECONOMIC GROWTH, FULL AND PRODUCTIVE EMPLOYMENT AND DECENT WORK for all. My rating: Excellent. All the economic-related SDG indicators are at the top of the grading scale. There is no shortage of availability of both direct and indirect jobs.
(+) SDG 9: Build resilient INFRASTRUCTURE, promote inclusive and sustainable industrialization and foster innovation. My rating: Poor. Like elsewhere in Asia, Balinese museums are full of great stories about the sustainability and creativity of indigenous ways of life. So why did the people of Bali and Asia abandon them?
(+) SDG 10: Reduce INEQUALITY within and among countries. My rating: Unsure. Like elsewhere, local earnings are in line with local conditions. Addressing other forms of inequality such as access to health, education, natural resources, justice, etc., are probably far more important than just financial inequality.
(+) SDG 11: Make CITIES AND HUMAN SETTLEMENTS inclusive, safe, resilient and sustainable. My rating: Poor. The visit to Taman Nusa made clear the price being paid by blind adoption of ways of life that are proving certifiably unsustainable. Away from the tourist spots, Bali is a miniature Jakarta.
(+) SDG 12: Ensure sustainable CONSUMPTION AND PRODUCTION patterns. My rating: Poor. Same comment as the above.
(+) SDG 13: Take urgent action to combat CLIMATE CHANGE and its impacts. My rating: Poor. Similar to SDG 7 on energy usage. A lot more can be done to promote alternative forms of energy. Bicycle usage is negligible.
(+) SDG 14: Conserve and sustainably use the OCEANS, SEAS AND MARINE RESOURCES for sustainable development. My rating: Poor. Bali is a sea, sun and sand destination, with a rich culture attached. The turtle conservation centre is just one example of some of the work being done, but it's only scratching the surface.
(+) SDG 15: Protect, restore and promote sustainable use of TERRESTRIAL ECOSYSTEMS, sustainably manage forests, combat desertification, and halt and reverse land degradation and halt biodiversity loss. My rating: Poor. As my aerial photographs above proved, land-usage is under pressure and going to get worse.
(+) SDG 16: Promote PEACEFUL AND INCLUSIVE SOCIETIES for sustainable development, provide access to justice for all and build effective, accountable and inclusive institutions at all levels. My rating: Poor. Bali has reaped the benefits of peace, and also paid the price of the disruption of that peace. Not enough is being done to appreciate, respect and underpin the value of that peace which, like a volcanic eruption, can be disrupted any time.

(+) SDG 17: Strengthen the means of implementation and revitalize the GLOBAL PARTNERSHIP FOR SUSTAINABLE DEVELOPMENT. My rating: Poor. That is exactly what the PATA annual conference of 1991 was designed to do. It succeeded in economic terms, but fell way short in all the others.
Bottomline Scorecard:
Excellent: 3 SDGs.
Good: 2 SDGs
Fair: 1 SDG
Poor: 10 SDGs
Unsure: 1 SDG
The Island of the Gods needs to do a lot more to reverse the damage done by destroying the natural balance and harmony created by the Gods. The travel & tourism industry today needs a completely new Magna Carta that totally jettisons visitor arrivals and expenditure as indicators of "success" and replaces them with the SDGs. If Bali takes the lead in designing one, based on walking the talk of the Gods, other destinations will follow.

Let the debate begin.