1 Oct, 2018
RAMALLAH, September 27, 2018 – Overnight hotel guests from Asia and Europe visiting Israeli-occupied Palestine have surged in the first half of 2018, the Palestinian Central Bureau of Statistics (PCBS) and the Ministry of Tourism and Antiquities (MOTA) said in a joint report Marking World Tourism Day Sept 27.
Asian overnight hotel guests rose 64.23% from 37,211 in the first half of 2016 to 61,114 in the first half of 2018. Overnight hotel guests from Europe skyrocketed 145% from 56,557 to 139,033 in the same period. Arrivals from USA and Canada have risen marginally from 17,998 to 24,463.
The total number of hotel guests in the West Bank reached 301,422 in the first half of 2018; they spent 893,890 nights. When compared with the first half of 2016 and the first half of 2017, the number of guests increased by 55.6% and 16% respectively, the report said.
The total number of guests was distributed by region as follows: 68.7% of total guests in South of West Bank hotels, mainly Bethlehem; 18.1% in Jerusalem; 5.4% in the center of the West Bank (Ramallah, al-Bireh, Jericho and Jordan Valley); and 7.8% in the north of West Bank.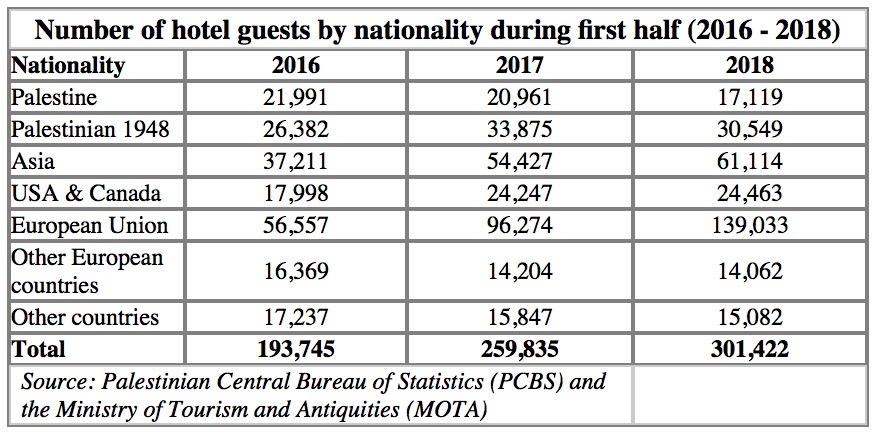 In June 2018, there were 130 hotels in the West Bank comprising 7,390 available rooms with 16,217 beds.
According to the results of the Palestinian Population, Housing and Establishments Census 2017, the number of establishments operating in the tourism sector reached 11,943 establishments during 2017, with 36,861 employees, constituting 8.3% of the total number of employees in the Palestinian establishments.
The total number of employees in the tourism activities is distributed as follows: 62.9% working in food and beverage service activities, 13.4% works in amusement and recreation activities, 9% working in accommodation activities, 6.3% manufacture and sale of handicrafts and souvenirs, 3.3% travel agency, tour operator, reservation service and related activities, and 5.1% of the employees are distributed on the rest of tourism activities.
Including day-trippers, Palestine (the West Bank area under Israeli occupation) received 1.48 million visits by foreigners and 1.65 million visits by domestic visitors in the first half of 2018, the report said.
Most inbound visits were to Bethlehem governorate comprising 35% of the total visits, followed by Jericho and Jordan Valley governorate at 30%, and Nablus and Jenin governorates at 13% and 11% respectively.
Palestinians residing in areas occupied in 1948 accounted for the largest proportion of inbound visitors at 47% with 694,000 visits, followed by arrivals from the USA by 7% with 110,000 visits, Russian Federation by 7% with 106,000 visits, Poland by 4% with 52,000 visits and then Romania by 3% with 44,000 visits, while 32% were from other nationalities with 473,000 visits.
According to the report, inbound and domestic visitors' data do not include Jerusalem and Gaza Strip.