22 Oct, 2018
Singapore – Although the core focus of the mega-billion travel & tourism industry has unmistakably shifted from marketing to management, international events such as the ITB Asia, the region's self-proclaimed "leading travel trade show" are still failing to reflect that transition. A search of the ITB Asia 2018 conference programme website yielded 113 results for the word "tech" and only 6 for the word "sustainable". Only two of the roughly 130 workshops, presentations and "knowledge-exchange" sessions were devoted to tourism management issues. The words "UN Sustainable Development Goals" were nowhere to be found.
For all the bluster about "thought leadership", ITB Asia entered its second decade last week with an over-focus on growing the business rather than managing the equally rapidly growing list of consequences of that growth. While many exhibitors and buyers are from Asia, the relevance of the "Asian" content is overshadowed by the same technobabble topics dominating global trade shows worldwide. The bandwagon rolled right from the opening bell. Rather than provide a comprehensive, realistic update on Asia's current multi-sectoral challenges, and how they are impacting travel & tourism for better and/or for worse, the opening session led with presentations by Microsoft, Google and Trip.com. Over the course of three days, delegates were buried under an avalanche of Artificial Intelligence, Robotics, Algorithms, Blockchain, Biometrics, Apps, Virtual Reality, Virtual Payments, Hologram Technology, and more.
In 2008, when ITB Asia was launched, it was against the backdrop of a raging global economic crisis. ITB Asia's own press release described these issues as being the "most trying and tumultous since 2003." (See the image below of the Press release on the first ITB Asia 2008). Since then, the world at large has witnessed even more problems such as geopolitical tensions, trade wars, human rights, migration, communal and ethnic frictions, safety and security concerns and many more. Strangely enough, the pain-points were considered worth tackling in 2008 but not this year. As most of the speakers are also sponsors, product sales pitches overshadowed the "valuable, cutting-edge knowledge" promised in the ITB Asia brochures.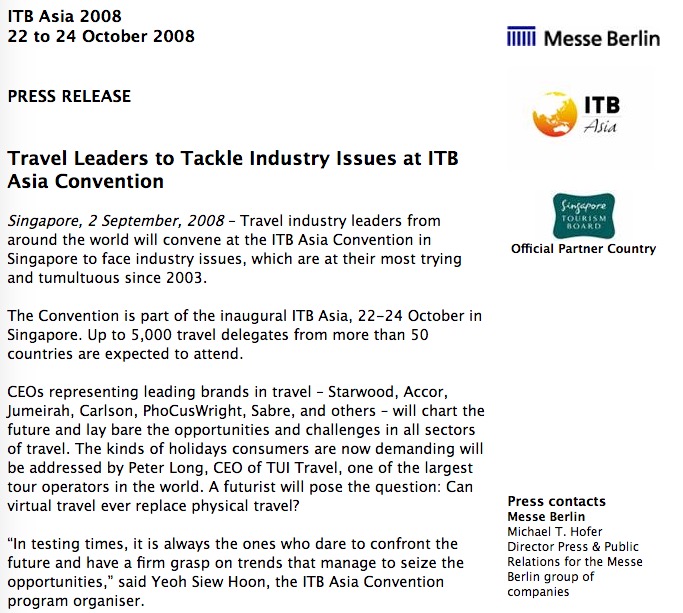 The opening session with the Google and Microsoft speakers saw a tepid discussion on privacy issues, with no hard questions being asked by the BBC moderator. Well-trained corporate executives were well prepared to dish out the usual motherhood-and-apple-pie responses. After dwelling at length on how technology will improve customer services and convenience, and how companies are doing everything to build trust, ensure privacy and security, the Microsoft speaker let slip that for the corporations, it is all about the control of the data. "If you control the data, you control the consumer," he admitted. That devastating confession alone exposes the real agenda of the technology giants, but is unlikely to come up for discussion in travel technobabble forums any time soon.
Indeed, the over-emphasis on technobabble explains why the industry was caught off-guard when "overtourism" hit the global headlines. Having lulled itself into a false sense of complacency with decades of self-congratulatory back-thumping about the economic and job-creation benefits of growth, the industry was unprepared for the anti-tourist backlash in places such as Barcelona and Venice. It then spread to Asia with the well-publicised closure of Boracay island in the Philippines – which the country's president openly called a "cesspool" — and the closure of other popular beaches in Thailand.
In the lone ITB Asia session on "over-tourism," the speakers wondered how it had come to this and where and how it had gone wrong. Both very valid questions which should have been asked years ago. The answers were straight out of the textbook – the need for better management, more dispersal in visitors to less visited parts of countries, education, amongst others. But, as I pointed out in a comment to the panel, all those were parochial, surface-skimming responses to far more deep-rooted problems – poor law enforcement, corruption, inadequate municipal and transportation infrastructure and one-sided obsession with the economic benefits of tourism.
These pain-points lie at the heart of the debate over the (mis)management of tourism. Now that the outrage has gone mainstream, and a fancy buzzword coined for violating what was long known very simply as carrying capacity, the "thought-leaders" are trying to solve looming problems they themselves deliberately ignored.
The closure of Boracay came up in a presentation by the Philippines Travel Agents Association. Its president Marlene Dado Jante made another stunning revelation: A study last year had shown that 70% of the country's mangroves were damaged, 20% of sea-grass destroyed, and 90% of coral reefs are endangered. She said that the PTAA had supported the rehabilitation of Boracay but not its closure. The six-month shutdown, due to end this week, had resulted in an 1.98 billion peso loss to the local economy. Another 4,000 jobs had to be found in other tourism destinations to help those who were disenfranchised.
However, she admitted that short-term pain would yield long-term gain. Other islands such as Bohol and Palawan are moving to pre-empt a full-scale closure by undertaking similar rehabilitation measures. The National Tourism Development Plan for 2016-22 envisions a "highly competitive, environmentally stable and socially responsible tourism that promotes inclusive growth through employment generation and equitable distribution of income." In fact, all previous plans had the same objective. Boracay failed, and paid the price.
And so it continued all through. A presentation on the China market was dominated by talk of apps, payment systems and the latest social-media chatroom rage attracting the attention of young people with "silly videos". In the few minutes left for questions, I asked the panelists to comment on the growing environmental and social impact of Chinese tourists. Only two of the four panelists ventured an answer. One of them, a Westerner, dismissed the question, saying their economic benefits far outweighed the ecological footprint. The other, a Chinese gentleman, acknowledged the concern and outlined what his company was doing to enhance environmental consciousness amongst his clients.
I also attended a set of presentations by Cruise Lines International. They, too, featured back-to-back sales pitches about the superb rooms, entertainment facilities, dining options and many more mind-boggling things to do on the behemoth floating cities. Not one mentioned any efforts on environmental protection, gender equality and job creation. It was bottom line-driven hard-sell all the way.
Similar blind-spots could be found in the Muslim travel programme which, according to an ITB Asia media release, were to "dominate" this year's event. The Muslim demographic customer base is same size as the Chinese or Indian markets, but far more geographically diverse, a natural safeguard against over-exposure to a single country. A huge base of young Muslim millennials have time, money and a burning desire to see the world, with a preference for destinations seen as being Muslim-friendly. As the business potential is clear, numerous companies, consultants, branding and marketing gurus, etc., are joining the fray.
As expected, all the sessions on Muslim travel stuck to the traditional sunny-side-up perspectives. There was scant discussion of how Muslim travel is being impacted by Islamophobia, racial profiling, visa restrictions and blatant discrimination. One slide presented by the opening speaker, Mr Nedyalko Terziev, VP Strategy & Planning, Wego, showed that Germany, home country of Messe Berlin, had the lowest perception ratings amongst Saudi travellers vis a vis the UK, France, Italy, Austria and the U.S. He was quoting figures from a 2013 survey, but the sentiment is unlikely to have changed much in the wake of the rise of fascist political parties and growing anti-Muslim agendas in Europe.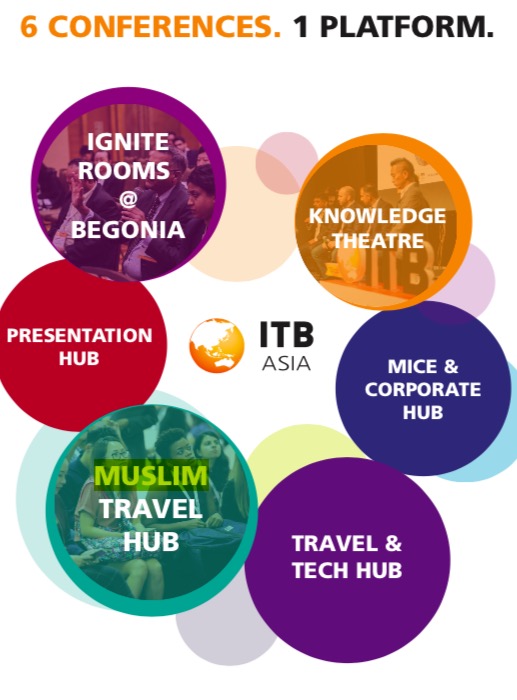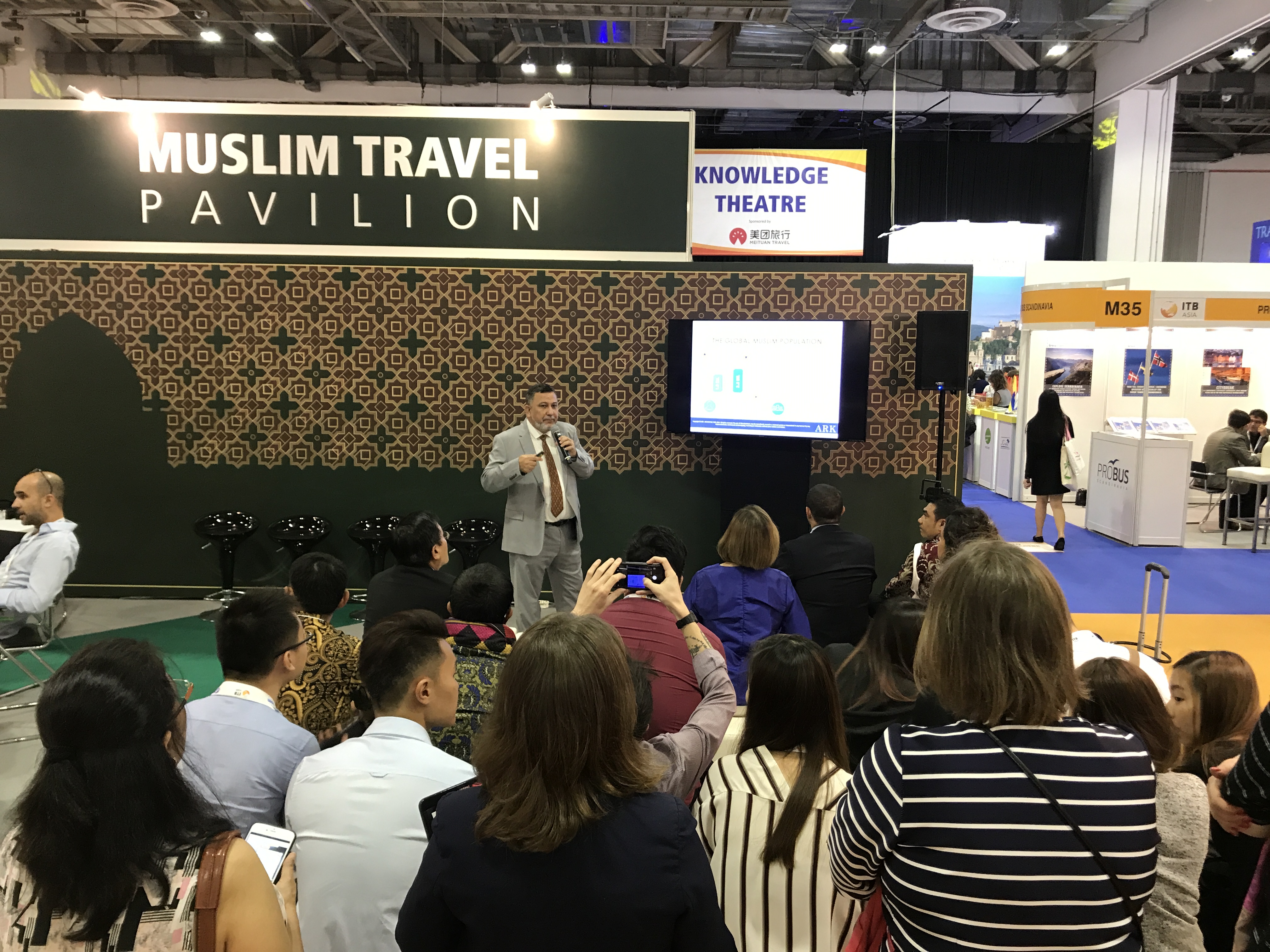 ITB Asia is pushing the Muslim travel bandwagon to boost the trade show turnout and compensate for the loss of other associated events that were its hallmark in the first 10 years.
Between 2010-15, the Singapore Tourist Board backed a roster of ITB Asia side-events under a banner known as "TravelRave". Marketed as "Asia's premier travel and tourism week" it included Web in Travel, Association of Corporate Travel Executives, an Asian Hotel Investment Forum, Aviation Summit, an invite-only Asia Travel Leaders Summit, and two awards events, the TravelRave Leaders Gala and Singapore Experience Awards. TravelRave was discontinued in 2016. All the side-events have exited, except for WiT and the ACTE forum. A new event was created this year, the Hotel Revenue & Distribution Summit 2018, designed "to share key solutions and innovations for hotel revenue management and distribution in Asia."
Interaction with the media has been downgraded. Both the opening Press conference and the Singapore media briefing have been axed, which means the media no longer has a chance to ask questions. All the presentations by the Singaporeans and Messe Berlin are lumped together into the opening session. Press conferences by destination NTOs and product suppliers have dropped substantially. This year, there is no Partner Country. Singapore was the partner country in 2017. In 2018, the official banner says ITB Asia is being "held in" Singapore. Last year, ITB Asia signed an agreement with the Korean Tourism Organisation to give the Land of the Morning Calm a higher profile. This year, too, the Koreans have a high profile presence.
Every year, ITB Asia announces "record-breaking" numbers. However, the show is still in the same single hall at the Marina Bay Sands where it has been since moving from Suntec Singapore in 2012. As ITB Asia does not provide breakdowns, there is no way of knowing how much of the claimed turnout is padding. Only a small handful of the major global and Asian hotel chains have corporate booths. Only three ASEAN airlines were present. The line-up of speakers alone totals roughly 200. On the last day, a Future Leaders Forum generates several hundred student delegates. Many of the technobabble sessions feature the same speakers as those at Web in Travel.
Like all trade shows, ITB Asia's claims about its "record breaking" success are designed to justify constant increases in booth rates. However, in a clear sign of the competitive pressures, the listed prices for ITB Asia 2019 are being frozen at the 2018 levels (see the comparisons in the images below). One exhibitor surmised that Messe Berlin is trying to prevent cost-conscious exhibitors from drifting to its latest show, ITB China. In effect, Messe Berlin is competing with itself as well as the proliferating number of domestic, regional, global and niche-market shows worldwide.
ITB Asia Rates announcement for 2018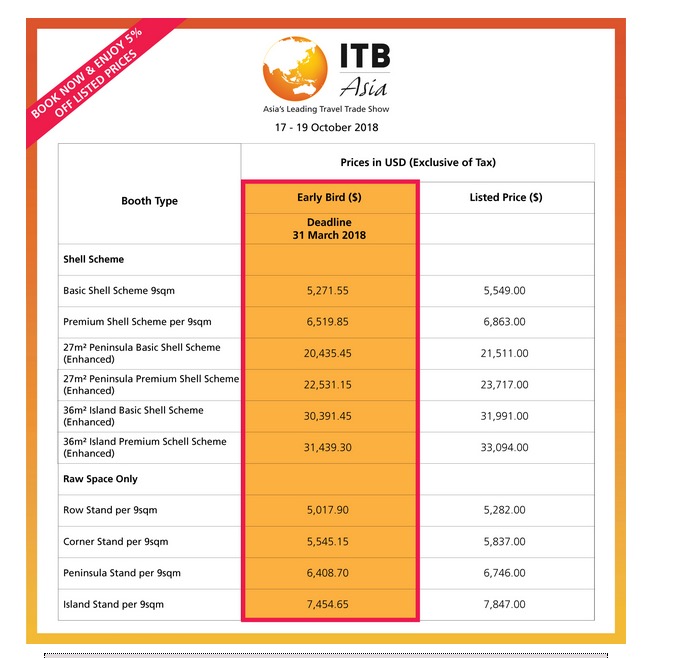 ITB Asia Rates announcement for 2019
Systemic over-competition is becoming the first cousin of over-tourism. As the trade shows are all chasing the same small pool of sponsors, they are over-dominated by technobabble. A Jekyll and Hyde split personality emerges. On one side lie enormous doing-business opportunities; on the other, conference agendas do not risk venturing beyond the same old comfort zones.
This makes the claim of "thought-leadership" and "insightful content" somewhat dubious. Like universities, trade shows and their side-events provide enormous opportunities for research, analysis and monitoring trends. But universities are also forums for critical thinking and alternate perspectives, challenging conventional wisdoms, analysing risks and threats. Indeed, the best universities are those which encourage open, free and fair debate and discussion of topics, warts and all. Trade shows pirate the language of educational institutions in claiming to be platforms of thought-leaders. In fact, they have become anything but.
The shock-horror reaction to "over-tourism" clearly proves that travel & tourism prefers to downplay its downsides, until it hits the fan. Perhaps some day, a brave trade show organiser may opt to disrupt this progressive dumbing down and build a more realistic conference around current industry challenges, with nothing being off the table. Until such time, Google and Microsoft will continue to deliver their pre-packaged opening speeches, shows like ITB Asia and PATA Travel Mart will continue to preach to the converted, and handwringing will continue about over-tourism.