2 Sep, 2018
World Week for Peace in Palestine & Israel, 16-23 September, 2018
Investing in young people
A week of education, prayer and action for peace in Palestine & Israel, initiated by the World Council of Churches.

Planned events below
This year's theme is "Youth and Children: Raising Hope and Making Change". Youth and children are the ones who suffer the most in conflicts and under occupation. They are also the ones who will hold the future of Palestine and Israel in their hands, the ones we pray will grow up with peace and prosperity.
2018 Promotion Flyer for sharing the date and theme. You can order copies in sets of 100.
Pray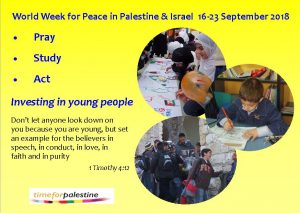 Study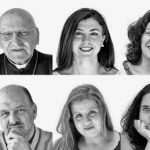 Act
PLANNED EVENTS FOR 2018:
20 September. Hexham. Youth and children Raising hope and making change. Evening with Hamed Qawasmeh from the West Bank. St Mary's Church Centre, Hencotes, Hexham, NE46 2EB @7.30
29 September, Newcastle. Youth and Children: Raising hope and making change. Speaker Phoebe Rison, Advocacy worker for Sabeel/Kairos. St Thomas' Church, Haymarket, Newcastle @ 1.00pm. 2.30 worship
Resources and events from WWPPI 2017
Action card with text on reverse to be sent to MPs and Elected Representatives.
Order copies in sets of 100.
Stories of young people from Palestine and Israel
Powerpoint Voices of the young with testimonies from young people. Could be used within the liturgy or each slide could be printed and enlarged to create a small exhibition.
Additional stories – A4 presentations
Videos of children and young people talking about their lives and experiences
UK Working Group for the World Week for Peace in Palestine and Israel
Amos Trust / Baptist Union of Great Britain / Church of Scotland / Council of Lutheran Churches / Ecumenical Accompaniment Programme in Palestine & Israel / Embrace the Middle East / Friends of Sabeel UK / Kairos Britain / Methodist Church in Britain/ Pax Christi UK / Quakers in Britain /
United Reformed Church-Commitment for Life
Source: http://paxchristi.org.uk/campaigns/israel-and-palestine/world-week-for-peace-in-pi/