3 May, 2018
PALM BEACH GARDENS, Fla., May 2, 2018 /PRNewswire/ — Vejthani Hospital (https://www.vejthani.com/) in Bangkok, Thailand has been awarded a three-year term of "Accreditation with Excellence" by the Global Healthcare Accreditation (GHA) Program (http://globalhealthcareaccreditation.com/) for its Medical Travel Services Program.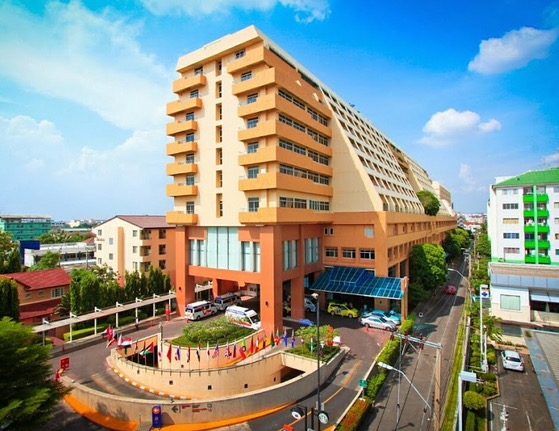 Numerous reports including recent ones by Healthgrades, Accenture and the Agency for Healthcare Research and Quality indicate that a high-quality patient experience is important to patients and can positively impact both a patient's wellbeing as we as a healthcare provider's finances. For healthcare providers treating medical travelers, the patient experience is especially important due to its complexity and must be carefully managed both inside and outside the clinical setting. Medical travelers face unique challenges that impact the patient experience including language and cultural barriers and difficulties related to travel and orientation in a foreign environment.
In 2016, the Global Healthcare Accreditation (GHA) Program was established with the goal of enhancing the patient experience for medical travelers across the entire Medical Travel Care Continuum. GHA provides concrete and measurable value to patients by ensuring that the hospital or clinic has instituted processes that are customized to the medical travelers' unique needs and expectations and are constantly monitored for improvement.
Additionally, GHA provides healthcare organizations with a unique opportunity to not only acquire skills and competencies designed to strengthen their medical travel services, but also impact business performance. GHA has accredited internationally recognized healthcare providers in a number of countries including the United States, Mexico, Croatia, and Thailand.
Vejthani Hospital is the second hospital accredited by the GHA program in Thailand. According to Dr. Soucksakit, Chief Executive Officer at Vejthani Hospital, "As an international hospital, we provide high-quality care and a superior customer experience based on international standards. We have validated our clinical expertise by previously achieving Joint Commission International accreditation, including certifications for five Clinical Care Programs. Most recently, we had the distinction of achieving "Accreditation with Excellence" by Global Healthcare Accreditation, which focuses on enhancing the medical travel care continuum for traveling patients. GHA accreditation was the missing piece which affirms our pride to be an exceptional care provider to all medical travelers along their journey."
Karen Timmons, Chief Executive Officer of the Global Healthcare Accreditation Program stated, "We congratulate Vejthani Hospital for achieving Accreditation with Excellence and for continually striving to deliver high quality and culturally competent care to its diverse patient populations. Traveling patients and payers are increasingly demanding a high quality patient experience. GHA seeks to assure that the patient is actively engaged and that the organization is proactive in managing cultural sensitivities and communication at each touch point along this Medical Travel Care Continuum. With a focus on the entire medical travel care continuum, patient experience and sustainable business practices – GHA seeks to provide both short term and long term value to our clients, whom we view as strategic partners."
Additionally, GHA reviews business functions and processes related to medical travel. Because GHA focuses on the entire Medical Travel Care Continuum, those business functions within an organization that impact the medical travel program, such as marketing, finance, and technology are enhanced.
According to Dr. Somporn Kumphang, Chief Executive Officer of Healthcare Expert Group and GHA's representative in Thailand, "Healthcare providers in Thailand understand GHA's unique value in improving the patient experience both inside and outside the clinical setting and how it complements other clinical accreditations. Vejthani Hospital is one of Thailand's premier healthcare providers, yet it was not content to rest on past accomplishments. Instead, the hospital worked hard to prepare for GHA accreditation and ensure its services and protocols align with the needs and expectations of its many traveling patient populations. I am excited about the future of medical travel in Thailand, one of the world's top medical travel destinations, and GHA's role in ensuring medical travelers have a safe and high-quality patient experience."