3 May, 2018
SANYA, China, April 29, 2018 /PRNewswire/ — China's first Atlantis resort in the city of Sanya has opened, culminating four years of anticipation for a CNY 11 billon (close to US Dollar two billion) project, developed by owning company – Fosun International and managed by reputable and global hospitality leisure brand operator, Kerzner International. Atlantis Sanya promises to redefine holidaymaking and propel Hainan Island into a new era of world-class hospitality and tourism.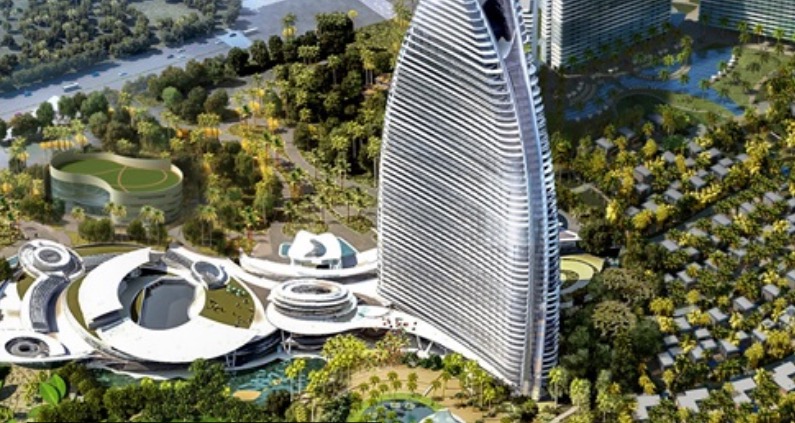 Atlantis Sanya's grand opening, which coincided with the 30th anniversary of Hainan Province Special Economic Zone festivities, was marked by a gala unveiling event that was attended by Hainan government officials, business leaders, and international and Chinese celebrities.
"It was a momentous opening celebration befitting a leisure development of this size and scale," said Heiko Schreiner, Atlantis Sanya's managing director. "It was also a taste of the kind of resort we want Atlantis Sanya to be known for – one that both amazes and inspires. We look forward to delivering an extraordinary holiday experience to travelers visiting our resort in Sanya."
A musical extravaganza created exclusively for Atlantis Sanya's opening night, brought the myth of Atlantis to life. It showcased a five-act theatrical, musical performance that told the spellbinding story of the lost city of Atlantis and an awe-inspiring fireworks.
Directed by INVNT's Paul Blurton and with an ensemble of 43 performers, the production dramatised the adventures of two young lovers named Mimo and Walker who were swept into the ocean, rescued by magical sea creatures, and taken to the underwater city of Atlantis. Renowned theatre artist Prinnie Stevens played the lead role of Queen Atlantia, the lost city's ruler, who blesses the couple and sends them off with her message of love, peace, and unity. Twenty drummers dressed as Atlantian courtiers heralded the arrival of Atlantis to Sanya, symbolising the resort's main theme.
As the performance came to a close, a ribbon-cutting ceremony signaled the start of the spectacular fireworks display. Chinese singer-songwriter, Jane Zhang, serenaded guests at the outdoor dining area on Atlantis Sanya's beach lawn, as fireworks lit up the newest iconic addition to Sanya's skyline.
Before the gala dinner, Fosun Foundation's "Sand Art World" exhibition opened to visitors. The exhibition features 40 Chinese and international artists; and their take on "Sand Art World: Exploring Social Geometry" which includes paintings, sculptures, installations, photography, video, computer graphics, virtual reality (VR), augmented reality (AR) and more. Fosun Foundation is committed to promoting arts and culture to the public. Key parts of the exhibition will continue to be displayed in public areas of Atlantis Sanya after its initial two-week run.
Since its founding 26 years ago, Fosun has been committed to fulfilling its corporate social responsibilities and has devoted itself to the benefit of society. In the past ten years, Fosun and its member companies have enacted education and poverty alleviation programs such as the Hainan Province Fosun Guangcai Education Award Fund that aids poor families and students in completing their studies. During the grand opening ceremony, student representatives presented highlights from Fosun's philanthropic initiatives in Hainan. Fosun Foundation also announced that it would donate RMB10 million (USD1.592 million) to the Sanya Education Fund to aid in the development of outstanding teachers, students, and education programs.
Guo Guangchang, Chairman of Fosun International, announced that Rural Doctors Program would fully cover rural doctors in all national poverty-stricken counties in Hainan Province and support rural doctors in implementing poverty reduction efforts.
Overlooking the South China Sea, Atlantis Sanya boasts one of the largest open-air aquariums in the world, The Ambassador Lagoon, a unique underwater habitat, home to more than 86,000 species of marine life, mesmerising visitors as they journey to discover the mythical heart of Atlantis. The resort's 1,314 guest rooms and 154 suites not only offer spectacular island and coastal vistas, but also serene views of life below the waves, from seven uniquely designed underwater suites – the first guest experience of its kind in China. At the heart of Atlantis Sanya is the Lost Chambers Aquarium, which allows visitors to immerse themselves in the mysteries of the ocean and learn more about the richness and diversity of its inhabitants.
Guests can also enjoy exhilarating water play at the 200,000-square metre Aquaventure Waterpark and enjoy interactive sea mammal experiences at Dolphin Cay and Sea Lion Point. Atlantis Sanya's wide range of dining options include 21 restaurants, cafes, and lounges, including Bread Street Kitchen and Bar by world-famous celebrity chef Gordon Ramsay and Ossiano Underwater Restaurant and Bar, which are poised to become Hainan's top gastronomic spots. For conferences, events, and meetings, Atlantis Sanya offers an expansive 5,000 square metre MICE facility. The resort also provides families with a playful Miniversity recreational centre and operates the first AHAVA Spa in the Asia-Pacific region.
In building Atlantis Sanya, Fosun Tourism and Culture Group envisioned a high-quality, one-stop tourist destination that caters to families – part of the company's mission of helping families live happier lives. Guo Guangchang, Chairman of Fosun International, sees Atlantis Sanya as a response to the growing trend of family–focused hospitality, ushering in a new era for tourism in Hainan and China as a whole.
"We call it 'FOLIDAY,' Fosun's distinctive holiday brand that seeks to take the tourism industry to greater heights," Guo said. "At Atlantis Sanya, families will have everything they want and need for a breathtaking holiday experience. With something for every family member to enjoy, we've designed the ultimate, multi-generational resort experience, focused on delivering quality family time and treasured memories that last a lifetime."
Atlantis Sanya has turned the concept of traditional hotels on its head by reinventing the complex holiday market. Atlantis Sanya will form a distinct tourism ecosystem in Hainan as well as play an industry-leading role in promoting structural reforms of the tourism industry in Hainan in order to improve the quality of tourism in Sanya and Hainan. From a broader perspective, Atlantis Sanya is in a class with Shanghai Disneyland and the upcoming Universal Studios in Beijing in promoting China as a world-class tourist destination and enhancing the overall tourism industry.
Michael Wale, CEO of Kerzner International, believes Atlantis Sanya will continue the company's tradition of providing extraordinary holidays to tourists from all over the world. Atlantis Sanya joins Kerzner's flagship destination Atlantis, The Palm in Dubai, as well as The Royal Atlantis Resort and Residences in Dubai and Atlantis, Ko Olina in Hawaii, both of which are currently under construction.
"We are delighted to be welcoming Atlantis Sanya into our family as not only the first Atlantis resort in China, but also a proud first step into the Asia Pacific region," said Wale. "Atlantis Sanya is the next generation of Atlantis resorts, offering a wide variety of guest entertainment experiences."
For further information about Atlantis please visit www.atlantissanya.com