5 Apr, 2018
Washington, DC., 3 April 2018, (www.adc.org) – The American-Arab Anti-Discrimination Committee (ADC), the nation's largest Arab-American civil rights organizations, is deeply offended by the racist and simplistic portrayal of Arabs, and misrepresentation of regional politics, in the upcoming film Beirut.
The film is filled with the stereotypical anti-Arab sentiment which Hollywood has been notorious for freely spreading and with complete disregard for those impacted by such negative imagery.
Beyond political misrepresentation, the film has been criticized for dehumanizing Arabs who nearly always appear as enemies, religious extremists, and terrorists. Film critics Daniel Schindel called Beirut "xenophobic" and a "jaw-droppingly reductive 'summation'" of the Lebanese Civil War. He stated, "If ever you needed a reminder as to how much Hollywood still really, really hates Muslims, look no further than the opening of Beirut."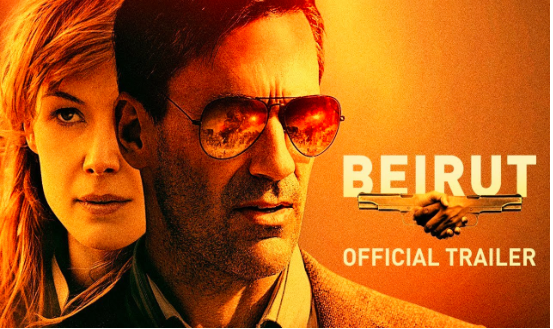 Beirut features an American diplomat returning to Lebanon in 1982 to rescue an American held hostage by the fictitious "Militia of Islamic Liberation." "Two thousand years of revenge, vendetta, murder . . . Welcome to Beirut," the lead character says about the ancient city, reducing it to unbroken bloodletting. The film reserves its main roles for an entirely White ensemble, which promulgates the "White Savior" myth. In fact, the film is set in 1982, the year the U.S. provided arms and diplomatic backing for Israel's brutal invasion of Lebanon.
Since its founding, ADC has continually challenged anti-Arab depictions in Hollywood. The late media scholar, and ADC Member and supporter, Dr. Jack Shaheen had documented negative portrayals of Arabs in nearly 900 Hollywood films. Arabs, like all people, can be depicted as villains onscreen, but singling out one ethnic group for repeated dehumanization is outright prejudice. Moreover, Hollywood has been inexcusably indifferent to its defamatory images of Arabs, depictions which rebound adversely on Arab-Americans.
Many films and television series are making strides to be more inclusive and thoughtful portray marginalized people. Sadly, Beirut is an offensive film greatly out of touch with the times. It is anachronistic in its reduction of the Middle East to mayhem, violence, and war. ADC calls on the motion picture industry to do better and rise to the new demands of American culture and produce diverse films that convey the full humanity of all people. #BoycottBeirutMovie