20 Mar, 2018
Bangkok, 13 March 2018 – Three young people under 30, a Filipino, Mexican and Pakistani, have won top honours in the first global essay competition organised by a travel trade publication to underscore the contribution of Travel & Tourism to the UN Sustainable Development Goals.
The co-winners of The Olive Tree awards competition are: Michael Jaleco Lacson, 29, Filipino, Social Mobilization Associate, World Wide Fund for Nature, and Mariana de la Garza de los Santos, 19, Mexican, a student of Innovation and New Business Creation, University of Monterrey, Mexico. Each will get a cash award of US$750.
The runner-up is Maryam Asim, 29, Pakistani, Technical Consultant. She gets a cash award of US$500.
All the prize money was sponsored by Mr. Sonu Shivdasani, CEO and Commercial and Creative Lead, Soneva Resorts. In addition, the co-winners separately won one-week stays at Soneva Resorts, courtesy of Mr. Shivdasani, and Jetwing Hotels of Sri Lanka, courtesy of CEO Mr. Hiran Cooray.
The winning essays, along with 13 other shortlisted essays by young people from Sri Lanka, India, Ghana, Zimbabwe, Malawi and Nigeria, have been printed in the March-April edition of The Olive Tree the first and only publication devoted to strengthening the contribution of Travel & Tourism to the UN SDGs.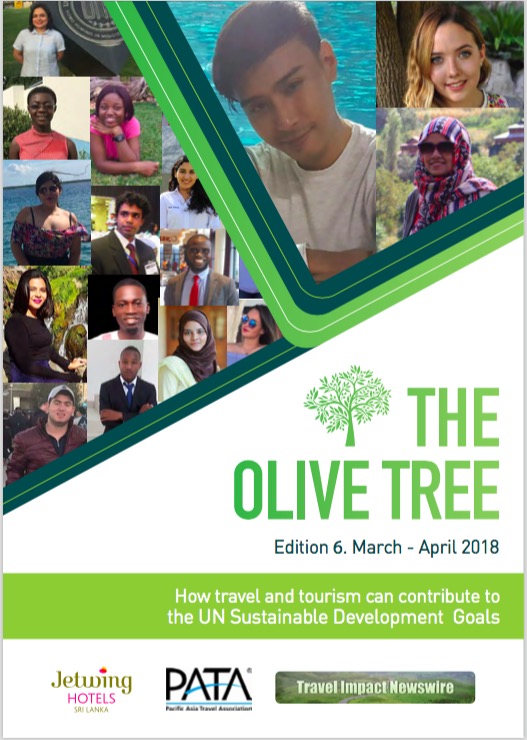 The competition was launched on 21 September 2017, the International Day of Peace, by Imtiaz Muqbil, Executive Editor of Travel Impact Newswire and one of the longest serving travel trade journalists in the Asia-Pacific. The results are being announced just a week short of 20 March 2018, the International Day of Happiness.
Attracting a total of 96 essays from young people in 20 countries, the initiative was applauded by the judges.
Mr. Chattan Kunjara Na Ayudhya, Deputy Governor for Policy and Planning, Tourism Authority of Thailand, called the competition "a very beneficial and worthwhile activity." He said: "I think it is important for our generation to learn how the next ones think so we may work with them." He said it also gave him a chance to read up on the SDGs.
Mr. Dmitri Cooray, Manager Operations, Jetwing Hotels Ltd, and one of the three millennial judges said it was his first time to judge an essay competition. He said, "I would like to thank you for giving me this opportunity to be a judge. I enjoyed going through some well-written essays with very thoughtful ideas."
Mrs Naphalai Areesorn, Editor-in-Chief of Thailand Tatler, said: "You're right, the young people nowadays do have ideas to share."
Mr. Shivdasani, who was also one of the judges, said he felt Mr. Jaleco's essay "clearly stood out from the rest. His view that Travel and Tourism brings the world together and increases compassion, learning, understanding and wisdom is one I share quite strongly."
He also complimented Ms Maryam Asim's "thoughts about using infographics to communicate messages rather than verbose guidelines, the importance of Governments and countries and local communities to react. I also liked the way she had shared her personal experience from her travels."
The other four judges were: Mr. Mario Hardy, CEO, Pacific Asia Travel Association; Ms Wong Peng Jun, Sales and Marketing Manager, Frangipani Resort Langkawi, Malaysia; Mrs Sana Muqbil Shamsi, former Franchise Owner, Escape Hunt, Hyderabad, India; and Ms Punam Mohandas, journalist and lecturer at Assumption University, Bangkok.