23 Nov, 2017
Bangkok – The Indonesian Tourism Ministry held its biggest ever tourism promotion festival in Thailand over the Nov 17-19 weekend. Located at one of Bangkok's most popular shopping malls, attendance at the outdoor event was strong on the opening day but impacted by both hot weather and rain over Nov 18-19. It also raised questions about the future of intra-ASEAN travel and highlighted the broader need for an upgraded Indonesian marketing presence in Thailand, a partner country under the ASEAN bloc.
As Indonesian tourism promotions in Thailand have been intermittent and irregular in the past, tourism flows between the two countries are heavily imbalanced. Mr. Toffery Primanda Soetikno, Minister/Deputy Chief of Mission, at the Indonesian embassy, told the media conference that only about 100,000 Thais visit Indonesia every year, comprising less than 1% of total arrivals, while half a million Indonesians visit Thailand. The is narrowing, but slowly. In Jan-Sept 2017, Thais visiting Indonesia totalled 79,000, up 8% over the same period of 2016.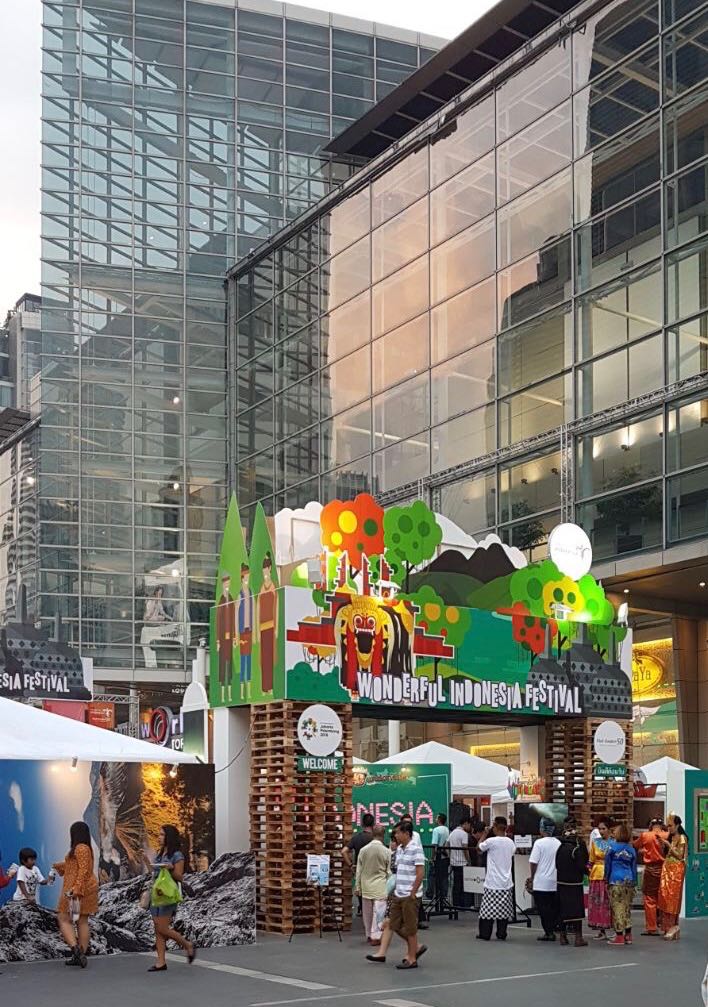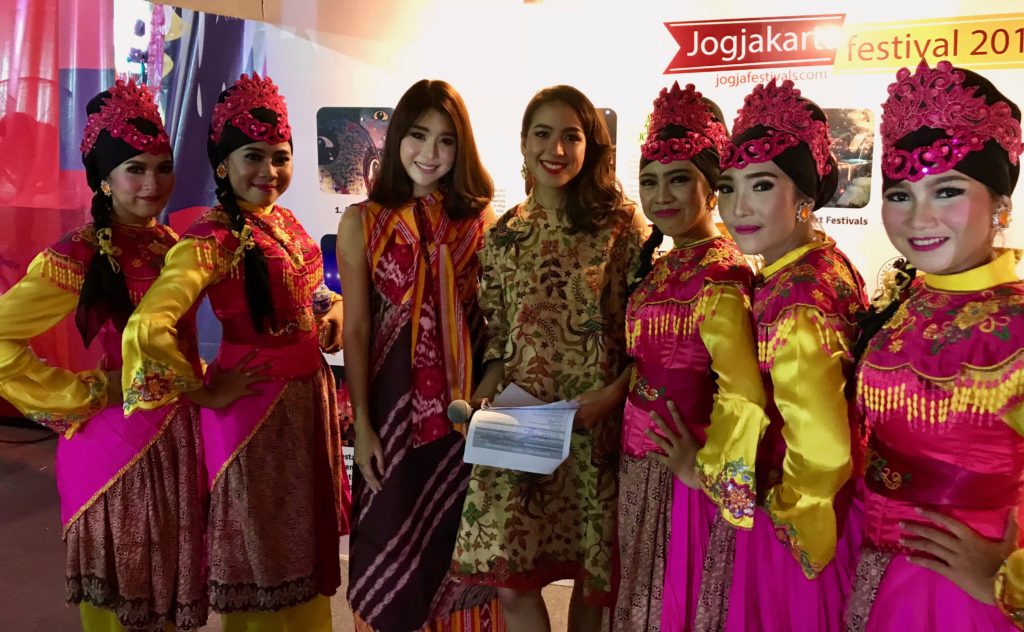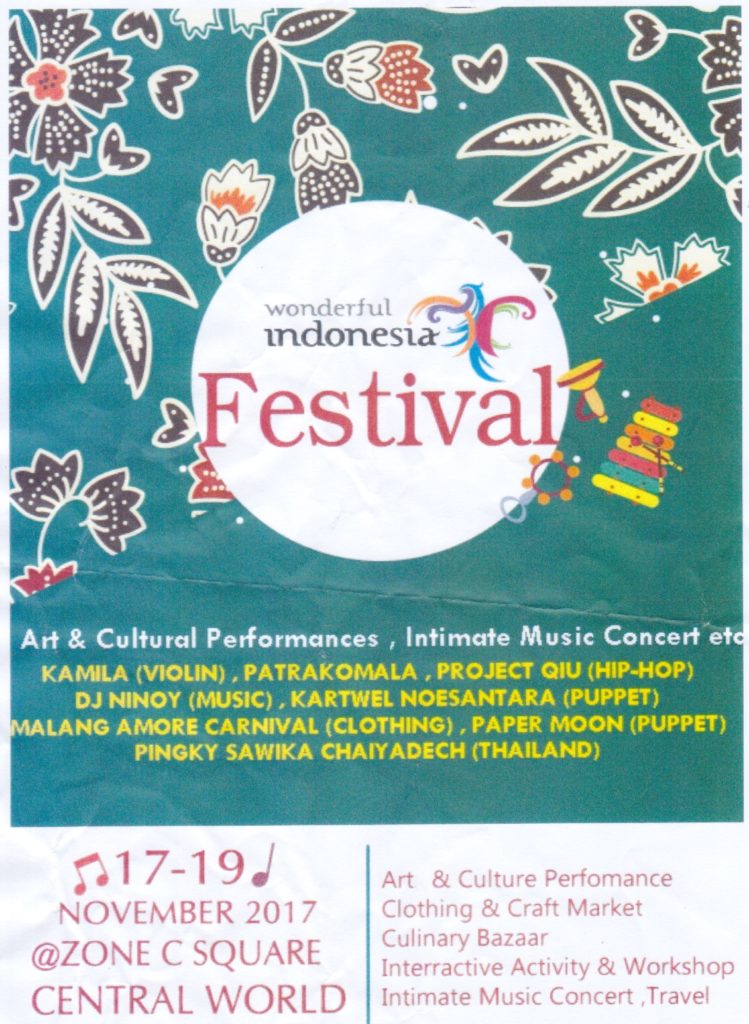 The comments made at the Press conference provided clear indicators of the challenges confronting Indonesian tourism's marketing presence and profile in Thailand.
Mr. Toferry, who moved to Bangkok last January, admitted that not many Thai travel agents sell packages to Indonesia. "This is an area of weakness that we have to do something about. We have to do our homework, and do more promotions, especially to raise awareness of destinations beyond Bali," he said.
He said as part of the ASEAN integration process, Indonesia was also hoping to tap a small number of the 30 million visitors that Thailand gets annually to extend their holiday to Indonesia.
He also called on Thai tourism authorities to work more with Indonesia on joint promotions. "I know that as part of their Thailand + One promotions, they promote Laos, Cambodia and (other neighbouring countries). So perhaps in future one of the "Plus One" countries can be Indonesia."
Mt Toferry noted that most of the current flights were between Bangkok and Jakarta / Bali. One airline is operating to Medan. He hoped that more destinations would be added as Indonesia upgrades its infrastructure, airport and tourism facilities.
He said that although Thailand's population is 93% Buddhist, it is not well-known that the world's largest Buddhist temple, Borobodur, is located in Indonesia. He also mentioned the Prambanan, the largest Hindu temple compound in Indonesia and Mt Bromo volcano, a natural attraction that Thailand lacks.
Asked what was being done to attract Thai-Muslims, Mr. Toferry said Indonesia was aware of this potential but the marketing was being handled by the Indonesian consulate in Songkhla, South Thailand, where most of the Thai-Muslim population is located.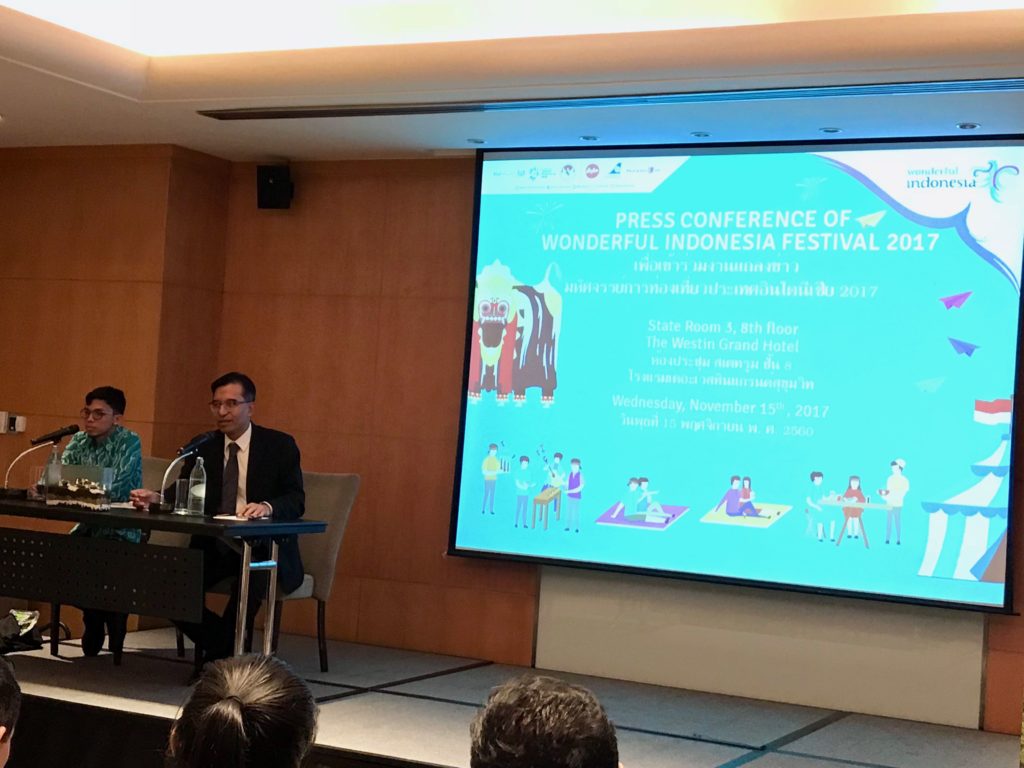 The Festival included special packages to Indonesia being offered by Thai Airways, Garuda Indnesia, Lion Air, and Air Asia. Mr. Toferry said the Thai Travel Agents Association (TTAA) had also been contacted to promote the festival amongst its members.
To tap the increasing usage of social media in Thailand, Mr. Toferry said that a Journey Indonesia app in both English and Thai was due to be launched in December.
The Ministry of Tourism sent a low-level officer, Mr. Yan Permana, Assistant Deputy Director of Music and Culinary Festival. The event was only conceptualised and actioned over two months. Midas PR, which handled the press conference, was asked to put it together within a week.
Asked why Indonesia does not open a more permanent marketing representation office in Thailand, Mr. Toferry said it is under consideration. Meanwhile, he said, Indonesian tourism officials can easily visit Thailand due to the short travelling distance. The embassy also is in touch with the TTAA and online communications platforms.
Mr Yan Permana added that the Indonesia has 17 offices all over the world, including Singapore and Kuala Lumpur. Opening an office in Bangkok would require a more thorough analysis of the arrivals trends vis a vis budget availability.
EDITOR'S COMMENT
Pictures of the festival are below. Although the opening ceremony was well attended, the turnout over all three days was about average. Holding an open-air event was a risk. It was quite hot on both Nov 18-19, followed by a sudden downpour in the Bangkok CBD on Sunday, Nov 19 early evening. Indonesian marketing efforts need to become more sustained and regular. I recommended to Mr. Torferry that just appointing a PR agency to put out a regular stream of Thai-language media releases would help crank up visibility and raise demand.
The next ASEAN Tourism Forum is to be held in Chiang Mai in January 2018. Many Thai travel agents will be attending as either hosted or non-hosted buyers. A strong Indonesian presence may help boost the country's profile.
The full text of the media release issued at the Press Conference
BANGKOK, Thailand, 14th November 2017 – The Ministry of Tourism of the Republic of Indonesia in collaboration with The Embassy of Indonesia in Bangkok, and Regional Tourism Office from Banten, Jakarta, and West Sulawesi Province will seduce the Land of the White Elephant with a mesmerizing festival in CentralWorld Square, Bangkok, Thailand, on 17-19 November 2017.
Under the theme "The Never Ending Story of Magical Land and Legends", the festival will present the uniqueness of Indonesia's tourist destinations along with its legendary stories.
CentralWorld with its strategic location with one of the highest footfall in Bangkok is the ideal venue. Visitors can easily get there by BTS (Bangkok Mass Transit System) from all areas across Bangkok.
"We're committed to holding Wonderful Indonesia Festival in Bangkok and want to bring Indonesia to Bangkokians so they can get to know our country better in terms of the richness of our nature and culture. This event is presented not only for Thais but also for many other tourists who visit Thailand. Basically, we encourage everyone to come to "Wonderful Indonesia Festival in CentralWorld Bangkok," said Deputy for International Marketing, I Gde Pitana.
The Ministry of Tourism of the Republic of Indonesia in its continued effort to familiarize Indonesia tourist destinations to foreign visitors will be showcasing Bali with all its natural beauty and cultural richness, an iconic tourist destination in Indonesia and even in Southeast Asia. In fact, Indonesia has 14,572 islands that possess unique characteristics in each destination. Hence, Minister of Tourism Arif Yahya has announced '10 new Bali' to be an alternative choice for foreign tourists. The 10 destinations are Bandung, Bali, Jakarta, Riau Islands, Joglosemar (Yogyakarta, Surakarta and Semarang), the Coral Wonders (Wakatobi, Bunaken and Raja Ampat), Medan, Makassar, Lombok and Banyuwangi. The '10 new Bali' will support the Wonderful Indonesia campaign to attract 15 million foreign tourists in 2017 and 20 million foreign tourist by 2019.
In the coming days, Wonderful Indonesia Festival in Thailand will highlight 5 destinations: Medan – Aceh, Jakarta – Bandung – Banten, Yogyakarta – Solo – Semarang (Joglosemar), Surabaya – Malang, and Bali – Lombok. These destinations will be promoted through storytelling and legends from each destination such as the story about Lake Toba legend to promote Lake Toba and Medan, Lutung Kasarung legend to promote Jakarta and Bandung, and the legend of Roro Jonggrang to promote Yogyakarta, Solo and Semarang.
The festival will come with a unique and compelling concept, featuring activities such as art and cultural performances, a concert, a workshop, culinary and fashion bazaars. Indonesian coffee, Batik, Wayang (shadow puppets) and Angklung traditional music instrument are going to be put on display at the festival. Visitors will also be engaged with stimulating activities, such as ceramic painting, a unique craftwork from Malang, paper-doll making workshop and have the opportunity to sample an array of traditional dishes such as Kerak Telor, Soto Bandung, Martabak and other traditional snacks.
For those who love entertainment, Thai actress-model, Pinky Savika Chiyadech is going to perform at the festival. Moreover, the event will also host games, movie screening, augmented reality and virtual reality corners. As for those who love to shop, the festival will host a handicraft market featuring Shirayas Tenun Garut, Cita Tenun Indonesia, Inderes Batik, Roemah Batik Cirebon, Limpapeh Kebaya, Lungsin Tas Tangan and many more artisans.
A travel fair promoting tour packages to Indonesia is also going to be held during the celebrations, featuring Thailand Travel Agencies Association (TTAA), Thai AirAsia and Thai Lion airlines, among others.
"We are holding this trade fair to increase the number of tourists from Thailand that have so far reached 118,000 people this year," said Assistant Deputy of Promotion for Southeast Asia, Rizki Handayani.
More to Explore
Indonesia and Thailand have a similar culture, ideology and spiritual heritage. One example is the traditional costume of Gending Sriwijaya dancers from South Sumatra that is pretty similar to Thailand's traditional costume.
"We also have Borobudur, the biggest and oldest temple in the world that can become a main tourist attraction for them. Indonesia also has plenty of exotic beaches for those who love the ocean," said Minister of Tourism Arief Yahya.
Data from the Ministry of Tourism of the Republic of Indonesia shows a total of more than 79.266 travelers from Thailand visited Indonesia during January-September 2017 increase 8,09% compared with the same period the previous year.
These two countries are also geographically close to each other. The travel duration from Thailand to Jakarta is only three hours and five minutes while from Thailand to Bali only takes four hours and 10 minutes.
Wonderful Indonesia Festival in Thailand aims to promote the beauty of Indonesia in all leading destinations especially 'New Bali' destinations. Indonesia has many beautiful natural landscapes and is rich with flora and fauna, and this program will further strengthen the commitment to promote 'Wonderful Indonesia' in Thailand. This event will focus on 5 out of 10 'new Bali' destinations which are chosen based on tourists' preferrences and the accessibility from Thailand.
1. Medan is the capital city of North Sumatra. Located on the north-eastern coast of Sumatra island, Medan is the fourth largest city by population in Indonesia. Medan is a busy trading city on the island located near the strait which is one of the most important shipping lanes in the world. Medan is the gateway to the western part of Indonesia which famous for its iconic Toba Lake, the biggest lake in Southeast Asia with remarkable views. About 1 hour going north by plane, you will arrive in Aceh.
Aceh is a special region of Indonesia. The territory is located at the northern end of Sumatra, Aceh known as a religious region of Islam. Aside from its history and culture, Aceh famous for its dive site in Sabang Island and Weh Island.
Today's Highlight on Medan-Aceh:
Attractions
Toba Lake
Tjong A Fie Museum
Tsunami Museum
Lampulo Village
Culinary Tourism
Gomak Noodle
Babi Panggang Karo (Karo Grilled Pork)
Arsik
Mie Aceh (Aceh Noodle)
Ayam Tangkap
Festivals
Sail Sabang (Nov 28th – December 5th, 2017)
Toba Lake Festival (September)
2. Jakarta is the capital of the Republic of Indonesia, Jakarta is a huge, sprawling metropolis. Jakarta is known as a city that never sleeps. As a melting pot of all the diverse ethnic groups that make up Indonesia, Jakarta has a wide range of attractions that attract visitors, from nightlife to historical sites, from high-end fashion to traditional culture of Betawi.
Only 2-3 hour distance from Jakarta to the west, you can find Bandung city. Visitors can get there by car, bus or train. For most people, Bandung is a shopping haven. For others, Bandung is a place to enjoy and express creativities amidst many unique art spaces combined with culinary delights in its cool upland atmosphere.
Banten is the westernmost province on the island of Java, in Indonesia. Its provincial capital city is Serang. Banten is the gateway to Jakarta as Soekarno Hatta International Airport located in Banten Province. Banten is home to heritage sites: Ujung Kulon National Park and Village of Baduy people, the original Sundanese people who maintain anti-modernization. Banten also famous for Mount Krakatau which had a devastating eruption in 1883 that reached some areas of Europe during the week.
Today's Highlight in Jakarta-Bandung-Banten:
Attractions
Mangrove Forest
Jakarta Old Town
Gunung Gede Pangrango
Anak Krakatau
Tanjung Lesung
Wot Batu
Lakeside Glamping
Culinary Tourism
Sabang Street Food
Lawangwangi Creative Space & Cafe
Giyanti Coffee
Festivals
Djakarta Warehouse Project (Dec, 15-16 2017)
Jakarta Great Sale (June – July)
Asia Africa Carnival (May)
Tanjung Lesung Festival (September)
3. Joglosemar is a conjoined of three cities in Special Region of Yogyakarta Province and Central Java Province, which are Yogyakarta, Solo, and Semarang.
Yogyakarta also called Jogja is known as never-ending Asia for its endless appeals. This city is one of the foremost cultural centers of Indonesia. Jogja is also blessed with mesmerizing natural beauty, fascinating monuments of human civilization, and well preserved cultural traditions. Beside the preserved culture, Jogja also has many challenging places for adventurous souls, such as cave tubing, sand surfing, rock climbing, and tightrope walking.
Solo known as the sister city of Yogyakarta, Solo is a part of Central Java. It is also called Surakarta. Solo lays along the longest river in Java island, the famous Bengawan Solo River. It has 2 royal houses in one single city: the Kraton of Solo and the Mangkunegaran – a principality. Solo is a stronghold of Javanese culture and tradition. Solo's most popular product is Batik and Javanese fabrics, but it also produces cigarettes, herbal medicine, and various light industry products.
Semarang is located in Northern Java. This strategic position of Semarang has made the city a melting pot of Chinese, Indian Arab, and European cultures. If we wander around the Chinese quarters and the Dutch commercial district, we will see the influences of different cultures everywhere. In the older part of the city near harbor named Kota Lama, stroll around to explore the historic old buildings in what was once the European commercial district. Dieng Plateau, a complex of volcanoes that located 2,093 m above the sea level which offers two sunrises, the golden sunrise and silver sunrise.
Today's Highlight in Joglosemar:
Attractions
Malioboro
Yogyakarta Royal Palace
Mount Merapi
Mount Besek
Rainbow Village
Semarang Old Town
Puppet Papermoon
Culinary Tourism
Jejamuran
Raminten
Sudirman Street Food
Gudeg
Garang Asem
Lumpia
Festivals
Borobudur Vesak Day Festival (May)
Kustomfest (October)
Solo International Performing Arts (September)
Dieng Culture Festival (August)
4. Surabaya and beyond. Located in East Java Province, Surabaya is the second most populous city after Jakarta. It is a modern industrial city which offers many attractions, shopping, museums, golf, fine dining, and nightlife.
About 2.5-hour drive from Surabaya, we can find Malang, a town with a mild climate and more family-friendly recreational place. Malang has agrotourism/orchards and is known for its apple as the icon of the town. In East Java, you can also find spectacular Mount Bromo, Ijen Crater, and Tenggerese ethnic which is believed to be the direct descendants of the Majapahit Aristocracy.
Today's Highlight in Surabaya – Malang
Attractions
Bromo Mountain
Jatim Park
Transportation Museum
Ngadas Village
Jodipan
Culinary Tourism
Serabi
Rawon
Apple Struddle
Festivals
Jember Fashion Carnival (August)
Bromo Mountain Jazz (July)
5. Bali dubbed as the island of Gods, Bali is a wellspring of endless charms that continues to wow tourists. It is home to numerous pieces of paradise found in its every corner, from the serene traditional villages to the heart-pounding cliffs. Despite the high number of foreign visitors, Bali maintains to keep its culture and unique traditions that make the visitors coming back.
Lombok is an island that located right next to Bali with an outstanding beautiful scenery. It has the cultural tradition for generations that promises the unique cultural processions to see. On top of that, friendly faces and mouthwatering dishes will make you want to come back for more with just only 1-2 short drive from Bali.
Today's Highlight in Bali-Lombok:
Attractions
Nusa Lembongan
Puncak Wanagiri
Taman Nusa
Senggigi Beach
Gili Islands
Culinary Tourism
La Plancha
Pod Chocolate Factory
El Kabron
Festivals
Bali Arts Festival (August)
Rinjani 100 Ultra (May)
For more information, please visit: wwww.indonesia.travel
All pictures below were taken at the opening ceremony on Nov 17 evening.