7 Nov, 2017
WASHINGTON, D.C., 6 November 2017, CAIR News – The Council on American-Islamic Relations (CAIR), the U.S.'s largest Muslim civil rights and advocacy organization, today offered security advice to religious institutions nationwide that are considering instituting additional safety measures in response to yesterday's massacre at a Texas church.
CAIR is urging all houses of worship to take extra security precautions using its "Best Practices for Mosque and Community Safety" booklet. The advice in CAIR's security publication is applicable to religious institutions of all faiths.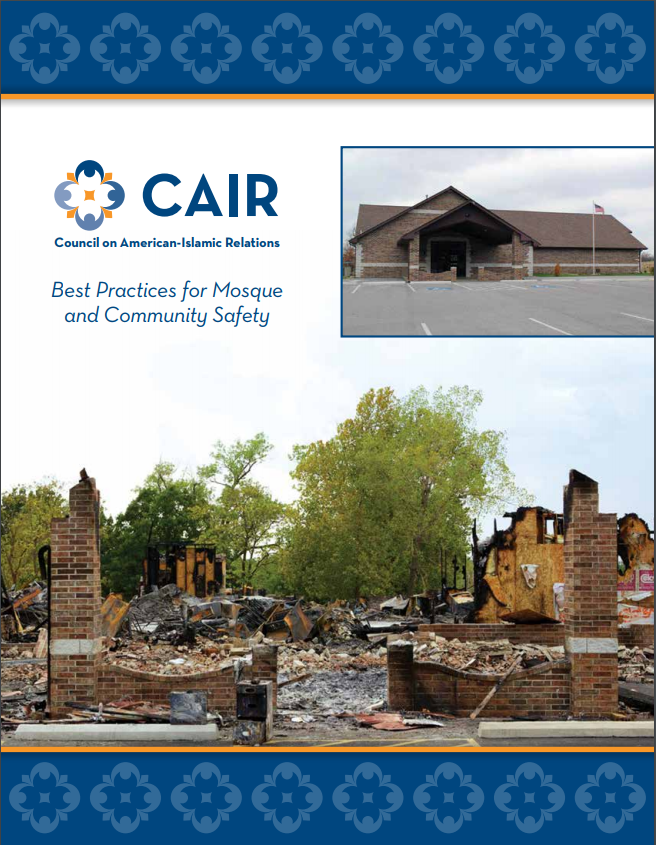 "American Muslims share the same values and freedoms that we all cherish, knowing that we are all in this together," said CAIR spokesperson Arsalan Bukhari. "All Americans deserve the right and freedom to worship in their own way, free of threats or violence."
A hard copy of the booklet may be requested through CAIR's website at: http://www.cair.com/mosque-safety-guide.html
It may also be viewed at: http://www.cair.com/images/publications/CAIR_Mosque_Safety_Guide.pdf
CAIR's safety guide states in part:
"A general framework in which to think about institutional security falls within the following broad categories:
• Be Aware
• Assess Your Vulnerability
• Prepare and Plan
• Prevent
• Respond/Mitigate
• Recover
"This framework can be applied to all sorts of security issues, from hate graffiti to burglary or to an active-shooter episode. Decision-makers must decide which recommendations are best applied to their facility. They must also decide the order in which they will implement the process."
Other initial safety steps recommended in CAIR's guide include developing positive relationships with local law enforcement agencies, meeting with elected officials to discuss community concerns, building coalitions with interfaith and minority groups, holding community meetings to inform others of safety guidelines, and establishing a community support network.
CAIR's community safety booklet was first published several years ago in response to a spike in anti-mosque incidents nationwide.
Since the beginning of the year, CAIR has called for investigations of possible bias motives for dozens of incidents targeting mosques in Colorado, Florida, Ohio, Iowa, Kentucky, Georgia, Arizona, Virginia, New Jersey, New York, Maryland, Texas, and a number of other states. By comparison, in the January-March period in 2016, CAIR recorded 19 such incidents.
CAIR is America's largest Muslim civil liberties and advocacy organization. Its mission is to enhance the understanding of Islam, encourage dialogue, protect civil liberties, empower American Muslims, and build coalitions that promote justice and mutual understanding.