3 Nov, 2017
In March 1992, at the 41st PATA annual conference in Hong Kong, Mr Robert Crandall, former Chairman and President of American Airlines, and Chairman of the World Travel & Tourism Council, delivered the keynote address in which he castigated Hong Kong, the conference host, plus Thailand, Japan and Korea, for protecting the interests of their national carriers at the expense of their economies and the travelling public. His entire argument hammered away at the damage being done to business opportunities and jobs.
He said, "It is profoundly puzzling that this determined protectionism exists in societies which have benefited so enormously from aggressive laissez-faire policies vis-a-vis other industries. The puzzlement is heightened by the fact that aviation — so uniquely controlled and regulated — is an industry which has a very direct impact on many other businesses. In maintaining highly restrictive aviation policies, Asian nations are preventing one of the most powerful engines of economic growth from operating at full throttle — and thus depriving themselves of the ability to maximize economic growth.
"That anti-competitive stance limits your opportunities as well as ours — for if protectionist agreements prevent us from taking people places, they can neither conduct their business affairs efficiently nor maximize their pleasure travel. And if they don't, they can't get to the hotels, the resorts, the restaurants, the entertainments and the thousands of other businesses dependent upon their arrival. Moreover, if we can't take them to where they want to go — they have no need for your services!
He concluded, "Pacific-rim nations — indeed, nations everywhere — need aviation services circumscribed only by consumer demand and provider capability — not by arbitrary government decisions. The public wants our product. Every study we can find says that in every country, as incomes rise and curiosities awaken, people clamor for accessible, affordable air transportation. To meet that demand — as we all want to do — we need policies that encourage rather than prevent, aviation growth. Without them, we can have no hope of creating the most jobs and the most wealth for everyone."
I am reproducing the full text of that landmark speech here. Click on the image below to download the text.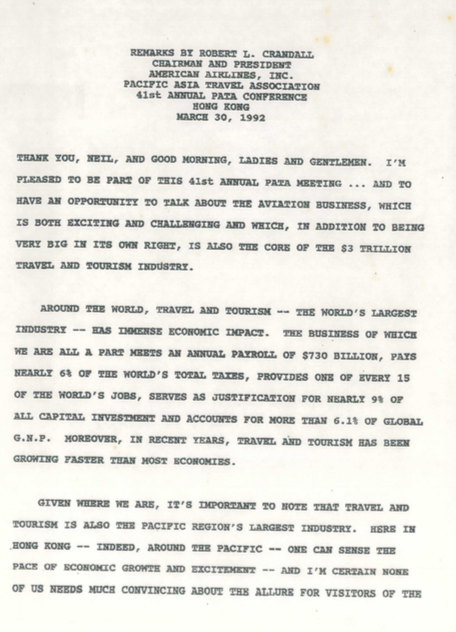 As the Asia-Pacific region's leading travel industry journalist cum historian, I have meticulously preserved this treasure trove of documentation, confident that it would prove useful in hindsight. And so it has. Today, as the United States, under one of the craziest administrations in history, rolls back many of those same job-creating, economy-growing freedoms, it needs to be reminded of its own flip-flop U-turns, hypocrisy and double standards which are set to destabilise the world in more ways than we can imagine.
American Airlines clearly no longer practises what it once preached.
On Nov 2, the Business Travel Coalition issued the following press statement in response to the announcement that the UAE-based airline Etihad is to withdraw services from Dallas/Fort Worth after American Airlines announced on June 29, 2017 that for political purposes it would end their bilateral codeshare agreement. The statement was headlined "Bad Motives Beget Bad Strategy Which Begets Bad Results" with a subheadline saying: "Consumers, workers lose when greed, commercial protectionism combine".
Here is the BTC statement in full:
November 2, 2017, RADNOR, PA – Etihad Airways announced today that it will cease flying to Dallas/Fort Worth International Airport (DFW) from Abu Dhabi in March 2018 after American Airlines announced on June 29, 2017 that for political purposes it would end a codeshare agreement between the two carriers which will result in thousands of lost US jobs. The codeshare has immensely benefited airlines, workers, consumers and the regional economy.
"After a 3-year, multimillion-dollar political campaign falsely premised on lost jobs due to Gulf carrier competition, for the first time there are real American jobs that can be verifiably counted as decimated," stated BTC founder Kevin Mitchell. "This ill-conceived plan to demand that the Obama and Trump Administrations protect American Airlines, Delta Air Lines and United Airlines' (Big Three) workers from Gulf carrier competition is a complete hoax. There has been zero evidence of a single Big Three job lost because of Gulf Carrier competition. However, now as a consequence of bad corporate motives and strategy at American Airlines, with regard to Gulf carrier competition, there will be thousands lost," added Mitchell.
Having secured domestic US airline industry consolidation, and antitrust immunity for joint ventures with foreign airline partners, the Big Three sadly were motivated by corporate greed to protect their new dominant market positions by frustrating foreign carrier new entry in the US with hoped for assistance from the US Government.
The Abu Dhabi-DFW flight is one of the most successful Etihad routes with high passenger load factors and strong revenue yields. Each year Etihad transfers over 300,000 passengers – who will now be greatly inconvenienced – from disparate foreign airports to American Airlines at DFW calling into question how much revenue the airline's shareholders will have sacrificed for this Board-sanctioned anti-competitive agenda.
End Statement
This is only the beginning of what's yet to come under the Trump Administration's "America First" policy. America First means American airspace belongs to American carriers first. It is now only a matter of time before other airlines worldwide start using other devious tactics to curtail the access given to the Gulf airlines. After all, if the Americans can do it, why can't they?
Mr Crandall's statement is important in many other ways. In 1992, he was speaking not just in his capacity as head of American Airlines, then the biggest-daddy of them all by dint its massive aircraft fleet, route network and control over the then dominant computer reservation system (CRS) Sabre, he was also head of the WTTC, a coalition of like-minded corporations all united under the mantle of barrier-free trade, transport and travel. Today, the WTTC too appears to be shying away from vociferously opposing this U-turn. Nor do any of the other international travel, transport and tourism associations. Confronting the U.S. administration obviously does not come easy.
Such rank hypocrisy and double standards need to be called out. In the 1980s and 1990s, the United States became the de facto global leader by championing "freedom and democracy" across all geographic, geopolitical and economic terrains. Today, the across-the-board reversals pose a clear and present danger to the world at large. Having lost both its moral high-ground and trust, the American empire is crumbling. Countries are realising that a self-appointed, unelected and unaccountable global leader can be a serious threat to everyone everywhere. My long-standing forecast, "Unjust rulers always fall. Always." is proving 100% accurate.
This transition will be fraught with instability and conflict, which will certainly not advance the cause of travel & tourism. Nor will it help the world become a better place, as sought by outgoing UN World Tourism Organisation Secretary-General Dr Taleb Rifai.
Only the courageous few will take a stand. I am proud to be among them.