7 Oct, 2017
Bangkok – The Pacific Asia Travel Association has confirmed the extension of CEO Mario Hardy's contract for another three year term starting Jan 2018, a move that will facilitate the slow but steady recovery of the region's once high-flying industry association.
Mr Hardy signed the extension contract on Oct 5. In a message to the PATA board members, PATA chairperson Sarah Matthews said, "I am delighted to share with you the excellent news that we have concluded our discussions with Dr. Mario Hardy regarding the extension of his employment contract with PATA and he will therefore continue as our Chief Executive Officer for a further period of three years, effective January 1, 2018.
"I am sure you will agree with me that, under Mario's outstanding leadership, the Association has made considerable progress and I have every confidence that this will continue in the years ahead. Please join me in extending thanks to Mario for his efforts to date and I ask you all to support him, and his hard-working management team, as they seek to deliver more dynamic events, relevant, meaningful research and added-value membership benefits."
In his presentation to the Board at the PATA Travel Mart in Macao in Sept, Mr Hardy said, "Over the past few years the Pacific Asia Travel Association has made considerable progress in achieving financial stability and, as always, we continue to look at ways to provide more content, events and activities that serve the best interests of all our members.
"This year we have welcomed 105 new members from the public and private sectors to the Association. These new members include FINNAIR, Airbnb, AppNexus, what3words, Langkawi Development Authority (LADA), Webster University, Nami Island, Inner Mongolia Tourism Association, SkyWay Travel LLP, ASAP Plus Asia Limited, KulturenLeben GmbH, Umgawa Adventures and Shenzhen China Dragon International.
Our membership now stands at 830 including 95 government, state and city tourism bodies, 18 international airlines and airports, 108 hospitality organisations and 72 educational institutions. The extensive PATA network also embraces our 36 Chapters with their 5,000+ members and, equally importantly, the 20 Student Chapters with more than 7,000 members. Our global reach is broadening day-by-day through our communications channels and various social media platforms, with a combined reach of over 30,000 people."
He presented the following performance figures, which show how the financial bottomline has also been improving over the years, and the forecast for 2018: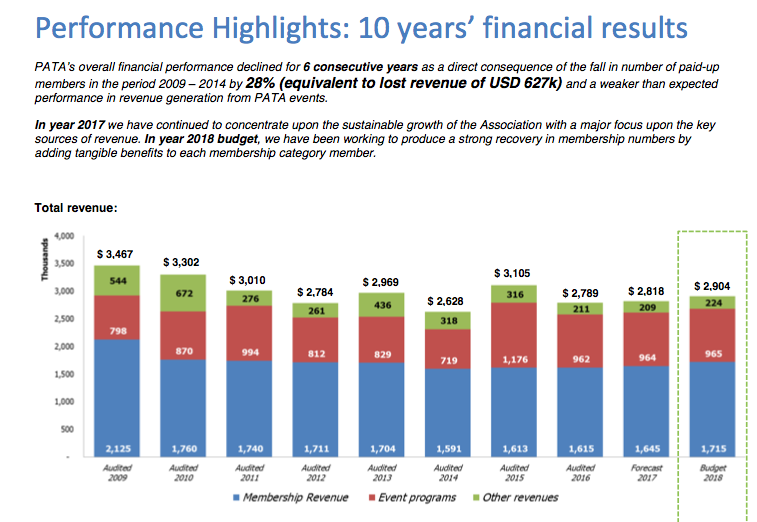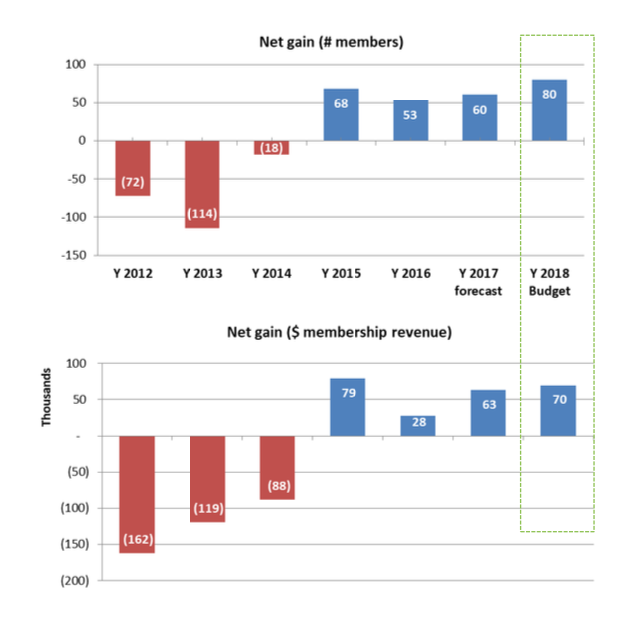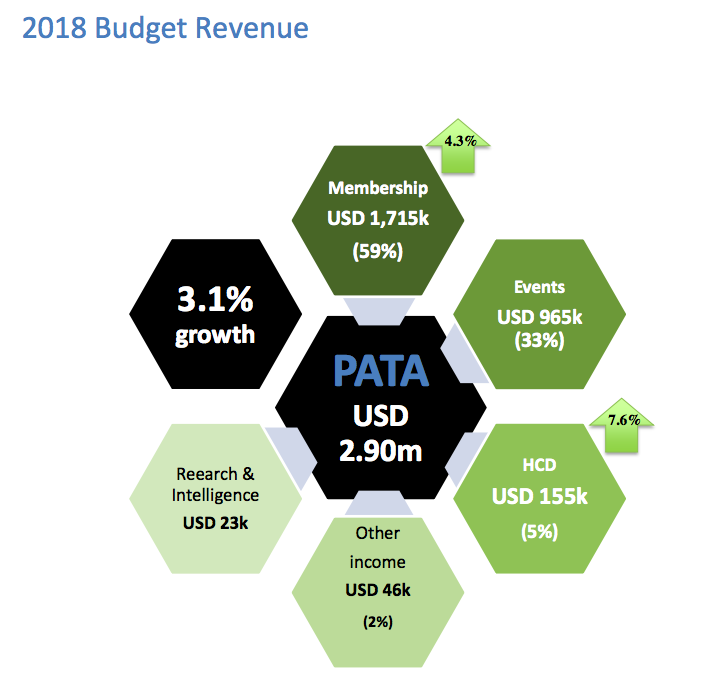 The events schedule for 2018 has also been finalised. This includes:
• PATA Adventure Travel Conference and Mart from February 21-23 in Al Ain, Abu Dhabi, United Arab Emirates (UAE)
• PATA Annual Summit from May 17-20 in Gangneung, Korea (ROK)
• PATA Travel Mart in Macao SAR from September 12-14 in Langkawi, Malaysia
• The UNWTO/PATA Forum on Tourism Trends and Outlook in Guilin, China in October
• PATA Destination Marketing Forum (formerly the PATA New Tourism Frontiers Forum) from November 28-30 in Khon Kaen, Thailand
Mr Hardy's biggest challenge, however, is ensuring that the PATA ship remains steady and on course in the midst of the swirling storms which, as a result of both global warming and what this editor has referred to as "the other global warming," are gathering in both intensity and frequency.
Mr Hardy is well aware of that. In an editorial headlined "Aligned advocacy in action", also included in the PATA board working papers, Mr Hardy says "The Association needs to become an ambassador of exponential leadership."
The full text of his commentary can be read by enlarging the image below.