19 Sep, 2017
BANGKOK, September 18, 2017 (APCOM media release): Some of the Asia Pacific region's leading health, rights and community advocates have lent their support to a special summit in Bangkok in November aimed at revitalizing the region's response to the HIV epidemic and its impact on vulnerable communities.
The RRRAP Summit – which stands for Rights, Resources and Resilience Asia Pacific – is a five-day event taking place at the Pullman Bangkok King Power Hotel from 13 – 17 November that will be attended by up to 300 HIV and community health advocates from across Asia and the Pacific to map out new approaches to address the region's escalating HIV epidemic among transgender people and men who have sex with men (MSM). The RRRAP Summit is an initiative of APCOM, a leading regional HIV and LGBT community network which this year is marking ten years of service to the communities it works with across Asia and the Pacific.
See "Editor's Comment: Two Rights on a Collision Course" below.
The five eminent persons from across the region's political, legal, health and community sectors who have signed on as ambassadors for the summit are (left to right in the photograph below):
(+) HIV Ambassador: Prasada Rao (UN Special Envoy on HIV/AIDS for the Asia Pacific region and former Indian Health Secretary)
(+) LGBT Human Right Ambassador: Michael Kirby (jurist, academic and former Australian High Court Justice)
(+) Research Ambassador: Prof Adeeba Kamarulzaman (University of Malaya Dean of Medicine and Prof. of Infectious Diseases)
(+) Pacific Ambassador: Sir Ratu Epeli Nailatikau (UNAIDS Ambassador and former Fiji President)
(+) Community Ambassador: John Raspado (Mr Gay World 2017, Mr Gay World Philippines 2017)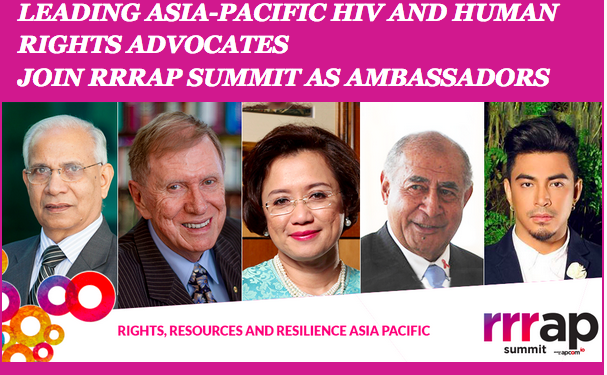 The five ambassadors will attend the summit and contribute to the development of the summit's agenda. All five ambassadors said they are proud to be supporting such an important event for the region's MSM, transgender, and LGBT communities.
HIV Ambassador Prasada Rao: "When the ominous prediction of the Commission on AIDS in Asia that more than 50% of new infections will occur among the MSM community in the region is coming true, it is necessary for everyone to rally our forces to see that this does not happen. And unless the incidence rates among MSM drops to very low levels, it will not be possible to achieve the lofty goals of fast tracking the AIDS response by 2020 and ending AIDS by 2030. As someone who has seen the emergence of APCOM as a strong network of MSM communities over the last decade, I am thrilled to participate in the RRRAP summit in Bangkok."
LGBTI Human Rights Ambassador Michael Kirby: "The summit comes at a critical moment. Not only is there a logjam in securing progress on law reform and educational initiatives for equality and justice for sexual minorities. In a number of countries of Asia and the Pacific, things have actually gone backwards. We would not tolerate this deterioration in the areas of gender or race. But sexual orientation and gender diversity are analogous. They are part of the hardwiring of human beings. The bullying and hatred has to stop. It is not only contrary to human rights. It is bad for development, business and social harmony. This is why the Bangkok Summit is so well timed."
Research Ambassador Prof. Adeeba Kamarulzaman: "This summit is timely to remind us all that we need to increase our collective effort to ensure that the LGBT community receives access to knowledge and HIV prevention and treatment in the face of an escalation of the HIV epidemic within the community in this region."
Pacific Ambassador Sir Ratu Epeli Nailatikau: "The discrimination and stigma against victims of HIV/AIDS continues and there is a growing prevalence in the number of infections that small island communities are facing. Therefore the advocacy and the work of our Pacific community must again be raised to break this. The Pacific out of all regions has the best fighting chance of "getting to zero". Our population numbers, geographical make up and current infection numbers work greatly in our favour. This summit is a fundamental and an excellent prospect for us to share with our brothers and sisters in the Asian region as we endeavor together to healthier and inclusive regions. I urge all relevant stake holders in the Pacific to rise to this opportunity and the challenges it presents."
Community Ambassador John Raspado: "The response from our communities to the health and rights of our communities has been powerful and courageous, especially in those places where violence, discrimination, stigma and exclusion form significant barriers to the provision of care and support. We can learn so much from each other and the RRRAP Summit provides an incredibly valuable forum to honour our past and build our future. I'm very proud to be involved in the RRRAP Summit and I encourage members of our communites across Asia and the Pacific to get involved too."
APCOM Executive Director Midnight Poonkassetwattana said he's grateful for the support of the ambassadors and looks forward to having them help shape the event. "The RRRAP Summit provides a once in a generation opportunity for members, stakeholders and influencers of the Asia-Pacific HIV, LGBT and human rights sectors to focus their knowledge, skills and networks on reinvigorating our vital mission here in the region. We thank our ambassadors for supporting the summit with their knowledge, skills and networks. Their contribution will be invaluable in helping us map out what we need to do to move our region closer to a future that's free of HIV and inclusive of all sexualities and gender identities," Mr Poonkassetwattana said.
The RRRAP Summit is being generously supported by a range of organisations including: World Health Organisation, Multi-Country South Asia Global Fund HIV Programme, International AIDS Society, UNAIDS, UNICEF-Save The Children, Multi-Country Western Pacific Global Fund HIV Programme, UNDP, UNFPA, World Bank, amfAR, Elton John AIDS Foundation, Blued, Aidsfonds, Voice, Initiative 5%, Robert Carr Fund and the Australian Federation of AIDS Organisations. Other partners will be announced in the lead up to the summit.
Full details of the agenda and guest speakers will be released in early October 2017. To get updates and/or register for the summit please visit: www.apcom.org/RRRAP
Community members, researchers, policy makers and health workers are invited to contribute to the summit agenda by suggesting content and presenters for sessions. Suggestions can be sent to: RRRAP@apcom.org
Editor's Comment: Two Rights on a Collision Course
Gay travel is being widely promoted on the international trade show circuit. But, as pointed out in this official press release by the Asia-Pacific Coalition on Male Sexual Health (APCOM), an entire five-day event is to be held in Bangkok "to map out new approaches to address the region's escalating HIV epidemic among transgender people and men who have sex with men (MSM)."
The Press release does not provide any statistics, but the escalation is certainly pretty serious if it warrants such high-level discussion.
In the travel & tourism industry, some obvious questions pop up: Is gay travel contributing to this escalation? What are gay travel events doing to make their hosts and constituents aware of this risk? Are national tourism organisations factoring this risk into their gay travel marketing campaigns?
Gay travel promoters and supporters are sweeping these questions are under the carpet. Why? If market research studies can churn out mesmerizing numbers about the spending power of gay travellers, surely they can also quantify the contribution of gay travel to the escalating HIV/AIDS epidemic.
Two human rights are on a collision course here.
One is the right to travel freely without discrimination based on caste, colour, creed, religion or sexual orientation. The other is the public's right to be protected against health pandemics and alerted to any associated risks. While many gay travellers are practitioners of safe sex, many others are not. It falls within the purview of responsibility of organisations such as Messe Berlin, which is now openly promoting gay travel at its international travel trade events, to ensure that both rights are protected.
Unfortunately, they are not doing so.
If the APCOM organisers of the summit are serious about addressing the downside health risks of men who have sex with men, it would be useful to promote greater awareness of the problem by publicising the statistics showing the level of escalation.
There is no choice. Sweeping the problem under the carpet today will leave the door open for them to be held accountable and responsible tomorrow.