30 Jan, 2017
The Muslim ban enacted by the Trump Administration will be applicable to dual nationality Muslims as well, according to the following report in the Wall Street Journal. Although it has been roundly denounced and protested, this unprecedented action has a silver lining: It has presented a perfect opportunity to scrutinise the security threat posed by all dual nationality holders worldwide, especially Israelis.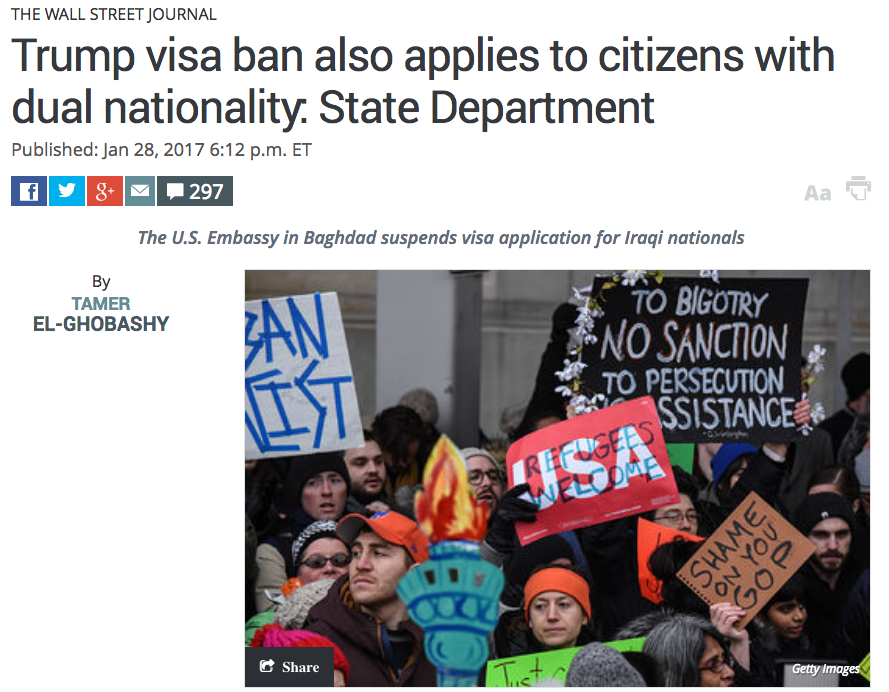 Israelis are not allowed into many countries, such as Indonesia, Malaysia, Brunei, Pakistan, Bangladesh, Iran, the Gulf countries and many Islamic and non-Islamic nations. But they walk freely into all of them, without even a visa, because they also hold citizenships of USA, UK, Australia, Russia, South Africa, European Union countries and many more.
In fact, many are living and working comfortably in countries where they would not even be allowed to enter with their Israeli passports.
Because undermining and destabilising the Islamic world is a well-known part of Israeli government policy, Israeli dual citizens residing in these countries pose an enormous threat.
Now that the U.S. has acknowledged the threat posed by dual citizens, the security agencies of all countries with which Israel has no diplomatic relations can and should start tracking down and investigating all Israeli dual citizens, including those who have lived and worked in their countries in the past.
They will find many.
Under the cover of dual nationality, Israelis are embedded quite well, masquerading as businessmen, journalists, UN officials, academics, NGOs, bankers, consultants, financial advisors and others. They have penetrated the inner sanctums and decision-making structures of the Islamic countries to advance Israeli interests.
If they do not directly live in those countries, they live in neighbouring countries which are friendly to Israel, from where they freely travel in and out to the Islamic countries.
This is not all. In many Muslim-majority countries, such as Azerbaijan, Morocco and Turkey, there are significant Jewish minorities. They, too, are possible dual nationals.
Again, following the example of the Trump Administration, the path is clear for countries to check out their Jewish minorities to see whether they put Israel First, and are involved in activities that could be potentially construed as security threats to their countries of residence.
Israel brands itself as being a global security expert, at the forefront of fighting Islamic terror and jihadism. Israeli security companies are making millions and millions of dollars selling equipment supposedly to fight a "threat" which conveniently never seems to go away, no matter how much equipment is thrown at it.
Someone or the other always seems to be able to mount another attack, the response to which usually is to make security agencies buy more equipment. When these equipment salesman walk into Islamic countries to offer their wares, many of them will be dual-national Israelis for sure.
Israel has also signed security agreements with countries seen as being part of the "shared values" fight against "Islamic terrorism." This allows them to profit from selling equipment as well as undertake surveillance, monitor financial movements and any other operation to mitigate the so-called security threat. It also gives them upfront access to intelligence possessed by other countries.
Two countries which have long been wary of the dangers posed by dual citizens are India and Pakistan. Both have some of the world's largest dual-nationality diasporas living abroad, as well as legions of family members living in each other's countries. Granting visa access waxes and wanes depending on the prevailing state of bilateral political and diplomatic relations. If it is established that applicants have a family member in the other country, additional security checks kick in.
It is the height of stupidity to think that would-be terrorists apply for a visa, but that's besides the point. The paperwork requires them to prove that they are not a security threat.
This is exactly the path adopted by the Trump Administration.
In fact, Mr Trump may have done the world a huge favour via an action that will level the playing field and make accountability a two-way street. He may see Muslims as a threat, but millions of Muslims see the United States and Israel as bigger threats.
Within the United States, too, single-passport American citizens are now in a good position to assess whether their dual-passport Israeli counterparts are putting America First or Israel.
It is no secret that American-Israeli citizens have permeated through just about every decision-making structure in the United States, from intelligence agencies to the diplomatic sector, multinational corporations to private sector lobbying groups.
They use this influence to put Israel First both within the U.S. and worldwide.
The door is now wide open for dual-national Israelis worldwide, especially those living in countries which do not even have diplomatic relations with Israel, to come under scrutiny as potential security threats. Once they are exposed, and/or forced to flee due to the fear of exposure, the tables will turn and the world will know better who are the real trouble-makers.
In his final conference, former President Barack Obama clearly flagged the danger of reactions to U.S. actions, especially on Middle East-related issues. He said:
"Well, that's part of what we've tried to indicate to the incoming team in our transition process, is pay attention to this, because this is volatile stuff. People feel deeply and passionately about this. And as I've said I think many times, the actions that we take have enormous consequences and ramifications.
"We're the biggest kid on the block. And I think it is right and appropriate for a new President to test old assumptions and reexamine the old ways of doing things. But if you're going to make big shifts in policy, just make sure you've thought it through, and understand that there are going to be consequences, and actions typically create reactions, and so you want to be intentional about it. You don't want to do things off the cuff when it comes to an issue this volatile."
Mr. Trump has fulfilled an election pledge. He should be ready for both the consequences and, perhaps even more important, the unintended consequences.