25 Nov, 2016
Bangkok – On November 16, 2016, the Foreign Correspondents Club of Thailand organised a panel discussion on the topic "Changing Times: Thailand's Incredible Tourism Industry". The following publicity announcement was released by the FCCT, and the entire panel can be watched here: https://www.youtube.com/watch?v=ZH-iNjWhcF8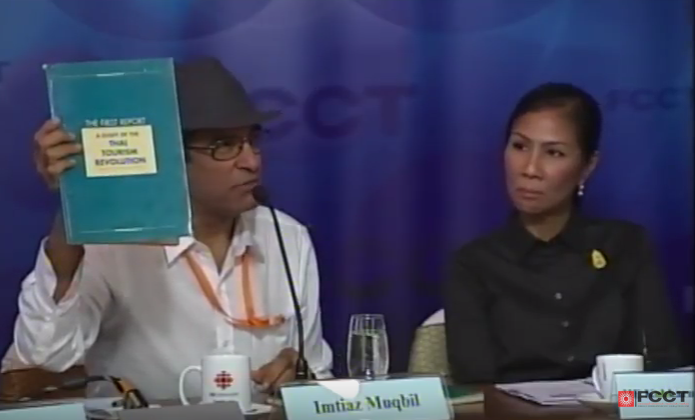 With something for everybody, Thailand's booming tourism industry shrugs off coups, political upsets, natural disasters, even occasional bombs. Depending on who you ask and how you count, it accounts for somewhere between 12% and 18% of the economy, and continues to grow, employing some 6.2 million people directly and indirectly, which is about 16% of the workforce.
In 2015, after a 10% drop in arrivals amid the political shenanigans of 2014, the kingdom earned $44.6 billion from resurgent tourism. According to the United Nations' World Tourism Organization, that placed it in sixth place on the global tourism league table by gross revenue – ahead of Germany and Japan. The target set for 2016 was $69 billion in revenue from 33 million arrivals — that is nearly ten times the number who arrived for 1987's Visit Thailand Year, widely considered a marketing triumph at the time.
As the number of tourists soars, their profiles have changed dramatically. With over 8 million of its citizens expected, China has become the kingdom's largest source market, leading a dramatic shift away from traditional markets like Europe, Japan, and the US with higher per capita yields. The figures are dizzying, but what do they do mean and is it all good news?
The Panelists were:
Kobkarn Wattanavrangkul, Thailand's Minister of Tourism and Sports since 2014, studied fine arts at Wellesley College and then architecture at the Rhode Island School of Design in the US. She worked on the development of the massive MahBoonKrong Center in Bangkok before moving to Toshiba Thailand, which she ended up chairing.
Dr Bert "Bow-Thai" van Walbeek, is a 45-year tourism industry veteran who first arrived in Thailand in 1985 as a hotelier. He is a member of the marketing committee of the Thailand Incentive & Convention Association (TICA) and was founder and first president of the Thailand Chapter of Society of Incentive Travel Executives (SITE). Among numerous career highlights as an adviser to governments on tourism policy, marketing, and crisis management, van Walbeek chaired the Tourism Authority of Thailand's marketing working group for recovery after political violence in May 1992, which produced The World, Our Guest campaign.
Sa-nga Ruangwattanakul is an adviser to the Khaosan Road Business Association, which he chaired for two years. With more than 25 years experience in the tourism sector, Sa-nga is also the chief executive of Buddy Group which has bars and restaurants in the vicinity of Khaosan Road.
Imtiaz Muqbil is one of the best known travel trade correspondents in Asia-Pacific. He has reported from Thailand since 1980 with Travel Trade Gazette Asia, becoming its chief correspondent. He edited Issues & Trends, the monthly publication of the Strategic Intelligence Centre of the Pacific Asia Travel Association (PATA) for eight years until 2006, and wrote the Travel Monitor column in the Bangkok Post for 20 years until 2012. He launched Travel Impact Newswire in August 1998 at the dawn of the era of email news delivery dawned.
Roy Howard worked on the launch advertising campaign for Thai Airways International in late 1959, and became the airline's first advertising manager working alongside FCCT founder Jorges Orgibet. Roy founded Travel Publishing Asia in 1982, which for many years produced Thai's inflight magazine, Sawasdee, and a number of regional publications, including Asian Meetings & Incentives. He has spent the past two years editing Thailand Tourism, The Early Days, a large format book about how tourism in Thailand grew from less than 100,00 tourists in 1960 to today's 32 million plus.
The entire panel discussion has been uploaded on YouTube here: https://youtu.be/HblTAJnxOno