3 Nov, 2016
Amman – A multi-million dollar real estate project coming up in the southern Jordanian resort city of Aqaba will create thousands of new jobs in one of the most strategically located countries of the Middle East. It is also well placed to become a symbol of how such projects, and indeed all forms of economic progress, are intrinsically linked to the underlying status of political peace both within and amongst nations.
I visited the sprawling Ayla complex on Oct 27 along with delegates attending the UNWTO conference on "Investing in Tourism for an Inclusive Future". Exactly as the website says, the European Bank for Reconstruction and Development-funded project is a marvel of engineering and technology, set to attract a whole new level of upmarket clientele. Most interestingly, it straddles the Jordan-Israel border. The project's western perimeter is, in fact, the barbed wire fencing demarcating a 200 metre no-man's land between Jordan and Israel.
Right on the other side of the border is the Israeli tourist resort city of Eilat, clearly bustling with activity. Just a little further down the coast are Egypt and Saudi Arabia (see map below). The four countries are so close to each other that they could all be visited within 48 hours. Few spots like this exist anywhere in the world.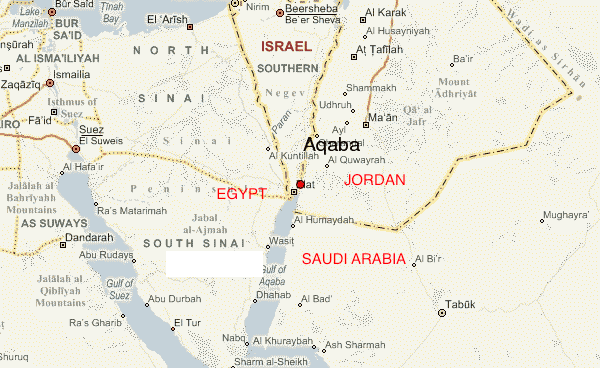 Expand the scope of that by just a little, and Jordan's geographical hub status becomes even more important. Just two hours' drive from Aqaba is the iconic Jordanian tourist spot of Petra, a UNESCO World Heritage Site. The capital Amman, with its avant garde restaurants, Roman amphitheatre and spirited souks, is only three hours by a smooth highway. From the Jordanian side of the Dead Sea, the lights of Jerusalem are clearly visible by night. Bethlehem in occupied Palestine is only 75 kilometres from Amman. In the days when there was relative peace in the Middle East, one could also drive from Amman to Beirut and Damascus.
Probably no other part of the world boasts such a magnificent collection of historic, religious, cultural and recreational spots within such close proximity. It does not take much to see the unlimited potential for cross-border tourism, travel, trade and transport both to, from and within the region.
The biggest impediment to realising this potential is the absence of a stable and secure peace. The Israel-Palestine conflict lies at the heart of this. Violence is raging in neighbouring Syria and Iraq. In addition, Lebanon and Turkey also have their internal divisions.
The seeds of this complex Gordian knot of hostilities can be traced back to a lone act of terrorism on a fateful night exactly 21 years ago today, on 04 November 1995.
In the 1990s, Israel had a prime minister named Yitzhak Rabin, a feisty retired general who had fought a number of wars with the Arab world, including Jordan. In the twilight of his life, it was his dream to realise a lasting Arab-Israeli settlement on the basis of a very simple formula, Land for Peace. Israel would return the lands occupied in the various wars in exchange for peace treaties with the neighbouring countries.
On 13 September 1993, Rabin, former US President Bill Clinton, and the late Palestinian leader Yasser Arafat signed the Oslo accords. On 25 July 1994, Rabin, Clinton and the late King Hussein of Jordan signed a non-belligerency agreement which ended the official state of enmity and pledged to start negotiations in order to achieve an "end to bloodshed and sorrow" and a "just and lasting peace."
These were in addition to the Egypt–Israel Peace Treaty signed on 26 March 1979 by the late Egyptian president Anwar Sadat and the late Israeli Prime Minister Menachem Begin, and witnessed by US President Jimmy Carter, following the 1978 Camp David Accords between the same leaders.
On 4 Nov 1995, a Jewish fundamentalist fanatic terrorist named Yigal Amir broke through the security cordons for which the Israelis claim to be well-known and gunned down Yitzhak Rabin. At 25, Amir was about the same age as the hundreds of young Israelis whom Rabin had addressed just a few minutes earlier. The millennials of their age had cheered Rabin as he outlined his dreams to convert swords into ploughshares and give them a conflict-free future. Read my reports here, here and here.

The Middle East never recovered from that act of violent extremism. All the subsequent talks went nowhere. Today, a right-wing government backed by the same bunch of Jewish religious fanatics that bred Yigal Amir is in power in Israel and slowly but surely wiping Palestine off the map.
In what could be construed as the most successful act of terrorism in history, the would-be peace-maker and his dreams died that night. The terrorist's dreams live on.
Every year, I personally mark that tragic event because I was in Tel Aviv the night that terrorist struck. As the news broke, I remained in my hotel room, fearing that it was a Palestinian who was responsible. But no, this was no Muslim terrorist, but a young, homegrown Jewish terrorist. The world should never forget this. Precisely because a Jewish terrorist was the perpetrator, the killing is historically downplayed. That would not have been the case had Rabin perished at the hands of a Palestinian.
As I travelled around Jordan this past October, I wished I could have crossed over to Palestine. I would have loved to spent more time visiting the sights, enjoying the cuisine, music and heritage and basking in the glory of the holy spots of the Abrahamic faiths to which I belong. The entirely area is perfectly suited to cater to all three of the most important travel trends: religious tourism, ecotourism and health & wellness tourism.
Had Rabin lived, crossing borders may have been easy. Not so today. To reach Palestine, I would need to get clearance from the occupying Israeli authorities who control the borders. To visit Israel, I would be subjected to a humiliating interrogation process. To visit Egypt or Saudi Arabia would entail more visa formalities and paperwork. Jordan, however, works just fine for me. All I had to do was pay 40 Jordanian dinars at Queen Alia International Airport. Whether or not anyone can cross the border to one of the neighbouring countries depends on what passport they hold.
At the moment, the continued Israeli occupation of Palestine and the surrounding conflicts are hurting everyone. I was told several times during my trip that tourism to Jordan has been severely affected. Which is why I saw the UNWTO conference in Jordan not just as an ordinary conference but as a vote of confidence. We had a very successful event. I can assure readers that Jordan is as safe as their own countries. Everywhere my wife and I went, we found friendliness, good service and courtesy (except in one shop at the Petra heritage site where she got badly ripped off).
Many parts of the world have realised the fruits of peace. In Asia, countries such as Laos, Cambodia and Vietnam emerged from two decades of war and are enjoying booming cross-border tourism. Thanks to Western political pressure and economic sanctions, and numerous other factors, East Timor gained freedom from Indonesia. In the last century, other countries emerged from colonialism, communism and fascism such as South Africa, Uzbekistan, Kazakhstan, Azerbaijan, Croatia, Slovenia, the Czech Republic, and more.
No such luck for Palestine. The Jewish occupation set in motion by the Balfour Declaration, which will mark its 100th anniversary next year, continues and grows. Jews have a reputation of being great money-makers and film-makers. They are certainly not peace-makers. Today, they have a Benjamin Netanyahu. What they need is a Nelson Mandela.
For journalists like me who have lived and worked in the Middle East, returning there is always like a home-coming. The region's marvelous tourist spots are all a case of "so near and yet so far." And projects like Ayla epitomise both the existing divisions and hold out hope for a better world that could emerge when those divisions are bridged. If a rising tide lifts all boats, a stable peace will help dozens of Ayla projects emerge region-wide, creating jobs, progress and prosperity.
Visit Jordan, look across the border and just think of what the travel & tourism industry can, should and must do to make that happen.