4 Jul, 2016
A compilation of progressive, positive, inspiring and motivating events and developments in the world of Islam for the week ending 04 July 2016 (29 Ramadan 1437). Pls click on any of the headlines below to go to the story.
============
A WORD FROM MY SPONSORS: TOURISM MALAYSIA
LAUNCH OF 1MALAYSIA MEGA SALE CARNIVAL 2016 & AIDILFITRI CELEBRATION PROMOTION AT AVENUE K
Malaysia's mid-year nationwide shopping extravaganza kicked off with the launch of 1Malaysia Mega Sale Carnival 2016 at Avenue K shopping mall in conjunction with its Aidilfitri Celebration. Jointly organised by Tourism Malaysia and Avenue K, the launch was officiated by Director General of Tourism Malaysia, Y.Bhg. Datuk Seri Mirza Mohammad Taiyab. The carnival takes place concurrently with 1Malaysia Unified Sale organised by Ministry of Domestic Trade, Co-operatives and Consumerism, which is participated by the shopping and retail sector as well as from other sectors including banking, spa, hotel, transportation and telecommunication. There are 15,958 branches from 3,424 companies nationwide participating in this sales campaign. Taking place until 31 Aug, the 1Malaysia Mega Sale Carnival is set to entice domestic shoppers to celebrate the upcoming Hari Raya (Eid Ul Fitr) in style with numerous exciting deals, super discounts and in-store redemptions, as well as to attract foreign tourists to indulge in a marvellous shopping experience. Most of the shopping malls in Malaysia are taking part in the carnival, offering huge bargains that are hard to resist as well as line-ups of themed events and fun-filled activities relating to dining, entertainment and leisure. For more information about the Mega Sale Carnival, click here: http://www.tourism.gov.my/media/view/launch-of-1malaysia-mega-sale-carnival-2016-aidilfitri-celebration-promotion-at-avenue-k
For more information about what makes Malaysia one of the most popular destinations in the Islamic world, as well as on planning your next holiday or MICE event in Malaysia, please click: http://www.malaysia.travel.
facebook: http://www.facebook.com/friendofmalaysia
twitter: http://twitter.com/tourismmalaysia
Blog: http://blog.tourism.gov.my
A WORD FROM MY SPONSORS – THE TOURISM AUTHORITY OF THAILAND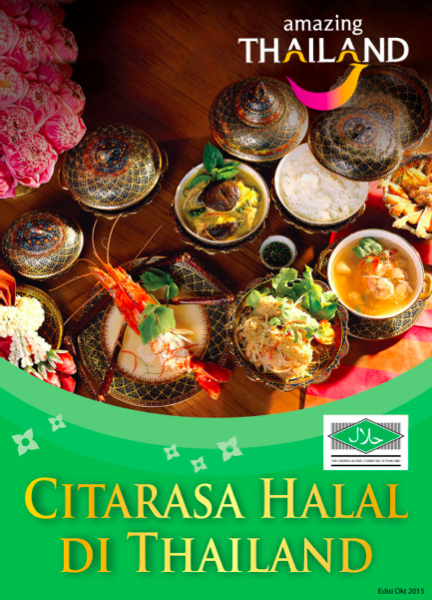 The Tourism Authority of Thailand (TAT) Jakarta office has published a Bahasa Indonesia brochure called "Citarasa Halal Di Thailand", listing many halal-certified restaurants and hotels in Bangkok, Pattaya, Hat Yai, Phuket, Chiang Mai and Krabi. The move is part of the TAT's strategy to promote Thailand as a Muslim-friendly destination, and help the growing number of visitors from Indonesia find products and services meeting their cultural and religious requirements. Indonesian arrivals to Thailand totalled 469,226 in 2015 and touched 156,853 in Jan-April 2016 (up 7.6% over Jan-April 2015). The TAT has an office in Jakarta. The era of ASEAN integration is expected to see a significant growth in Indonesian arrivals to Thailand, thanks to visa-free access, proximity and growing number of airline links. Click here to download the "Citarasa Halal Di Thailand" brochure: http://id.tourismthailand.org/fileadmin/upload_img/Multimedia/Ebrochure/644/brochure-halal-2016-1459352167.pdf. A special app has been created by the TAT to help Muslim visitors find the appropriate facilities and services. It can be downloaded by clicking here: http://www.tourismthailand.org/muslimfriendly
==========
Watch Islamic Travel Newswire Executive Editor Imtiaz Muqbil's landmark TEDx lecture on "Peace through Tourism" on YouTube — the first travel industry journalist in Bangkok invited to speak at this prestigious forum. CLICK HERE.
===========
STORIES IN THIS DISPATCH. PLS CLICK ON ANY OF THE HEADLINES BELOW TO GO DIRECTLY TO THE STORY
Malaysian State Of Sabah To Receive At Least 14,000 Chinese Visitors
KOTA KINABALU, Sabah state, Malaysia July 2 (NNN-Bernama) — Some 14,000 tourists from China are expected to visit Sabah state including the east coast by next month.
State Tourism, Culture and Environment Minister Masidi Manjun said the visitors' decision to continue coming to Sabah state reflected their confidence in the government's assurance of security.
"Thanks to the diligent work of the security forces, especially the Sabah Eastern Security Command (ESSCom), security in the east coast has improved," he said at a press conference on the 11th Sabah International Folklore Festival(SIFF) 2016 here yesterday.
He was asked to comment on the expected tourist arrival from China over the next two months via direct charter flights, which would bring in about RM30 million in revenue for the state.
On the 11th SIFF 2016, Masidi said 11 countries, including Malaysia would participate in the six-day event.
"Besides Malaysia, countries that have confirmed their participation are Ireland, Indonesia, India, Philippines, Russia, South Korea, Sri Lanka and Thailand as well as newcomers Australia and Estonia," he said.
Adopting the warrior-dance concept, the festival will take place on July 25-30 while the highlight of the competition, on July 28-30, at the Sabah state Cultural Centre in Penampang near here.
According to Masidi, the Head of State Dr Juhar Mahiruddin is expected to grace the culmination of the festival on July 30 while Chief Minister Musa Aman would officiate at the premier event on July 28.–NNN-BERNAMA
Petronas To Serve 900,000 Cups Of Free Coffee This Hari Raya Aidilfitri
KUALA LUMPUR, July 1 (Bernama) — PETRONAS Coffee Break will reach out to more motorists this Hari Raya Aidilfitri as the number of participating stations have been increased to 147 from last year's 40. The Formula One-winning fuel company's flagship road safety awareness campaign for motorists covers stations located along major highways and trunks roads nationwide.
The friendly Krew PETRONAS will serve a total of 900,000 cups of freshly brewed coffee and an assortment of snacks on 2nd and 3rd July from 6pm onwards and on 9th and 10th July 2016 from 3pm onwards.
To further reinforce its commitment to road safety this year, PETRONAS is contributing RM20,000 worth of PETRONAS Primax 95 with Advanced Energy Formula to St. John Ambulance of Malaysia (SJAM) to fuel 50 ambulances that will provide emergency response services along major highways this festive season. This is the 22nd year that PETRONAS is partnering with the organisation.
"Over the years, PETRONAS Coffee Break has become a campaign synonymous with the 'balik kampung' travelling period and our customers look forward to it every time. In response to the positive feedback received, we have increased the number of participating stations since the last campaign as well as the amount and variety of goodies to be given away," said Mohd Ibrahimnuddin Mohd Yunus, Managing Director and Chief Executive Officer, PETRONAS Dagangan Berhad (PDB).
"We understand that the long hours on the road can be taxing for the person behind the wheel. Thus, PETRONAS invites all motorists to drop by, rest and relax with some light refreshments on the house, before resuming your journey. Staying alert on the road is critical in ensuring the safety of yourself and others. We want you to be safe for the journey home," he added.
The return of the much-loved campaign, now in its 17th year, also sees PDB collaborating with nine partners to bring extra cheer to travellers when they drop by the participating stations. In addition, safety-related services such as 20-point safety inspections on Proton cars and health checks will be provided at selected locations for free.
As part of the Company's continuous efforts to provide excellent customer experience at its stations, PETRONAS is committed towards ensuring a clean, bright and safe environment, speedy refuelling and faster electronic transactions at the pumps along with friendly service with a smile.
PETRONAS Coffee Break is held in collaboration with Nestle' Products Sdn Bhd, Munchworld Marketing Sdn Bhd, Coca-Cola Refreshments Malaysia Sdn Bhd, Suntory Beverages & Food Malaysia Sdn Bhd, URC Snack Food (M) Sdn Bhd, Industri Makanan Snek Ku Sdn Bhd, Goodwill Marketing & Agency (M) Sdn Bhd, SJAM and Proton Holdings Berhad.
The free hot coffee and snacks will be provided to motorists while stocks last. For more information on PETRONAS Coffee Break and the locations of participating PETRONAS Stations, visit www.mymesra.com.my.
Bandai Namco Opens Malaysian Studio
TOKYO, July 1 (Bernama) — BANDAI NAMCO Studios Inc., with the help of the Malaysia Digital Economy Corporation (MDEC), has set up a studio in Kuala Lumpur known as BANDAI NAMCO Studios Malaysia Sdn. Bhd. (BNSMY). Various preparations are currently underway for the commencement of the studio's operations in September 2016.
The newly set up Malaysian studio will be collaborating with BANDAI NAMCO Singapore Studios (BNSS) to focus on the development of contents for their customers in the world. The Malaysian studio will become BANDAI NAMCO's hub for visual art production in the region in an effort to strengthen their partnerships with key partners in the neighboring countries and build a global art production organization. The studio is partnering with Malaysia's leading CGI studio Lemon Sky Animation Sdn. Bhd. to ease the commencement of business and with the help as well as continuous support from MDEC, BANDAI NAMCO Studios Malaysia is set for rapid growth and expansive opportunities. BANDAI NAMCO Studios is a proud supporter of MDEC's aspirations in making Malaysia a regional hub for games development under the #MYGAMEON initiative.
BANDAI NAMCO Studios develop contents that provide "Dreams, Fun and Inspiration" to gamers all over the world and the company is constantly aiming for cost-appropriate content creation in optimal locations for development so that they may reach out to more customers in emerging markets.
Company Overview
BANDAI NAMCO Studios Malaysia Sdn. Bhd.
■ Capital: MYR 3.3 million
■ Date founded: 30th March 2016
■ Address: Medan Setia 1, Bukit Damansara, 50490, Kuala Lumpur, Malaysia
■ Representative : Makoto Ishii
*Note: The information provided in the press release contains the information provided on the date of this announcement. The contents may be edited later without notice after the announcement has been made. We seek your understanding on this issue.
About Malaysia Digital Economy Corporation (MDEC)
Malaysia Digital Economy Corporation (MDEC), previously known as Multimedia Development Corporation (MDeC), was incorporated in 1996 to strategically advise the Malaysian government on legislation, policies and standards for ICT and multimedia operations as well as to oversee the development of the Malaysian Multimedia Super Corridor (now MSC Malaysia), the platform to nurture the growth of Malaysian Small and Medium Enterprises (SMEs) in the IT industry whilst attracting participation from global ICT companies to invest in and develop cutting edge digital and creative solutions in Malaysia.
In 2011, MDEC's mandate was broadened by the Prime Minister to include driving Malaysia's transition towards a developed digital economy by 2020 through Digital Malaysia. In 2012, Digital Malaysia was officially unveiled as the nation's transformational programme to achieve this aim. Digital Malaysia is the national agenda towards a sustainable digital economy built upon a vibrant domestic ICT industry, transformative use of digital solutions by government, businesses and citizens, as well as a robust enabling ecosystem.
Today, both MSC Malaysia and Digital Malaysia run concurrently to spur Malaysia's ICT industry development and digital transformation, under the purview of MDEC.
For more information, please visit www.mdec.my
Toll Free During Aidilfitri, Says Latar Expressway
KUALA LUMPUR, June 30 (Bernama) — More than 100,000 travellers will be enjoying a toll-free-ride on 33-km LATAR Expressway from midnight to 11.59 pm on 6 July 2016, the first day of Aidilfitri.
"The toll-free-ride is in conjuction with Aidilfitri break and "balik kampung" season." said En Ahmad Fuad Ahmad Shahimi, Chief Operating Officer, LATAR Expressway.
"This is our third (3) time giving out the toll-free-ride to our users, after the earlier toll-free period enjoyed by the public during the opening of LATAR Expressway and the opening of Kundang Interchange last year. It is part of our corporate social responsibility and appreciation to the expressway users. Perhaps, with toll-free incentives, it could help to lesser the expenses of travellers during this "balik kampung" period." he added.
The toll-free ride is to be enjoyed by all classes of vehicles throughout all the six (6) toll plazas on the expresway.
LATAR Expressway links Kuala Lumpur from Templer's Park in the Gombak district with Ijok in the Kuala Selangor district. LATAR offers an altenative route to the Northen Region via the Coastal Routes of Peninsular Malaysia. Travellers will be able enjoy less stressfull journey to "balik kampung" as well as avoiding heavy traffic congension that always been reported during the festive seasons; if they would travel on the other routes to the North Region.
LATAR Expert and Ronda teams are available 24-hours on the expressway to assist the users in any emergency situations. LATAR provides two (2) rest and service areas (RSA) which are located at Kundang Barat and Kundang Timur, which consists of public facilities like toilets, suraus, food courts and additionally has a PETRONAS petrol station at both RSA to ease the travellers during their travelling on LATAR Expressway.
The 24-hours reload lanes will be fully operational during this coming hari raya break on top of our two (2) Customer Service Centres. The 24-hours lanes will definitely ease the travellers to re-load their touch and go (T&G) cards.
To all travellers, I wish you "Selamat Hari Raya Aidilfitri, ride on LATAR Expressway in this coming balik kampung break, experience the less-stress journey and I am confident, you will like and enjoy it very much as LATAR Expressway is "A Faster and Safer Choice" to the travellers. Ahmad Fuad Ahmad Shahimi, ending the statement.
LATAR Expressway serves several townships such as Kuala Selangor, Assam Jawa, Ijok, Bestari Jaya (Batang Berjuntai), Kota Puteri, Puncak Alam, Shah Alam, Bukit Jelutong, Sungai Buloh, Kundang, Rawang and Selayang as well as allow for a faster, safer choice to the cities of Petaling Jaya and Kuala Lumpur.
The new expressway forms the North West portion of the Malaysian Government's bigger plan for a KL Outer Ring Road (KLORR) which begins from the Templer's Park Interchange along Federal Route 1 (KL-Rawang) to the Guthrie Corridor Expressway.
ABOUT KL-KUALA SELANGOR EXPRESSWAY BERHAD
KL-Kuala Selangor Expressway Berhad (KLSEB) is the concessionaire for the KL-Kuala Selangor Expressway (LATAR Expressway). The Company, formerly known as Lebuhraya Assamjawa Taman Rimba Bhd ('LATAR'), was incorporated in 1996. At that time, the shareholding was 60% held by Bina Puri Holdings Bhd and 40% held by Arena Irama Sdn Bhd.
Construction of the LATAR KL-Kuala Selangor Expressway commenced in 2008 when a supplemental concession agreement was signed on 28 February 2008 with the Ministry of Works representing the Government of Malaysia.
Subsequently, Bina Puri Holdings Bhd reduced its stake in KLSEB to 50% while Arena Irama Sdn Bhd increased its stake to 50%. The Company achieved financial close in October 2008 with a total of RM1.04 billion loan from Bank Pembangunan Malaysia and the Islamic Development Bank.
The Company has a 40-year concession on the LATAR Expressway. The concession was awarded on a Build-Operate-Transfer (BOT) scheme in which the Company is responsible to finance, design, construct, operate and maintain the expressway.
Petronas Continues To Bring Malaysians Together Through Festive Ads
KUALA LUMPUR, June 30 (Bernama) — PETRONAS yesterday released its latest webfilm produced in conjunction with the upcoming Hari Raya Aidilfitri celebrations.
Entitled "Vroom Vroom", the webfilm imparts the virtue and values of patience, kindness, forgiveness and family unity synonymous with the spirit of Aidilfitri, and in line with PETRONAS' commitment in bringing Malaysians together through its festive campaigns.
"Vroom Vroom" portrays how simple values have the power to inspire and influence multiple acts of kindness. The webfilm centres on the plight of a father and his young son who were evicted from their home on one fateful night. The story revolves around the father's determination to bring back the smile to his son's face despite their dire situation.
PETRONAS' Senior General Manager of Group Strategic Communications, Zahariah Abd Rahman said: "Malaysians look forward to PETRONAS' festive communications which celebrate the beauty of Malaysia's multi-ethnic culture. With each campaign, we aim to bring Malaysians closer through inspirational everyday stories that unite us.
"We truly believe that every Malaysian is an inspiration, and we are proud to present this heartwarming webfilm which we hope will resonate with all Malaysians for this coming Hari Raya Aidilfitri," she added, speaking at the launch of the film in Kuala Lumpur.
Viewers can log on to PETRONAS' official brand channel at www.petronasofficial.com to view the webfilm starting from 30 June 2016. A sixty-second television commercial version of the webfilm will also be aired from 1 July 2016 onwards.
Additionally, with road safety being the highlight during the festive seasons, PETRONAS returns with its Coffee Break campaign offering 900,000 cups of freshly brewed hot coffee and snacks at 147 participating PETRONAS stations nationwide. The campaign runs on 2 and 3 July from 6pm onwards and on 9 and 10 July 2016 from 3pm onwards.
For more information on PETRONAS Coffee Break and the locations of participating PETRONAS stations, log on to www.mymesra.com.my.
CIMB Foundation Contributing To Deserving Communities During Ramadan
KUALA LUMPUR, June 29 (Bernama) — In the holy month of Ramadan, CIMB Foundation reinforced its Community Link programme which is focused on strengthening ties with the public and contributing to deserving communities.
Recently, 80 orphans from Pusat Jagaan Rumah Kesayangan and Pertubuhan Kebajikan Anak Yatim Darul Ehsan Malaysia were invited to CIMB's annual buka puasa ceremony at the ArRahah Mosque in Pantai Dalam, Kuala Lumpur. The occasion, graced by Tun Rahah Noah, was attended by 700 people consisting of the beneficiaries, members of the public and employees of CIMB Group.
The children also received Raya money and goodies from Tun Rahah Noah, Dato' Sri Nazir Razak, Chairman, CIMB Group, Tan Sri Md Nor Yusof, Chairman, CIMB Foundation, his wife, Puan Sri Shahrulbariah, Tengku Dato' Sri Zafrul Tengku Abdul Aziz, Group Chief Executive, CIMB Group and his wife, Raja Datin Sri Johanna Raja Arshad. The same children had been taken on a shopping trip to buy new baju raya earlier in June in preparation for the upcoming Hari Raya Aidilfitri celebration.
The buka puasa ceremony was part of CIMB Foundation's Ramadan corporate responsibility activities, which included the distribution of 10,000 packets of bubur lambuk across 20 locations, and Raya shopping for a total of 500 orphans nationwide.
Ambank Group Hosts Hari Raya Shopping For Less Fortunate Children, Senior Citizens, Single Mothers
KUALA LUMPUR, June 29 (Bernama) — AmBank Group through its sports club, Kelab AmBank Group (KAG) invited 170 children from Pertubuhan Kebajikan Dan Pendidikan Permata Hatiku Kuala Lumpur Dan Selangor, Pusat Jagaan Budaya Harapan, Pertubuhan Kebajikan Sentuhan Budi Kuala Lumpur dan Pertubuhan Rahoma Darul Fakir Malaysia for Hari Raya shopping on 18 June 2016.
In line with the spirit of Ramadhan, KAG initiated this charity event to bring happiness to these children, aged between three to 19 years old. The 170 children consisting 65 boys and 105 girls were ushered to Mydin Wholesale Hypermarket, USJ, Subang Jaya to shop for their new Baju Melayu and Baju Kurung.
"This is one activity which we look forward to every year in the holy month of Ramadan. This is one way for us to contribute to the less fortunate, in line with the Islamic teachings of caring, self discipline, sacrifice and sympathy to the less fortunate." said Syed Anuar Syed Ali, Head, Group Corporate Communications & Marketing, AmBank Group who is also the President of Kelab AmBank Group.
The children from the Homes also Buka Puasa with Tan Sri Azman Hashim, Chairman, AmBank Group together with the Senior Management and AmBank Group staff at Hall in Bangunan AmBank Group.
"We are pleased to have these children with us today. Their presence certainly makes this Ramadan a meaningful and joyous occasion," he added.
This programme falls under AmKasih Programme which is a new platform for the Group's Corporate Social Responsibility (CSR) sustainable development initiatives.
The AmKasih Programme focuses on "reaching out to the community" and serves as an umbrella for all AmBank Group's CSR efforts to help the community.
AmBank Group continuously plays a CSR role for the community at large, irrespective of race, creed or religion as we contribute to the sustainable development of the community within which we operate. This approach has been and will continue to be the mainstay in our approach to community care programmes. A project such as this helps to meet our objective to play an effective corporate role as a socially responsible corporate citizen.
The treat for children, elderly and single mothers is part of AmBank Group's all-year round charity programme. The Group has always striven to play a significant role in contributing to society at large through initiatives such as these. In the past, many charity organisations have benefited from AmBank Group's corporate social responsibility programmes.
Air Astana Launches New Almaty – Tehran Service
Air Astana, the award winning carrier from Kazakhstan, launches a new non-stop flight from Almaty to Tehran, the capital of the Islamic Republic of Iran, today. Flights will operate three times a week (Tuesdays, Thursdays and Saturdays) and will be served by Embraer 190 aircraft. The cabin will feature nine Business Class seats and 88 Economy Class seats.
The new service will offer added ease of travel and enhance business and cultural links between the two countries. According to the Ministry of Foreign Affairs of The Republic Kazakhstan, the approximate value of trade between the two countries was US$ 1 billion in 2015. In addition, there are a number of Kazakh-Iranian joint enterprises in Kazakhstan, as well as cultural and scientific ties between the countries, which will benefit from the new service.
Air Astana's direct flights between Almaty and Tehran will also boost tourism between the two countries. Iran is one of the oldest civilizations in the world and boasts numerous well-preserved historical landmarks, a rich culture, outstanding architectural monuments, magnificent natural landscapes, rich cuisine and fine objects of national art. These attractions will undoubtedly draw many tourists from Kazakhstan. Moreover, Kazakhstan's Ministry of Foreign Affairs is currently in negotiations to enable Kazakh citizens to potentially obtain an Iranian visa on arrival in the country.
"I trust that our Iranian guests will enjoy the history and culture of Kazakhstan. Beyond that, Almaty has a lot more to offer with premium ski resorts, year around cultural events, a wide variety of shopping malls and fine dining – all at great value for money. All these attractions are accessible with a flight that is just three and a half hours away from Tehran. The new service connecting Kazakhstan with Iran will provide convenient connections to Air Astana's CIS and Asian network, in particular to the cities of Beijing and Urumqi," said Ibrahim Canliel, Senior Vice President, Sales and Marketing, Air Astana.
Lead-in return economy class fares, including all taxes start at US$290, with return business class fares starting at US$930 based on the current rate. Tickets can be purchased at Air Astana ticketing offices, by calling Call Centre: +7 (727) 2444477 or online at www.airastana.com. Prices indicated include all taxes with exception 0f service fee. Ticket costs may vary due to exchange rate fluctuations.
Air Astana is a joint venture between Kazakhstan's national wealth fund, Samruk Kazyna, and BAE Systems from the UK, with respective shares of 51% and 49%.
PM inaugurates two four-lane highways
DHAKA, July 2, 2016 (BSS) – A new dimension has been added to the road communications with inauguration of the country's two four-lane highways connecting two important cities Chittagong and Mymensingh with the capital city Dhaka.
Inaugurating the Dhaka-Chittagong Four Lane National Highway and Dhaka-Mymensingh Four Lane National Highway, Prime Minister Sheikh Hasina said the roads would immensely help ensure quick, uninterrupted and safe journey of the people and transportation of goods making contribution to the country's economic prosperity.
"Inauguration of the two major road networks ahead of holy Eid-ul-Fitr is an Eid gift of my government to the country," she said while addressing a function on the occasion at Bangabandhu International Conference Center (BICC) here today.
The Prime Minister extended her thanks to the Department of Roads and Highways, Road Transport and Highways Division and Special Works Organization (west) of Bangladesh Army for construction of the highways properly.
"The costly and labour-intensive highways have added 278 kilometer new four-lane roads with our national highways network and it will accelerate the pace of our economic development," she said adding that the four-lane roads would make the travel of homebound people easy and comfortable.
The 190.48-kilometer Dhaka-Chittagong Four-Lane National Highway has been constructed at a cost of Taka 3,816.94 crore while 87.18-kilometer Dhaka-Mymensingh Four-Lane Highway was built at a cost of Taka 1815.12 crore.
The Dhaka-Chittagong Highway is stretching from Daoudkandi Toll Plaza to Chittagong City Gate and the Mymensingh Four Lane Highway begins from Joydevpur Chowrasta and ends at Mymensingh Medical College square.
Minister for Road Transport and Bridges Obaidul Kader and Bangladesh Army Chief General Abu Belal Mohammad Shafiul Huq were present among others on the occasion.
Terming the developed communication infrastructure as one of the most important factors for country's economic development, the Prime Minister said her government after taking office in 1996 had designed a plan for development of the country's road communications.
All the activities of our government are being guided with an aim to develop Bangladesh as a developed country through socio-economic development and ensuring basic needs of the people, she said adding her government had worked hard to make the country self-reliant in food in five years apart from development of necessary infrastructure.
Sheikh Hasina said the Awami League was not in power for seven years from 2001 when most of the sectors had lost their development momentum. And, after taking office in 2009, her government is working under the guideline of an economic policy for development of the country.
The Prime Minister said Bangladesh is moving forward according to the plan which resulted in reaching the country's economic growth to 7.05 percent. Country's poverty has been declined drastically while per capita income of people has been raised.
She said Bangladesh is now a role model of development of before the world. But it's our misfortune that we always have suffered from sudden blows whenever we tried to proceed and prosper.
Pointing out the mayhem of the militants and terrorists in a city restaurant last night, the Prime Minister urged people to forge resistance against the evil force and let the country proceed toward prosperity.
Dhaka-Chittagong Highway has 23 bridges, 242 culverts, 14 bypasses, 34 foot-over bridges, two underpass (Comilla Cantonment and Sitakunda), 61 bus bays and 15.66-kilometer concrete pavement. Dhaka-Mymensingh Highway has five bridges, one flyover (Maowna), one railway overpass (Salna), four foot-over bridges, 155 box-culverts and 3425-meter concrete pavement.
Bangladesh Railways to run Eid special trains from tomorrow
DHAKA, July 2, 2016 (BSS) – Bangladesh Railway (BR) will start running tomorrow (Sunday) seven pairs of special trains to carry homebound passengers on the occasion of Eid-ul-Fitr.
The special trains will start plying from July 3 (Sunday) and will continue for the next two days (Monday and Tuesday) before Eid for the homebound passengers, a BR official told BSS.
Similarly, the BR will put the special trains again on the tracks for seven days from July 8-14 for the returning passengers after the Eid festival.
The special trains will ply on different routes.
According to BR, the Dewanganj Special will ply on Dhaka-Dewanganj-Dhaka route from July 3 to 5 before the Eid and from July 8 to 14 after the Eid, while Chandpur Special will ply on Chittagong-Chandpur-Chittagong route.
Parbatipur Special will run on Parbatipur-Dhaka-Parbatipur route and Khulna Special will run on Khulna-Dhaka-Khulna route.
The newly introduced 'Sonar Bangla' will be also run on Dhaka-Chittagong-Dhaka route before and after the Eid on its regular schedule.
Besides, two pairs of Solakia special train will ply on Bhoirab-Kishoreganj-Bhoirab and Mymensingh-Kishoreganj-Mymensingh routes on the Eid day.
The western zone of BR will also run two pairs of special trains on Parbatipur-Dhaka-Parbatipur and Khulna-Dhaka-Khulna routes on the occasion of the holy Eid-ul-Fitr.
The special trains will run from July 3 to 5 before the Eid and July 8 to 14 after the Eid.
BR western zone chief operating superintendent (COPS) told BSS that the special train will leave Parbatipur station at 6.45 am and reach Dhaka at 3.50 pm.
It will leave Dhaka at 5.20 pm and reach Parbatipur at 3 am.
The other special train will leave Khulna at 10.30 am and reach Dhaka at 8.20 pm. It will leave Dhaka at 9.25 pm and reach Khulna at 7 am.
Railway authorities said that they had taken all necessary preparation for smooth and safe movement of passengers during the Eid festival.
Dhaka, Tokyo sign pacts on 6 major projects
DHAKA, June 29, 2016 (BSS) – The government today signed separate deals with Japan on six projects, including one for construction of a 4.8-km rail bridge over the Jamuna River in parallel with Bangabandhu Bridge.
The Jamuna Railway Bridge Construction Project is aimed to improve capacity and safety of railway transportation by constructing a dedicated railway bridge in 300m upstream of the existing Jamuna Multipurpose Bridge (Bangabandhu Bridge).
The five other projects are: Cross-Border Road Network Improvement Project (Bangladesh), Dhaka Mass Rapid Transit Development Project (II), Matarbari Ultra Super Critical Coal-Fired Power Project II, Energy Efficiency and Conservation Promotion Financing Project and Disaster Risk Management Enhancement Project.
Additional Secretary of Economic Relations Division (ERD) Kazi Shafiqul Azam and Japanese Envoy to Bangladesh Masato Watanabe signed the exchange of notes on behalf of their respective sides while ERD Additional Secretary Kazi Shafiqul Azam and Japan International Cooperation Agency (JICA) Chief Representative Mikio Hataeda will initial the loan agreements at NEC conference room in the city.
State Minister for Finance and Planning MA Mannan was the chief guest at the signing ceremony of the agreement under which the Japan government will provide the loan through its Official Development Assistance (ODA) package.
The Executive Committee of the National Economic Council (Ecnec) approved the Cross-Border Road Network Improvement Project (Bangladesh) on April 26, 2016 to improve cross border road network aiming at boosting across regional and sub-regional blocks.
The objective of the project is to improve national and regional transportation and logistics network, by rehabilitating and developing major international roads in Bangladesh, thereby contributing to economic growth of Bangladesh and South Asia.
Prime Minister Sheikh Hasina officially inaugurated the construction work of Mass Rapid Transit (MRT) Development project Sunday at Dhaka's Bangabandhu International Conference Centre.
The MRT project will be constructed under the supervision of Dhaka Mass Rapid Transit Development Company. The project is being executed at a cost of about Taka 22,000 crore. Of the amount, the JICA is providing about Taka 16,500 crore, while the remaining amount would come from the Government of Bangladesh (GoB).
The objective of the Matarbari Ultra Super Critical Coal-Fired Power Project is to achieve the stable electricity supply in Bangladesh by constructing a coal fired power plant and related facilities in Chittagong region, thereby contributing to sustainable economic growth of Bangladesh.
The objective of the Energy Efficiency and Conservation Promotion Financing Project is to promote efficient use of energy in Bangladesh by introducing and disseminating energy efficient equipment through concessional loan, technical support, incorporating latest technical trends of energy efficiency, creating awareness thereby contributing to balance energy demand-supply and mitigate climate change.
Bangladesh Aviation ministry to take steps for smooth Hajj management
DHAKA, June 28, 2016 (BSS) – The Civil Aviation and Tourism Ministry will take all necessary steps, including fixing of hajj flight schedule and supply of air tickets for hajj pilgrims for smooth management of hajj this year.
The decision was conveyed at an inter-ministerial meeting held in the Religious Affairs Ministry conference room here today.
Religious Affairs Minister Principal Matiur Rahman presided over the meeting while acting secretary M Abdul Jalil moderated it.
"The Civil Aviation and Tourism Ministry will take necessary steps to complete hajj flight operation, including air ticket supply, hajj flight schedule fixing, goods and luggage check-in of hajj pilgrims in the Kingdom of Saudi Arabia," said the religious affairs minister during the meeting
Besides, the ministry will ensure all facilities at the airport, including customs and immigration of hajj pilgrims at the hajj camp, he said.
Smooth hajj management is one of the most priority issues of the government, the religious affairs minister said and added that a "hub office" will be set up at the hajj camp for providing cooperation to hajj agents and hajj pilgrims.
Special bus services will be launched at different city points like Sayedabad, Gabtoli, Mahakhali, Sadarghat, Kamalapur, Gulistan and Motijheel to Airport for hajj pilgrims. Even the railway department will make necessary arrangements of reserved seats for hajj pilgrims for travelling on the railway.
The government will engage full-time doctors, including other necessary manpower and ambulances at the hajj camp, said the meeting, adding that the government will sent medical team to ensure healthcare service to hajj pilgrims in Saudi Arabia.
Representatives from all the ministries, divisions, departments and organizations were present at the meeting.
Rural women making fortune income generations
RANGPUR, June 28, 2016 (BSS) – Hundreds of rural women have been making their own fortune and leading better life through various income- generating activities, small-scale businesses and enterprises in recent years in Rangpur division.
With their own initiatives, capacities and potentials, many of them have achieved self-reliance through properly utilising local resources setting up appreciable example and saying good-bye to their abject poverty permanently.
The successful rural women, including landless and distressed, divorcees and widows, young girls and housewives, are confident about future following their empowerment and achieved socioeconomic success.
According to Executive Director of Northbengal Institute of Development Studies Dr Syed Samsuzzaman, many rural women lived under miseries due to poverty and their children could not go to schools for education even a decade ago.
"But now, many rural women are engaged in income- generating activities, cottage industries, enterprises and businesses to contribute in building middle income Bangladesh after achieving self-reliance and saying good-bye to abject poverty," he said.
Head of Programme Coordination of RDRS Bangladesh Monjusree Saha said rural women have achieved success through sewing handloom garments, animal husbandry, poultry, homestead gardening, farming fruits and vegetables.
NGO executive Akhterun Nahar Saki said rural women have changed fortune through setting up smaller cottage industries and enterprises, social forestation, micro-credit activities, VGD and other government programmes.
District Relief and Rehabilitation Officer of Rangpur Faridul Haque said hundreds of distressed rural women have achieved self-reliance through the government's social safety net programmes that created income-generating opportunities for them.
Talking to BSS, a number of successful rural women of different districts in Rangpur division said they have attained self- reliance through their hard endevours and there is no incident of starving anywhere in their villages.
Sadekun Nahar, Aklima, Mariyam and widow Moti Rani of different villages in Rangpur, said they have achieved self-reliance through ornamental needlework and sewing handloom garments at homes though they led miserable life a decade ago.
Successful women Morsheda Begum, Bulbuli Begum and Kamala Rani of different villages in Nilphamari said they have achieved economic well-being by selling labours as female farm-workers and working under the employment generation programmes.
Mosfeka Khatun, Kohinoor Begum and Bilkis Parveen of different char villages in Kurigram said they have achieved success through homestead gardening, animal husbandry, social safety net and employment generation programmes.
Fatema Khatun, Nasrine Akhter, Roksana Begum, Hanifa Begum and many others of Kurigram and Lalmonirhat said they have achieved self-reliance through rearing cows, goats and sheep, selling milk and poultry birds in their char villages.
"Following economic well-being, social curses like child marriage, dowry, polygamy, divorce and repression, number of maternal, child and neonatal deaths have reduced to the minimum in our villages," the happier women said.
Senior District Information Officer of Rangpur Humayun Kobir said the rural women have now become fortune makers and their children are going to schools with a dream for better future though their days were miserable even a decade ago.
Biggest Eid jamaat of Bangladesh to be held in Kishoreganj
KISHOREGANJ, July 2, 2016 (BSS) – The 189th biggest Eid-ul-Fitr jamaat of the country to be held on Sholakia Eidgha Maidan here.
All arrangements have been made by the Kisahoreganj district administration to hold the jamaat in a smooth and peaceful atmosphere.
Tens of thousands of devotee from home and abroad are expected to join the largest jamaat on the historic Sholakia Eidgha Maidan, district administration sources said.
Like every year, a large number of devotees from across the world including Saudi Arabia, Turkey, India, Pakistan and England will attend the Eid prayers. Different TV channels will cover live the holy Eid congregation.
This year's jamaat, led by renowned Islamic scholar Moulana Farid Uddin Masud, will be held at 10 am.
A special munajat will also be offered seeking divine blessings for peace, development and welfare of the people of the country as well as the Muslim Ummah.
The mammoth jamaat is being jointly organised by Eidgha Steering Committee, local municipality, different government organisations and district administration.
The district administration has adopted unprecedented security arrangements to hold the Eid jamaat in a peaceful manner, said M Anwar Hossain Khan, Kishoreganj Superintendent of Police.
The members of the elite force RAB and police will deploy in and around the jamaat venue to maintain law and order during the prayers.
Special trains and buses have been introduced for easy journey of the devotees.
The first Eid jamaat on Sholakia Eidgha Maidan was held in 1828 with 125,000 devotees offering the prayers.
National Museum, BankMuscat Sign Fees Collection Agreement
Muscat, July 3 (ONA) — The National Museum and BankMuscat today signed an agreement by which BankMuscat will prepare the necessary programs and operate the auto collection system at the Museum. The Bank will also supply, install, operate and maintain the sale point devices and accessories.
The specialists in BankMuscat provided a brief training course for service management team at the National Museum and Miss Macro for utility management on how to use the sale point devices.
On his occasion, Jamal Hassan al-Mosawi, Acting Director General of the National Museum said that the agreement comes within the plan to provide visitors with unique experience and improve the services provided to visitors to ensure that they are in line with the international museum experiences.
Malawi to Commemorate International Day of Cooperatives On 2 July
1 July 2016, Malawi News Agency (Lilongwe) — Government through the Ministry of Industry Trade and Tourism with Cooperatives movement in Malawi will on July 2, 2016, join the rest of the world cooperative movements in cerebrating the International Day of Cooperatives (IDC).
Speaking at a Press Conference in Lilongwe, Director Private Sector Development in the Ministry of Industry, Trade and Tourism Esther Mwimba said they want to create the awareness that cooperatives is a sure way of ensuring that the people of Malawi especially the rural masses are economically empowered.
Mwimba said this year's theme is 'Cooperatives: The power to act on sustainable future' saying that this is the new agenda for the UN and reflects on its conviction that cooperatives are highly relevant and important in the realization of the current Sustainable Development Goals (SDG's).
She said they are regarding this day as a day whereby all stakeholders, cooperative partners and all the people of Malawi to come together as a shore away for social and economic and cultural development of the country.
"The IDC was set aside by the United nations General Assembly to serve as a principle occasion for creating world-wide awareness on the importance of cooperatives in addressing some of the critical social-economic challenges being experienced across the globe," said Mwimba.
She said it is also a day that strengthens and extends partnerships between the international cooperative movement and other supporting organizations including governments.
Mwimba explained that the event will take place at Kamuzu Institute for Sports in Lilongwe and that the activities of the day will include matching by the cooperative members along the roads leading to the institute, displays of cooperative products, performances and speeches.
Business Development Manager for Malawi Federation of Cooperatives Limited, Charles Kayesa said the country's cooperative development cannot compete with rest of the movements in our region because Malawi is still small in terms of the size, the structure of the movement and turn over.
"But with the coming up of UN declaring the IDC I think it is an eye opener to Malawi because that it only shows that at international level cooperatives are seriously recognized and with this commemoration it is giving us a bail as a country to sink seriously about cooperatives," said Kayesa.
In Malawi the cooperative movement is represented by Malawi Federation of cooperatives (MAFECO) Limited.
GE to Invest US$2 Billion in Nigerian Rail Projects
30 June 2016, Vanguard (Lagos) – The Minister of Transport, Mr Rotimi Chibuike Amaechi, yesterday disclosed that General Electric, GE, would invest $2 billion in the country's rail projects.
Amaechi in an interview with CNBC monitored by Vanguard in Abuja, said the Federal Government was in search of Public-Private Partnership, PPP, funding in the Nigerian transportation sector.
He said: "GE is already in, we are trying to get the government agencies to allow us negotiate with GE. The company is going to bring in over $2billion in the Nigerian railway sector, in which they are going to revive the Lagos-Kano narrow gauge and revive the Port Harcourt-Maiduguri narrow gauge by private investment.
"It is good that such kind of funds will come into the economy, it will create employment, it will increase business and everybody will be part of the process."
"The government does not need to bring all the funds. What government is doing here is to initiate it, there are two things we are doing there; we will start with the construction of Lagos-Kano and Lagos-Calabar."
Amaechi, who reiterated that President Muhammadu Buhari would flag off the Abuja-Kaduna rail line early July, stated that government would commence work on the Lagos-Ibadan segment of the Lagos-Kano this year.
"We are taking a loan from China EXIM bank, the loan is not partnership. But one of the requirements for which we will take the loan is that the contractor must come from China, that we have fulfilled by engaging CCECC.
"We will be looking at about $3.5 billion and we should be able to employ as many people as possible to do that construction. Our plan is to ensure that CCECC is able to conclude it between two to three years," he said.
He, however, added that the federal government expected Public-Private Partnership funding, despite the fact that the country needed $160billion for its transportation projects.
Amaechi said: "We are going to invite as many private investors as possible to see how they can assist the country achieved its rails projects.
"If government takes the Lagos-Kano and takes the Lagos-Calabar, we expect the others to be PPP funding.
"We believe that people know how big the Nigerian market is and that once you invest your money, the chances are that you will recoup that money, whether by freight or by passenger transportation."
Amaechi, who gave a load down of the amount the country had save from the negotiation of the projects, said: "Basically, the contract from Lagos to Calabar was awarded initially at $11.97 billion, we had to negotiate that one and that was why we couldn't submit it the same time we submitted the Lagos-Kano.
"We negotiated that one from $11.97 billion to $11.17 billion, saving the country $800million."
Ramadan in Brunei: Distinctive traditions with unique social harmony
23 Jun 2016 – Brunei (IINA) – Despite being a tiny country, Brunei Darussalam is one of the world's richest nations. Its population is estimated at about 428,000 people, and tropical forest cover three-quarters of its total land area of 5,765 square kilometers.
Brunei is a Southeast Asian country. It is one of the countries that associated with Islam, religious customs and long-standing traditions, especially in celebrating events and religious festivals, including the month of Ramadan, which is observed as a public holiday season in the country.
Sighting of the new Ramadan crescent is verified through a telescope outside Brunei's capital city, Bandar Seri Begawan. Fasting is not linked to the Muslims alone, as non-Muslims are also accustomed to fasting out of respect for Muslims, who make up the majority in the country, and as an evidence of successful social coexistence.
Among the inherited tradition in the month of Ramadan is that the Sultan of Brunei attends religious ceremonies during Ramadan in the grand mosque with his ministers and the public. He is keen to prepare sahur (pre-dawn meal) for worshipers.
Brunei witnesses great festive manifestations, especially with the advent of the month of Ramadan, where families prepare their homes prior to the start of the fasting month. Once sighting of the Ramadan crescent moon is validated, residents take to the streets, chanting Tahleel slogans. Ramadan decorations are hung and electric lanterns are lit in front of houses. People stay up late every night during Ramadan. They go to sleep after having sahur and performing Fajr (dawn) prayers.
Also, among Brunei's distinctive traditions is that the shops and restaurants are closed during the day and reopened after iftar, as Muslims exploit Ramadan in acts of worship and supplication for seeking Allah's pardon and forgiveness. Muslims in Brunei are keen to hold gatherings in mosques after Taraweeh prayers to recite one chapter of the Holy Qur'an every night.
Brunei is one among the countries that do not impose fines and jail terms on non-Muslim citizens who violate the sanctity of Ramadan. Because of their supreme example of tolerance towards the followers of other religions, non-Muslims fast a few days of Ramadan, out of respect for their Muslim friends, while those who do not fast, abstain from eating, drinking or smoking in public places.
Brunei's Iftar dining table comprises delicious foods, such as the famous Laila rice, with its distinctive smell, as well as meat and pasta rolls stuffed with meat and beans. Commercial stalls, which supply the residents with local and desirable Western foods after a day of fasting, spread everywhere.
Eight historic mosques to be restored in Jeddah
Jeddah, (IINA) 28 Jun 2016 – Makkah Region's Governor Prince Khalid Al-Faisal has announced restoration work on eight historic mosques located in various parts of Jeddah, Arab News reported Tuesday.
So far, 800 mosques have been surveyed in the Kingdom, 21 historic mosques of which have already been restored. Three of the mosques, Masjid Tabab in Asir, Masjid Jaoufa in Al-Ahsa and Masjid Al-Shafei in Jeddah, were opened last year.
A program for the restoration of historic mosques under the Saudi Commission for Tourism and National Heritage was also started in cooperation with the Ministry of Islamic Affairs.
The program for the care of historic mosques launched by the SCTNH in partnership with the Charitable Heritage Foundation is aimed at highlighting the historic and religious importance of these mosques. It also concentrates on spreading the message of the historic mosques for enlightening the lives of Muslims based on the principles of unity and brotherhood in society.
The agencies that are restoring the mosques made it clear that the mosques are places of worship and not designed to attract tourists.
The groups are taking care to implement international standards related to world heritage sites while working to restore historic mosques.
Sharjah Islamic Bank wins 'First Successful Data Submission Award' from AECB
Sharjah, (IINA) 27 Jun 2016 – The Sharjah Islamic Bank (SIB) voted the "Best Islamic Bank in the UAE" at the World Finance Awards 2016, on Sunday. More honours have been bestowed as it has received the "First Successful Data Submission Award" from Al Etihad Credit Bureau, or AECB, Khaleej Time news reported.
AECB provides world-class services on creditors to help financial institutions and credit providers make quicker and more accurate credit decisions. The result being that better risk management practices are observed and better debt management for consumers, is provided. In a highly attended award ceremony held recently here, SIB was recognized among selected UAE-based banks for the successful implementation of AECB processes, according to a senior official.
Chief Executive Officer at SIB Mohammad Abdallah said Sharjah Islamic Bank has been involved with the AECB, since the initiation of this project.
Key responsibilities of the working Group was to identify data to be supplied to AECB and to present identity data in a way that it could be matched, along with common data standards and definitions covering various customers' accounts, contracts, and financial institutions, he added.
"The project began with the submission of data information by SIB, mandated by Federal Law No. 6, for Retail and Corporate Customers."
Islamic finance market to grow to $3 trillion by 2018
Dubai, (IINA) 27 Jun 2016 – The size of Islamic finance market is estimated up to $2 trillion and projected to grow to $3 trillion by 2018, Trade Arabia News reported citing an industry expert.
The Islamic finance assets represent 1 percent of the global financial market, while the sukuk issuance is accelerating the Islamic capital markets at the annual growth of 21 percent, said C.A. Sahitya K Chaturvedi, head of Finance at Ajmal Perfumes.
Saudi Arabia's IPO drive and platforms provided through Dubai Islamic Financial center and NASDAQ Dubai are significantly promoting the Islamic capital market towards $ 10 trillion target, Chaturvedi said.
"It is a fast growing industry that is presently having most of the identical products like conventional or western banking i.e. Islamic Private Equity Funds, Islamic leasing and ETFs, Islamic Fixed Income – sukuks and Islamic derivatives or structured products," he explained.
"In addition to the insurance based Takaful products and services the Islamic Capital markets are also growing towards Islamic Forward Forex, options and profit rate SWAPs."
Though the products are meeting the modern requirement of the industry, yet the unique features of Islamic banking or Shari'ah compliance are still retained. The interest (RIBA) is prohibited in all its forms, be it cash or kind. Gifts for prospective savings on Wadiah (safekeeping), Qard / Hassan (loan) are also deemed to be promising a form of interest in kind, are not permissible in Islamic finance. A financial institution must have Shari'ah Board and Committee to be termed as Islamic Financial Institution.
Furthermore, all banking business on sale or lease must have an underlying asset that is contrast to the conventional banking where the asset element is not necessary. All transactions made by Islamic Financial Institutions must be free from elements of uncertainty (Gharar) and gambling.
"The concept of profit and loss sharing is peculiar to Islamic banking although, strictly speaking, Islamic banking is not an equity market, which is normally represented by the stock market. An Islamic bank is neither a lender nor a borrower, but can instead become a bona-fide trader licensed under banking law," added Chaturvedi.
The history of Islamic commerce begins with the revelation of Qur'an and traditions of the Prophet Mohammad (peace be upon him) that contains legal principals and injections dealing with subjects such as ritual, marriage, divorce, succession, commercial transactions and penal laws, he noted.
"In advocating the form of economic activities under Islam, trade is encouraged, usury is prohibited, and acquisition of wealth should be achieved through lawful means that promote mutual consent and Goodwill," Chaturvedi said.
"It is termed as Shari'ah compliance, to ensure that the financial activities of the institution meet the requirements of Shari'ah principals and rules prescribed in the Qur'an and the traditions of the Prophet Muhammad. Presently there are prescribed forms of standards, guidelines, and best practices by governing bodies such as AAOIFI (Accounting and Auditing organization for Islamic Financial Institutions), IFSB (Islamic Financial Services Board and followed by Internal Shari'ah control systems (ISCS)," he added.
Russia to lift tourism sanction on Turkey
Moscow, (IINA) 30 Jun 2016 – Russia plans to remove sanctions preventing tourists from traveling to Turkey, President Vladimir Putin told his Turkish counterpart in a telephone call on Wednesday, DPA reported.
"The Russian leader announced that he has ordered the government to enter into talks with the respective Turkish authorities to restore mutually advantageous bilateral relations in economic, trade and other spheres", the Kremlin said in a statement.
Russia also plans to "remove restrictions on Russian tourists visiting Turkey" with the view that the Turkish authorities will "take additional measures to ensure the safety of Russian citizens on Turkish territory", the statement said.
The leaders also agreed to meet in person, according to another statement released by Turkish President Recep Tayyip Erdogan's office. The meeting will apparently be the first since the Turkish military shot down a Russian warplane at the Syrian border in November.
Media reports speculated that the leaders could meet during the G20 summit in China in September, but Putin's spokesman Dmitry Peskov told the Interfax news agency that the meeting's time and place have yet to be arranged.
Turkey to inaugurate fourth-longest suspension bridge
Ankara, (IINA) 30 Jun 2016 – A landmark road bridge in Turkey, over the Marmara Sea, will open to traffic on Thursday, It will be the fourth-longest suspension bridge in the world, Anadolu Agency reported.
Osmangazi Bridge will be 2,682-meter long, and it was built to drastically cut travel time between Istanbul and the country's western provinces.
The $1.3 billion bridge is named after Osman Gazi, the founder and first sultan of the Ottoman Empire.
The construction of the quake-resistant bridge began in 2010. It is expected to be formally inaugurated by President Recep Tayyip Erdogan and Prime Minister Binali Yildirim.
Muslims, Catholics in Chicago build bridges in their 19th-annual Iftar
Chicago, (IINA) 30 Jun 2016 – The 19th-annual Catholic-Muslim Iftar, sponsored by the Council of Islamic Organizations of Greater Chicago, was held Monday night at the Zakat Foundation of America in Bridgeview, Daily Southtown News (Chicago Tribune) reported.
Nearly 200 people gathered to, first, hear experts talk about ways to build bridges across both religions, and then to break the day's fast at sunset in the Muslim custom of Ramadan.
In a large room inside the foundation that Helil and Donna Demir started just months before 9/11, Catholics and Muslims shared tables and stories as the evening's panel took turns addressing Islamophobia in today's volatile and violent world.
Archbishop Blase Cupich was among the keynote speakers.
Calling the event "an important opportunity to learn more and become better acquainted with our neighbors," Cupich said, "This is a model for what can be done in neighborhoods all over Chicagoland."
"After almost two decades of interfaith iftars, thankfully, we have a solid foundation here in Chicago on which to continue to build rapport, to nurture our friendship and to address topics of mutual concern," he said.
Citing Pope Francis, Cupich told the crowd, "We have to live in peace. We want to be integrated."
Jamie Merchant, spokesman for the Zakat Foundation, said, "It's really important that faith communities come together right now with a strong message of solidarity. It's important that we back each other up.
Azam Nizamuddin, adjunct professor of theology at Loyola University, challenged both Catholics and Muslims to look at the issue differently.
"A lot of people think Islamophobia is simply another phase of discrimination," he said. "But is it merely another rite of passage of immigrants from other lands who take their lumps for awhile and then find acceptance through social integration?
During her speech, she offered ways Catholics can fight Islamophobia. They include mutually studying the past and understanding the effect it still has today; by being open to newcomers; and by persevering in friendship.
The time to get to know the people at the nearby mosque is not after something happens, she said. "You have to establish friendships and relationships first, and then when things happen in the world, you can call your friends."
The Rev. Thomas Baima, vicar for inter-religious affairs with the Archdiocese of Chicago, said even though terror attacks, such as those in Paris, California and Orlando, are perpetrated by a few, too often the tendency is to blame an entire religion.
"The media understandably portrays the sensational side of things," he said. "The reason this (dinner) is so important is it shows the other side, the common side. Here are Muslims and Catholics who are neighbors getting together as friends, as they have for 18 years."
Baima said the Iftar provides a balance and projects an image of acceptance and understanding.
"We see the misuse of religion in the terrorist acts, which need to be condemned by all religious leaders. What we don't see immediately are the neighborly acts, the common life of ordinary believers who reject violence in the name of religion. Frequently the Muslim community is asked where are the other voices? Tonight you see the other voices."
After the speakers finished at precisely 8:32 p.m., which was officially sunset, the buffet line opened and Iftar, the meal served at the end of the day during Ramadan, began.
Muslims headed first to the foundation's prayer center to practice their faith and then joined their Catholic dinner mates in line.
Despite the efforts of many Muslims to show Christians in America and Europe that they strive to be law-abiding citizens, Nuha Dabbouseh said fear and hatred are still concerns.
Reimagining street food in Egypt
Cairo, 30 June 2016 (AlAhram Weekly) – The Ramadan tent has become one of the main features of the holy month of Ramadan across the Arab world, as venues are erected to provide convenient meeting places for people to gather after sunset when the daily fast is broken.
Those who do not want to enjoy the entertainments offered by the Ramadan tents might want to have sohour, the meal before the start of fasting, with families and friends from a modern street food cart. These new carts can now be found in almost every neighbourhood of Cairo this Ramadan.
Instead of stopping by a traditional fuul or sweet-potato cart this Ramadan, many people are opting instead for the new catchy carts the young people are using to sell traditional Egyptian food but made according to new recipes and presented in new ways.
Marbouha is a fuul cart owned by Mohamed Habib, a 30-year-old former accountant from Alexandria who decided to start his own business in Heliopolis.
"I'm a Faculty of Commerce graduate, and I worked in finance until I reached a managerial position in a big company in Alexandria. I had to move to Cairo in 2012 and decided to start my own business in the shape of a food cart," he explained.
Today he focusses on delivering traditional meals in a creative way. He uses healthy ingredients and adds special touches to his Ramadan sohour meals. The Marbouha team use new equipment.
Habib says that all his customers have come to him by word of mouth or through his Facebook page. One of his friends posted on Facebook about him, and when this went viral a lot of people started asking where they could try Marbouha's Ramadan sohour.
Marbouha only operates during Ramadan. Anyone who wants to try its meals should go directly after taraweeh prayers because the carts attract long lines. Few people will want to miss Marbouha's special beans with ketchup, fried cheese and potatoes. The prices are reasonable and competitive with those of popular restaurants.
Habib's project also seems to have inspired other young people. A group of four neighbours in Heliopolis decided to cook their own sohour meals during Ramadan as they gathered every night to have sohour in different places and ended up paying too much money.
Mostafa Shaheen, one of the four, explained how the project took off. "One of our friends is really talented in cooking and already has his own sandwich place, so we decided to exploit his capabilities and open a place for sohour," he said.
"First we thought it'd be a neighbourhood project, with a cool setup in the street. But then we found people who we didn't know coming to join us, so we got the idea of making it a real sohour place for everybody and called it Fatouta," he added.
What's special about Fatouta is that the owners cook what they love to eat, meaning the food is always delicious and made with passion. It's a friendly place where most of the people know each other. A group of four can have sohour for around LE70, and the restaurant also offers traditional recipes like fuul and eggs, as well as beleela, or wheat grains with milk, with marshmallows, M&Ms, or caramel or chocolate sauce.
"Everything this Ramadan is bigger than last year. The tables, the plates and the cart are all bigger in order to offer sohour to more people. Even so, we still get crowded, which is why we ask some customers to check out another cart nearby. We are all neighbours here," Shaheen explained.
Dina and Maram, both of whom are 21 years old and studying business administration, have also started their own project, The Cart, which sells sweetcorn from a newly decorated cart.
"Unexpectedly, our parents encouraged us, even our mothers, who used to cook most of the items we sold at first," Maram said. "But now we do the cooking ourselves while using our mothers' equipment and kitchens."
"It was Maram's idea, and she also came up with the cart's design. We run it from in front of our homes in Heliopolis, and there has been a lot of positive energy from everybody," Dina said.
The Cart offers sweetcorn, baked potatoes, manaa'esh and grilled marshmallows. "We decided to offer sohour in Ramadan as well and added our special dish of kebabs with beans. We also serve desserts like konafa with pineapple, Nutella, Mars or Kinder chocolate, and katayf."
Meanwhile, another area has got a little brighter with the appearance of the Joy Cupcakes bike that does the rounds selling cupcakes to passers-by. Mina and Gina Raafat, the two siblings behind Joy Cupcakes, have added desserts to the mix and have been working to change older streetcart concepts.
They have been roaming the streets of Cairo with their bright pink food bike, adorned with flowers and trailing the scent of freshly baked desserts.
"When I was working in HR in Dubai I saw a street for food carts and loved the idea. When I came back to Cairo, Gina already had a cupcakes business, so we just put two and two together. We wanted to start on a low budget, buying the bike for LE2,500 and then adding some simple decorations," Mina said.
Joy Cupcakes offers its special cupcakes at half the price of some other providers and also caters for birthdays and special events. For Ramadan it offers something new every day, like konafa with mango, or Nutella with Maltesers, or konafa with marshmallows.
Ahmed Mohsen and Noha Magdy are just like any other young couple planning to get married, but are preparing for their marriage in a different way.
"We were looking for a different source of income so we decided to create By Bike, a creative take on the traditional sweet-potato cart. It has been very satisfying — reaching out to clients, selling products and having the privilege of moving between districts as if we had multiple branches," Mohsen explained.
By Bike is a new way of selling sweet potatoes by serving them with toppings such as fruit, nuts, caramel sauce, chocolate chips or Nutella. The potatoes are sold in plastic boxes, not wrapped in old newspapers as traditionally done. Prices range between LE10 and 20 according to the topping.
"People love the concept, especially as it's not available in restaurants. We now have a team of 18 with three franchises. We offer sohour in Ramadan, serving around 1,500 people per day, and our main products for the holy month are sweet potatoes with mango konafa and potatoes with tiramisu," Mohsen added.
When thinking of street food in Cairo, images of men crowding around old carts selling fuul or sandwiches in the streets are now less likely to come to mind. Chances are that people will now think more of the new breed of colourful carts selling new takes on traditional street food.
Nigeria Needs US$3 Trillion to Fund Infrastructure
1 July 2016, Daily Trust (Abuja) – Minister of Solid Minerals Development, Dr Kayode Fayemi, has said Nigeria needs more than $3 trillion to close its current infrastructure gap and sustain an ideal infrastructure stock level of 70 per cent of Gross Domestic Product (GDP).
Dr. Fayemi, disclosed this yesterday in London, United Kingdom, at a business forum organised by the Royal African Society, where he presented a address titled: Mining for Prosperity: Fuelling Nigeria's Industrialisation in the 21st Century.
But he said that wouldn't happen overnight as it would take the country 30 years to properly build infrastructure assets across the seven critical sectors – roads, rail, ports, airports, power, water and ICT.
He maintained that iron ore and steel would account for the bulk of material inputs needed to industrialise Nigeria, just as he urged investors to take advantage of the country's huge steel market.
"We project a steady increase in domestic demand for steel in Nigeria in the coming decade, driven by increased industrialisation that will ignite a surge in building construction, power, automotive construction, agriculture, road and bridge building, military technology and infrastructure development, refinery investments and other heavy duty machinery," he said.
He added that local producers are currently meeting just about 25 per cent of demand in the sub-sector, a development which, he said, provided the required optimism for foreign investors.
Fayemi hailed the success recorded in limestone, where Nigeria moved from being a net-importer of cement to a net-exporter in less than a decade of putting in place the right policy and necessary incentives for local manufacturers.
"We are working with all stakeholders in the industry to encourage replication of the limestone success story in the beneficiation of other industrial minerals, towards powering the industrialisation of the country.
Our aspiration is to build a world class minerals and mining ecosystem designed to serve a targeted domestic and export market for minerals and ores," he added.
The minister said the country would focus on minerals, mining and related processing industry over a three -phased period to achieve that.
Oil and Shipping Africa Conference Opens in Accra
Accra, 01 July 2016, Business Day Ghana – A two-day oil and shipping Africa Conference has been held in Accra to deliberate on the Petroleum Industry in Africa and international shipping and bunkering issues.
It was organized by PETROSPORT with sponsorship from seven major oil giants including Ghana Oil Company Limited, GOIL.
The session will highlight particularly Ghana's petroleum sector in the context of the global oil and shipping industry as well as bunker fuel quality and fuel management challenges for the future in Sub-Saharan Africa.
GOIL MD, Patrick A. K. Akorli, highlighting GOIL's ambitions in the Bunkering sector to the media
The chief Executive of the National Petroleum Authority Moses Asaga who read a speech on behalf of the Minister of Petroleum, underscored the maturity and resilience of Ghana's petroleum sector after deregulation. This, he said, has ensured sanity in the sector
On storage facilities for fuel, Mr. Asaga announced that Takoradi Port was now ready to lift fuel, in addition to the Tema Port. He also noted that 50 percent of the country's domestic consumption of liquefied petroleum gas (LPG) is now being met by the Atuabo Gas facility.
CEO of the National Petroleum Authority, Moses Asaga, stressing a point at the opening of the Conference
The Managing Director of the Ghana Oil Company Limited, GOIL, Mr. Patrick A.K. Akorli, reiterated that GOIL has made huge investments in the Bunkering sector to meet anticipated demands. He mentioned the construction of the 13.5 million litre storage facility at the Takoradi Port and the completion of additional storage tanks at the Sekondi Naval Base as evidence that GOIL is poised to satisfy the demands and expectations of the sector in the sub-region.
Presentations on projected developments and an overview of the plan of activities of the Ghana National Petroleum Corporation, GNPC, were laid out by Chief Operating Officer, Michael Aryetey.
36 Iranian medical scientists in world's brilliance list
Tehran, July 2, IRNA – 36 of Iran's medical scientists have been included in the list of one percent much-cited resources in 2016.
According to the latest statistics published by the "Essential Science Indicators", the Iranian scientists rank among the most quoted medical scientists in 2016.
According to IRNA, Iran's scientific productions over a 10 year period amount to 27,529 indexed articles, placing the country 40th in world ranking as well.
According to the latest figures released by Essential Science Indicators (ESI), Essential Science Indicators (ESI) is a resource that enables researchers to conduct ongoing, quantitative analyses of research performance and track trends in science. ESI covers 10 million articles in 22 fields of research, and is updated every two months.
Iran to launch new Shiraz-Dubai air link
Shiraz, Fars prov, July 1, IRNA – Iran Aviation Organization granted Mahan Air the license for establishing new flights from Shiraz to Dubai, said director general of Fars Province Airports.
Reza Badiei-Fard told IRNA on Friday that Mahan Air has been given necessary licenses to operate three two-way flights each week between the two cities.
Latest flight from Shiraz Ayatollah Dastgheib International Airport destined for foreign countries was from the city to Georgia (Tbilisi) which has started in recent weeks.
Asked about resumption of Shiraz-Muscat flights by the Kish Air, the official said no license has so far been issued for that.
As to the announcement of the Shiraz Department of Industry, Mine and Trade for establishing a cargo air link from Shiraz to Persian Gulf littoral states as of June, Badiei-Fard said that talks to that effect may have been conducted earlier but it can be verified once the license for that is issued by Iran Aviation Organization.
Japan willing to participate in Chabahar development plans
Beijing, July 2, IRNA – Japanese government has announced it is ready to work with Iran and other countries in development plans of Chabahar port.
Japan willing to participate in Chabahar development plans
A strategic agreement on establishing an international transit corridor namely 'Chabahar Agreement' was signed on May 23 among Iran, India and Afghanistan.
Based on the agreement, an industrial complex and a port are to be built in the area and Indians have started the work.
Japanese media announced that Japan hopes to have close participation with Iran and India in building infrastructural installations of Chabahar port.
Japanese government said that Chabahar port is capable of being a trade center to enter Turkmenistan and other countries of central Asia.
Japan expressed hope for Chabahar port to be used as a logistic and support base in Iran and Afghanistan.
Int'l Quds Day marked worldwide
Tehran, July 1, IRNA – Millions of enthusiastic people round the globe attended the International Quds Day rallies to express solidarity with the Palestinian nation and condemn the Zionist occupiers.
World nations staged rallies to show their support for the Palestinian nation and call for annihilation of the Zionist occupiers.
Rallies and ceremonies were held in many countries, such as Syria, Turkey, India, Serbia, Azerbaijan Republic, Afghanistan, Malaysia, South Africa, India, the Republic of Ireland, Italy, Romania, Taiwan, Kuwait, and the Republic of Daghestan where people rushed to the streets to express their solidarity with the oppressed Palestinian nation.
People in various cities of Turkey as well as in the capital after Friday prayers took to the streets in condemnation of Zionist occupiers and chanted slogans against the Zionists and in support of the oppressed Palestinian nation.
In Damascus, Syria, Syrians, Palestinians and Iranians took part in the event to mark the international Quds Day and condemn crimes and atrocities of the Zionist occupiers.
Iran's Ambassador to New Delhi Gholam-Reza Ansari joined the masses of people on International Quds Day and said the Zionist regime is the manifestation of racism, adding that all Muslims should be united to liberate holy Quds.
The world is now witnessing tyranny of the Zionists against oppressed and defenseless Palestinians, he said.
Why do western states along with the US not exert pressure on the Zionists in the same way as they did with South African Apartheid regime to put an end to racism, he asked.
Palestinian Muslims, Jews, and Christians should be free to make decisions on their fate, Ansari said.
Islam is the religion of peace, friendship and kindness and issues such as violence and extremis have no room in Islam, he said.
Late leader of the Islamic Revolution Imam Khomeini named the last Friday of the fasting month of Ramadan as International Quds Day in 1979. Since then, Muslims and all freedom seekers of the world pour into the streets in this day to show their solidarity with Palestinians and their anger at the atrocities of the Zionist regime.
Africa Fashion Week Nigeria Takes Off
Lagos, 30 June 2015 (Vanguard) – As the much anticipated Africa Fashion Week Nigeria (AFWN) 2016, begins tomorrow, July 1, the organisers have revealed that about 60 designers from across Africa, will be showcasing their latest designs at this year's event, set to be one of the biggest fashion shows in Africa.
With the theme "Connecting Africa" this year's event which holds from July 1-3, takes off tomorrow with the Textile and Garment Manufacturing Conference, to hold at the Eko Hotels and Suites Victoria Island.
The conference which is first of its kind is expected to bring industry experts together under one roof, to deliberate on ways of maximizing the potentials within the fashion industry so as to enhance the economic fortunes of the nation. The 2nd and 3rd will feature catwalk shows from emerging and established designers, with an influx of designers, buyers and exhibitors on display.
The AFWN launched in 2014, a sister event to the Africa Fashion Week London (AFWL) was founded by Ronke Ademiluyi, to project Africa and her creativity to the world. The objective she says is; "to project our young undiscovered talents in Africa to the world. The show was created in Nigeria to provide a platform for designers who can't afford to travel to London to showcase their designs; our aim at AFWN is to see them through."
Also speaking at the event Mr. Lucky Idike of the Bank of Industry, sponsors of this year's show, said the Bank of Industry is collaborating with Africa Fashion Week Nigeria because, Africa Fashion Week is an industry platform, designed to grow the textile and fashion industry in Nigeria.
LEAD STORY: South African journalist Aaisha Patel's Ramadan Diaries
Aaisha Dadi Patel of The Daily Vox chronicles her experiences as a Muslim woman during the month of Ramadan in this series of articles. Unique journalism by this South African newspaper as one of its star Muslim reporters chronicles her daily experiences, from Taraweeh at Bosmont Masjid with Mufti Menk to "Muslim Women, Samoosas, and 'Breaking Stereotypes', On Solitude, Consumption, Time and Procrastination, the Ramadaan Scarf, Bigotry, Visiting Islam's Holy Places, and much more.
Read the whole series here: http://allafrica.com/view/group/main/main/id/00044324.html
Invest In Afghanistan, The Gateway To Silk Roads
Kabul (BNA), June 29, 2016 – At the recent Shanghai Cooperation Organization (SCO) Summit in Tashkent, Uzbekistan, Afghan President Ashraf Ghani discussed the threats posed by "destructive change" and the countless opportunities offered by "creative change" in the Eurasian landscape and its emerging continental economy.
He told his counterparts that "our greatest common project is the revival of the Silk Roads," whose main gateway is Afghanistan, connecting Central and South Asia and the Middle East. Ghani welcomed the "One Belt, One Road" as one of many overdue initiatives to bring together the vastly resourceful and yet unconnected regions of Asia and Europe for trade, investment, and inter-civilizational cooperation. For Afghanistan to do its part, Afghan Finance Minister Eklil Hakimi is currently on an official visit to China, where he met Sunday with the Asian Investment Infrastructure Bank (AIIB) President Jin Liqun to discuss Afghanistan's application to join AIIB as a full member.
Full AIIB membership would enable Afghanistan to integrate with key regional highway and railway systems, including the five-nation railway project (China–Kyrgyzstan–Tajikistan–Afghanistan–Iran). Once completed, this project would bolster the transportation capacity of the involved countries, directly contributing to their national economies through increased regional and global trade and investment. At the same time, it would dramatically reduce the distance for commercial transport between the East (from China to Iran) and the West (toward Western Europe), while helping connect member-countries to the free waters of the Persian Gulf via Iran.
Parallel to its connectivity efforts, Afghanistan is reaching out to domestic and international businesses for investment. Afghan Chief Executive Abdullah Abdullah recently launched the "Invest in Afghanistan National Program," which, CEO of Afghanistan Investment Support Agency (AISA) Qurban Haqjo says, is aimed at attracting domestic and foreign investment in Afghanistan's numerous "virgin markets." Revenues from these investments should jumpstart Afghanistan's economy and help the country achieve self-reliance on the long run. Moreover, in line with the country's economic-centered foreign policy, the "Invest in Afghanistan" initiative prioritizes investment from neighboring countries, Muslim and Asian countries, Europe, and North America. In doing so, it hopes to attract FDI, which would help ensure capital inflow and transfer of knowledge and technology.
Since 2002, the private sector in Afghanistan has flourished: More than $10.4 billion has been registered with AISA as initial capital for investments. But the actual investments could reach $25 to 30 billion in the following key sectors: agriculture, mining, manufacturing, services, construction, and energy. To build on these gains, the Afghan government continues to develop a conducive business environment, enabling investors to take advantage of untapped opportunities in the above sectors, in all of which AISA promotes and facilitates bankable investment projects. At the recent event inaugurating "Invest in Afghanistan," AISA drew the attention of domestic and foreign business representatives to the following potential investment opportunities in Afghanistan:
85–90 percent of the Afghan population lives in rural areas. They are engaged in the agriculture sector, which plays a vital role in the livelihood of 76 percent of the total population. More than $300 million annually flows out of Afghanistan in pursuit of medical treatment abroad. At the same time, more than $800 million worth of pharmaceuticals is annually imported to Afghanistan. Afghanistan currently produces 600 million watts of hydropower electricity. But there is a huge potential to produce up to 23,000 MW of hydropower electricity. In the past decade, Afghanistan has experienced unprecedented growth in its construction industry. The construction sector has contributed 7–10 percent to GDP in recent years. According to the U.S. Geographical Survey, Afghanistan possesses minerals worth $1 trillion, whose value the Afghan government estimates at $3 trillion. Public procurement forms 19 percent of GDP and 50 percent of the national budget. More than 90 percent of consumer goods in Afghanistan are imported from regional countries and beyond.
Afghanistan is a trade hub that links the Indian subcontinent with Central Asia, the Middle East, and China, regions that include some of the fastest growing economies in the world. Its location also makes Afghanistan a natural locus for an emerging regional network of trade routes and pipelines. The ease of competition and the ample potential for growth in Afghanistan are relatively new developments. For the first time in decades, Afghanistan enjoys the most investment-friendly environment in the region. The people of Afghanistan see these new opportunities as a way to rebuild their homeland. They are proud of their historical tradition of commerce and cultural exchange, dating back 2,000 years, to the era of the Silk Road. With each economic opportunity that is fulfilled, the people of Afghanistan move one step closer to reconnecting with their heritage and securing a future for their country. Regional and global investors are welcome to play a major role in helping the Afghan people fulfill their national destiny, which is intertwined with that of Asia, Europe, and the rest of the world.
Badakhshan Pistachio Lands To Be Reforested
Kabul (BNA) July 2, 2016 – Afghanistan, with Badakhshan province in the north, has reportedly been nearly losing its wide areas of natural pistachios.
But the ministry of agriculture, with the provincial department of agriculture, irrigation and livestock, in cooperation with the local organs was planned to reforest the most prolific and beneficent bushes in five districts of the province. Mohammad Alem Alemi, Badakhshan provincial director of agriculture, irrigation and livestock told that more than 30,000 hectares of pistachio lands had covered hillsides and mountain slopes of the province, but during the last long years of wars, most part of the areas are ruined, with his department has reforested some 100 hectares in five districts of the province, as he said forests were the national wealth of the country and they have to rehabilitate them in any mean they could. Under the plan, some 150 hectares of lands has been covered by the 41 pistachio saplings in different districts of the province, and beside this 20,000 plastic bags of pistachio seeds have been planted by the people and the local development councils of the villages.
Alemi asked the people and the nearby residents to protect the pistachio's newly planted forests, as he believed the government couldn't do this, particularly those in the remote areas. Alongside the pistachio plantation in the province, Alemi said if the ministry of agriculture could secure enough budgets via the ministry of finance to Badakhshan provincial directorate of agriculture, plan for rehabilitation of other fruitful and nonproductive forests would be taken on hand. Plantation of trees across hillsides in some districts of the province has been kicked off covering some 78 hectares of lands, a plan launched in cooperation with the provincial WFP office. He complained about the unfair loggings of the people in the province, where he said the people cooperation to prevent illegal deforestation was very little, a challenge critically concerned the provincial agriculture, irrigation and livestock department. An Afghan citizen, Mohammad Jan believed rehabilitation of forests, which is a natural beauty of the country was a need by the organs concerned, particularly reforestation of pistachio in the northern province of Badakhshan. The plan to reforest pistachio would help the country's nature regain its beauty, on one hand, and on the other, would help prevent erosion of lands, landslides, particularly in the arable areas.
Afghanistan seeks Enhanced Ties with Central Asian Countries
Kabul (BNA) July 2, 2016 – The Afghan lower house called useful Afghanistan relations with the Central Asian countries and emphasized that these countries should cooperate in war on terror with Afghanistan.
Law maker Mirdad Nejrabi who is member of the house domestic security commission said regional security is important for central Asian countries specially Tajikistan and Russia therefore they should strongly contribute in war on terror. He added, until the regional countries don't honestly cooperate in war on terror, peace would not be restored in Afghanistan. Law maker Iqbal Safai chairman of the house national defense commission said Afghanistan is a victim of terrorism and has sustained heavy casualties. Terrorism and extremism as well as drugs are not only direct threats to Afghanistan but to whole region. Therefore all the regional nations should united fight it. Prior to this the Russian authorities had also talked on Moscow preparedness of cooperation in war on terror with Afghanistan, during their visit with the Afghan NSA.
Experts have been optimist on the role of regional countries for restoration of peace and war on terror in Afghanistan believes that the central Asian countries are concerned on influence of hardliners into their territories. So if they contribute sincerely soon we would be witnessing reliable stability in our region. Ekram Andeshmand regional political commentator said this possibility that Afghanistan ongoing insurgences would destabilize central Asian countries, has made them concerned. Insecurities in the northern Afghanistan have caused them to improve their relations with Afghanistan. Hamiddulah Farooqi an expert and Kabul university lecturer said Afghanistan is in dire need of close relations with central Asian countries and their coordination and understanding. The Afghan government has always said that not only to Afghanistan but terrorism is a serious threat to the region and the world and it requires joint efforts. The regional countries can play constructive role in the direction of peace and stability in Afghanistan and they should take practical steps for elimination of terrorism. A number of countrymen appreciating sincere efforts of ANSF for restoration of peace in northern Afghanistan, emphasize that the government should prevent influence of insurgents into the northern areas and should take serious steps in this direction. Emran one of the countrymen said Afghanistan has been the first victim of terrorism and is in dire need of regional countries cooperation. Waleed another countrymen said Afghanistan should seek expansion of economic-political cooperation with central Asian countries, because the latters are also concurred on Daesh influence.
IsDB hands over 34 Schools-Cum-Cyclone Shelters in Bangladesh
Jeddah, Kingdom of Saudi Arabia, 19 June, 2016 – IsDB representative Dr. Mohammad Hassan Salem handed over 34 Schools-cum-Cyclone Shelters as part of the third phase of the Fael Khair Program in Bangladesh. The program is funded by a grant from the Late King Abdullah Bin Abdul Aziz.
A total of 95 out of 174 planned School-cum-Cyclone Shelters have been handed over so far. Each building will serve as a modern educational institution for 240 students and will also provide shelter to 2,000 people and 500 cattle during the country's frequent cyclones.
The late King Abdullah's grant of USD 130 million for relief and assistance to the victims of cyclone Sidr is utilized as follows:
• USD 110 million to construct 174 School-cum-Cyclone Shelters in the coastal belt of Bangladesh
• USD 20 million Waqf as partial support to maintain the buildings and to provide urgent relief and rehabilitation through agricultural and other inputs to the affected population
The buildings are designed to withstand top wind speeds of up to 260 km per hour. The 'green' facilities are equipped with solar power and durable school furniture. They also have and potable water systems, including rain water harvesting, to supply safe drinking water, a crucial commodity in this saline belt, especially during calamities.
The handover was part of a series of special ceremonies that took place in several locations in Southern Bangladesh. The ceremonies were attended by high ranking local government officials, including representatives of primary and secondary education, the local government engineering department, school administrators and community leaders.
Qatar- Grand Eid celebrations begin at Safari Retail
(MENAFN – The Peninsula) Doha, 30/06/2016 : Eid celebrations have began with pomp and show in the most sort after retail chain in Qatar, Safari Retail. Safari has ensured that best offers are delivered to its customers.
One of the major highlights this festive season is sale of the 32 inch LED TV with 1 year warranty for just QR 299, an offer never seen in Doha.
More than 1000 varieties of products have been brought for the special season which include household, grocery, home appliances, IT, frozen, stationary etc at amazingly low prices to satisfy all the needs of customers. Even the food has been taken care to suit festive mood by the Safari Bakery team with special Eid cakes, Iftar varieties and various foods to scintillate the taste buds.
UAE's private wealth to hit $1 trillion by 2020
Dubai, MENAFN – Khaleej Times – 30/06/2016 – Private wealth in the UAE is projected to post a compound annual growth rate (CAGR) of 14.1 per cent to reach almost 1 trillion by 2020, according to a new report by the Boston Consulting Group, or BCG.
The report also predicted that private wealth held by ultra-high-net-worth households in the country is expected to increase by a 20 per cent over the next five year. Last year, private wealth in the UAE witnessed robust growth of 10.2 per cent.
In the UAE, the growth of private wealth was driven primarily by cash and deposits. In fact, between 2014 and 2015, the amount of wealth held in cash and deposits increased by 16.7 per cent across the nation, compared with 0.7 per cent for bonds, and 3.8 per cent for equities.
According to BCGs study, the UAE is set to show solid growth in the next five years, with the wealth breakdown anticipated to be 19.2 per cent in equities, 12.1 per cent in cash and deposits, and 4.8 per cent in bonds.
Segmentation approaches based mainly on wealth level continue to be used by the majority of wealth managers, neglect what clients are truly willing to pay for, said Markus Massi, Partner & Managing Director of BCG Middle Easts Financial Services practice.
Such approaches no longer allow wealth managers to capitalise on the full potential of the market, Massi said.
Over the next five years, wealth in the Middle East and Africa region is set to reach 11.8 trillion and the UAE, Saudi Arabia, and Kuwaits contribution will account for 22.7 per cent of that sum. In terms of wealth distribution, private wealth held by ultra-high-net-worth (UHNW) households (those with above 100 million) in the UAE grew slightly by 6.3 per cent in 2015.
In the UAE, private wealth held by the upper high-net-worth (HNW) segment (those with between 20 million and 100 million grew at a rate of 11.8 per cent in 2015. It is projected to grow by 18.2 per cent over the next five years.
The total number of millionaire households (those with more than 1 million in net investable assets) in the UAE went up by 8.5 per cent in 2015. Looking ahead, it is set to grow by another 7.9 per cent by 2020.
The findings of BCGs report also revealed that, in 2015, for Middle East and Africa wealth booked offshore, Switzerland (30 per cent) was the destination of choice, followed by the UK (23 per cent) and Dubai (18 per cent).
Across the world
Global private financial wealth grew by 5.2 per cent in 2015 to a total of 168 trillion, according to the report. The rise was less than a year earlier, when global wealth rose by more than seven per cent. All regions except Japan experienced slower growth than in 2014. Unlike in recent years, the bulk of global wealth growth in 2015 was driven by the creation of new wealth rather than by the performance of existing assets, as many equity and bond markets stayed flat or even fell.
Assuming that equity markets regain momentum, private wealth globally is expected to rise at a compound annual growth rate of 6 per cent over the next five years to reach 224 trillion in 2020. The number of global millionaire households grew by 6 per cent in 2015, with several countries, particularly China and India, seeing large increases.
GCC companies urged to prepare for VAT compliance
Dubai, MENAFN – Khaleej Times – 30/06/2016 – With the approval for the introduction of value-added tax (VAT) by the GCC ministers recently, Gulf businesses are on a tight timeline to prepare for the first phase of its implementation by January 1, 2018, analysts said.
As there is less than 18 months to go, businesses need to start preparing in advance to be able to comply with the new tax obligations, experts said. "Businesses should start adopting VAT and excise tax-compliant strategies now to ensure a smooth transition at a later stage," they said.
Following an extraordinary meeting of finance ministers in Jeddah on June 16, the GCC chairman, Bahrain"s Finance Minister Shaikh Ahmad bin Mohammed Al Khalifa announced that the VAT Framework Agreement is expected to be finalised at the next meeting of the GCC Financial and Economic Cooperation Committee in October 2016, analysts at EY said.
Most GCC countries have already made substantial progress on preparing their tax administration systems for VAT and from July 2016 onwards, the focus will shift to preparing the business community for VAT.
The UAE will start implementing the VAT rate of five per cent from January 1, 2018. On June 15, 2016, the Undersecretary of the UAE Ministry of Finance, Younis Al Khoury, announced that companies in the UAE that report annual revenues over Dh3.75 million will be obliged to be registered under the GCC VAT system.
The requirement to be registered will arise in early 2018 during the first phase of the GCC VAT implementation. Once registered, companies will be required to account for VAT on an ongoing basis to the MoF.
Al Khoury confirmed that companies whose revenues fall between Dh1.87 million and Dh3.75 million will have the option to register for VAT during the first phase of the VAT implementation.
The minister said it would eventually become obligatory for all companies to be registered under the system when it is rolled out in the second phase, regardless of the reported revenues. The roll-out date of the second phase of the implementation is still to be decided.
Tax experts said the excise tax and VAT treaties constitute the common framework for the introduction of these taxes in the GCC which is expected to occur by January 1, 2017, and January 1, 2018 respectively. The treaties will form the basis for the issuance of national VAT and excise tax legislation by each GCC member state.
Jeanine Daou, PWC"s Middle East Indirect Taxes Partner, said the introduction of VAT and excise tax constitute an important policy reform aiming to help GCC gvernments achieve medium- to long-term social and economic policy goals, and reduce reliance on hydrocarbon revenues.
"Companies should take action now, if they have not already, to prepare for the implementation of the new tax systems and be ready by go-live date."
The PwC analyst said upon the ratification of the treaties, each member state would need to issue its own national VAT and excise tax legislation based on agreed common principles.
"In any case, businesses need to start preparing in advance to be able to comply with the new tax obligations, including charging, collecting and paying VAT and excise tax to the tax authority in a timely manner," said Daou.
"It is the right time to start creating awareness and increase knowledge throughout the organisation, as well as start assessing the potential impacts of the new taxes on the business, including impact on margins and cash flow. It is also essential to ensure the right systems and processes are in place to apply the tax correctly and generate the required reporting and documentation," said Daou.
The system will be based on a destination principle, according to which VAT is charged at import and on local supplies of goods and services. "VAT is a tax on consumption. It is a transaction-based tax levied at each stage in the chain of production and distribution. VAT is charged on supplies and is deducted on purchases, except when exemptions apply," experts explained.
VAT is a broad-based tax and is charged on most supplies of goods and services. Traditionally, few sectors or supplies would be exempt, zero-rated or subject to special schemes, including education, basic food, medical services, financial services, real estate sector.
Issac John Associate Business Editor of Khaleej Times, is a well-connected Indian journalist and an economic and financial commentator. He has been in the UAE"s mainstream journalism for 35 years, including 23 years with Khaleej Times. A post-graduate in English and graduate in economics, he has won over two dozen awards. Acclaimed for his authentic and insightful analysis of global and regional businesses and economic trends, he is respected for his astute understanding of the local business scene.
Qatar's investment in UK touches US$41.15bn
Doha, MENAFN – 30/06/2016 – Qatar's investment in the UK reached almost USD 41.15bn, which is predicted to increase more in the coming years as it will face the economic challenges.
However, the fall in global energy prices will have an impact on Qatar's economy; whereas Qatar is well placed to respond.
It was emphasized that both countries gained from a healthy trading relationship, while UK were playing a part in Qatar's 2022 FIFA World Cup and National Vision 2030.
Qatar's investment in the UK had produced a number of projects which range from contributing to a liquefied natural gas terminal in Wales to real estate and retail initiatives.
Tunisia: Imperial Hotel in Sousse to reopen in 2017
by AfricanManager – Jun 27, 2016 – Closed since June 26, 2015, the Imperial Marhaba Hotel in Sousse will reopen by March 2017. This was announced by owner of the unit, Zohra Driss.
Zohra Driss, whom we met on the sidelines of the commemoration of the first anniversary of Sousse terrorist attack that claimed the lives of 38 foreigners mostly Britons, placed emphasis on the negative consequences of this heinous crime. "This terrorist attack has cost us billions and billions, but we must work and boost our business," the official told African Manager.
She added: "efforts are continuing to meet this challenge and I take this opportunity to announce the change of the hotel's name." According to Ms. Driss, it will be called "Kantaoui Bay"
The number of tourists has declined by 24.2% this year. Similarly, the UK market has seen a sharp drop of 94.3%.
Several officials took part in the commemoration of the first anniversary of the attack, including Salma Elloumi, Minister of Tourism, a representative of the British government and many families of victims.
Tunisair resumes service to Moscow
by AfricanManager – Jun 27, 2016 – Tunisair announced in a statement Saturday the resumption of its activity on the Russian capital Moscow with 2 flights per week, specifically on Saturdays and Wednesdays.
The company Saturday launched its first flight the TU 268/269 operated by A320, Enfidha / MOSCOW / Enfidha according to the following schedule:
– TU 268: Departure from Enfidha to Moscow at 10:00 p.m. (local time)
– TU 269: Departure from Moscow to Enfidha Sunday, June 26, 2016 at 7:10 (local time).
This first flight has a load factor of 161 passengers per direction (away and return) for an aircraft capacity of 162 seats.
Tunisia: UK to ease travel warning after Ramadan
by AfricanManager – Jul 1, 2016 – The UK Foreign Office is considering easing the travel warning to Tunisia, reports the London daily "The Guardian", adding that the move would delight a tourist sector almost wiped out by last year's terror attack which claimed the lives of 30 British holidaymakers.
The lifting of the advice, which was imposed after the killing last June of 38 tourists on a beach near Sousse and warns against all but essential travel to every part of Tunisia, is unlikely to be proposed until after the end of Ramadan.
It would have to be agreed across the government, and would probably be lifted in phases, with certain areas still subject to the warning until the whole country is deemed to be safe.
Tunisia's tourism minister, Selma Elloumi Rekik, said she had received assurances of a shift in Britain's position after she held private meetings with Tobias Ellwood, a junior minister at the UK Foreign Office, last week.
Ellwood travelled to Tunisia to take part in the anniversary memorial for the tourists who were gunned down at Port el Kantaoui, near Sousse.
The Tunisian ambassador to the UK, Nabil Ammar, who comes from Sousse, has made a public plea for a change in the British stance, saying that a gap now existed between the "perception of the level of security and the real security in the country".
"Every week terrorist cells are dismantled. Terrorists are arrested or neutralized. This should give a positive image, not a negative one, he said.
Ramadan brings business buzz to Jerusalem's Old City
01.07.2016, JERUSALEM (Anadolu News Agency) – The falafel shop at the center of the Old City of Jerusalem's busiest junction is considered by many to be the best in the city.
But during Ramadan, the famed Al-Hedmi shop stops selling sandwiches and instead makes the pancake casings for the cheese- or nut-stuffed Qatayif dessert, popular during the Muslim fasting month.
The switch from falafel — a savory patty made of fried chickpeas — to sweets is only one sign of a new business life that thrives during Ramadan; with coffee houses instead selling bottles of lemonade and fresh juice and Palestinian youths selling crepes smothered in chocolate, candy floss and popcorn to children after the fast is broken.
Naeem Hashim, 51, usually sells rings of bread known as Kaek. But in Ramadan, he spends the day at his stone oven rolling out and baking a thin sesame seed-topped biscuit called Barazek, which he only sells during the holy month.
"Ramadan is the best month of the year. There's trade and there is faith, prayer and worship," says Hashim.
He goes on to note, however, that the nine-month wave of Israeli-Palestinian violence that began last October has impacted business this year.
"(This year) isn't like other years. The years before were better," he laments. "It's because of what has happened recently; it has affected all of Jerusalem."
Others in the Old City agree, saying that, while it is still busier than usual, Ramadan used to bring masses of people thronging through the city's famed Damascus Gate in the Muslim Quarter towards the Al-Aqsa Mosque, Islam's third holiest site.
The thinner crowds this year, however, have not stopped many Palestinians from taking the opportunity afforded by Ramadan to make a temporary career change.
Ishaq Tourani, 65, usually does odd jobs in construction. But in Ramadan, he stations himself at a central market during the day and on the road to Al-Aqsa during busy nighttime prayers.
He sells Naoumeh, a sweet mixture of sugar and powdered chickpeas, which children buy in small paper bags bought for a couple Israeli shekels.
"I inherited this job from my father," says Tourani. "My family has been doing this for more than 100 years. Naoumeh is known among Palestinian residents of Jerusalem as a favored Ramadan sweet."
Ashraf Halawani works as a driver for most of the year. But in Ramadan, he, too, takes up a business with deep family roots.
"I have been working in this field since I was eight years old; I inherited the profession from my father. My father was the first person to make Carob (a kind of drink) in Jerusalem," said Halawani.
Halawani is busy on the phone while his three-man team in the Bab Hutta neighborhood work diligently in a tiny workshop, where they mix drinks — of carob, lemon, tamarind and almond — and pack them into plastic bags to be sold in busier parts of the city.
It is not only trade that transforms Jerusalem during Ramadan; instead of shops closing after sunset, the city is abuzz with people drinking coffee, smoking water pipes (argila) and eating sweets after performing nighttime prayers.
Thursday nights, before weekly Friday prayers at Al-Aqsa, are particularly busy, with various entertainments put on for children outside the Damascus Gate.
Inside the city's covered markets, which are mostly shuttered by nightfall, the Basta Theater takes advantage of Jerusalem's increased pedestrian traffic by hosting weekly shows combining children's entertainment with lighthearted political satire.
"We're reviving traditional Arabic theater in the city and giving it a contemporary style… people don't go to the theater, so we're going to the people," says theatre organizer and actor Hossam Ghosheh.
The group began performing shows last December, but later decided to organize weekly events during Ramadan — although these have not been welcomed by the Israeli settlers who have taken up residence nearby and the shows are frequently broken up by Israeli police.
"This is Jerusalem. It's a holy city, so people come to it," says Ghosheh. "This is when they come out of the Taraweeh (Ramadan evening) prayer, have tea and come to see some theatre."
The theater they perform, Ghosheh adds, "is meant to show a part of the city's culture and say: 'Whatever the (Israeli) occupation is doing, they'll never occupy our imaginations'."
Russians welcome removal of Turkey flight ban
01.07.2016, MOSCOW (Anadolu News Agency) – The removal of the ban on tourist flights to Turkey was welcomed by ordinary Russians on Friday.
Construction company researcher Lera Cobarde, 30, said lifting the ban on charter flights was "a great deal".
Businesswoman Alina Ivanova, 31, said the sanction imposed following the shooting down of a Russian warplane that violated Turkish airspace last November had led to Russians taking vacations in the country's south.
"People were not satisfied with the services and the high cost in these resorts," she said. "As a businessperson, now I can say the quality of services in Russia will better than before because of the rise in competition."
Dmitry Malikov, a 25-year-old student, said the ban had made many people angry at being forced away from Turkish vacation spots and said Russians should be able to travel freely.
The ban was lifted Thursday following a telephone conversation between President Vladimir Putin and his Turkish counterpart Recep Tayyip Erdogan.
As Turkey's General Directorate of Civil Aviation announced on Friday on its official Twitter account, charter flights from Russia to Turkey will begin on July 7.
The Turkish government is subsidizing the renewed flights to boost the struggling tourism industry.
Lok Virsa to organize summer camp for Sindhi, Pashtu languages
ISLAMABAD, June 27 (APP): National Institute of Folk and Traditional Heritage, Lok Virsa has decided to organize a month long summer camp in Sindhi and Pashtu languages from July 12 to August 11.
The objective of the camp is to create ownership among children regarding Pakistan's languages and cultural heritage, to provide them an orientation about Sindhi and Pashtoon cultures and to re-affirm our identity of being multi-cultural and pluralistic country.
The participants will also learn about poetry, music and festivals of Sindhi and Pashtoon cultures. Lok Virsa invited children to join this camp learn know how about Sindhi and Pashtu languages.
Registration is open and per child charges are Rs 3000, including refreshments.
Direct taxes registers 14.4 % growth in ten months
ISLAMABAD, Jun 2 (APP): The direct taxes has registered a growth of 14.4 percent during first ten months of current fiscal year 2015-16.
The net collection has gone up from Rs.775.9 billion to Rs.888.0 billion, an Economic Survey for current fiscal year revealed which was announced by Minister for Finance, Senator Ishaq Dar at a press conference here on Thursday.
The Survey said bulk of tax revenue under direct tax is realized from income tax, of which major contributors are withholding tax, voluntary payments and collection on demand.
ICCI for one-time amnesty on stashed money in foreign countries
ISLAMABAD, Jul 1 (APP): The Islamabad Chamber of Commerce and Industry (ICCI) has called upon the government to consider introducing one-time tax amnesty scheme for those Pakistanis who have stashed their money abroad to bring back their undeclared wealth on payment of a nominal amount of tax and become an active part of formal economy.
Sheikh Pervez Ahmed, Acting President, Islamabad Chamber of Commerce and Industry in a statement issued here said that many wealthy Pakistanis have kept their billions of dollars abroad due to various reasons and offering one-time tax amnesty scheme would incentivize them to bring their undeclared foreign wealth to their home country.
He said with such an incentive, repatriated capital in billions of dollars would enter Pakistan's financial system and boost economic activities in the country.
He said Pakistan needed huge capital to fund infrastructure and other developmental projects, but with low tax-to-GDP ratio, the country was unable to generate enough tax revenue to enhance spending on health, education, social sector and development projects.
This situation was increasing the country's reliance on foreign borrowings, which was not good for its economic future.
He was of the view that one-time amnesty would facilitate inflow of huge amount of foreign assets/capital into the country that would help in accelerating economic growth in the country.
Sheikh Pervez Ahmed said that Indonesia has also passed a tax amnesty law to give multi-billion dollars boost to its economy as it believed that the amnesty would bring in billions of dollars of additional revenue by offering low tax rates to those who wished to come forward to declare their untaxed wealth kept in foreign lands.
He said one-time amnesty scheme would also encourage more investment in the country, create many new jobs and contribute positively to poverty alleviation.
He said with the positive economic outlook of the country, many Pakistanis were ready to declare their foreign assets/cash on payment of nominal tax to become part of the national economy and
amnesty scheme would facilitate them in realizing this objective.
Second phase of Islamabad Signal-free Corridor Project in full swing
ISLAMABAD, June 1 (APP): Abolition of signals at I-8 intersection, together with widening of the road from Zero Point to Faizabad have lessened, to some extent, the traffic woes of hundreds of motorists who otherwise were weary of traffic jams at this very junction on regular basis.
Newly carpeted road with two additional lanes and a signal-free ride have not only given mental and physical satisfaction to the motorists but also reduced atleast 7 to 10 minutes drive of those travel daily between the twin cities through the highway.
Previously, long queues of vehicles were witnessed at I-8 intersection particularly during office and school hours but the situation has now changed dramatically.
Everything is in perfect shape here other than the interchange which is also underway and that too at good pace.
"Comfortable journey before and after office hours is a blessing and surely we are heading towards that," an employee of a private firm at Blue Area, Yasir Waheed said.
He said once the whole project would complete hundreds of thousands of people would be benefitted.
People are now anxiously waiting for the start of second phase of the project as it will include three intersections.
"The progress of project till now is up to the mark as the first phase has been completed well before the stipulated time," while talking to APP a spokesamn of Capital Development Authority (CDA) said.
He said work on second phase of the project is in full swing and would also be completed before due date of completion.
Meanwhile, work on beautification of the highway has also been completed as a large number of beautiful trees and flowers have been planted along both sides of the road.
Being established with a cost of Rs 21.814 billion, the Islamabad Signal-free Corridor would be executed in three phases. In the second phase existing five lanes of 8.5 km road, from Faizabad to Koral Chowk, would be rehabilitated with the addition of grade separated facility while service roads on either side would also be dualized and rehabilitated.
"After the expansion of road from Zero point to Faizabad, now there are left three more points where traffic mess is witnessed including Sohan Signal, Khanna Pul and Koral Chowk and once these three points are made signal free a lot of time and energy of motorists will not waste," a government employee, Atta ur Rehman said.
The Islamabad Highway Signal Free Corridor project consists of six interchanges, including full cloverleaf interchanges each at I-8 intersection, Khanna intersection and Koral Chowk, while partial cloverleaf interchanges at Sohan and GT road.
Talking to App, Project Director Shahid Mehmood said that the 25 percent construction work on Koral Interchange has been done as one portion of interchange has also bee constructed.
He said the work of Koral interchange would be completed within six months.
Whereas a large number of people have started reaping the fruits of the project, some have reservations on its planning as they consider that the most troublesome part of the road is put in the last phase of the project, which is beyond understanding.
Thousands of people are living in the newly established housing societies at Zone 5 alongside the highway including PWD housing society, Media town, Bahria town and others, who travel daily to the central city for one pretext or the other.
"This section does not deserve to be called a highway as its two dilapidated lanes are often choked when a truck breaks down in the middle, causing inconvenience for not only motorists but Ambulances as well which often stuck in the traffic jam," a resident of Soan Gardens located at the highway, Zulfiqar Shah said.
He requested the authorities concerned to start work on this phase in parallel with phase two in order to facilitate thousands of motorists and commuters.
It is pertinent to mention that expansion of this 12.5 km portion of the road is included in the scope of the project and it would be expanded into four lanes on each side with grade separated facility.
Gwadar airport to cost $260 million
ISLAMABAD, June 30 (APP): The Parliamentary Committee on China-Pakistan Economic Corridor (CPEC) was informed on Thursday that Gwadar International Airport was being constructed at a cost of $ 260 million dollars.
The committee met under the chairmanship of Senator Mushahid Hussain Sayed.
The amount for the airport is a full grant from the Chinese government and this would be an airport of international standards capable of handling the largest of passenger planes including the A380 Boeing Jet.
Additionally, the Chinese government has given a grant of $10 million for building the Pakistan-China Vocational and Technical Training Institute which will be helping the local population of Gwadar getting skills and employment.
The meeting began with a briefing by the chairman of the Committee on their recent visit to China. He also presented the report on China visit which took place during May 21-27, 2016.
The members appreciated the invitation from the Chinese government to the Parliamentary Committee and also expressed their praise for the positive work that the committee undertook during its visit to China.
The meeting also congratulated Senator Mir Hasil Khan Bizenjo, member of the Parliamentary Committee on his assumption of office of Minister for Ports and Shipping and expressed the hope that under his leadership, the Gwadar Port project would take off in the near future.
The Minister for Port and Shipping as well as the Chairman Gwadar Port Authority and Secretary of the Ministry of Ports and Shipping gave a comprehensive update and briefing on the development work pertaining to Gwadar port.
The chairman GPA also informed that the water problem of Gwadar was being sorted out with the construction of Sawad dam where water would be provided to Gwadar through a 83 km pipeline and the water shortage of Gwadar would be resolved in that manner.
A briefing was also given on the various financial incentives being provided to potential investors in the Special Economic Zone of Gwadar as a result of which there was growing interest among investors both in Pakistan and abroad for investment in the Special Economic Zone.
With these new incentives, the Gwadar port is also being activated and three new ships will arrive from China, bringing construction material in July 2016.
Regarding the provision of electricity for Gwadar, the committee was informed by the Ministry of Water and Power that as a result of an agreement with an Iranian company, an additional 100 MW of electricity would be available for Gwadar by the end of 2017.
Speaking on the occasion, the Chairman of the Parliamentary Committee Senator Mushahid Hussain said that during the visit to China, he underlined that the Parliamentary Committee in its working was guided by three key principles namely consensus through consultation with all political parties and provinces, transparency in projects and decision making and inclusive development, with a focus on implementation in letter and spirit of the decisions taken at All-Parties Conference held at the Prime Minister's House on May 28, 2015.
Among these decisions, building of Western route on priority basis was agreed unanimously by all leaders and political parties, plus the rapid development of Gwadar port while ensuring that the rights of the citizens of Gwadar are fully protected.
Senator Mushahid Hussain also referred to his recent participation and speech on CPEC at the Silk Road Forum organized in Warsaw, Poland to promote connectivity between Europe and Asia.
He said that there was clear consensus that CPEC was the centrepiece, the flagship, pilot project of the 'One Belt, One Road' initiative of Chinese President Xi Jinping, hence failure is not an option and 'the people of Pakistan are unwavering in their determination to construct the CPEC as it is in the interest of Pakistan and its people'.
He said that in line with the work plan of the committee, now the Parliamentary Committee would interact with the Government of Punjab during July 21-23, 2016, which will include a briefing by the Chief Minister Punjab as well as visits to the Sahiwal Power project and Bahawalpur solar project.
The committee would have interaction with all the provinces which had been done in the case of Sindh, KPK and Balochistan.
The chairman NHA briefed the committee in detail regarding the progress being made on the Western route which he said would be completed by August 2018.
Work on it was already underway at different segments and this would initially be a modern 4-lane highway which would eventually be upgraded into a 6-lane motorway, for which planning was underway.
Allocations have already been made and construction is underway on the fast track for the construction of the Western route which, the Chairman, NHA underlined would be completed a year earlier than the Eastern route since priority was being accorded to the Western route in accordance with the decision of All Parties Conference of May 28, 2015 as well as the directive of the Prime Minister issued in January 2016 on constructing the Western route on priority.
The Committee directed the Ministry of Planning and Development to prepare a projection of requirement for electricity for Gwadar and Balochistan as a whole.
After hearing detailed arguments, the committee unanimously directed that given the track record of FWO in construction of roads in difficult terrain of Balochistan as well as in view of security situation in certain parts of Balochistan where the FWO has already delivered, the 110 km of the Khuzdar-Bassima highway be completed also by the FWO so that the project gets underway.
Those who attended the meeting included Senator Lt. Gen. ® Salahuddin Tirmizi, Senator Baz Mohammad Khan, Senator Mir Hasil Khan Bizenjo, Ghous Bux Mahar, Rana Mohammad Afzal, Mir Ijaz Jhakrani and secretary of the committee Khalid Mehmood.
ADB agrees to extend $500 million loan to Indonesia
Jakarta (ANTARA News) 30 June 2016 – The Asian Development Bank (ADB) has agreed to extend US$500 million in loans to Indonesia to boost public-private cooperation in financing infrastructure projects.
The bank agreed to extend the loan after the Indonesian government implemented a series of economic policy packages to reduce investment constraints, ADB Director for Indonesia Steven Tabor said in a written statement released on Wednesday.
"The 12 economic reform packages issued since September 2015 underscore the government's desire to dramatically improve the investment climate," he said.
The loan, which is ADB's second under the Stepping up Investments for Growth Acceleration Program, will be complemented by co-financing of $224.6 million equivalent from Germany's KfW Bankengruppe. KfW provided parallel financing of $245 million for the first stage of the program.
Cumbersome regulations and high costs of setting up and doing business have hindered new investment, with Indonesia ranking 109th out of 189 countries in a 2016 World Bank report on ease of doing business, well below regional neighbors, he said.
Meanwhile, Rabin Hattari, Public Management Economist at ADB's Southeast Asia Department, said Indonesia needs to create new engines of growth to return to a path of higher and more inclusive growth.
"Private investment will be critical to fostering a more diverse and resilient economy," he said.
The first phase of the government's reform program saw the setting of higher foreign equity ceilings in land transport, shipping and management of ports, the establishment of a dedicated office to formulate land acquisition policy, and the development of a framework for e-procurement.
The second phase of reforms has taken further steps to ease restrictions on investment, streamline processes for starting and operating a business, and widen the remit for PPPs.
The third phase of the program to be carried out from July 2016 to June 2018 will see further measures to expand evidence-based reforms, improve ease-of-doing business, strengthen PPPs, and enhance the governments e-procurement system.(*)
World Bank, WEF review global transactions of SMEs
30 June 2016 – Jakarta (ANTARA News) – The World Bank Institute and the World Economic Forum (WEF) held a study to review the transactions made by micro, small, and medium enterprises (SMEs) globally over the years.
"Despite the presence of several institutions and driving forces to achieve access and financial inclusion, the most important aspect is the potential impact of extending the use of digital financial services through more acceptable electronic payments," Gloria Grandolini, senior director of finance and markets at the World Bank Group, stated in a release on Thursday.
According to the study, the estimated value of transactions globally made by SME retailers annually reached some US$19 billion through cash and checks, as well as $15 billion per year through electronic payments.
The study also proposed a five-point strategy for companies and governments in a bid to switch from the US$19 trillion payments in the form of cash and checks to electronic payments.
Electronic payments are largely viewed to be more secure and reduce the risk of corruption. Moreover, Such mode of payment is able to boost economic activities.
"Switching from cash to electronic payments has a substantial socio-economic benefit," remarked WEF Head of Banking and Capital Markets Matthew Blake.
Besides this, electronic payments can create business opportunities and help forge better public-private partnerships to serve SMEs.
Earlier, Indonesian former vice president Boediono said that SMEs are the best instruments for achieving justice and economic equality if they are fully supported by various parties, including ministries and financial institutions.
"The best instruments to achieve economic equality are actually SMEs. There are indirect ways, such as taxes and fees. This is possible if we push progress directly to achieve equalization without having to make indirect efforts," Boediono affirmed in Jakarta, Wednesday (June 29).
For the success of SMEs, coherent thinking is required and should become a common task that must be shouldered by all parties and not just the Ministry of Cooperatives and SMEs, Boediono emphasized.
Boediono explained that there were five strategies for goals defined in the ASEAN Action Plan for SME Development.
The first strategy aims to promote productivity and innovation through the use of technology.
The second strategy focuses on financing access, which is still viewed as offering an opportunity and room for all parties, especially banks to support SME lending.
The third strategy prioritizes market access, where SMEs must not only operate in local markets but also at the international level, Boediono elaborated.
The fourth strategy outlines the creation of a conducive business climate. The fifth strategy stresses on honing entrepreneurial abilities.
All tax payers warned to take opportunity of tax amnesty
1 July 2016, Jakarta (ANTARA News) – Taxation Director General Ken Dwijugiasteadi called on all tax payers to be involved voluntarily in the tax amnesty program.
"The program is self assessment in nature . We are only offering the tax payers to take the opportunity," Kens aid here on Thursday night.
The government has passed into law tax amnesty bill hoping to prompt repatriation of big funds parked abroad by rich Indonesians.
The government hopes to gain from the policy with revenue in redemption and the capital repatriation would help improve the countrys liquidity and solve problem in state budget deficit this year.
The tax amnesty policy is effective for only nine months until March 2017.
Ken said his office has records of all assets of Indonesian abroad and the tax payers have not fully paid their tax obligation on the asset.
He said his office could only offer the tax payers to take opportunity of the tax amnesty policy voluntarily as the program is not part of law enforcement.
However, after the nine months period, there would be law enforcement against those committing tax evasion, he said.
"After that no more appeal but law enforcement would be taken based on data we already have. We would like to tell them they should take the opportunity," he warned.
He said if later (after the nine month period) there were assets not properly reported, the assets would be seen as additional income and income tax would be imposed with penalty of 200 percent.
Therefore, he suggested that the tax payers recalculate the value of their assets taking the opportunity of tax amnesty until March 31, 2017.
He said "we are all responsible for making the tax amnesty policy a success as the program would greatly benefit the country in economy.
"If the program is successful, it is our success and if it failed it is also our failure," he said.
He said the policy could contribute up to Rp165 trillion to the countrys tax revenues as a result of capital repatriation of around Rp2,000 trillion and declaration of assets of Rp4,000 trillion by the tax payers abroad.
The policy has triggered controversy with some calling it against the state constitution , but most observer and experts were in favior of the policy.
Only one of the 10 factions in the House of Representatives rejecting the policy, which was endorsed by the House in a plenary session earlier this week.(*)
Indonesian tax amnesty to allow access to funds stashed abroad
1 July 2016, Jakarta (ANTARA News) – A tax amnesty policy could help withdraw funds from deposits made abroad that can be used to improve Indonesias economic growth, a lawmaker has stated.
"We believe in the government implementing a tax amnesty program. With regards to its results, we have trust in the government," the Vice Chairman of the House of Representatives Taufik Kurniawan said here on Thursday.
The lawmaker remarked that if the government can achieve a target of Rp165 trillion in taxes from tax redemptions and asset declarations of the repatriated money, it would be able to solve the budget deficit.
He further said the government should carry out the policy optimally in an attempt to bring back more funds from overseas to Indonesia.
The House of Representatives had earlier passed into law a tax amnesty and amended the 2016 state budget bills during a plenary session on Tuesday.
As expected, all 10 factions of the House, with the exception of the PKS faction gave approval, although a number of other factions also gave an endorsement with some notes of objections.
The faction of the Islamic party said that despite its rejection of a number of chapters in the draft laws it would bow to the majoritys decision.
Even the ruling Indonesian Democratic Party of Struggle (PDIP) reserved its approval with a note for the number of chapters in the bill questioning the sources of the funds and the amount of redemption tariffs.
The amended budget has a deficit of Rp296.7 trillion, with a target for state income and grants totaling Rp1,786.2 trillion and state expenditures totaling Rp2,082.9 trillion.
The state income includes Rp165 trillion in taxes expected from the repatriation of capital as a result of the tax amnesty that will be effective until March 2017.
The government also hopes to narrow the deficit by pruning unproductive expenses by government ministries and agencies.
With the House endorsement, President Joko Widodo is expected to validate and announce the new laws immediately.
The tax amnesty bill calls for amnesty for rich Indonesian taxpayers, who have parked funds abroad and are not paying taxes to the state.
With the amnesty they are expected to reveal their assets stashed abroad and bring them home to be invested in the country.
Those in the process of legal investigations or already convicted for tax fraud are not entitled to the amnesty.
The tax amnesty will be effective from the date of the law coming into force until March 31 in 2017, with a certain redemption tariff for capital repatriation, and a declaration of assets parked abroad. (*)
Indonesian govt supplies 9,000 tons of frozen meat before Idul Fitri
1 July 2016 Jakarta (ANTARA News) – The Indonesian government, through the Agriculture Ministry, supplied nine thousand tons of frozen meat to several markets in Jakarta, Bogor, Depok, Tangerang, and Bekasi (Jabodetabek) to control the fluctuating prices of the commodity before Idul Fitri.
"Working with 12 private companies, we supplied nine thousand tons of frozen meat, equivalent to 52 thousand heads of cattle. This is the first time that frozen meat will be sold in stalls at an affordable price. Never before has it occurred in the past 70 years," Agriculture Minister Amran Sulaiman stated during a market operation at the Jatinegara market on Friday.
Amran affirmed that he will review and repeal regulations that had hindered the entry of frozen meat in traditional markets. According to target, the regulation will be amended in one to two weeks.
According to Amran, nine thousand tons of frozen meat will suffice the needs of the commodity until Idul Fitri, popularly called Lebaran in Indonesia, as the daily requirement is estimated to reach some one thousand heads of cattle.
He said the price of frozen meat ranged between Rp75 thousand and Rp80 thousand per kilogram in some 18 markets across Jabodetabek.
The frozen meat will be distributed to not only meet the needs of the people during the Lebaran festivities but also until the price of local beef, which is now reaching Rp125 thousand per kilogram, can slowly be brought down to be at par with the price of frozen beef.
Another strategy for the government to suppress the price of beef is to reduce the length of the supply chain from farmers to consumers.
"The long-term solution is through TTI (Toko Tani Indonesia or Indonesian Farmers Market). That means the production of breeders and farmers will go directly to TTI and then to the consumers," the agriculture minister added.
National Museum, BankMuscat Sign Fees Collection Agreement
Muscat, July 3 (ONA) — The National Museum and BankMuscat today signed an agreement by which BankMuscat will prepare the necessary programs and operate the auto collection system at the Museum. The Bank will also supply, install, operate and maintain the sale point devices and accessories.
The specialists in BankMuscat provided a brief training course for service management team at the National Museum and Miss Macro for utility management on how to use the sale point devices.
On his occasion, Jamal Hassan al-Mosawi, Acting Director General of the National Museum said that the agreement comes within the plan to provide visitors with unique experience and improve the services provided to visitors to ensure that they are in line with the international museum experiences.
Abu Dhabi Global Market and Etihad Airways become global strategic Partners
ABU DHABI, 27th June, 2016 (WAM)–Etihad Airways and Abu Dhabi Global Market (ADGM) have signed a landmark agreement that sees the airline become the Official Airline Partner of ADGM.
The agreement harnesses the roles of both entities as ambassadors of Abu Dhabi and key players in delivering on Abu Dhabi's vision as a world-leading business, tourism, and cultural destination.
The agreement was signed in the presence of Ahmed Al Sayegh, Chairman of ADGM, by the Chief Executive Officer of ADGM's Registration Authority, Dhaher M Bin Dhaher Almheiri, and Etihad Airways Chief Executive Officer, Peter Baumgartner.
The partnership establishes in-depth cooperation in commercial development and destination marketing that will drive business for both organisations, as well as providing ADGM members with privileged access to Etihad Airways and its partner airlines, including unique benefits across the combined network.
Peter Baumgartner, said, "It's an honour to be the official airline partner of Abu Dhabi Global Market, a key pillar of Abu Dhabi's Economic Vision 2030. We are proud to be associated with an organisation that is a major catalyst for the growth of the financial services sector and international commerce in Abu Dhabi and across the UAE.
"With our global network, ADGM's members can access the financial centres of the world directly from Abu Dhabi – enjoying world class travel experiences and our renowned hospitality. Our travel companies, Hala Travel Management (HTM) and Hala Abu Dhabi will also be key players in the partnership, providing professional travel management services to ADGM's growing business community as well as promoting the Emirate and all it has to offer. Our partnership with ADGM will help to achieve even greater success for Abu Dhabi as an international financial centre, business hub and tourism destination."
Dhaher M. Bin Dhaher Almheiri, said, "At ADGM, we strive to work closely with all stakeholders to provide our member institutions with best-in-class service. Etihad Airways, our national airline, complements these efforts with their offerings and service excellence. This strategic global partnership attests to how local entities can leverage each other's natural synergies to support Abu Dhabi's broader vision and commitment for the economy."
He added, "As an international financial centre, ADGM provides a dynamic business and entertainment destination that includes world class infrastructure, lifestyle and residential facilities in a business friendly and vibrant environment. With Etihad Airways as our strategic partner, ADGM members and businesses on Al Maryah Island can enjoy the advantages of international connectivity with direct access into Abu Dhabi and from Abu Dhabi to the region."
Infrastructure works for Expo 2020 Dubai site to begin this summer
DUBAI, 27th June, 2016 (WAM)–Minister of State for International Cooperation and Director General of Expo 2020 Dubai Bureau, Reem bint Ibrahim Al Hashimy today confirmed that infrastructure works on the Expo site are set to begin shortly.
She added that Expo 2020 aims to complete major construction on the site around a year ahead of the Expo's Opening Ceremony, on 20th October 2020.
Al Hashimy was speaking at a 'Meet the CEO' event organised by the Government of Dubai Media Office (GDMO) today. 'Meet the CEO' is a regular series of press events organized by GDMO for leaders of prominent Dubai organizations. Both local and international media attended the event.
The Director General of Expo 2020 Dubai Bureau explained that while the site will be completed a year ahead of the inauguration, many participating countries will build their own, which will be finished at least four months ahead of the opening.
Al Hashimy told the media attending the 'Meet the CEO' event that with 1,575 days until the event – which will be the most visited mega event of 2020, hosting some 25 million visitors – the Expo project is progressing on schedule.
The Expo 2020 site will be part of a new city with its own unique infrastructure, facilities and services, the Minister said. Al Hashimy expects the private sector to play a major role in the Expo 2020 project. In the last two months, Expo 2020 Dubai has signed up three Premier Partners, Emirates Airline, Etisalat and DP World in a series of deals worth hundreds of millions of US Dollars. She said that the media is also a key partner in the UAE's development and in the development of the Expo project.
Al Hashimy talked briefly about the standards being put in place for Expo 2020. She said that the project will have specific standards in areas like sustainability and environmental protection, including a public commitment to using 50% renewable energy on the Expo site over the period of operation.
She spoke about the legacy benefits that the Expo will bring to both the UAE and the region. Events and programmes – like Youth Connect which brought together almost 1,000 young people from across the UAE last October – and the plans for the Expo 2020 site are being designed with can bring sustainable benefits to the region as part of a lasting legacy.
Speaking about Expo 2020's impact on economic growth, Al Hashimy said that past Expo events have provided significant stimulus to the trade sectors of host countries, spurring growth of between 20 – 25 percent.
The Minister said that the Expo is not an exhibition but a global platform for the UAE to showcase its hopes and aspirations for the region and to the world. The UAE seeks to highlight the positive aspects of the region and challenge misconceptions, she added.
Al Hashimy said that Expo 2020 Dubai will seek to facilitate major opportunities for the young and Small and Medium Enterprises (SMEs). Earlier this month, Expo 2020 Dubai signed a Memorandum of Understanding with the Mohammed bin Rashid Establishment for Small and Medium Enterprises Development, Dubai SME, and Tejari to help broaden access for thousands of SMEs in the emirate to tender for opportunities offered by the mega event. Expo 2020 Dubai is also cooperating with the Ministry of Economy to support SMEs.
She highlighted the major role that volunteers will play in the success of Expo 2020 Dubai. Many volunteers will be drawn from across the UAE and will reflect the vast diversity of the community.
Speaking about the recently launched logo of Expo 2020 Dubai, Al Hashimy said that the theme of the event 'Connecting Minds Creating the Future' upholds the spirit and achievements of Dubai's forefathers who lived in the area thousands of years ago. The emirate's trading heritage, revealed at the architectural site of Saroug Al Hadeed, is testimony to Dubai's ancient role as a land that connected civilisations and trade routes.
She said that the Ministry of International Cooperation works with international organisations to share best practice. Al Hashimy said the UAE is keen to spread its expertise in various sectors like airports, ports renewable energy and tourism to support developing countries in their economic growth. Through events like the Expo, Dubai will continue to play its role as a meeting point for the world.
The Minister said that Expo 2020 Dubai plans to host over 180 nations, from Africa, Asia, Europe, Australasia and the Americas, as part of a global festival of innovation and imagination.
Algerian young artists accompanied by National Orchestra thrill audience
ALGIERS (Algeria Press Service) – A classical music concert was hosted Tuesday in Algiers by young Algerian artists who interpreted famous excerpts of classical universal music, accompanied by the National Symphony Orchestra.
Under the theme of "young talents", the orchestra led by maestro Amine Kouider performed during the show held in Moufdi-Zakaria Palace of Culture – excerpts from Verdi and Rossini works with the participation of Soprano Anissa Hadjrissi and tenor Amara Hadj Aissa.
Pieces of Algerian traditional music Zorna and universal music by Mozart (40th Symphony) performed by young musicians were warmly applauded by the audience.
The show organized by the Ministry of Culture on the occasion of the holy month of Ramadan- was marked by the presence of Minister of State, Minister of Foreign Affairs and International Cooperation Ramtane Lamamra, Minister of Culture Azzedine Mihoubi, Minister of Communication Hamid Grine, High Representative of the African Union Peace Fund Donald Kaberuka and AU Commissioner for Peace and Security Smail Chergui
Bank of Algeria introduces measures to boost non-oil exports
ALGIERS 29 June 2016 (Algeria Press Service) – The Bank of Algeria has recently introduced a facilitation measure for the non-hydrocarbon exporters by removing its previous agreement for the payment of the import bills of raw materials by these operators in foreign currency, an official of this institution told APS.
It is in this regard that the banks were instructed by the central Bank to authorize, from now on, the financial regulation of raw material import transaction, under the temporary admission regime for inward processing, without the previous agreement of the Bank of Algeria, when the operator pays his bill with his own currency.
The temporary admission regime for inward processing, which offers several advantages including total exemption from customs duties, means the importation of raw materials for re-export after converting them into a final product.
In this way, a company which imports raw materials to make products destined to export and which has sufficient currency holdings in its account "legal entity" can pay its bill in currency by avoiding the central Bank, said the source.
"Previously, an exporter, even if he has enough currency and that he preferred paying his raw materials' supplier with his own currency, he had to have the Bank of Algeria's prior agreement," said the source.
"From now on, he can do it directly without resorting to it, which saves time," affirmed the source.
Laylat Al-Qadr: Holy Qur'an Recitation Contest prize winners awarded
ALGIERS, 02 July 2016 (Algeria Press Service) – Speaker of the Council of the Nation (Upper House of Parliament) Abdelkader Bensalah, Speaker of the People's National Assembly (Lower House) Mohamed Larbi Ould Khelifa and Prime Minister Abdelmalek Sellal presided over the awards ceremony of the prize-winners of the international contest of Holy Qur'an recitation at Algiers Grand Mosque on Friday evening, to mark Laylat al-Qadr (27th day of the holy month of fasting Ramadan).
Prizes were presented by Bensalah, Ould Khelifa and Sellal to the three top winners of the national contest for young reciters of the Holy Qur'an under 15, namely Djemana Tenchir from the province of Setif, Bilel Mansouri from Tamanrasset and Abderrahim Belkacem from Medea.
During the awards ceremony, Bensalah, Ould Khelifa and Sellal also presented prizes to the three top winners of the International Contest of Holy Qur'an Recitation, which has brought together participants from 56 countries.
The first prize went to Omar Ahmed Agha (Syria), the second to Fatima Hocine Moussa (Niger) and the third to Omar Afouf of Paris Mosque, while the fourth went to Nadia Moussak from the province of M'sila (Algeria).
Prizes were also presented to the members of the Jury of the two contests by Bensalah, Ould Khelifa and Sellal.
The two youngest contestants Meriem and Ilyes, from Sidi bel Abbes and Batna respectively, honoured President of the Republic in recognition for his efforts to encourage Holy Qur'an recitation. The distinction was presented to Prime Minister Abdelmalek Sellal.
The ceremony was attended by members of the Government, diplomatic corps of Muslim countries accredited to Algiers.
Qatar Red Crescent Offers Iftar Meals Worth US$2 Mln
DOHA, Qatar, June 30 (NNN-QNA) – Qatar Red Crescent Society (QRCS), is pursuing its Ramadan Iftar programme in 13 countries, at a total cost of QR7,839,000 (about US$2.1 million), distributing Ramadan Iftar meals and food packages to poor families in Syria, Iraq and Sudan.
In Syria, QRCS and Social Development International (SDI), have implemented a Ramadan Iftar project in Rif Dimashq, distributing 2,000 meals per day, in four districts, QRCS said in a press release.
Other QRCS projects included running a number of catering hubs, creating jobs, and purchasing all materials from the local market.
The meal distribution also covered the northern Damascus countryside, where 1,500 meals are distributed every day in three districts, in addition to 390 meals per day in Wadi Barada.
So far, a total of 126,689 meals have been distributed in southern Damascus, western and eastern Ghouta, Idlib, and Aleppo, with 3,399 meals delivered to 6,798 beneficiaries per day.
In coordination with the Iraqi Red Crescent Society, QRCS personnel in Iraqare distributing food aid in Al-Anbar and Nineveh Governorates, Iraqi Kurdistan, to alleviate the suffering of displaced families.
More than 4,000 food packages are distributed in eight districts of Erbil Governorate.
In Sudan, QRCS has distributed food packages in Al-Jazirah State, in cooperation with the Sudanese Red Crescent Society (SRCS), government authorities, and community leaders.
Following a survey, 500 families were selected for the meals, including displaced families and nomads affected by the rainfall and floods.
A special focus was given to families with female breadwinners, elderly people, and people with special needs.
The overall cost of these distributions amounted to US$52,000. Each package contains 42 kg of food staples, like sugar, flour, tea, dates, lentils, vegetable oil and Roselle.– NNN-QNA
Saudi Arabia To Introduce Hi-Tech Bracelets In Hajj Safety Push
RIYADH, July 1 (NNN-AGENCIES) — Saudi Arabia will introduce electronic identification bracelets for all pilgrims to Mecca starting this year, Saudi media said, as part of a safety drive a year after the annual Islamic rite suffered its deadliest disaster in a generation.
As many as 2,070 people died in a crush when thousands of pilgrims converged on a walkway intersection near the Muslim holy city of Mecca last September, the highest loss of life at the annual pilgrimage since 1990.
That death toll is based on figures of fatalities provided by countries who repatriated the bodies of their citizens, but Saudi Arabia had put the official death toll at just 700.
Containing personal and medical information, the bracelets will help authorities provide care and identify people, the official Saudi Press Agency SPA said.
Water-resistant and connected to GPS, the devices will also instruct worshippers on timings of prayers and a multi-lingual help desk to guide especially non-Arabic speaking pilgrims around the various rituals of the annual Islamic event.
Saudi Arabia oversees the annual pilgrimage to Mecca by more than two million Muslims from around the world.
The haj, the world's largest annual gathering of Muslims, has witnessed numerous deadly stampedes, fires and riots in the past with authorities having only limited ability to control the masses.
Nearly a thousand new surveillance cameras were installed this month at Mecca's Grand Mosque and linked to control rooms staffed by special forces monitoring pilgrim movements for the event scheduled for August, Saudi newspapers reported.
Safety during the pilgrimage is also at the heart of a dispute with the kingdom's regional arch-rival, Iran, which lost 400 of its citizens to last year's stampede.
The two countries have failed to strike a deal for Iranian pilgrims to attend this year's haj, given their lack of diplomatic relations. Iran's leadership said in May it remained "very concerned" for the safety of Iranian pilgrims. — NNN-AGENCIES
Indonesia Wants Tourism Business Linkages With Zambia
LUSAKA, June 30 (NNN-ZNBC) — Indonesia has called for the establishment of business linkages between tourism agencies in Zambia and that South East Asian country.
The Information, Social and Cultural Affairs Officer at the Indonesian Embassy in Zimbabwe, Aswidya Indririski, says tourism agencies in the two countries currently had no direct collaboration.
Indririski, who is based in harare, was speaking at the just-concluded 2nd Zambia Travel Expo (ZATEX) in Lusaka.
She said Indonesia had participated in the Zambia Travel Expo because it had been seeking to come to Zambia for a tourism road show.
Malawi's Deputy Director of Tourism Marketing Sosten Lingwalanya was impressed with the organization of the ZATEX which he said his department planned to replicate next year in Malawi.
arion Gatchell, a director of Voyagers Zambia, which has been operating since the 1980s, said the tourism sector in Zambia had grown over the years and had potential for further growth.
The 2016 edition of ZATEX saw an increase in the number of exhibitors. — NNN-ZNBC
Female Weighlifter To Represent UAE At Rio Olympics
DUBAI, July 1 (NNN-WAM) — Emirati female weightlifter Aisha Al Balushi will be representing the UAE in Rio Olympic Games, to be held in Brazil in August, officials of the Emirates Weightlifting Federation (EWF) announced y in a press conference.
Al Balushi's nomination to Rio came after the UAE weightlifting team had earned second consecutive qualification.
Al Balushi, who will participate in the 58kg weight category, was part of the UAE's team at the Asian Championships in Uzbekistan in April, where she scored 22 points earning the spot for the Rio Olympics.
Sheikh Sultan bin Mejren, president of the Emirates Weightlifting Federation (EWF), dedicated the achievement to the leaders of the UAE. — NNN-WAM