11 Jul, 2016
A compilation of progressive, positive, inspiring and motivating events and developments in the world of Islam for the week ending 11 July 2016 (06 Shawwal 1437). Pls click on any of the headlines below to go to the story.
============
A WORD FROM MY SPONSORS: TOURISM MALAYSIA
1MALAYSIA MEGA SALE CARNIVAL  UNTIL 1 AUGUST 2016
Malaysia's mid-year nationwide shopping extravaganza kicked off with the launch of 1Malaysia Mega Sale Carnival 2016 at Avenue K shopping mall in conjunction with its Aidilfitri Celebration. Jointly organised by Tourism Malaysia and Avenue K, the launch was officiated by Director General of Tourism Malaysia, Y.Bhg. Datuk Seri Mirza Mohammad Taiyab. The carnival takes place concurrently with 1Malaysia Unified Sale organised by Ministry of Domestic Trade, Co-operatives and Consumerism, which is participated by the shopping and retail sector as well as from other sectors including banking, spa, hotel, transportation and telecommunication. There are 15,958 branches from 3,424 companies nationwide participating in this sales campaign. Taking place until 31 Aug, the 1Malaysia Mega Sale Carnival is set to entice domestic shoppers to celebrate the upcoming Hari Raya (Eid Ul Fitr) in style with numerous exciting deals, super discounts and in-store redemptions, as well as to attract foreign tourists to indulge in a marvellous shopping experience. Most of the shopping malls in Malaysia are taking part in the carnival, offering huge bargains that are hard to resist as well as line-ups of themed events and fun-filled activities relating to dining, entertainment and leisure. For more information about the Mega Sale Carnival, click here: http://www.tourism.gov.my/media/view/launch-of-1malaysia-mega-sale-carnival-2016-aidilfitri-celebration-promotion-at-avenue-k
For more information about what makes Malaysia one of the most popular destinations in the Islamic world, as well as on planning your next holiday or MICE event in Malaysia, please click: http://www.malaysia.travel.
facebook: http://www.facebook.com/friendofmalaysia
twitter: http://twitter.com/tourismmalaysia
Blog: http://blog.tourism.gov.my
A WORD FROM MY SPONSORS – THE TOURISM AUTHORITY OF THAILAND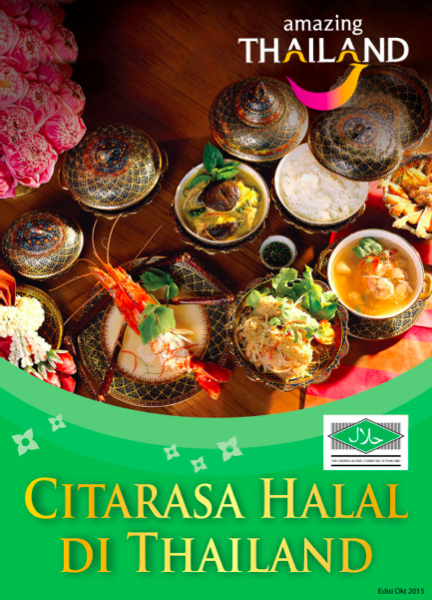 The Tourism Authority of Thailand (TAT) Jakarta office has published a Bahasa Indonesia brochure called "Citarasa Halal Di Thailand", listing many halal-certified restaurants and hotels in Bangkok, Pattaya, Hat Yai, Phuket, Chiang Mai and Krabi. The move is part of the TAT's strategy to promote Thailand as a Muslim-friendly destination, and help the growing number of visitors from Indonesia find products and services meeting their cultural and religious requirements. Indonesian arrivals to Thailand totalled 469,226 in 2015 and touched 156,853 in Jan-April 2016 (up 7.6% over Jan-April 2015). The TAT has an office in Jakarta. The era of ASEAN integration is expected to see a significant growth in Indonesian arrivals to Thailand, thanks to visa-free access, proximity and growing number of airline links. Click here to download the "Citarasa Halal Di Thailand" brochure: http://id.tourismthailand.org/fileadmin/upload_img/Multimedia/Ebrochure/644/brochure-halal-2016-1459352167.pdf. A special app has been created by the TAT to help Muslim visitors find the appropriate facilities and services. It can be downloaded by clicking here: http://www.tourismthailand.org/muslimfriendly
==========
Watch Islamic Travel Newswire Executive Editor Imtiaz Muqbil's landmark TEDx lecture on "Peace through Tourism" on YouTube — the first travel industry journalist in Bangkok invited to speak at this prestigious forum. CLICK HERE.
===========
STORIES IN THIS DISPATCH. PLS CLICK ON ANY OF THE HEADLINES BELOW TO GO DIRECTLY TO THE STORY
Malaysia to get 36 more hotels by December 2016
Kuala Lumpur, MYCEB media release — Malaysia is set to introduce 36 new hotels throughout the country by December 2016 catering to business travellers. Venues that have already opened its doors to travellers include St Regis Langkawi, which complements the world-class Langkawi International Convention Centre (LICC) that opened in 2015. St Regis Langkawi offers 6 meeting and event venues. Its largest venue space, The Astor Ballroom, spans 300 sq metres and features state-of-the-art technology.
LICC special features includes a 93-sq-metre VIP suite, VIP holding room, foyer areas and pillar-less function rooms, while its Grand Ballroom has a capacity of 1,000 persons at 1,660 sq metres that can be divided into three rooms. LICC has already hosted international business events such as the 26th ASEAN Summit and Langkawi International Maritime & Aerospace Exhibition (LIMA) ASEAN Summit.
Other hotels and venues:
(+) In May, Kuala Lumpur is set to see the opening of St Regis Hotel & Residences, offering 7
meeting rooms and 208 rooms.
(+) Double Tree Resort by Hilton Penang is also slated to open in May, with 5 meeting rooms in
addition to 317 rooms.
(+) Putrajaya will see the addition of the prestigious Le Meridien come July this year, offering 11 meeting rooms and 350 rooms.
(+) The existing Setia City Convention Centre (SCCC) is undergoing expansion slated to be completed this year, with an additional 6,000 sq metres of gross exhibition space.
(+) One of the new venues includes the highly anticipated Malaysia International Trade & Exhibition Centre (MITEC) located in KL Metropolis. This 75.5 acre KL Metropolis master plan development includes multiple hotel developments, retail, residential and office towers set for completion by mid to late 2017.
(+) Between 2017 and 2019, four new venues are also expected to be completed, adding to the 20 existing convention centres, exhibition centres and event arenas.
Nancy Ajram concert in Malaysia 30-31 July
30th July 2016 to 31st July 2016 – Putra World Trade Centre (PWTC), Kuala Lumpur. Nancy Ajram live in Kuala Lumpur is her first concert in Malaysia, with more than 17 million followers on Facebook, Twitter and Instagram.
Nancy Ajram will be performing for one and a half hours (1 ½ ) with 19 musicians. The concert is free for those who buy travel packages with us. Amwaj Travel & Tours Sdn Bhd is selling ground tour packages of Malaysia to the GCC countries. Those who buy the packages get to watch the concert for free. It is an added experience for the Middle Eastern tourists who come to visit Malaysia.
Kuala Lumpur Airport – Ready For Upgrade Into An Integrated Hub
29 June 2016, KUALA LUMPUR – KL International Airport (KLIA) celebrates its 18th anniversary this year and the airport is now ready to transform itself into becoming an integrated hub as outlined in the Malaysia Airports' five-year business plan – Runway to Success 2020 (RtS2020). Identified as one of four strategic pillars in the Malaysia Airports's recently launched five-year business plan, KUL* Hub is aimed at intensifying efforts to provide excellent connectivity and seamless transfers especially between full service and low-cost carriers.
KLIA is in an excellent position to emerge as a regional integrated hub as it possesses several key advantages, namely its competitive aeronautical charges and it's strategic location that is within two to four hours' of flight time to and from ASEAN countries with its 600 million population.
Combined, KLIA Main Terminal (KLIA Main) and klia2 cater to more than 60 airlines serving more than 130 direct destinations. With the opening of klia2, KLIA now is a three-runway airport system – making KLIA the first airport in the region to have three independent runways, thus enhancing efficiencies and facilitating future growth.
The KUL Hub strategy is also a key component in the success of Malaysia Airports' vision in becoming a Global Leader in Creating Airport Cities. The recently launched KLIA Aeropolis is centred on three key clusters, namely Air Cargo & Logistics, Aerospace & Aviation, and MICE & Leisure. Thus, KLIA will remain at the core of the country's ultimate airport city development.
KUL is the IATA code for KL International Airport
In his speech during the anniversary celebration held at KLIA today, Y.Bhg. Datuk Badlisham Ghazali, Managing Director of Malaysia Airports also mentioned that Malaysia Airports' aspirations is not only about making KLIA the region's premier integrated aviation hub; it is also meant to transform Malaysia Airports from an airport operator into a service leader through another key strategic priority under RtS2020 – Total Airport Experience (TAE). TAE is aimed at enhancing passenger journey across all the touchpoints delivering better airport-retailer and airport-airline relationship as well as transforming Malaysia Airports into a customer-centric organisation.
"Although this initiative is spearheaded by Malaysia Airports, it would require the support and concerted effort of all of us within the airport community. This is why we treasure the strong collaboration and relationship that currently exist among us today. It is my sincere hope that this relationship based on mutual respect will continue to flourish as it is the key determinant to our success in achieving our mission of creating joyful experiences and being acknowledged as one of the best airports in the world," added Badlisham.
For the first five months of 2016, KLIA registered a total of 20.8 million of passenger movements and continues to welcome new airlines. Up till June this year KLIA welcomed two new airlines to KLIA. The first was Shaheen Airlines, which introduced direct routes between Pakistan and Kuala Lumpur. The second was VietJet Air with direct routes between Kuala Lumpur and Hanoi. Only last week, one of Malaysia Airports longest serving airlines, KLM Royal Dutch Airlines had announced an increase in flight frequency to KLIA bringing it to a total of ten flights week.
As at May, KLIA showed encouraging year-on-year growth of 4.3% whereby KLIA Main had recorded 9.3 million passengers and klia2 recorded 11.6 million passengers – an increase of 13.4% over the same corresponding period. Traffic numbers for KLIA Main is picking up momentum supported by high growth from Malindo Air and other foreign airlines. International traffic for KLIA also grew by 4% supported by improved passenger traffic from North East Asia and the Middle East.
This growth was attributed to several factors such as increased number of flight frequencies, and the commencement of new routes from airlines partners.
Based on a projected growth of 7% annually, the two airports, KLIA Main and klia2 are expected to receive 69 million passengers in 2020.
In commemorating its 18 years of achievement and showing its appreciation to passengers, KLIA feted five lucky passengers in a simple yet special reception. The lucky passengers were chosen based on these criteria:
i. The 68 millionth Passenger at klia2 (Domestic)
ii. The 106 millionth Passenger at klia2 (International)
iii. The 95 millionth Passenger at KLIA (Domestic)
iv. The 248 millionth Passenger at KLIA (International)
v. The 517 millionth Passenger at KLIA (Overall)
24-hours advance Bag Drop Facility at KLIA for Malaysia Airlines passengers
Effective 13th July 2016, passengers departing from KL International Airport (KLIA) can avoid long queues during the holiday season by using the Bag Drop facilities from up to 24 hours prior to departure.
During regular hours, the Bag Drop facilities are located at:
Row B and C (Economy Class)
Row D (First and Business Class)
Between 12:00 a.m. (midnight) to 5:00 a.m., the Bag Drop facilities will be opened at Row B only.
*This service enhancement is available exclusively for Malaysia Airlines passengers only at KLIA.
Aminvest Recognised as Malaysia's Best Investment Management Company for fifth year
KUALA LUMPUR, July 4 (Bernama) — AmInvest has won its fifth consecutive award as 'Malaysia's Best Investment Management Company' at the World Finance Investment Management Awards 2016 (Awards) based in United Kingdom. This impressive winning streak makes it the only investment management company in the history of the Awards to have achieved this.1
Winners were chosen through a two-tiered exercise: firstly, a voting system and then judged by a panel of industry experts. Performance, service, leadership, consistency, targets and objectives on both the equities and fixed income fronts were among the judging criteria taken into account and in all these aspects, AmInvest stood out and was acknowledged for its achievements.
World Finance, based in the United Kingdom is a bi-monthly print and online magazine that provides comprehensive coverage and analysis of the financial industry, international business and the global economy.
"It is a tremendous honour to receive this award for the fifth consecutive year, a true testament to our in-house investment expertise and capabilities built over more than 35 years of growing our investors' investments in all market conditions. Our ability to understand and anticipate the ever-changing market environment has given us the foresight ability to develop relevant investment solutions as well as a robust investment process to deliver consistent positive returns. We have multidisciplinary teams across different specialisations that bring the best practices of funds management to our business," said Datin Maznah Mahbob, Chief Executive Officer of AmInvest.
Since 2010, the growth of AmInvest's total assets under management (AUM) has been on an upward trend with an average growth of 8% annually.3 Its Shariah-compliant business itself has registered exponential average growth of 19% over the same period.3 Today, AmInvest manages assets worth around MYR36 billion. Its Shariah-compliant AUM accounts for about MYR7 billion with more than 50% invested in foreign assets.4
Datin Maznah added, "We are focused on providing relevant global investment solutions to global investors and seeking out the best investment opportunities in all market cycles. We look forward to increasing our global reach through ways which include offering and promoting investment strategies that can deliver better risk-adjusted returns and consistent returns with low volatility."
About AmInvest
AmInvest is the brand for the funds management business of AMMB Holdings Berhad which manages both conventional and Shariah-compliant funds. It is one of the leading fund management houses in Malaysia and has an award-winning track record spanning more than three decades.
To date, AmInvest manages unit trust and wholesale funds, institutional mandates, exchange-traded funds (ETF) and Private Retirement Scheme (PRS) funds, encompassing both conventional and Shariah-compliant funds.
1 World Finance Management Awards 2016, July 2016.
2 World Finance website extracted from www.worldfinance.com. Data extracted 7 June 2016.
3 AmInvest for the period December 2010 to May 2016. Data extracted 24 June 2016.
4 AmInvest as at May 2016. Data extracted 24 June 2016.
Dr Nurmazilah Dato' Mahzan new CEO of Malaysian Institute Of Accountants
KUALA LUMPUR, July 4 (Bernama) — The Malaysian Institute of Accountants (MIA) is pleased to announce the appointment of Dr Nurmazilah Dato' Mahzan as the new Chief Executive Officer (CEO) effective 2 July 2016. Dr Nurmazilah was previously the Deputy Chief Executive Officer. She has been promoted to succeed Ho Foong Moi, whose tenure ended on 30 June 2016 after serving the Institute for 28 years as CEO.
Prior to her role in the MIA, Dr Nurmazilah was the Director of University Malaya Graduate School of Business. She started her career with Arthur Andersen in 1993, and later joined KUB Malaysia Berhad as Group Accounts Manager. Her corporate experience covers various industries including property development and construction, banking, unit trusts, trading and manufacturing.
Dr Nurmazilah was a MIA Council member from 1 August 2012 until 31 July 2014, a Member of the Malaysian Accounting Standards Board (MASB), elected member of Board of Governors for the Institute of Internal Auditors Malaysia (IIAM), Council member of The Malaysian Institute of Certified Public Accountants (MICPA) and the Honorary Treasurer with Persatuan Ekonomi Malaysia. Dr Nurmazilah also served in various committees of MIA and MICPA.
She holds a PhD in accounting from University of Birmingham, United Kingdom. She has conducted various research projects in the areas of auditing, financial reporting and corporate governance.
Aminvestment Bank Receives Two Asset Triple A Asia Infrastructure Awards
KUALA LUMPUR, July 5 (Bernama) — AmInvestment Bank Berhad ("AmInvestment Bank") was awarded "Project Finance House of the Year" and "Best Transport Deal" awards for the second consecutive year at The Asset Triple A Asia Infrastructure Awards 2016. The ceremony was recently held in Hong Kong where AmInvestment Bank was honoured for its role in providing a wide range of debt products and advisory services across various sectors which includes Infrastructure (expressways, ports, rail and water), Oil & Gas and Power sectors.
Mrs Pushpa Rajadurai, Acting Chief Executive Officer, AmInvestment Bank said, "Infrastructure is one of the vital ingredients for Asia to sustain its economic growth momentum. The Asset Triple A Asia Infrastructure Awards 2016 is one of the industry's most prestigious awards where institutions and the deals in Asia that made a difference in supporting infrastructure projects are honoured. As a leading project finance house in Malaysia and a key player in loan syndication markets, we are pleased that AmInvestment Bank is being recognised for our ability to structure integrated project financing transactions using both debt and equity instruments.
She added, "Such proficiency of ours is built on the bedrock of our team's market-leading expertise and solid track record in the Malaysian debt capital markets and loan syndication markets."
Mr Seohan Soo, Executive Vice President, Capital Markets Group, AmBank Group added, "The Project Finance House of the Year and Best Transport Deal awards further signify AmInvestment Bank's capability in providing integrated financing solutions to our sovereign, corporate and institutional clients – we share these awards with them and we appreciate the clients' support and continued trust in our services".
The Asset is Asia's leading issuer and investor-focused financial monthly publication based in Hong Kong and these awards recognise players that excelled in the industry. Quantitative and qualitative findings were combined in determining the winners.
AmInvestment Bank has an enviable track record of over 30 years of experience, innovation, and market leadership. It has won an impressive stable of awards from the international financial press and major rating agencies.
Our experience and track record in the debt capital markets, including our specialised expertise in the Islamic capital markets have won the confidence of a large roster of corporates and other clients. We have also been consistently recognised annually as one of the top debt and Islamic capital market enablers, with recent awards including Best Domestic Bond House (for fourth consecutive year from 2009 to 2012) and Best FX Bank for Corporates & Financial Institutions (for five consecutive years from 2012 to 2016).
AmInvestment Bank provides a full range of investment banking related services that include the areas of Corporate Finance, Debt Markets, Islamic Markets, Equity Markets and Derivatives, Markets, Stock and Futures Broking, Private Equity, and Private Banking.
AmInvestment Bank is part of the AmBank Group, which is committed to providing new and innovative products and services to its customers. Adding greater value to the one-stop financial hub is its partnership with Australia & New Zealand Banking Group (ANZ), one of Australia's leading banks. AmBank Group is now poised to take advantage of ANZ's wide network and regional presence as well as its international banking expertise.
Malaysia: Old Kedah Civilisation Should Be Included In History Text Books
ALOR SETAR, Kedah state, Malaysia July 5 (NNN-Bernama) — New facts on Old Kedah, which has been declared as the earliest and oldest civilisation in Southeast Asia should be immediately included in history books used as text books in schools.
Kedah state branch Malaysian Historical Society chairman Prof Dr Wan Shamsuddin Mohd Yusof said the information was necessary to make the young generation aware of the existence of the more than 2,000 year-old treasure at the Sungai Batu Archaeology Complex.
"This is history, not a myth, or merely a legend, but something that should be the pride of Malaysians, that we have the oldest civilisation in Southeast Asia," he told Bernama.
Last May 23, the Sungai Batu Archaeology Complex was declared the earliest and oldest civilisation in this region and five archaeologists, representing five main civilisations in the world, namely Mesopotamia, Indus, Mesoamerica, China and Greek-Rome, signed the declaration plaque.
The historical event was symbolised with the handing over of the declaration plaque by an archaeological expert from the University of Oxford, Professor Dr Stephen Oppenheimer, to the Director of the Global Archaeological Research Centre at Universiti Sains Malaysia, Professor Dr Mokhtar Saidin.
Coordinator of the Old Kedah Search Programme, Nur Dini Mohd Noh also opined that the inclusion of the new facts on Old Kedah in the school history text books was crucial to provide better understanding to the society on the matter.
"It has to be mentioned that Old Kedah does not belong to Kedah, but the country. Hence, information has to be disseminated that civilisation ownership does not belong to the state. It is owned by the country," she added.
Meanwhile, Mokhtar said what should be done now was to complete the data on the civilisation and to update the existing data.
He said since the discovery of Old Kedah in 2007, he said the centre had been compiling a more holistic data for inclusion in the existing learning syllabus.
However, the task is time consuming as there are many more archeological sites that have yet to be excavated due to financial problems, as well as new findings, he added.
Malaysia: Thousands Throng Raya Open House Of PM Najib, Cabinet Ministers
PUTRAJAYA, Malaysia July 6 (NNN-Bernama) — Thousands of people of all communities thronged the Aidilfitri (Eid-al-Fitr) open house of Prime Minister Najib Tun Razak and Cabinet ministers at Seri Perdana, the prime minister's official residence here.
The guests began gathering at the compound of Seri Perdana as early as 9am to join the Aidilfitri celebration with the nation's leaders at the open house, scheduled from 10am to 4pm.
Also playing host, besides Najib and his wife Rosmah Mansor, were Deputy Prime Minister Dr Ahmad Zahid Hamidi, Communications and Multimedia Minister Dr Salleh Said Keruak, International Trade and Industry Minister Mustapa Mohamed, Tourism and Culture Minister Nazri Abdul Aziz and Minister in the Prime Minister's Department Joseph Entulu Belaun.
As soon as the gates were opened, the Seri Perdana grounds were transformed into a sea of people who took the opportunity to greet and take photographs with Najib, who appeared resplendent in a maroon Baju Melayu.
The heat of the sun did not melt the enthusiasim of the people from all
walks of life who had waited patiently and eagerly to exchange Aidilfitri greetings with the prime minister, deputy prime minister and the other ministers.
Diplomats and leaders from both sides of the political divide, tourists as well as NGO representatives also came to the open house.
The well-wishers were served a variety of food, mostly local delicacies such as satay, rendang, lemang, ketupat and nasi himpit, and those leaving after the meal also received a goodies pack while children were given 'duit raya' cash packets.
A free shuttle bus service was provided to pick up and drop off people at three locations, namely Putrajaya Sentral, Tuanku Mizan Zainal Abidin Mosque and Putra Mosque, at 15-minute intervals. — NNN-BERNAMA
Malaysia: Drizzle Of Blessings As Muslims Celebrate Eid-Al-Fitr
KUALA LUMPUR, Malaysia July 6 (NNN-Bernama) — A slight drizzle here and in a number of places elsewhere in the country, coming after a heat spell, was welcomed as showers of blessings on the first day of Syawal as Malaysian Muslims celebrated Aidilfitri.
They ushered in the festival by attending prayers in mosques, holding openhouse and visiting relatives and friends.
Yang di-Pertuan Agong (Malaysia's King) Tuanku Abdul Halim Mu'adzam Shah and Raja Permaisuri Agong (Queen) Tuanku Hajah Haminah joined thousands of worshippers for Aidilfitri prayers at the Federal Territory Mosque here.
Prime Minister Najib Tun Razak and his wife Rosmah Mansor, Deputy Prime Minister Dr Ahmad Zahid Hamidi, Cabinet ministers and foreign dignitaries also attended the prayers.
In the states, the respective Sultans and Yang Dipertuas Negeri (state governors) and political leaders joined worshippers in the prayers at mosques. — NNN-BERNAMA
LEAD STORY: Cuba's small Muslim community marks end of Ramadan
Havana, MENAFN – The Peninsula/AFP – 04/07/2016: They speak little Arabic and don"t have a real mosque, but Cuba"s small Muslim community practices the faith and will quietly mark the end of Ramadan as best they can.
In Havana's old quarter, one can see a green and white minaret atop an old colonial-style building. It is here where Cuban Muslims have gathered for the past year to pray.
Inside, the walls of the prayer hall are decorated with Arabic calligraphy and a Palestinian flag. The copies of the Quran have been translated into Spanish.
"Salam aleikum," says a smiling man named Javier as he welcomes visitors in Arabic on a hot summer afternoon.
He was born into a Catholic family but converted to Islam two years ago.
"The text of the Bible seemed incomplete to me, so I changed religion," Javier said about his decision, an unusual one in a country where 70 percent of the population observes a blend of Christianity and Afro-Cuban beliefs.
There are as many as 10,000 Muslims in Cuba, making up less than 0.1 percent of the island nation"s population.
According to experts, Islam was introduced to Cuba by Muslim students who came from countries such as Pakistan in the 1970s and 80s.
"Tourists often come through this street and they are so surprised when they realize they are looking at a mosque," said Ahmed Aguelo, who converted to Islam 17 years ago and runs the prayer hall where some 200 worshippers gather for Friday prayers.
"I am not officially an imam, as there is no training course here," he said. "But I know the basics."
A few hundred meters away, a sign advertises the construction of a purpose-built mosque on a two-hectare (five-acre) piece of land. Turkish President Recep Tayyip Erdogan promised it to Cuba in February 2015.
But building has yet to begin. In June 2015, the Cuban government gave the go-ahead for the inauguration of the prayer hall in the heart of Old Havana as "Cuba"s first mosque."
"We write "mosque" at the entrance because it works like one," said Rigoberto Menendez, director of Arab House, which is behind the mosque project.
"A real mosque would have more space" but "the main thing is for Muslims to be able to come together in one place."
Cuba"s Muslims have been clamoring for their own house of worship for 25 years.
"We would meet in apartments around the city," said Pedro Lazo Torres, who converted in 1988 and is considered Cuba"s first Muslim. "I can practice my religion totally freely in Cuba."
It can be difficult being an observant Muslim in Cuba during the holy month of Ramadan.
Tradition holds that Muslims brea their obligatory fast by eating dates, but in Cuba there aren"t any.
"Everything is imported. The Saudi embassy supplies us with dates, traditional garments, "halal" meat. With the help of God, we get by," said Lazo Torres, who goes by the name Yahya.
Alen Garcia, a 33-year-old of African descent, said he gave up a lot when he converted to Islam.
"I lost friends when I told them I wanted to become a Muslim. To convert was to renounce drinking rum, eating ham, going to parties and dancing salsa," he said. "In other words, it meant renouncing much of Cuban culture."
There are no Arabic courses at Cuban universities.
Garcia explained that Arabic-speaking students from Chad, Afghanistan and Libya who attend the Latin American School of Medicine here give Cuban Muslims free classes in the language of the Quran.
The Cuban Muslims also study Arabic with apps they can use offline.
As the time approaches to break the day"s fast, the prayer hall fills. Children play and squirm on the side of the room reserved for their mothers, who wear veils.
The man who distributes food is named Leonel Diaz, but he goes by Mohamed. He converted at age 73.
"It is never too late to welcome a good thing," he said.
He agrees to discuss Guantanamo, the US prison for terror suspects that opened at a US-held base in eastern Cuba after the September 11, 2001 attacks.
"States must find a solution to close this prison," he said.
He noted that Colombia is close to reaching a peace accord with FARC leftist rebels after a half century of war.
"I would like the same agreement for the Muslims who are held in Guantanamo," said Diaz.
Yaquelin Diaz, who goes by the Islamic name Aisha, lived in Spain for eight years and it was there that she converted, thanks to a Pakistani brother-in-law.
"Because of our habits lots of people think we are foreigners. They cannot imagine that there are Muslims in their country. But Islam is expanding in Cuba."
Aisha said the only thing missing in Cuba is a shop that sells religious garments.
"Our brothers from Saudi Arabia give them to us, but we cannot keep living off their charity. We need our own stores, in our own style. We must be able to promote Islam in Cuba."
After the Cuban Revolution of 1959, Cuba became an officially atheist state and limited practice of all religions. But over time the restrictions eased.
Cuba became a secular state with a constitutional reform carried out in 1992, Menendez said.
Ahmed, the imam, adds: "Everything can evolve over the course of a country"s history. Look, the United States killed thousands of blacks in the last century. And now it has a black president."
Muslims In India Celebrate Eid-Al-Fitr
NEW DELHI, India July 8 (NNN-Xinhua) — Muslims in India Thursday celebrated the festival of Eid-al-Fitr with religious fervor and gaiety.
Festival of Eid-al-Fitr marks the end of Muslim holy month of fasting (Ramadan) and beginning of new month in lunar calendar.
Devout Muslims in the capital city of New Delhi gathered in prayer grounds (open spaces designated for offering special prayers on Eid) and mosques in the morning and offered Eid-al- Fitr prayers.
The biggest congregations were held at Jama Masjid (grand mosque) in old Delhi, Fatehpuri Masjid and Shahi Eidgah where men were seen shoulder-to-shoulder in prayers, bowing down in direction of the Kabba at Muslim holy city of Mecca in Saudi Arabia.
Reports of similar congregational prayers poured in from most Indian cities including Mumbai, Hyderabad, Lucknow and Agra.
The people including women and children dressed in new clothes were seen hugging each other and exchanging Eid greetings during the gatherings.
Contrary to the normal practice of celebrating Eid-al-Fitr across South Asia on a single date – day after Saudi Arabia, this year Pakistan and India celebrated the festival on two different dates.
Authorities in Pakistan announced the festival after crescent of Shawwal – another Islamic month – was sighted Tuesday evening.
However, authorities in India and neighbouring Bangladesh said they have failed to sight the crescent and declared the festival would fall on Thursday.
Muslims follow lunar calendar, according to which months are either of 29 or 30 day duration.
The Muslim (lunar) calendar advances by 10 days every year in comparison to the Christian (solar) calendar which remains unchanged.
People in Indian-controlled Kashmir followed the announcement of Pakistan and celebrated the festival on Wednesday.
Eid is an official holiday in India. The southern Indian state of Kerala also celebrated Eid on Wednesday.
Muslims wear new clothes on Eid, offer special prayers and greet their friends and families.
Pocket money and presents are given out to children to celebrate the festival.
The womenfolk prepare special foods and delicacies for the day.
Even special delicacies and dishes are available at restaurants and in markets for the day.
Money is also distributed among the poor and needy.
According to Islamic law Muslims are required to give 2.5 percent of their wealth to poor in form of charity. — NNN-XINHUA
Muslims In Beijing Celebrate Eid Al-Fitr On Moderate Scale
BEIJING, China July 7 (NNN-Bernama) — Muslims in China yesterday celebrated Eid al-Fitr or Hari Raya Aidilfitri in Malaysia, on a moderate scale.
As early as 8am, Muslims gathered at the Niujie Mosque, the oldest mosque in Beijing and situated in the district of Xuanwu, home to about 10,000 Muslims.
Referred to in Mandarin as "kai zai jie kuai le" (Happy Eid), Niujie is home to thousands of Muslims in the land of the Great Wall.
Ma Xinxin, 29, from Beijing said this year's celebrations was more meaningful because there was a large turnout although Eid al-Fitr in not a public holiday in Beijing.
"I am surprised to see the big turnout at the mosque for the morning prayers because Eid al-Fitr is not a public holiday in Beijing," he told Bernama here yesterday.
Malaysians living in Beijing, especially Muslims, may miss the festive mood enjoyed in villages back home or the open house practiced in Malaysia or the numerous types of cookies prepared for the celebration, but no love was lost for Zaid Shafie, 22.
Zaid, a third year student at the Beijing Foreign Studies University (BFSU) said the Eid al-Fitr celebrations this year was special since his family had come to Beijing to celebrate the special day with him.
"I am really excited this year because my family members are in Beijing to celebrate Eid al-Fitr with me. However, we will certainly miss the ambiance of a similar celebration back home," he said.
His mother Aisyah Kassim, 49, who brought a variety of cookies from Malaysiasaid celebrating Hari Raya Aidilfitri in a foreign land was a totally new experience and one that is completely different from Malaysia.
"Twelve family members arrived in Beijing yesterday before the celebrationsstarted…we continued to fast and performed the terawih prayers," she said.
For Mashitah Hidir, 20, a second year student at BFSU, the idea of deciding to celebrate Eid al-Fitr in China was to experience the culture and ambience of the celebrations in a foreign country.
"The celebrations in Beijing and Malaysia are completely different. I miss my family and friends, the open house, visits to homes of relatives and cookies.
"I would like to take this opportunity to wish my parents and my siblings who live in Gerik, Perak state," she said.–NNN-BERNAMA
Pak HC hosts Eid-ul-Fitr Open House in London
ISLAMABAD, July 8 (APP): Pakistan's High Commissioner to UK, Syed Ibne Abbas hosted Eid-ul-Fitr Open House at his official residence, "Pakistan House" in London, to celebrate the auspicious occasion with Pakistani community in UK.
Prime Minister Muhammad Nawaz Sharif, in his special message for this occasion, appreciated the High Commissioner's initiative to reach out and connect with the community.
More than 1000 guests from all walks of society attended the Open House and were served with traditional Pakistani cuisine, a message received here from London on Friday said.
The guests included Lords, MPs, Mayors, Ambassadors/High Commissioners, Councillors, community leaders, prominent business persons, members of the Pakistani and British society, representatives of the Foreign and Commonwealth Office (FCO), and Department for International Development (DFID), officials of the High Commission as well as their families and media representatives.
Some visiting Senators, MNAs, and MPAs from Pakistan and Shahryar Khan, Chairman of the Pakistan Cricket Board were also in attendance on the occasion.
Besides, Vice Chief of Air Staff, Air Marshall Asad Lodhi, who was on an official visit to the UK, also attended the Open House.
The High Commissioner and his wife spent the day with the community members representing all ages and interests. The attendees termed the event a great opportunity to socialize and meet and greet each other on this happy occasion.
They said: "We are celebrating the Eid-ul-Fitr second time here at the Pakistan House; all this festivity reflects the beauty of our culture, traditions, apparel and cuisine.
With families and friends all together at one place gives us a feeling as if we are celebrating Eid in Pakistan. It also gives us a sense of belonging to the High Commission."
The guests enjoyed the traditional Pakistani food, whereas the live musical performance by Tanya Wells, Amir Hussain Qawwal and Raja Kashif added to the festivities.
Special arrangements were made to entertain the children, including Bouncy Castle and Candy Corner where they had fun time during the day out.
The Open House was attended by guests from outside London as well and provided a good opportunity for the High Commission officials and the community to celebrate Eid together.
Presence of the members of the Pakistani as well as the British society in a large number at the Pakistan House made the day memorable.
Building the nation after Ramadan: President Jokowi
Padang (ANTARA News), 6 Juli 2016 – President Joko Widodo (Jokowi) has expressed hope that the people of Indonesia will work together to build the nation after observing the 2016 Ramadan fasting month.
"After observing Ramadan, let us work shoulder to shoulder to build our country to make it even better in future," President Jokowi remarked after attending the Eid prayer service at the West Sumatra Grand Mosque in Padang on Wednesday morning.
The head of state also conveyed Eid al-Fitr greetings and apologized to all Indonesians.
Jokowi said that Eid is an important occasion to hold cordial gatherings with family members, relatives, friends, neighbors, and the people of Indonesia.
The president and First Lady Iriana arrived in Padang on Monday on a working visit that included celebrating Eid with the local community of the city of Padang.
President Jokowi affirmed that his visit to West Sumatra this time was to uphold his promise of being with the people of the city for the Eid al-Fitr celebrations this year.
"Last year, the governor invited me to celebrate Eid in Padang. Since I had given him my word, I am here to keep that promise," the president stated after attending the evening Ramadhan prayer at the Nurul Iman Mosque on Monday.
President Jokowi expressed gratitude that an agreement had been reached to declare Eid on Wednesday, July 6.
The decision was approved by both Muhammadiyah and Nahdlatul Ulama, the countrys two major Islamic organizations.
"Thank God. We always expected it. We started on the same day, and so, we will also celebrate Eid al-Fitr on the same day," he said.
After performing the Eid prayers, the president and his entourage will leave Padang for Solo and Yogyakarta for a working visit as well as for holding a cordial gathering with the community of Central Java.
Pakistanis throng recreational spots over Eid-ul-Fitr
ISLAMABAD, July 8 (APP): The recreational spots of twin cities were thronged with local residents as well as visitors from other adjoining cities even on third day of Eid-ul-Fitr.
The main spots included Rawal Lake View Park, Fatima Jinnah Park, Shakarparian, Daman-e-Koh, Rawal Dam and Pir Sohawa in the capital were seen overcrowded, while Nawaz Sharif Park, Ayub Park, Safari Park, Race Course and Jinnah Park in Rawalpindi were packed with people enjoying every moment of the Eid festivity.
"It's really very exciting to enjoy Eid at the aesthetically developed recreational spot," said Zaheer Ahmed, who has come to Rawal Lake View Park along with his family.
"We had a lot of fun and we had cooked meal," said Muhammad Azam, who came to Pir Sohawa with his friends.
"It is nice to visit picnic spot during Eid days as it has more attraction for the visitors as compared to normal days," said Naeem Khan, a student, who came to Nawaz Sharif Park.
A large number of tourists from different parts of the country, taking full advantage of Eid holidays, thronged Murree to enjoy natural beauty with pleasant weather.
While most of the visitors, the town received on the occasion of Eid were from Khyber Pakhtunkhwa, Lahore, Gujranwala, Faisalabad, Rawalpindi and other areas of Punjab.
The tourists enjoying the pleasant weather at Murree, Nathiagali, Donga Gali, Ayubia, Changla Gali and other scenic resorts.
Most of the visiting families had brought their own food, while youngsters with cooking utensils were busy to make food.
Some of youngsters travelled on motorcycles from lower parts of the country to visit the hilly areas.
The district police had made special security arrangements at picnic points with heavy deployment to maintain law and order.
The traders were very happy to see so many visitors, however, the tourists complained overcharging by the hotel owners, transporters and shopkeepers on Eid holidays.
The families visiting the parks of the city complained about
overcharging, sale of substandard food items and non-availability of quality products.
The vendors took full benefit to the situation as the concerned authorities failed to control the quality and rates of commodities.
Special security arrangements were also seen outside parks for the protection of visitors.
The public transporters including taxi drivers fleeced the people and charged fares at their own will.
The rates of chips, biscuits, burgers, soft drinks, mineral water and other items were almost double in the parks of twin cities as compared to open markets.
President Jokowi visits Plaza Andalas to greet people on Eid Ul-Fitr
Padang (ANTARA News), 5 Juli 2016 – President Joko Widodo (Jokowi) visited the Plaza Andalas shopping mall here on Tuesday evening to greet people.
He came to the mall at 16:45 hours, accompanied by his son Kaesang Pangarep and daughter Kahiyang Ayu.
President Jokowi bought a green shirt to wear at the Takbeer function when he would join the people at the governors office later in the evening.
He said he also wished to see economic activity in the community. "We wish to use the opportunity during the spare time to see the economic activity at shops and malls as well as to meet people," he added.
Upon knowing that the President was at the mall, visitors immediately gathered around him to shake hands and click selfies with him.
On Tuesday morning, President Jokowi, as he is also called, distributed food packages to the poor people at four locations in the Padang city and Padang district.
Despite the suicide bombing incident in Solo, Central Java, on Tuesday morning, the President did not cancel his program to undertake a working visit to Padang.
Flanked by First Lady Iriana, he continued with his agenda of meeting people and children in villages.
The President is also scheduled to conduct Takbeer to mark the end of fasting along with the people in the governors office.
On Wednesday morning, President Jokowi is scheduled to conduct Eid prayers with the people at the West Sumatra grand mosque followed by exchange of wishes with regional government officials and people.
From Padang, President Jokowi is scheduled to leave for Solo and Yogyakarta to exchange greetings with the people.
Ramadan a month of spirituality, festivity for Hong Kong Muslims
05 Jul 2016, Hong Kong, (IINA) – When the sun sets in Hong Kong on Tuesday, Ramadan will come to an end for the city's 250,000 Muslims, while Preparations will begin for Eid al-Fitr, the festival that takes place the following day to celebrate the end of the Islamic month of fasting and reflection.
Muslims will clean their homes ahead of Wednesday's festival, which is a day of feasting. As part of celebrations for Eid, worshippers will also visit relatives, with children eagerly anticipating gifts of money from older relatives, South China Morning Post reported.
With the summer solstice occurring during the Islamic holy month this year, the hours of fasting were long and it was hot. Daytime temperatures reached a peak of 36 degrees Celsius in June, and going without water all day was particularly challenging.
Jenny Nimaga, a Hong Kong resident from Kenya, says she often felt parched in the of heat of Ramadan this year. "I didn't feel hungry," says Nimaga, 34 year-old, "but I did feel thirsty when I saw people walking past carrying cold drinks."
Nimaga, a court interpreter, appreciates the fact she spends most of each working day in an air-conditioned environment. It's harder for those who spend a lot of time under the blazing sun, she adds.
"My job requires a lot walking to visit people so I am often outdoors," says Asma Bibi, 29 year-old, a Pakistani who works for the Hong Kong branch of International Social Service. "I definitely got very thirsty."
Bibi kept to a simple schedule during Ramadan. While most Hongkongers were still sleeping, she woke up at 3am each day to prepare her pre-dawn meal before commencing the fast. She then went about her daily tasks as she would on any other day, until nightfall, when she enjoyed a much-needed cup of tea before evening prayers.
Although many non-Muslims may think going without food and drink all day is a hardship, Bibi says it was convenient for her.
"I have more time during Ramadan because I don't have to think about what to have for lunch, or spend time eating out," she says.
Wednesday's feasting contrasts with the simple meal eaten by local Muslims when the fast is broken after sunset during Ramadan. Dates and other fruit are staples for Muslims all over the world, but also simple fried foods, which in multicultural Hong Kong vary depending on Muslim families' country of origin. A staple beverage is rooh afza, a bright-red squash that turns pink when milk is added.
Although Hong Kong is thankfully a peaceful and tolerant society, Ramadan has been marked by a large number of deaths around the world at the hands of extremists this year.
From his side, Rashid Mahmood, joint secretary of the Idara Minhaj-ul-Qur'an mosque in Kwai Chung, in the city's New Territories, says: "Minhaj-ul-Qur'an International sets the record straight for Muslims. It promotes everything that Muslims should stand for, including peace, tolerance, interfaith harmony and education. It also aims to tackle extremism and terrorism, promote women's rights and empowerment, and engages with young Muslims for religious moderation. It is the best representation of Islam."
The mosque is part of Minhaj-ul-Qur'an International the only Islamic organization recognized by the United Nations.
Many Muslims spent July 2 recuperating after spending the whole night in prayer to mark the holiest time during Ramadan the "Night of Destiny" or Laylat el-Qadr. The Qur'an says worshipping on the Night of Destiny, which usually falls on the 27th night of Ramadan, is more rewarding than worshipping for 1,000 months, as the doors to forgiveness are opened.
About 150 people stayed for overnight prayer at the mosque.
"I stayed awake the whole night to pray," Bibi says. "Muslims should pray more on the 27th night as the Qur'an was revealed to the Messenger of God on the 27th night of Ramadan."
Although Wednesday's Eid-al-Fitr festival is a time for celebration, many Muslims miss Ramadan when it ends.
Despite being outdoors, in the heat and unable to drink water, Bibi says: "I feel sad to see it go, so I wasn't looking forward to the last day of Ramadan."
Nimaga believes Ramadan makes Muslims feel happier and more at ease. "We become healthier and we reflect a lot, which makes us feel closer to God," she says. "I feel sad to see Ramadan ending because after a month of worship and spiritual connectedness, many people go back to their old ways of life."
Although Hong Kong is thankfully a peaceful and tolerant society, Ramadan has been marked by a large number of deaths around the world at the hands of Islamic extremists this year.
It is noteworthy that Ramadan is a time when peace-loving Muslims are encouraged to seek spiritual guidance and rid themselves of bad habits.
Afghanistan National Cricket Team Defeats Scotland
July 8, 2016 Kabul (BNA) Afghanistan national cricket team has defeated Scotland national cricket team in 50-overs match was held in Scotland yesterday.
According to BNA report, first Afghanistan national cricket team started bowling and targeted 178 runs in 37/2 overs to Scotland team.
Scotland national cricket team with losing his all wicket in 28 overs done 100 could reach to the given target and accept his failure against Afghanistan national cricket team.
It is supposed that Afghanistan national cricket team will face with Ireland national cricket team in the next match.
Central Bank of Muscat releases Annual Report 2015
Muscat, July 4 (ONA) — The Annual Report of the Central Bank of Oman (CBO) for 2015 was released recently.
The Report reflects the overall assessment of Oman's macroeconomic developments during 2015 and analyses major sectors of the economy covered under five Chapters on Output, Employment and Prices (Chapter II); Oil and Gas (Chapter III); Public Finance (Chapter IV); Money, Banking and Financial Institutions (Chapter V); and Foreign Trade and Balance of Payments (Chapter VI).
The Chapter I on Overview and Outlook provides a brief review of macroeconomic developments in the first half of 2016 to present an assessment of the expected outlook for the economy in the near-term. The Annual Report also carries the audited balance sheet of the CBO as well as important CBO regulations issued during 2015 and the first half of 2016.
After five uninterrupted years of robust growth, the Omani economy recorded a contraction in 2015, mainly on account of marked drop in oil prices in the international markets and partly due to global slowdown.
Despite increased oil production, net exports suffered a setback in 2015 due to low oil prices. Prudent fiscal consolidation measures reduced Government expenditure significantly in order to contain deterioration in the budget balances. Consequently, nominal GDP contracted by 14.1 percent in 2015 reflecting the reduction in two key constituents of aggregate demand, namely, rationalization in Government expenditure and slowdown in exports as against a robust average growth of 11.3 percent during the five year period from 2010 to 2014.
Creation of adequate employment opportunities for the Omanis has been one of the major macroeconomic objectives of the Government during the recent years. During 2015, employment of Omanis in the private sector increased by 6.1 percent.
Inflationary pressures in Oman abated significantly in 2015 mainly due to the decline in international commodity prices, reduced public spending in Oman and notable appreciation of US Dollar in real effective terms since mid-2014. Annual inflation measured by movement in the average Consumer Price Index (CPI) for the Sultanate decelerated to 0.1 percent in 2015 compared with an average of 2.5 percent during the previous five years.
The recent behavior of prices in Oman owes its origin to both demand and supply side factors emanating from domestic as well as external sources. From the demand side, contraction in the nominal GDP in Oman in 2015 was mainly due to sharp fall in crude oil prices in the global markets and fiscal policies pursued by the Government. Among the supply side factors, marked drop in world food and metal prices coupled with decline in import prices in 2015 facilitated making goods cheaper in Oman.
The oil and gas sector continued to play a dominant role in the economy of Oman in 2015. Crude oil production, subdued in 2014, turned around by 4.0 percent to 358 million barrels in 2015. Production of natural gas also increased by 5.6 percent to 39,801 million cubic meters in 2015 compared to 37,682 million cubic meters in 2014. Crude oil exports in volume terms increased by 5.4 percent to 308 million barrels in 2015 compared to 292 million barrels in the previous year. However, the average price realization for Omani crude oil declined by 45.3 percent to US $ 56.5 per barrel in 2015 from US $ 103.2 per barrel in 2014 due to ample supply, lack of aggregate demand in emerging market economies, etc. As a result, the share of oil and gas in terms of major parameters of the economy witnessed a decline in 2015. Despite decline in shares, oil and gas together accounted for 33.9 percent of GDP, 78.7 percent of government revenues, and 59.4 percent of total merchandise exports in 2015.
Overall fiscal balance of Oman came under pressure in 2015 mainly due to fall in revenues owing to decline in average crude oil price and general slowdown of the economy. After continuous growth in total revenues during 2009-14, Oman recorded a revenue decline of 35.7 percent to RO 9,067.5 million in 2015. Fiscal consolidation measures reined in government expenditure (by 9.7 percent to RO 13,698.9 million) significantly in order to contain deterioration in the budget balances. Consequently the overall fiscal deficit stood at RO 4631.4 million in 2015.
Given the low inflationary environment and moderate non-hydrocarbon growth, the CBO continued with its accommodative monetary policy stance. With domestic liquidity conditions still remaining comfortable, monetary aggregates in Oman expanded with some moderation during 2015. Broad money grew at 10 percent on a year-on-year basis. Conventional banks together with Islamic banks and Windows (Other depository Corporations (ODCs)) extended total credit amounting to RO 20.1 billion outstanding as at the end of December 2015, a rise of 12 percent over the previous year end. Total deposits held with the ODCs witnessed a rise of 8 percent over the year to RO 19.4 billion at the end of December 2015. During 2015, with liquidity conditions relatively comfortable, both deposit and lending rates in Oman softened.
Despite the challenges facing the economy in the current environment of low oil prices, the banking sector remains robust supporting economic diversification initiatives and credit needs of growing young population. Risk-based supervision of banks, implementation of Basel accords, development of modern payment and settlement systems have led to financial stability. The overall capital adequacy ratio in relation to risk weighted assets of banks remained comfortable at 16.1 percent at the end of 2015 which was considerably higher than the minimum regulatory requirement.
On account of low oil prices during 2015, the balance of payments position came under some pressure with the current account turning to sizable deficit as against a surplus in the previous years. The merchandise trade surplus posted a fall of 64.5 percent to RO 3.5 billion in 2015 from RO 9.9 billion during 2014, mainly on account of the decline in the value of exports, notably crude oil. To a lesser extent though, this decline was mitigated by the reduced level of imports by 4.8 percent during the year in relation to the previous year's import. The combined deficit on services, income and current transfers stood at RO 7.7 billion in 2015 as compared to RO 8.3 billion in 2014. The current account registered a deficit of RO 4.2 billion in 2015 as against a surplus of RO 1.6 billion in 2014. The capital and financial account experienced a net inflow of RO 4,741 million in 2015 as against an outflow of RO 701 million last year, reflecting the gap between domestic savings over investment demand. The overall balance of payments position registered a surplus of RO 235 million during 2015 giving rise to the accretion of foreign exchange reserves by the same amount. As at the end of 2015, the gross foreign assets of the Central Bank of Oman stood at RO 6,745.8 million providing import cover for around 8 months of merchandise goods.
The Vision 2020 and successive Five Year Development Plans pursued the strategy of economic diversification, greater role for the private sector, improved business climate for attracting foreign direct investment etc. During the previous ten year period, the share of non-hydrocarbon sector had increased from 16 percent to 41 percent of merchandise exports, while the share of non-oil revenue in public revenue had grown from 14 percent to 22 percent. Over the years, the government of Oman implemented sound macroeconomic policies resulting in strong growth, moderate inflation and stable financial system. With a view to finance the fiscal deficit, the authorities have planned to utilize fiscal buffers, raise loans from domestic market without crowding out credit to private sector and access external markets by the Sovereign and Government related entities. Successful raising of USD 1 billion in 2015 and of USD 2.5 billion in June 2016 underscores strong investor appetites.
On the external sector front, authorities are planning measures in the medium term to bolster earnings from tourism, strengthening of manufacturing sector, and ratification of a new investment law to attract foreign investment to Oman.
In the short-term the Omani economy is well placed to face the macroeconomic challenges emanating from low oil prices. The Sultanate is projected to realize positive real GDP growth in 2015 due to enhanced oil and gas production and weakened GDP deflator. The outlook for 2016 would be shaped by various factors including the movement in oil price, materialization of rate hikes by the Federal Reserve, volatility in global financial markets and the exit of Britain from the European Union. The British economy may register lower economic growth due to dislocation of trade and business. Britain being one of the topmost source of FDI into Oman, the authorities have to closely monitor the development as it unfolds. Similarly, the implications of Chinese slowdown on Oman's export have to be observed closely and remedial measures have to be initiated.
Mass UAE weddings offer a perfect way to avoid debt
ABU DHABI, 7th July 2016 (WAM) — Mass weddings in the UAE provide the youth planning to tie the knot with an ideal solution to start their married life without getting into debt and loans trying to organise big ceremonies and at the same time celebrate the happy occasion in style away from lavish wedding parties and the hefty costs paid for just one night.
Most importantly, group weddings, which help in joining couples in wedlock without havng to be locked into heavy debt, contribute towards strengthening social solidarity.
Established as a unique Emirati tradition, group weddings are being promoted by the Marriage Fund which, thanks to full backing from the country's leaders and sheikhs, has been offering the effective solution to keep women away from falling into spinsterhood and men from running away from marriage.
The latest such wedding is due next Saturday in Al Ain City where 160 couples will tie the knot in Al Khabisi Hall.
Along with other national institutions, the Marriage Fund, established in 1992, also helped spread the tradition of group weddings to other countries enabling couples to make their dream of a big night come true with a white wedding dress and a bisht, a men's long dark cloak that goes over the traditional white robe.
While traditions and social values continue to be upheld, the culture of group weddings is getting a hold in the UAE due to the fact that debt-free weddings spare newlyweds from hassling over financial problems during their early years, which often end in divorce.
One of the participants in mass weddings says issue over debts usually break out between newlyweds only one day after their big night for which the bridegroom borrows the money.
He further says that mass weddings also encourage Emirati men to marry Emirati women.
Another young man who was involved in a mass wedding says he was spared from financial and psychological burden. He even calls for "changing the culture of society to curb what he calls "a blind imitation of others."
Jordan to host World Economic Forum on MENA 2017
Geneva, July 4 (Petra) — The World Economic Forum on the Middle East and North Africa (WEF-MENA) will be held at the Dead Sea in Jordan on 19-21 May 2017, in partnership with the King Abdullah II Fund for Development (KAFD). The meeting will convene over 1,000 government, business and civil society leaders from more than 50 countries.
Reflecting the central role of Jordan in the region, and with the continued support and participation of Their Majesties King Abdullah II and Queen Rania Al Abdullah, as well as the government of Jordan, the meeting will provide a collaborative platform for shaping the future of MENA region through public-private cooperation.
"If the hope is fulfilled that the region during the next months will have some kind of stability, it is essential to stimulate the economy through public-private cooperation to make any peace effort realistic and sustained," said Professor Klaus Schwab, Founder and Executive Chairman of the WEF.
The meeting will take place in the context of growing economic reform efforts that are being made in many countries of the region, as well as shifting investment and trade priorities. It will also aim to address continued geopolitical shifts and humanitarian challenges by supporting multistakeholder dialogue on the situation in Syria, Iraq and Libya, and the ongoing refugee crisis.
Top decision-makers from Gulf Cooperation Council countries, the Levant and North Africa, as well as key international stakeholders from the United States, Europe, East Africa and other regions, will also explore the impact of the Fourth Industrial Revolution – a new era in the global economy promising huge opportunities, resulting from the convergence of digital information and technological advancements in various economic fields. Under this theme, participants will examine in particular how new technologies can be harnessed to create employment, encourage entrepreneurism and drive inclusive growth, especially in this region with a very young population.
"As an International Organization for Public-Private Cooperation, the World Economic Forum is committed to supporting the current reform momentum in the region. Jordan, given its long-standing economic and social resilience and commitment to dialogue, is a great partner for this effort," said Mirek Dusek, Head of the Middle East and North Africa, Member of the Executive Committee, World Economic Forum.
Imad Fakhoury, Minister of Planning and International Cooperation and KAFD Chairperson, said that "the return of the World Economic Forum on the Middle East and North Africa to Jordan during difficult times in the region is a testimony to Jordan's strategic regional role, resilience and vast economic potential. The Forum continues to provide opportunities for partnerships geared towards inclusive development and investing in human talents".
The World Economic Forum on the Middle East and North Africa was last hosted in Jordan in 2015 in partnership with KAFD. Next year's meeting will mark the ninth hosted by Jordan, since it was first held in the Dead Sea in 2003.
Largest container ship transits Suez Canal
Saturday, 9 July 2016 – Head of the Suez Canal Authority Mohab Mamish said that Suez Canal is the largest and greatest canal in the world.
In a press release, Mamish said that the canal received on Friday 08/07/2016 the largest container ship in the world with a total cargo of 200,000 tons, adding that the ship was coming from Malaysia en route to the UK.
Mamish added that the canal is now able to receive larger ships after the latest developments and the digging of the New Suez Canal.
A total of 47 ships transited Suez Canal on Friday with a total cargo of 2.3 million tons, Mamish further said.
He noted that a US aircraft carrier also transited Suez Canal on Friday.
Training Course on 'Pension System' in Togo
Date : 11-12 July 2016 Venue : Lome Togo
The Statistical, Economic and Social Research and Training Centre for Islamic Countries (SESRIC), will organise, in collaboration with the National Social Security Fund of Tunisia, a training course on "Pension System" within the framework of the OIC Capacity Building Programme for Social Security Institutions (SSI-CaB) on 11-12 July 2016 in Lome, Togo. The course will be provided by Mr. Mounir Cherif, Director of Studies and Management Control at the National Social Security Fund of Tunisia and wii be attended by relevant experts from the Pension Fund of Togo.
For other activities of the OIC Capacity Building Programme for Social Security Institutions (SSI-CaB), please visit: http://www.oicvet.org/ssi-cab.php
Kazakhstan Preparation for EXPO-2017 underway
Astana — 09.07.2016 — National Company 'Astana EXPO-2017' will present a plan of joint actions with government agencies for the upcoming exhibition. At the meeting with representatives of Astana mayor's office, parties discussed issues of the timely completion of construction and infrastructure, organizations of international communications, tourist accommodation, training volunteers, including tour guides, and the installation of address labels and signs in three languages as well as placing information kiosks.
To promote exhibitions outside of Kazakhstan it was proposed to use the possibility of international cooperation between the twin towns.
50 artists to perform at 9th Oran song and music festival
ORAN (Algeria), 07 July 2016 – About fifty artists will take part in the 9th festival of the Oran Song and Music scheduled from 10 to 14 July at the Abdelkader Alloula regional theatre, said the festival's organizers.
The artistic evening that will start from 7:00 p.m. will include great names of the Oran song such as Houria Baba, Djahida, Baroudi Benkhedda, Houari Oulhaci, Messabih and Maati El Hadj as well as young Rai singers including Cheb Abbes, Cheb Redouane and Hasni junior.
About ten youths who passed the pre-selection among dozens of candidates will compete for the top three spots of a competition of the Oran song, said the source, adding that following a casting launched in June, the pre-selection was made up of a committee that included great artists from Oran such as Kouider Berkane, Abdellah Ben Ahmed and Cheikh Saidi in addition to officials of the sector of Culture.
The professional artists and young amateurs will perform songs from the Oran repertoire and other new ones, added the Festival's commissioner, Rabéa Moussaoui.
"Reveries of the Solitary Actor" to compete in Int'l Arab Film Festival
TUNIS 06 July 2016- Fiction feature film "Reveries of the Solitary Actor" by Algerian filmmaker Hamid Benamra will take part in the official competition of the 2nd International Arab Film Festival of Gabes (Tunisia), scheduled from 24 to 30 September, said the event's organizers.
Released in 2016, this 103-minute film is an immersion in the imagination and opinions of the Algerian artist through a free cinematographic portrait of the actor Mohamed Addar.
The film also deals with the condition of the Algerian artist, the relation of cinema and theatre with the audience and also the reveries of the filmmaker himself who confronts images reflecting the same realities with an interval of about 30 years.
The film received in last February a "special mention" of the jury in Algiers' Film Days and the same distinction in last March in the African Film Festival of Luxor (Egypt).
US State Dept: Algeria, attractive destination for US companies
WASHINGTON, 06 July 2016 – Algeria remains an attractive destination in terms of investment for US companies, the US Department of State said Tuesday, highlighting the economic diversification policy launched by the government to reduce imports and involve the private sector in growth.
In its 2016 report on investment climate in the world, the US Department of State stated that "Algeria remains a profitable market for many US companies, stressing that several sectors offer "major long term growth opportunities for US companies."
Referring to representatives of the US private sector in Algeria, the Department of State stated that investment in Algeria is promising in the sectors of agriculture, tourism, ICTs, energy, building infrastructures and health.
In Algeria, "business opportunities are found in almost all sectors," the Department of State said.
However, US companies must overcome the language obstacle and face competitiveness with Chinese, European and Turkish companies working in Algeria.
According to the report, the decline in oil prices pushed the government to launch an economic diversification policy to reduce the high volume of imports while involving the private sector in growth.
As regards the laws governing foreign investment, the report stated that although the 51/49% rule set the foreign investor's share at 49%, "there are few laws restricting foreign investment in Algeria."
Reform in Algeria aims at boosting entrepreneurs
PARIS, 05 July 2016 – The reform undertaken by the Algerian authorities aimed at unleashing initiatives to back national producers and entrepreneurs, said Afrique Asie magazine in its July-August issue.
"Through reform, the Algerian authorities aim at unleashing initiatives to back producers and entrepreneurs within a social market economy, inspired by the fundamental text of the Revolution of 1 November 1954," explained the monthly magazine.
"Yes to the reform, but not any reform, not anyhow and not at any cost," said the article's writer, Afrique-Asie Managing Editor Majed Nehme.
President of the Republic Abdelaziz Bouteflika and Prime Minister Abdelmalek Sellal "are defenders of the national interest and the most vulnerable sections of the society," he added.
In this regard, Nehme said that the budget adjustments, which have become necessary following over 50% drop in hydrocarbon revenues, would not affect the purchasing power of the destitute, through the reduction of subsidies on vital commodities, as recommended by ultra-free market advocates.
"The various infrastructure projects, the active industrialization policy and the development of agriculture and fisheries production aim at modernizing the country and reaching self-sufficiency," explained the magazine.
Algeria of 2016 "is open to the future, ready to take up the challenge of building an emergent and diversified economy, which would generate wealth and jobs, by developing non-oil production," said the source.
"To that end, the (Algerian) authorities call for more rigour in the management of public affairs, more flexibility in the act of investing and more anticipation in addressing problems," added Afrique-Asie magazine.
African Union Set to Proclaim Continental Free Trade Zone
LUANDA, July 8 (NNN-ANGOP) — A continental Free Trade Zone (FTZ) may be proclaimed during the 27th African Union (AU) Summit of Heads of State and Government to be held from July 10 to 18 in Kigali, Rwanda.
The intention is to expand trade around the continent, reduce Customs and tariff barriers from South Africa to the Magreb and to boost domestic production. Another purpose is to set a qualitative step in inter-continental commerce, as Africa is currently divided in various economic sub-regions and free trade only takes place within each sub-region.
This year's summit will also see a change at the leadership of AU Commission, as the current chairperson is not standing for a second term and the vice-chairperson has served two terms. The AU commissioners are also ending their terms.
Angola is expected to play a relevant part regarding the renewal of mandates, as each sub-region is set to come up with its candidate for AU Commission chairperson.
Meanwhile, the election of the Commissioners might only take place at the summit of January next year in Addis Ababa, as the Economic Community of West African States (ECOWAS) has called for a postponement as no consensual candidate has been found.
The adjournment request stands a good chance of being upheld by the AU. After all, ECOWAS is made up by 15 states and its exclusion would imply no candidate to reach one third of the votes needed.
The possibility that the election could actually happen in January next year is great as the Southern Africa Development Community (SADC) of which Angola is a part, has not approved any of the candidates put forward by Uganda and Equatorial Guinea.
According to Angolan Foreign minister Georges Chikoti, some countries and entities think the contending candidates are not good enough. — NNN-
1st ECOWAS Industrial Summit In Accra On July 21
ACCRA, July 8 (NNN-GNA) — All is set for the holding of the 1st Industrial Summit of the Economic Community of West African States (ECOWAS) at the At Accra International Convention Centre heee on July 21, says the Communications Director at Ghana's Ministry of Trade and Industry, Nana Akrasi-Sarpong.
He told the Ghana News Agency (GNA) here Thursday that encouraging response had been received to attend the event not only from the West African sub-region, but also from other parts of the world, including Malaysia, the United States, Germany and other countries.
He added that the summit would bring together stakeholders to deliberate on the West Africa sub-region's industrial development to enhance the socio-economic well-being of the people in the countries concerned.
Nana Akrasi-Sarpong said: "When ECOWAS ministers and industrialists, as well as potential investors from outside the sub-region in Africa, and in Europe, Asia and the United States are coming then it provides a unique opportunity not only for Ghana but the sub-region as a whole.
"What we expect from the business community is to partner the Ministry of Trade and Industry to host a successful event. What would make this event memorable is that the summit would immediately be followed by the Ghana-China Investment Forum, which would look at investment opportunities in Ghana for investors from China.
"China has over the years made a name for itself on the global stage as an export-oriented industrial nation and is now looking to relocate some of its factories to other parts of the world, including South East Asia and Africa because of the rising cost of labour in China
"Ghana has received a number of requests from China and the forum will be used to inform the Chinese business community that Ghana is ready to become the hub for the West African sub-region for industrialisation purposes."
Among the topics to be discussed at the ECOWAS Industrial Summit would be Finance and Investment; Creating a unique model for industrial financing; ECOWAS Pharmaceutical Industry Prospects and Challenges; The Textiles and Garment Industry: The Export potential; Developing the Automotive Industry in West Africa: the way forward ;and Agro-processing-Reducing Post-harvest Losses and creating jobs in the sub-region. — NNN-GNA
Chinese Oil Investments In Sudan Exceed US$10b
KHARTOUM, July 8 (NNN-SUNA) — The Charge d'Affaires at the Chinese Embassy in Sudan, Wang Yi, has revealed that Chinese investments in the oil sector in Sudan exceed 10 billion US dollars.
In an interview with the Sudan News Agency (SUNA) here Thursday, he added that the investments helped Sudan complete its integrated oil industry system, which , in turn, boosted economic development in the country.
The Chinese diplomat also said that there were also other Chinese investments in Sudan in the agriculture and mineral sectors.
He said China paid great attention to economic and commercial co-operation with Sudan and had encouraged credible Chinese companies to invest in Sudan in view of the tremendous resources which Sudan had in various fields.
The Charge d'Affaires stated that China was working to cement co-operation relations with Sudan within the framework of the Chinese-Arab Co-operation Forum and the Chinese-African Co-operation Forum. — NNN-SUNA
South African Airways Marks 20 Years Of Flying To Accra
JOHANNESBURG, July 7 (NNN-SA NEWS) — South African Airways (SAA) is celebrating 20 years of flying to Accra, Ghana, which is a key route in a country which is strategic for South Africa.
In a statement issued here Tuesday, the national flag carrier said the 20-year milestone of flying to Ghana was important, as Ghana is South Africa's second largest trading partner in the West African sub-region.
"It presents a key growth market for South African goods and services, as well as an investment destination for South African companies," said SAA.
SAA first landed a Boeing 767-200 aircraft at the Kotoka International Airport in April 1996. The route has grown from three frequencies to eight frequencies per week.
"High service standards and attention to customer service delivery has resulted in growing frequent flyers and high load factors. Our customers enjoy Africa's warmest hospitality on board and the reliability of our flight schedules," said Gloria Mensah, the SAA Country Manager in Ghana.
In October 2013, more South African companies showed an interest in Ghana. This in turn stimulated further growth, which directly resulted in the introduction of a daily flight service.
As a further investment in the route, SAA introduced flights between Accra and Washington DC in the United States in August 2015. The airline was granted traffic rights, making it the first African carrier to offer a direct service between Accra and Washington.
"The Accra to Washington DC route is tremendously popular and has shown steady growth. It received favourable customer ratings for excellent on-board service and on-time departures. We thank our loyal customers for their patronage and our dedicated team at the South African Airways Ghana office," Mensah said.
South Africa and Ghana established diplomatic relations in 1994. To date, the two countries have signed 19 bilateral agreements and memoranda of understanding. — NNN-SA NEWS
Kabul to Urumqi Direct Flights to Resume
KABUL, Afghanistan July 5 (NNN-Xinhua) — Direct flight between Afghanistan and northwest China's Xinjiang Uygur Autonomous Region is to resume in mid July after a three-year hiatus, officials announced here Monday. The air route is the only air link between the two countries.
Maiden flight will be carried out by Ariana Afghan Airlines on July 13 from the Afghan capital of Kabul to Urumqi, the capital of Xinjiang, and return the next day.
At a resumption ceremony, Chinese Ambassador to Afghanistan Yao Jing hailed the move as a big step forward for bilateral ties.
China and Afghanistan have been good neighbors since ancient times, and the resumption of the direct flight will further promote cooperation, trade and people-to-people exchanges between the two countries, Yao said.
The direct flight will also facilitate the implementation of the China-proposed Belt and Road initiative and help boost Xinjiang's economic development, the ambassador added.
Afghan Chief Executive Abdullah Abdullah said in a congratulatory message that the resumption of the air route will strengthen bilateral cooperation in economy, trade and security, and promote cultural and people-to-people exchanges between the two countries. – NNN-XINHUA
Qatar Airways Belts Marrakech On Latest List Of Destinations
DOHA, Qatar, July 4 (NNN-QNA) – Qatar Airways celebrated the addition of tourist favourite, Marrakech, to its global route map, with the airlines inaugural flight landing at Marrakech Menara Airport.
The inaugural flight carried a Qatar Airways delegation and was greeted by the Marrakech Menara Airport General Manager, Nawal Mounir; Morocco's Minister of tourism, Lahcen Haddad, and the Qatari Counsellor to Morocco, Mansour Abdullah Al Sulaiteen.
Qatar Airways Group Chief Executive, Akbar Al Baker, said that, Marrakech is one of Morocco's most popular cities for tourists.
"It is our pleasure to offer this vibrant destination to our customers, while also opening up seamless connectivity to more than 150 cities around the world, to those travelling from Morocco, through our hub at Hamad International Airport."
Qatar Airways began its Morocco operations in 2002. Today, customers can fly daily on Qatar Airways Boeing 787 Dreamliner to Casablanca from Doha.
Additionally, through a code-share partnership with Royal Air Maroc, Qatar Airways offers customers the opportunity to seamlessly connect to destinations throughout Morocco, Spain, and north and west Africa, with the additional benefit of enhanced frequent flyer benefits.
Import and export businesses in Morocco will also benefit from the new service, which provides up to 33 tonnes of belly-hold cargo capacity a week.– NNN-QNA
Bengkulu College students plant mangroves in Jenggalu Estuary
Bengkulu (ANTARA News), 30 Juni 2016 – Dozens of college students of the Bumi Rafflesia Student Association planted hundreds of mangrove, sea almond, and casuarina trees in the coastal areas of Bengkulu City, Bengkulu Province.
"Mangrove planting is a testament to our concern and efforts to preserve the coastal environment in collaboration with several communities and graduates from the Bogor Agricultural Institute," Chairman of the Bumi Rafflesia Student Association Muhammad Khaisusabilillah stated here during the mangrove planting activity in Jenggalu Estuary, Bengkulu City, on Thursday.
The associations chairman noted that Bengkulu Citys Mangrove Community had also participated in the planting activity in order to strengthen the coastal defense to fight the threat of erosion.
Khaisusabillah remarked that the mangrove ecosystem was a forefront habitat to resist soil erosion, and other varieties, such as ketapan and casuarina trees, which functioned as windbreakers.
"There are certain zones with different functions, but mangroves play a leading role in reducing soil erosion," he emphasized.
Khaisusabillah hoped that the mangrove-planting activity will be conducted by other groups, so more people would play an active role in preserving the coastal environment.
Some 200 ceriops tagal along with 200 casuarina and sea almond trees were planted along the coastal area, Coordinator of Bengkulu Citys Mangrove Community Riki Rahmansyah affirmed.
"Some 400 mangrove trees were planted to make the coastal area of Bengkulu city greener and to particularly reduce the rate of coastal erosion in the area," Rahmansyah pointed out.
The coastal area of Bengkulu Province is prone to erosion and rising sea levels. Therefore, the mangrove habitat in the area should be preserved to resist erosion, Rahmansyah noted.
The mangrove ecosystem in Jenggalu Estuary is one of the preserved habitats as a part of the Pantai Panjang Natural Park that is managed by the Natural Resources Conservation Center of Bengkulu Province.
People-to-people contacts to strengthen Pak-German relations
ISLAMABAD, July 8 (APP): Speaker National Assembly of Pakistan, Sardar Ayaz Sadiq called on Chancellor of Federal Republic of Germany, Angela Merkel in Berlin.
According to a message received from Germany here on Friday during meeting, both the leaders expressed satisfaction over the status of bilateral relations between Pakistan and Germany.
Sardar Ayaz Sadiq said that Pakistan and Germany enjoy cordial relations based on common interest and shared perceptions on major international issues.
He said that Pakistan strongly desires to further diversify its existing relations through people-to-people contacts and parliamentary cooperation.
The Speaker said that present Pakistani political hierarchy envisions a qualitative transformation in its relation with Germany for building a broad based, substantive and long term partnership encompassing all areas of mutual cooperation.
He appreciated the German leadership's keen interest in expanding and deepening bilateral relations with Pakistan.
Ayaz Sadiq said that terrorism and extremism are the biggest threats to peace and stability in the region as well as the entire world and it can be curbed through closer collaboration with the world community.
He said that for world peace and security, Pakistan is rendering unprecedented sacrifices. He underlined the need for enhancing interaction among parliamentarians, intellectuals and business community for closer cooperation.
Chancellor of Federal Republic of Germany, Angela Merkel said that Germany also attaches great value to its relations with Pakistan and needs to further cement them.
She said that Pakistan is an important country in the region and it is a strong desire of her country to see Pakistan as a prosperous and stable country which was also in the interest of the region and the world.
She agreed for enhancing relations between parliamentarians of both the countries. She assured the Speaker, Germany's continued support and cooperation in diverse fields.
Nomad Art Gallery organizes summer classes for children
ISLAMABAD, Jul 4 (APP):Nomad Centre and Art Gallery is organizing second session of three days a week summer classes for children under age of 8 to 16 years at Saidpur Village from July 11 to July 27.
According to the official sources, there were two session starting from June 13 to June 29 and July 11 to July 27.
During workshop, the students would learn about the art, culture and craft activities.
Students of various educational institutions would participate in the workshop.
The participants would be teached about pottery and relief, printing without press, reading exercise and story telling.
The students can register for both the sessions.
Railways' Karachi Division earns 29% more revenue
KARACHI, July 8 (APP): Pakistan Railways' Karachi Division performed well in the financial year 2015-16 and earned 29 percent more revenue as compared to the previous fiscal year.
This was stated by the Division Commercial Officer (DCO) Karachi, Nasir Nazeer.
He said that General Manager Pakistan Railways, Javed Anwar, had appreciated the staff who may be provided with some cash incentives in appreciation of their performance.
Nasir Nazeer pointed out that the revenue target for Karachi Division for the fiscal 2015-16 was set at Rs. 12.72 million, whereas the earning during the period remained at Rs. 15.84 billion, 29 percent.
He was of the view that improvement in the earning was owing to better performance as well as punctuality of the trains which attracted more passengers.
The streamlining of the running of freight trains also helped in increasing the revenue, the DCO added.
He said that efforts would be made to earn more revenue in the fiscal 2016-17. The revenue target for the period would be set soon, he added.
Tourist attractions safe for Lebaran visitors – Indonesian minister
Jakarta (ANTARA News) 5 Juli 2016 – The Indonesia Tourism Minister Arief Yahya made assurance that tourist attractions across Indonesia are safe for post-fasting Lebaran holidaymakers despite the suicide bombing attack targeting the Surakarta Police Station in Solo, Central Java, on Tuesday morning.
"Despite the bombing incident, there are no signs of terrorism targeting tourist attractions across the country, and thus, both local and foreign tourists need not worry," the tourism minister remarked here on Tuesday.
Yahya reiterated that tourists should not harbor worries over the bomb attack as all attractions across the country will remain safe and conducive for the Lebaran holidaymakers this year.
Following the suicide bombing incident in Solo, President Joko Widodo (Jokowi) has appealed to people in the country to stay calm.
"I have coordinated, and the security personnel have been able to take control of the situation, and so, we hope the people will stay calm while being alert as tomorrow we will celebrate Eid al-Fitr," Jokowi stated at a press conference at the Hotel Grand Inna Muara in Padang, West Sumatra.
President Jokowi remarked that he had ordered National Police Chief General Badrodin Haiti to thoroughly investigate the network of the suicide bomber.
The president also urged the police to track down and arrest members of the network, adding that he would continue coordinating with the police to find the mastermind of the incident.
"Again, we hope the people will stay calm and observe their final day of fasting solemnly," he affirmed.
N. Sulawesi exports nutmeg to Italy
Manado (ANTARA News) 5 Juli 2016 – North Sulawesi has exported dried nutmeg to Italy in June, according to Head of Foreign Trade from the provinces Department of Industry and Commerce T. Hasudungan Siregar.
"We exported 21.2 tons of dried nutmeg, which generated US$48,802," Hasudungan noted in Manado in Tuesday.
Hasudungan further explained that dried nutmeg was a derivative commodity that was currently in high demand among Italian buyers.
"We dry the nutmeg through a highly hygienic process, and we send them over to Italy," he remarked.
The exports positively affect the nutmeg farmers and derivative product exporters in North Sulawesi as they boost the countrys foreign exchange.
Generally, nutmeg is only used as a cooking ingredient or turned into pickles, as a result of which it does not reach the international market. The reach of nutmeg is rather vast as it has now entered the European market, he added.
"It is difficult to penetrate the European market as every country has a set of food standards that need to be met," he explained.
Hence, nutmeg products originating from Sitaro Province in North Sulawesi are highly sought after as it has its own specialty and quality that cannot be found in other areas.
Hence, product quality should be maintained to sustain the demand from the European market.
Indonesian Arts Mission taking part in folklore festival in France
Jakarta (ANTARA News) 4 Juli 2016 – The Indonesian Arts Mission, represented by Dwipantara Creative, is participating in a series of "Festival International de Folklore" to be held in Paris, France, and Sainte Rose Guadeloupe, Caribbean Islands, from July 2 to 14.
Dwipantara Creative, as a representative of Conseil International des Organisations de Festivals de Folklore et dArts Traditionnels (CIOFF) Indonesia, will make an appearance at the opening event of the Cultures Croises en le-de-France 2016 at the UNESCO building, which will be attended by Indonesian delegate to UNESCO Professor Fauzi Soelaiman.
Indonesias Ambassador to UNESCO Fauzi informed Antara in London on Monday that he felt pride that Indonesia, with its strong culture, was contributing to the festivities.
Through this event, Fauzi hoped that French citizens, along with the audience from across the globe, will be encouraged to visit Indonesia, by witnessing the various cultures in person. He was also optimistic that the event would help to increase foreign tourist arrivals in Indonesia in line with the governments program to boost the countrys tourism sector.
The Croises en le-de-France Association annually holds various traditional dance and music festivals at cultural and art centers in Paris and its surrounding areas.
CIOFF, an association established to serve as a platform for cultural and art exchanges, performs traditional art shows from several countries in the world as well as holds cross-cultural dialog, all in the spirit of promoting world peace.
The Indonesian Arts Mission will also participate in the festival in Guadeloupe City in the Caribbean Islands, which is a part of the French territory, despite its location outside the metropolitan area. The Cultures Croises en le-de-France Festival is currently being held as it was opened on July 2 and will end on July 15 in Paris and Anjou, France.
Several countries are participating in the Cultures Croises en le-de-France 2016 festival to showcase their folk dances and music. Various forms of arts and crafts are also on display and for sale, which go hand in hand as part of the cultural exchange between the participants.
Dwipantara Creative will perform eight traditional Indonesian dances accompanied by live Indonesian music. They will also be bringing unique Indonesian arts as souvenirs to be showcased at the festival.
Indonesia is home to hundreds of traditional dances and has a rich cultural heritage, bearing in mind its ethnic diversity. For instance, the "Gending Sriwijaya" dance form from Palembang, which was performed for the Kings of the Sriwijaya Kingdom during their rule. The dance is usually performed by women in odd numbers, and it could be five, seven, or nine dancers. Randai Badantian is a blend of Randai Dance and Piring (plate) Dance from Minangkabau, West Sumatra.
Cultures Croises en le-de-France is an association incorporated in the CIOFF, an international organization working with the UNESCO based in Confolens, France.
Since 1970, CIOFF has been making steady efforts as well as promoting traditional arts in cooperation with 110 countries and more than 300 traditional art festivals across the globe. CIOFF also supports world peace and anti-violence campaigns by promoting cultural exchange between countries through dance, music, rituals, and customs.
Since 1981, CIOFF Indonesia had sent its teams to several countries. Apart for the peace efforts, CIOFF Indonesia acts as a bridge to improve Indonesias bilateral relationship with other countries. This year, CIOFF Indonesia has sent Dwipantara Creative to represent the country at the Cultures Croises en le-de-France 2016 Festival alongside several nations from around the world.
50 Turkish aid trucks reach Gaza: Palestinian official
07.07.2016 (Anadolu News Agency) – GAZA CITY, Palestine – Around 50 trucks bearing Turkish humanitarian aid arrived in the Gaza Strip on Thursday via Israel's Kerem Shalom border crossing, according to a Palestinian border official.
Mounir Ghalban, who oversees the Palestinian side of the crossing, told Anadolu Agency that the trucks — carrying nearly 2,000 tons of humanitarian aid — had entered the strip early Thursday.
According to Ghalban, the aid — which includes basic foodstuffs, fuel and clothing — will first be stored in warehouses run by Gaza's Social Affairs Ministry before being distributed to the strip's neediest residents.
The Kerem Shalom border terminal, which links Egypt, Israel and the Hamas-run Gaza Strip, is the latter's only functioning commercial crossing.
On Monday, the first four trucks bearing Turkish humanitarian aid entered the coastal enclave via Kerem Shalom. This first aid consignment included toys for children, which were later distributed to Palestinian orphans.
In previous comments to Anadolu Agency, Yusuf Ibrahim, undersecretary of Gaza's Social Affairs Ministry, said a total of 400 aid-laden trucks were expected to reach the strip within coming days.
On Sunday, the Turkish aid ship "Lady Leyla" docked in Israel's port of Ashdod carrying 11,000 tons of humanitarian aid — including food, clothing and toys — destined for Gaza.
Since 2007, the Gaza Strip has groaned under a joint Israeli-Egyptian blockade that has deprived the enclave's roughly 1.9 million inhabitants of their most basic needs, especially food, fuel, medicine and construction supplies.
Restored ties
The latest influx of Turkish aid into Gaza comes within the context of a deal signed last week between Turkey and Israel in which the two agreed to restore diplomatic relations following a six-year hiatus.
Turkish Prime Minister Binali Yildirim has said that Tel Aviv had met all of Ankara's preconditions for normalizing ties, which were severed in 2010 after Israeli commandos stormed a Gaza-bound Turkish aid vessel.
The attack resulted in the death of nine Turkish activists and left another 30 injured, one of whom succumbed to his injuries nearly four years later.
At the time, Turkey had demanded that Israel officially apologize for the attack, compensate the families of those killed, and a lift its longstanding blockade of the Gaza Strip.
In 2013, Israeli Prime Minister Benjamin Netanyahu voiced his regret to Turkey's then-prime minister (now president) Recep Tayyip Erdogan over the incident.
Under the terms of last week's agreement to normalize relations, the two countries will exchange ambassadors and Israel will pay $20 million in compensation to the families of the 2010 flotilla attack victims.
Israel has also agreed to Turkey's request to maintain a "humanitarian presence" in the blockaded Gaza Strip.
Turkish-Belgian firm to construct energy factories in Iran
MENAFN – 04/07/2016 – A Belgian-Turkish company plans to build a number of 5,000MW power plants in Iran, which will be built in different places such as East Azarbaijan, Sistan-Baluchestan, Khuzestan, and Saveh.
The plants will be built with a fund of USD3 billion, and it would meet Class F standards giving efficiency of over 58 percent, hence the price of the power will be less than that produced domestically.
In general, the Islamic Republic inked a new contract with a group of abroad companies to attract a total of USD4.2 billion worth of direct investments for building power plants in the nation.
Iran's power generation size currently stands at nearly 74,000 MW, of which some 12,000 MW account for hydroelectric power plants, 1,000 MW for a nuclear power plant and the rest for thermal power plants.
UNESCO meets to expand World Heritage listings
MENAFN – Daily News Egypt – 08/07/2016 – UN cultural agency UNESCO will gather in Istanbul on Sunday to review candidates to join its prestigious World Heritage List, ranging from 350-million-year old fossils to works by Franco-Swiss architect Le Corbusier.
After the June 28 attack on Istanbul's airport that claimed 45 lives, security has been stepped up for the 11-day World Heritage Committee meeting – the panel's 40th. Though no one claimed responsibility for the attack, Ankara has pointed the finger of blame at the Islamic State group, which has wreaked considerable damage on World Heritage sites such as the ancient city of Palmyra and the citadel of Aleppo, both in Syria. "What happened in Syria and Iraq as well as in Mali and Afghanistan were so shocking that the process of preparing UNESCO's lists has become of great political importance," said the body's director general, Irina Bokova. Earlier this year IS blew up the ancient Nabu temple in Iraq. In 2012 a Malian jihadist blew up nine mausoleums and part of Timbuktu's famous Sidi Yahia mosque. In Afghanistan, meanwhile, the Taliban destroyed the giant Bamiyan Buddhas in 2001.
Interest in threats to heritage has "grown tremendously in recent years because of these conflicts" but also new threats linked to climate change or urbanisation, she told. "Globalisation and connectivity have also seen the rise of a new spirit, a wish to present oneself to the world through one's culture," Bukova said. "Inscription on the World Heritage list is glorious, countries are proud."
This year 29 dossiers are being considered by the World Heritage Committee, made up of 21 countries serving six-year terms. A dossier for the work of architect Le Corbusier, after failed attempts in 2009 and 2011, has been revamped and comes with high marks from a committee of experts who evaluate the submissions. It lists 17 sites across seven countries – France, Switzerland, Belgium, Germany, Argentina, Japan and India – to show the global reach of the work of Charles-Edouard Jeanneret-Gris, known as Le Corbusier. Thecreations show the contributions of Le Corbusier to the Modern Movement that emerged after World War I with an emphasis on functionality, bold lines and new materials such as concrete, iron and glass. Another architect in the same movement is also under consideration for a World Heritage nod, Brazilian Oscar Niemeyer, who laid out the country's capital Brasilia. Brazil's dossier wants Niemeyer's modern ensemble of Pampulha, a leisure centre built in 1940 around an artificial lake at Belo Horizonte, to be inscribed on the prestigious list. In the same vein, the United States is promoting the works of architect Frank Lloyd Wright, but the experts' assessment was not encouraging.
From 350-million-year old fossils to works by Le Corbusier
Other dossiers reach far back in time, one to Canada's Mistaken Point reserve with its 560 million-year-old fossils. Cave art dating from the 5th century BC in Zuojiang Huashan in China, the dolmens of Antequera in Spain and Gibraltar's Neanderthal grottoes are also in contention. Among natural sites under consideration are Iran's Loot Desert and the Revillagigedo archipelago in Mexico.
The World Heritage process has often caused diplomatic friction, and this year is no exception. Thailand has proposed its Kaeng Krachan forests for listing as a cultural site, angering neighbouring Myanmar, which fired off a letter to UNESCO stating that 34 percent of the site is in its territory. For its part Britain annoyed Spain by proposing the Gibraltar grottoes, and Turkey has a dossier promoting the ancient ghost city of Ani, once the capital of neighbouring Armenia.
The World Heritage List today has 1,031 sites in more than 163 countries. The Heritage Committee will also review the status of 48 sites currently listed as "in danger". Seven more sites have been proposed to be added to this list, including the Kathmandu valley, which suffered a devastating earthquake last year.
Apart from the prestige it accords, it can be a boost to tourism as well as a means for poorer countries to receive financial aid to preserve their sites.
Nigeria Football Federation adopts FIFA TMS Domestic Transfer Matching System
MENAFN Press – 05/07/2016 – Nigeria Football Federation adopts FIFA TMS Domestic Transfer Matching System ZURICH, Switzerland, July 5, 2016/APO/ –FIFA TMS announced today that the Nigeria Football Federation (NFF) is the first member association (MA) in Africa to implement the FIFA TMS Domestic Transfer Matching System (DTMS).
The DTMS online platform, which includes league access, will allow the NFF and the Nigerian Professional Football League (NPFL) to manage its international and domestic transfers via one system. It is modelled on the International Transfer Matching System (ITMS), which is provided to 211 MAs and 6,500 clubs around the world for the cross-border transfer of players.
The system will provide the NFF and its clubs throughout Nigeria the ability to manage national and international transfers on one platform, generate transfer activity reports and have greater monitoring levels to enhance transparency and governance. Additional MAs from the Confederation of African Football (CAF) are expected to implement the DTMS later this year.
The NFF's adhesion to the system was facilitated by the custodians of the NPFL, the League Management Company (LMC). FIFA TMS developed the DTMS system in response to demand from MAs and clubs for a domestic transfer system based on ITMS. Distributed by APO on behalf of Federation internationale de football association (FIFA).
UAE- Zayed Future Energy Prize passes 10,000th entry milestone
ABU DHABI, MENAFN – Emirates News Agency (WAM) – 04/07/2016 — The Zayed Future Energy Prize has received in excess of 10,000 entries over its nine cycles, a figure revealed when submissions for the 9th annual awards closed on Monday, June 27th. A record 1,678 entries were received this year, an increase of 12 percent over 2015.
Nominations, accepted in the "Large Corporation" and "Lifetime Achievement" categories, accounted for 555 entries, with 1,123 submissions were made in the remaining categories.
Following a record year for global investment in renewable energy, the top-five countries by number of prize entries are the United States, India, Mexico, Colombia and China. This reflects the global appeal of the prize and burgeoning investment in clean technology industries in those countries.
Commenting on the number of entries, Olafur Ragnar Grimsson, President of the Republic of Iceland and Chair of the Zayed Future Energy Prize Jury, said, "The extraordinary growth that we see each year from the Zayed Future Energy Prize is a testament to the length and breadth of its reach and influence across the globe. Through this growth, we see the late Sheikh Zayed"s continuing legacy inspire and empower pioneers in the industry and improve conditions for communities in every region of the world."
In the Asia region, the UAE contributed the second highest number of "Global High School" category submissions, behind India. Taking into account all regions, the prize"s home nation placed seventh out of 49 countries for entries received in this category, which grew by 50 percent from 2015. Winning high school projects to date have resulted in a reduction of more than 1,000 tonnes of carbon emissions, benefitting 37,000 people in surrounding communities.
Dr. Sultan Ahmed Al Jaber, UAE Minister of State and Director General of the Zayed Future Energy Prize,said, "The prize continues to honour the legacy of our nation"s founding father, Sheikh Zayed bin Sultan Al Nahyan, through the significant impact it is having on people across the globe. To date, the contributions and actions of the prize winners have improved conditions for more than 202 million people, and this is one of the ways in which the UAE is playing a fundamental role in driving a sustainable development and ensuring energy access for all."
During the ninth cycle, the prize accepted nominations for the "Large Corporation" category in place of submissions for the first time. The nomination process is already used in the "Lifetime Achievement" category.
Of the 555 nominations, 205 were for large corporations and 350 were for individuals. Submissions, accepted in the remaining categories, increased by 32 percent to 578 made by small and medium enterprises, SMEs and by 10 percent to 260 by non-profit organisations, NGOs.
Before the winners are announced at an awards ceremony during Abu Dhabi Sustainability Week in January next year, entries must undergo a four-stage evaluation process. Evaluation begins with due diligence by research and analysis before a shortlist is formed by the Review Committee. From the reduced shortlist, entries are examined by the Selection Committee, where a list of finalists is agreed upon. The process culminates in a meeting of the prize jury to select a winning entry in each category. Submissions in the Global High Schools category are considered by the Global High Schools committee following due diligence, before proceeding directly to the Jury.
International experts from a range of sectors, including energy, government, business and academia, are involved at every stage. The jury counts current and former heads of state, global leaders and world-renowned personalities among its past and present members.
Turkish firm bags contract in Russia despite disputes
MENAFN – 04/07/2016 – Turkey's Renaissance Construction has secured a tender to build a terminal and tunnel at Moscow's Sheremetyevo airport; however the firm declared that the tender process is still ongoing.
In more detail, Renaissance Construction and Limak, the other Turkish firm which tendered, had submitted their bids from their Russian-registered subsidiaries, state-controlled Sheremetyevo stated formerly.
Sheremetyevo stated in January that the construction of a passenger terminal and a tunnel by 2018 would cost approximately USD630mn, and a cargo terminal with separate tender would cost an extra USD70mn.
All in all, in light of the current political issues between the two nations, Turkish firms will not be able to build structures or work in architecture and design in Russia, with an exception for 53 Turkish firms.
Aamir, Salman bigger stars than me: Shah Rukh Khan
MUMBAI, July 8, 2016 (BSS/PTI) – Bollywood superstar Shah Rukh Khan feels words of praise coming from his actor-friends Salman Khan and Aamir Khan is due to respect they have for each other.
Recently, at an event Aamir had said Salman and Shah Rukh were bigger stars than him in the Hindi film industry.
On this, Shah Rukh said here at a function, "I think between myself, Aamir and Salman we have huge liking towards each other. I also feel they are bigger stars than me. If you ask me I will say that thing and if you ask Salman he will say same thing. I think it is out of respect."
Arum cultivation gains popularity in Gaibandha
GAIBANDHA, July 8 (BSS)- Cultivation of Arum, a summer vegetable has gained much popularity among the farmers of Dhaperhat union under Sadullapur upazila of the district in recent years.
Department of Agriculture Extension (DAE) source said over 200 hectares of arable and fallow land of the union have been brought under the cultivation of arum this year on commercial basis.
As the variety grows well within 4 months and its production cost is cheaper than any other vegetables, the cultivation of arum has increased in the union two times than the previous year.
Earlier, the farmers of the union used to cultivate the variety in the fallow land in order to meet only the family consumption.
Now, the farmers are cultivating it commercially like other cash crops on their arable land to earn profit on commercial basis.
Abdus Samad, an arum cultivator of Khamarpara Village of the union, said different varieties of arum have been cultivated here in the current season.
The harvest of different varieties of arum started in the last month and the farmers were earning money by selling those in the local market as well as wholesale markets, he also said.
Another farmer of Hingarpara Village of the union Motaleb Miah said an arum cultivator could earn at least Taka 7,000 from a bigha of land against its production cost of Taka 1,500 only.
Additional Deputy Director (crops) of DAE Shawkat Osman said the cost for arum cultivation is very little as there is no necessity to use pesticides and organic fertilizers on the land like other vegetables.
Terming the arum cultivation as environment friendly he said the farmers of other unions under the upazila were also imparted training on arum cultivation to meet the growing demand of the vegetables.
Deputy Director of DAE AKM Ruhul Amin said he has asked all the Sub Assistant Agriculture Officers to motivate the farmers to cultivate different varieties of arum on fallow land to help the cultivators earn extra money.
Sweet pumpkin cultivation increases in Panchagarh
PANCHAGARH, June 8, 2016 (BSS)- Sweet pumpkin cultivation has changed the socio-economic condition of farmers of the district this year.
A large number of farmers here has involved themselves in cultivating HYV sweet pumpkin considering its economic prospect. Growers cultivate pumpkins on their lands and also on the premises of their houses.
Department of Agriculture Extension (DAE) office sources said a total of 900 hectares of land has been brought under sweet pumpkins cultivation in the district.
Many farmers have started cultivating pumpkins on commercial basis. Halimuddin, a farmer of Ramganj Bilashi village under Debiganj upazila is one of the successful pumpkin growers.
He cultivated HYV pumpkin on 30 decimals of land. He expects to earn over Taka 40,000 this season. Halimuddin said HYV sweet pumpkin seeds can be sowed at any time round the year. But the best time to sow is from the Bengali month of Ashar to Falgun. Harvesting of the vegetable begins after only two months of sowing.
It continues for the next three to four months. Each HYV sweet pumpkin creeper produces over 200 pumpkins.
A single family can meet its annual demand of pumpkin by sowing only two HYV pumpkin seeds at his courtyard on an interval of six months, the farmer told BSS.
At the beginning of the season, pumpkin is sold at exorbitant prices. A single piece of pumpkin is sold at Taka 25 to 30. Gradually the prices came down with adequate supply. About Taka 4,000 to Taka 5,000 is needed to cultivate HYV pumpkin on one biga of land, Farmer Halimuuddin said.
Md. Ayub Ali, Deputy Director of DAE, said farmers of Panchagarh are showing much interest in cultivating sweet pumpkin in more lands.
Aqinah Railway To Be Opened Soon
July 6, 2016, Kabul (BNA) The presidential office says that president Ghani is expected to visit Turkmenistan late July and open Turkmenistan-Aqinah port railway project.
The Afghan authorities consider very important the visit of president Ghani for expansion of mutual cooperation in the fields of economy, energy and transit. According to deputy presidential spokesman Shah Hussein Murtazawi, during this visit besides opening of Aqinah railway, the agreement on Azure transit route would also be signed. At the margin of Shanghai conference, the president of Turkmenistan had invited his Afghan counterpart to visit his country and open Aqinah railway as Afghanistan is interested to have close cooperation in different fields with Turkmenistan. Based on the information of the MoCI, this railway project will be connected to Faryab province in Aqinah port and in second stage, its 35 km will be extended to Andkhoi city and then this railway will be extended in less than one year to Balkh, Jawzjan, Kunduz and Tajikistan.
At present, Afghanistan has two active railways, the one from Uzbekistan with a length of over 70km to Balkh and the second from Turkmenistan to Torghondi. The first Afghan railway project was drafted in 1879 by British authorities through Kandahar but this project was suspended due to unknown reasons. Following the establishment of the new administration, the first railway was constructed by Iran in 2008 as toady the NUG is trying to implement further railway projects. The spokesman of the MoCI Musafer Qoqandi said that opening of this railway is very effective for making of Afghan products and reduction of transit duty of goods. It is important that Afghanistan will be connected by two ways to two important commercial points. The first will be transferred from Turkmenistan to Azerbaijan, Georgia, Turkey to Europe and the other one from Turkmenistan to Kirghizstan, Kazakhstan and China.
Saifuddin Saihoon an economist said due to being a land locked country therefore access to railways is very important for this country as availing this opportunity, she can pave the way for its economic development and capacity building. With the opening of this project, Afghanistan would have access to a transit corridor. The leaders of the NUG should make effort to rescue Afghanistan from dependence to economic markets of Pakistan, India and Iran. Prior to this, president Ghani had also said that he tries to change Afghanistan to a transit, Trade Bridge between South and Central Asia and exploit its geographical location for its trade, economic improvement. Establishment of trade-economic relations is very important with central Asian countries because we have always many transit problems with Pakistan.
Washington Univ Soil Scientist Bids to Boost Skills of Afghan Farmers
July 6, 2016, Kabul (BNA) In 2012, Washington State University's Oumarou Badini reported for work at an agricultural-research center in eastern Afghanistan that has benefited from millions of dollars in international aid. Yet Badini found acreage set aside for test plots covered in trash, rather than crops. Irrigation ditches, crucial to farming in such an arid climate, were clogged with weeds, "It was a mess," Badini recalled in a recent interview on a visit back to Pullman. "Nobody took care of these lands." So Badini recruited some Afghan colleagues and devoted 10 days to a massive cleanup. This was a downbeat debut for Badini's aid work in a troubled region where opium poppies are one of the most lucrative crops, and the ranks of insurgents have expanded to include contingents of fighters from the Islamic State group as well as the Taliban, who control large swaths of territory.
Yet four years later, this African-born, Pullman-trained soil scientist is still on the job even as most of the U.S. military troops have withdrawn and many expatriates involved in aid work have left, too. His mission is fixed on boosting the skills of dozens of Afghan agriculture extension agents and introducing conservation-cropping techniques. Badini, 57, has achieved some success, expanding the outreach in Nangarhar province to two neighboring provinces where Afghan staffers have demonstrated new approaches to more than 7,000 farmers. The work is part of a $33 million project to improve Afghanistan agriculture undertaken by a consortium of WSU and four other universities that operate in different regions of the nation. Initially the work was funded through the U.S. Department of Agriculture, which honored the universities with the Agriculture secretary's Global Food Security award. Now, the consortium is backed by the U.S. Agency for International Development (USAID) and the work is scheduled to continue at least through 2017.
The project is a sliver of the more than $110 billion in U.S. taxpayer dollars — flowing largely through the Defense Department and USAID — spent to rebuild Afghanistan since the 2001 fall of the Taliban. The effort has ranged from erecting schools and clinics to training soldiers and introducing new crops to farmers. Some of the biggest gains have been made in improving health and education. But some U.S. spending has been questioned by audits and other investigations detailing waste, incompetence and corruption. In congressional testimony in March, John Sopko, special inspector general for Afghanistan reconstruction, reported that his staff reviewed 45 Defense Department-funded construction projects worth $1.1 billon. It found 16 so poorly built that deficiencies "threatened the structural integrity of the buildings and the safety of their occupants." "We built too much, too fast, with too little oversight," Sopko told the House Committee on Oversight and Government Reform.
Agriculture programs, although a relatively small slice of the U.S. assistance, also have involved some dubious spending. USAID bankrolled a $360 million project to provide wheat seed and fertilizer for more than 290,000 farmers. A 2010 agency audit found lists of "nonexistent beneficiaries" as well as other irregularities that suggested a "systemic problem with the distribution effort." That agency has headquarters within the heavily fortified U.S. Embassy in Kabul, with staff that cycle through on a yearly basis. Staff members can only venture out under heavy security, so it can be difficult for them to actually see the projects funded around the nation. And auditors have noted that turnover among aid officials can sometimes be an obstacle to success. By the third year of one five-year project to persuade farmers to grow alternatives to poppies, they found the USAID staff in Kabul had gone through six agricultural directors while the contractor in charge of the project had racked up five leadership changes.
"Each change brought a different vision with different priorities and a different operating style," the auditors wrote. In Jalalabad, capital of Nangarhar province, Badini cites another problem with the years of spending. When he first arrived, he found the money had created a sense of entitlement among some government agricultural staffers who seem to equate foreign aid with lucrative handouts. Badini has tried to set a different tone, refusing to pay any state employee who fails to show up for his training sessions. "We came in and said we're not bringing money. What we bring is knowledge, and knowledge is power," Badini said. "For some time, there was some fighting. But now people understand what we're about, and I think there is change."
Nigeria: Pan Africa Solar Signs Nigeria's First U.S.$146 Million Investment
8 July 2016 This Day (Lagos) – In what could be termed utility-scale solar revolution, Pan Africa Solar and the Federal Government of Nigeria have jointly signed Nigeria's first Solar Power Purchase Agreement (PPA). The 75MW solar photovoltaic power project in Katsina State, a total investment of $146,000,000USD, will sell power for a tariff of 11.5 US cents per kWh and will be commissioned in 2017.
The signing agreement was carried out at the office of the Nigeria Bulk Energy Trader (NBET). The special guest of honour at the groundbreaking ceremony and Vice President, Prof. Yemi Osinbajo, was represented by Mrs. Lolade Abiola of Sector Lead Solar and Access Advisory power Team, Office of the Vice President.
Once inaugurated, this 75MW solar project will be the largest of its type in sub-Saharan Africa (excluding South Africa) and will provide power for 1.1 million Nigerians.
Not only that, it will also create over 500 employment for local people during the 12 month construction period. It is also estimated that more 40,000 new jobs will be created from the additional economic activity stimulated by the power plant.
In his address, Chief Executive Officer (CEO), Pan Africa Solar, Mr. Marcus Heal said, "We are delighted that the Federal Ministry of Power is pushing ahead with its solar energy policy. This tariff has been achieved through harnessing lower construction and lower solar panel prices and the commitments of the project's Lender".
Corroborating Heal's remarks, Justin Woodward of JCM Capital, a Canadian Private Equity firm who are co-developers in the project said "This is the start of a solar revolution in Nigeria." Pan Africa Solar is developing a 1,000 MW portfolio of solar projects in Nigeria and planning on bringing more than US$1 billion of investment over the next five years.
The sponsor group for the project includes Pan Africa Solar and JCM Capital and the African Finance Corporation (AFC). The FMO are the Lead Arrangers of debt raised from the Development Finance Institutions that includes DEG and Proparco. The project is also receiving support from the World Bank, Power Africa and MIGA, the company said.
Tehran to host 1st Congress on Modern Technology for Medical Application
Tehran, July 5, IRNA – The First Congress on Modern Technology for Medical Application aiming to indigenize the technology will be held in the presence of experts, researchers, and domestic and foreign physicians in Tehran.
Tehran to host 1st Congress on Modern Technology for Medical Application
Executive Secretary of the First Congress on Modern Technology for Medical Application Nader Yavari Moqaddam told IRNA on Tuesday that scholars from England, Germany, France and the US will deliver lectures to the Congress.
He said that medical robots, nanorobots, bioelectric and bioelectromagnetics in diagnosis and treatment, the tissue and stemcells engineering, medical laboratory's smart equipment, digital and nuclear medicine are the topics of the Congress.
He said that modern technology including digital imaging, smart hospital, universities and research centers' role in transfer of modern technology and the challenges in application of the modern technology are the topics to be raised by the congress.
Those interested can issue their articles to the secretariat of the congress up to the Iranian month of Shahrivar (August-September).
He said that top Ideas Festival on medical technology and specialized exhibit will be held on the sidelines of the event.
The First Congress on Modern Technology for Medical Application sponsored by permanent secretariat of modern medical technology and some universities and hospitals will be held in upcoming Iranian month of Aban (October-November).
Envoy: Bright prospect of Iran-Turkey relations foreseeable
Ankara, July 8, IRNA – Iran's Ambassador to Ankara said that a good landscape is foreseeable in the relations between Iran and Turkey.
Envoy: Bright prospect of Iran-Turkey relations foreseeable
'The trend of interactions and cooperated between Iran and Turkey in political, cultural and economic fields is having a suitable landscape,' Ebrahim Taherian said in a meeting with Head of Turkey's Religious Organization Mohammad Gormez on Friday.
Taherian pointed to the two countries' high-ranking officials to broaden economic exchanges, and said, 'The Iranian and Turkish presidents are eyeing 30-billion-dollar landscape for the two countries' trade exchanges; we are duty-bound to make our efforts in line with this objective.'
The Iranian ambassador pointed to recent terrorist attacks in Turkey, Iraq and Syria, and said, 'The regional security, especially Turkey's security is important for Iran; terrorists have crossed all redlines.'
Taherian underlined the importance of mutual cooperation between Iran and Turkey, especially in fighting terrorism, and said, 'Effective campaign against terrorism and phenomenon of extremism is possible through establishment of unity among Muslim countries and the role played by Iran and Turkey is paramount importance in this regard.'
Gormez, for his part, underlined the importance of upholding mutual cooperation between Iran and Turkey, and said, 'We can cooperate for restoration of peace and stability in the region through making joint efforts to help the Middle East and the Muslim World to come out of the present crisis.'
Iran to attend 'World Cities Summit' in Singapore
Kuala Lumpur, July 7, IRNA – World Cities Summit will be held in Singapore in coming days with the participation of Iranian officials and over 700 delegations comprising ministers, mayors and urban officials.
Deputy minister of road and urban development and a number of other officials from the Ministry will take part in the upcoming event to be held from July 10-14.
According to the summit's website, the five day event is to host delegations from China, the US, Britain, New Zealand, Kuwait, Morocco, Sweden, Indonesia and Japan.
The biennial World Cities Summit (WCS) is an exclusive and premier platform for government leaders and industry experts to address liveable and sustainable city challenges, share integrated urban solutions, and forge new partnerships.
Key highlights of the summit, which is organized jointly by Singapore's Centre for Liveable Cities and Urban Redevelopment Authority, include the Lee Kuan Yew World City Prize, and the annual World Cities Summit Mayors Forum.
The Lee Kuan Yew World City Prize is awarded to the best innovations which help tackle challenges facing urban projects.
Established in 2008, Singapore's Centre for Liveable Cities is seeking to promote effective supervision, comprehensive urban planning, effective management of resources, quality and cheap houses, effective management of transportation and environment.
Iran Khodro, Peugeot to supply new joint products to market
Tehran, July 4, IRNA – Deputy Minister of Industry, Mine and Trade Mohsen Salehinia said on Monday that a joint production site of Iran Khodro and Peugeot at Iran Khodro Complex is being worked out and the two automakers will supply new joint products to the market.
Iran Khodro, Peugeot to supply new joint products to market
Speaking to reporters on the sidelines of a ceremony to mark the National Industry and Mine Day, Salehinia said that after the implementation of Iran nuclear Deal reached between Iran and the six world powers last year, Iran Khodro and Peugeot signed contracts for cooperation and the joint production site was launched.
Following the contract between Iran Khodro and Peugeot, other Iranian automakers such as Saipa pursued their talks with French, German, Japanese and South Korean companies, Salehinia said.
Saipa will finalize a deal in the near future and Iran Khodro, that is seeking to export a 50% share of its products, will also find other trade partners except for Peugeot.
Tabriz-Najaf direct flight begins
Tabriz, July 5, IRNA – Deputy Head of the Cultural Heritage, Handicrafts and Tourism Office of Tabriz Ahmad Hamzehzadeh said on Tuesday that direct flight began operating from Tabriz to the Iraqi holy city of Najaf.
Hamzehzadeh said that the first flight from Najaf was carried by the Caspian Airlines.
The plane from Najaf arrived in Tabriz International Shahid Madani Airport on Tuesday.
Referring to abundant commonalities between the Iranian and Iraqi nations, he said that launching this flight is a very important event for both Iran and Iraq.
Hamzehzadeh said that selection of Tabriz as the tourism capital of the Muslim world in 2018 provides the city with a unique opportunity for attracting tourists to the ancient city's cultural and religious sites.
The flight from Najaf to Tabriz and vice versa will be available every Tuesday, the official said, adding that with the increase in the number of passengers, the number of flights will increase.
He said that the Iraqi tourists will stay in Tabriz for two days to visit the city's historical and tourist sites and then they will leave Tabriz for other Iranian cities including Mashad, Qom and Tehran.
Turkey to inaugurate fourth-longest suspension bridge
Ankara, (IINA) 30 Jun 2016 – A landmark road bridge in Turkey, over the Marmara Sea, will open to traffic on Thursday, It will be the fourth-longest suspension bridge in the world, Anadolu Agency reported.
Osmangazi Bridge will be 2,682-meter long, and it was built to drastically cut travel time between Istanbul and the country's western provinces.
The $1.3 billion bridge is named after Osman Gazi, the founder and first sultan of the Ottoman Empire.
The construction of the quake-resistant bridge began in 2010. It is expected to be formally inaugurated by President Recep Tayyip Erdogan and Prime Minister Binali Yildirim.
Morocco to establish first Islamic bank in 2017
Rabat, (IINA) 06 Jul 2016 – Morocco's central bank announced recently that it would start issuing approvals for Islamic banks this year, with the aim of allowing them to begin business in early 2017.
The central bank said it had received seven requests to open Islamic banks and three to open windows selling Islamic finance products, Reuters reported.
Two Gulf banks want to establish fully owned subsidiaries while four others are collaborating with local banks, an official said.
Islamic banks and insurers are setting up in Morocco after it adopted legislation allowing them into the domestic market, and the central bank has set up a central Shariah board with the country's body of Islamic scholars to oversee the new industry.
Lhassane Benhalima, the central bank's head of banking supervision, said the Moroccan bank CIH is partnering with Qatar International Islamic Bank and Morocco's CDG to establish an Islamic bank subsidiary.
Morocco's BCP has chosen Guidance Financial Group, BMCE Bank has picked Bahrain-based Al Baraka Banking Group, and AttijariWafa Bank will build its own business without a foreign partner, Benhalima said.
Dubai's largest bank, Emirates NDB, and Qatar's second-largest lender, Masraf Al Rayan, have asked to open Islamic banking subsidiaries in Morocco, Benhalima added.
Subsidiaries of French banks Société Générale. Credit du Maroc and BMCI have asked only for permission to sell Islamic financial products.
The bank is still waiting for parliament to approve a draft bill regulating Islamic insurance, or takaful, before operations begin as it aims to launch the Islamic finance industry as a whole.
Benhalima said the bank is planning an Islamic interbank market and was encouraging the government to issue regular sukuk (Islamic bonds) to ensure liquidity and financing tools for the industry.
"We expect the treasury to issue the first sukuk (ever) in the domestic market in the coming months."
Islamic bank and insurers are setting up in Morocco, and the central bank has set up the Shariah Committee, a central Shariah board with Morocco's body of Islamic scholars, to oversee the new financial sector. The committee is tasked to monitor Islamic banking products and transactions to assure conformity with Islamic law, Morocco World News reported.
Islamic finance is based on religious principles that avoid interest and monetary speculation. The industry has grown rapidly over the past decade growing at 10 to 12 percent annually, according to the World Bank as it broadens its investor base across the Middle East and North Africa Region and Southeast Asia.
The industry has proven to emerge as an effective tool to fund worldwide development, including non-Muslim countries. Mainstream financial markets have discovered the industry's potential to address international economic challenges, World Bank reported.
The World Bank and the General Council for Islamic Banks and Financial Institutions, the global umbrella of Islamic Financial institutions, signed a Memorandum of Understanding (MoU) in July 2015 to enhance the development of Islamic finance worldwide and expand its investor base.
Casablanca to host 4th "Mediterranean Tourism Conference"
08 Jul 2016, Casablanca, (IINA) – The 4th annual 5+5 Mediterranean Tourism Ministers Conference will be held at the Four Seasons Hotel in Casablanca, Morocco on Monday, Morocco World News reported.
The event will be attended by the Moroccan Minister of Tourism, Lahcen Haddad as well as ministers and ambassadors from countries in the Western Mediterranean region including Mauritania, Tunisia, Algeria, Libya, Spain, France, Italy, Mali, and Portugal.
The conference will be under the theme of "Tourism and Climate Change," which will be a unique opportunity to shed light on many points of major interest to Morocco.
The conference will also help countries promote sustainable tourism in the region that is respectful of environmental resources and regional values.
This conference comes before Morocco hosts the COP22 in Marrakesh in November. The forum aims at adopting the Declaration of Casablanca on Tourism and Climate change, and at proposing specific solutions lending renewed impetus to the tourism offer in the Mediterranean Basin.
Doha's Museum of Islamic Art showcases unique Islamic inventions
Doha, (IINA) 06 Jul 2016 – Exploring the many wonders of the Museum of Islamic Art (MIA) in Doha could be daunting for some, given the wide array of artefacts that the spectacular structure stores. To make matters easy for the culture curious, MIA has compiled a series of tours such as the Highlights Tour and the Chinese Trail Tour, Gulf Times Newspaper reported.
Planispheric Astrolabe: The Astrolabe is a scientific instrument that was used throughout the Islamic world for many centuries. One of its principal uses in Islam was to determine prayer time and direction of prayer towards Makkah. The principles of an astrolabe's function were first developed in ancient Greece. Astrolabes were then developed and widely used in the Islamic world, before being re-introduced to Europe, by the 12th century, through Islamic Spain. This particular astrolabe bears the signature of one of the leading astronomers and mathematicians of the Islamic world, Hamid Ibn al-Khodor al-Khujandi. This piece, which is in Baghdad, Iraq, 984-985 CE, can be found in the Museum's Introductory Gallery on 2ndfloor.
Celestial Globe: Made of brass and engraved with a map of the constellations, this celestial globe was made in Lahore in what is now Pakistan. The production of astronomical instruments in South Asia, in the form of astrolabes and celestial globes, gained increasing popularity in the mid-16th century under the Mughal Emperor Hamayun, who was fascinated by astronomy and astrology. Celestial globes also became popular artistic items, prized by rulers and adventurers alike. This piece is in Lahore, 1639-1640 CE and can be found in the Science in Art Gallery on the 2ndfloor.
Anatomical Illustrations: Much of our medical knowledge today comes from scientific advances in the medieval Islamic world. This manuscript page is part of a late 18th century copy of the famous Tashrih-i Mansuri, a history of anatomy. The Tashrih-i Mansuri is considered the first anatomical treatise written within the Islamic world. It was developed in the 14th century by a scholar called Mansur al-Kashmiri al-Balkhi, who came from the city of Balkh in modern-day Afghanistan, written in both Persian and Arabic. This piece is in Near East, back to 18th century and can be found in the Science in Art Gallery on 2ndfloor.
Folio: The Wonders of Creation and the Oddities of Existence was written by the celebrated geographer and natural historian, Zakariya Ibn Muhammad al-Qazwini (c1203 – 83). This is an illustrated work that describes mythical and living creatures, the planets and natural elements, plants and animals. This manuscript is possibly the earliest existing copy of the text and was almost certainly written in the author's lifetime. This piece in Syria, 1275-1300 CE and can be found in Gallery 11.
Albarello: Called an Albarello, this type of jar was used by a medicine expert known as a 'pharmacist' or 'apothecary' to hold his drugs and ointments. Jars like this one were first produced in the Middle East, where apothecaries were developing different medicines made of plants and minerals to cure a range of diseases. This particular Albarello was made in Damascus, Syria, possibly intended for us by for a European apothecary in the Italian city of Florence as there is a European style shield in the centre. This piece is in Syria, 1400-1425 CE and can be found in the Pattern in Art Gallery on 2ndfloor.
Doors: The Mamluk rulers built mosques, Mausolea and madrasas in their capital at Cairo, and commissioned elaborate artworks to decorate their architectural projects particularly enameled and gilded glass, inlaid metalwork, textiles and woodwork.
These two doors are an excellent example of Mamluk arts. They show the great variety of infinite geometric patterns that were developed by mathematicians in the Islamic world. This piece is in Cairo, Egypt, 1300-1400 CE and can be found in the Pattern in Art Gallery on 2nd floor.
Gem-set enameled Gold Falcon: This gem-set enameled gold falcon was made in India during the period of Mughal rule across South Asia (1526 — 1858 CE). This object is interesting not only for its artistic beauty, but also for the wide range of materials that have been used in its creation. Enamel, a kind of melted glass, is used to create this falcon's coloured feathers. The white enamelled chest is decorated with feather markings in very dark green enamel that resembles cloud bands or tiger stripes, and is embellished at the centre with a golden sapphire set in an octagonal collet. This falcon also has a sapphire and emerald-set beak and wears a faceted emerald cap. This piece — India, 1628-1649 CE and can be found in the India and Turkey 16th-18th century Gallery on 3rdfloor.
CIS countries discuss tourism development — Kyrgyz official
BISHKEK, July 7. /TASS/. Representatives of the Commonwealth of Independent States' (CIS) member countries gathered for the CIS Tourism Council in Kyrgyzstan on Thursday to focus on prospects for developing the tourist industry in their states, head of the relevant department of the Kyrgyz government Azamat Zhamankulov said.
"The meeting (which opened here on Thursday) is of special importance, as it took place in the year of the CIS 25th anniversary," he said, adding that the "agenda embraces promotion of various spheres of tourism."
In his words, every CIS state has got successful experience in the development of some spheres of tourism and their advices might become very useful for their partners. "For instance, agro-ecotourism is very developed in Belarus, alpinism – in Tajikistan, heritage tourism – in Uzbekistan, while Kyrgyzstan has accumulated experience in the organizing of cultural events, such as the World nomad games," Zhamankulov said.
Upon results of the meeting, the sides are going to make some decisions, in particular on the launch of TV programs on sightseeing, unique nature of the states, historical areas, places of resort and tourism possibilities of the CIS countries.
Participants in the meeting, which will round out on July 8, will discuss implementation of the tourism development plan for 2015-2017 and a draft program of cooperation in this field in 2018-2020.
Iran aviation industry, successful despite sanctions: Official
Tehran, July 9, IRNA – Secretary of Association of Iranian Airlines said Iranian aviation industry has gained great success despite sanctions against the country.
Maqsoud As'adi Samani made the remarks here Saturday while referring to the US House measure to pass legislation to block Boeing's planned sale of aircraft to Iran.
Talking to IRNA, As'adi Samani said Iran has raised the number of its aircraft from 25 to 270 since the 1979 Islamic Revolution while being under sanctions for years.
About the US Republican-led legislation, As'adi Samani said the bill should also be approved by the US Senate. Then, it can be implemented only after being signed by US President Barack Obama.
However, President Obama has recently said that he will veto the legislation which threatens Iran deal with Group 5+1 comprising the US, UK, France, Russia and China plus Germany.
The legislation has been passed while the US government has been committed to implement the Joint Comprehensive Plan of Action (JCPOA) between Iran and world powers.
The current financial situation of Boeing shows that it needs more sales, said the official, adding that the US should not prevent that company from cooperating with Iran if it considers Boeing's interests.
Products from Kyrgyzstan to be sold and advertised in the world through TV and Internet
Bishkek, July 6 / Kabar /. Products from Kyrgyzstan to be sold and advertised in the world through TV and the Internet, President of the Fund of Economic Development "South Korea" Zhumakadyr Akeneyev told reporters at Kabar News Agency.
Akeneyev said that since this year products, which are produced in Kyrgyzstan, will be sold and advertised in the global market through the TV and Internet 24 hours a day. This is particularly agricultural products, textile and others. "We introduce a new kind of trade in Kyrgyzstan, which is used in the world. For example, agricultural products producing technology will be filmed and shown on television in order to customers all over the world could see that Kyrgyzstan manufactures environmentally friendly products, but not GMO as in other countries," Akeneyev said.
The expert explained that, this might be a good impetus for the development of export to other countries, and will bring economic benefits for Kyrgyzstan.
He also said GS SHOP, which is engaged in commercial shopping, offered this trading system, and will cover all the costs. This company operates in 8 countries around the world.
"Today, the largest Korean company is interested in our country. It proposes our producers to sell their products in China, Europe and the EEU member-states through the Internet and TV," said Akeneyev.
"We can easily export our products to these countries. Our Korean partners are ready to shoot programs about products produced in the Kyrgyz Republic. They will be broadcasted in these countries in their own languages. Ultimately, this will asisst to increase the number of our products for export," Akeneyev said.
President Atambayev takes part in festive Ait-namaz on the occasion Orozo Ait
Bishkek, July 5 / Kabar /. President of Kyrgyzstan Almazbek Atambayev took part in Ait namaz on the occasion of the sacred holiday Orozo Ait in the mosque of his native village Arashan.
The Head of State also visited the memorial complex "Ata-Beyit" and honored the memory of heroes who died April 7, 2010, the Kyrgyz President's press service reports.
Israeli blockade of Hebron denounced
Ramallah, July 4 (BNA): The Palestinian ministry of foreign affairs Sunday condemned the broad and severe closure that Israeli armed forces continue to impose on Hebron area, after a Palestinian teenager from Bani Naim town snuck into an illegal Israeli settlement and stabbed an Israeli settler to death.
According to an Israeli newspaper, the army cordoned off Hebron and the surrounding villages and towns, imposed major restrictions on movement to and from the Hebron area, and announced a mass revocation of work permits for residents of Bani Na'im, where Ariel's murderer lived, according to Palestinian Info and News Agency (WAFA).
The ministry said in a press release that such policies are not new and have no grounds as Israel resorts to these policies and measures on daily basis in an attempt to dampen the current unrest.
Warning against such measures, the ministry said collective punishment will only inflame the situation and push for more escalation and confrontation.
"Collective punishment is a representation of the Israeli government's political bankruptcy."
It held the Israeli government full responsibility for the outcome of the army's arbitrary policies and use of force in dealing with unarmed Palestinians.
The ministry further called upon the international community, world countries, and human rights organizations to move swiftly and pressure Israel to lift its closure and freeze settlements' activities, WAFA reported.
Sisi: Efforts to promote tourism sector should continue
Cairo, MENA, 4 July 2016 – President Abdel Fattah El Sisi underlined that efforts to promote the tourism sector in Egypt should continue and support should be offered to workers in the sector in light of the challenges facing them.
During a meeting with Prime Minister Sherif Ismail, Civil Aviation Minister Sherif Fathy and Tourism Minister Yehia Rashed on Sunday, the president called for starting initiatives to encourage domestic tourism among youths in particular to familiarize them with tourist destinations in the country, Presidential Spokesman Alaa Youssef said.
Rashed reviewed his ministry's plan aiming at increasing the number of incoming holidaymakers to Egypt through a large tourism promotion campaign, the spokesman added.
The ministry is also exerting efforts to improve the tourism service and the performance of workers at the sector, he said.
Meanwhile, Fathy said his ministry and the Tourism Ministry have been cooperating to make special offers to encourage domestic and Arab tourism.