22 Jun, 2016
On 13 May 2016, I published a post about Noam Chomsky, Professor Emeritus at the Massachusetts Institute of Technology (MIT), describing him as the man who will NEVER be invited to speak at a travel industry convention. Today, this post is about a book that will NEVER be mentioned at a travel industry convention. It is entitled "Lies and the Lying Liars Who Tell Them", written by the Jewish humorist Al Franken.
I don't need to delve into details about the book. Further information and reviews can be found here: https://www.amazon.com/Lies-Lying-Liars-Tell-Them/dp/0452285216
Why I am raising this issue? Primarily to draw attention to this question:
What did the Jewish neo-con (former U.S. Deputy Secretary of Defence Paul Wolfowitz) tell the Jewish humorist (Al Franken) when confronted about the fiasco caused by the 2003 U.S.-led attack on Iraq, and the non-existent weapons of mass destruction?
The book contains the answer to that very pertinent question. Here it is: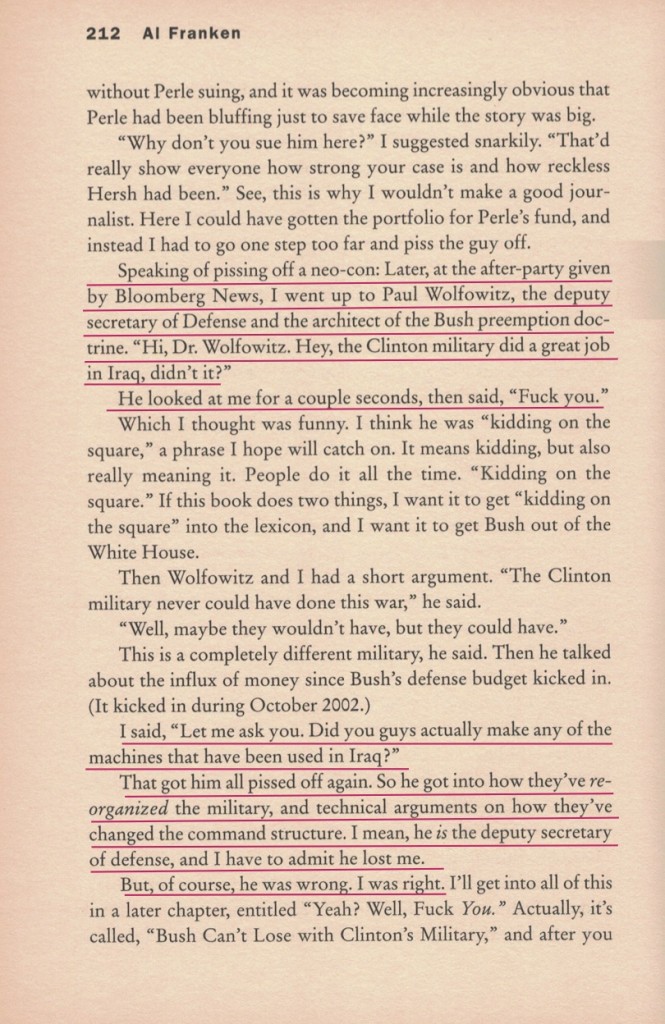 I first read the book soon after it was published in 2004. In those days, I was writing a column called "Soul-Searching" in the Bangkok Post, an English-language newspaper in Thailand which claims to be the "newspaper you can trust." This column, known for its criticism of U.S. and Israeli government policies alongside demands for accountability, was gagged by the editors of the Bangkok Post in July 2012.
My columns relied on books like "Lies and the Lying Liars Who Tell Them" for inspiration. Confronting lies by those in power is the job of every journalist worth his/her salt. Many of my columns (which can be read here) sought to do exactly that.
So, how is Al Franken's book relevant to travel & tourism today?
As its title makes clear, it is a tongue-in-cheek repertoire of the many "lies" uttered by the "lying liars" about the attack on Iraq and several other geopolitical debacles of the first decade of the 21st century. It also names and shames the "lying liars" who, unfortunately, have never been held accountable. This lack of accountability spawned a sense of invincibility and gave all the liars a clean-chit to continue to lie fearlessly.
Today, geopolitical instability and its first cousins, conflict and violence, has become the dominant global concern. Much, if not all, of this instability is the direct downstream result of the so-called "war on terror" which is set to hit travel & tourism with decades of fixed costs on safety and security.
That will do nothing except line the pockets of the military-industrial complex which is now in pursuit of 1) civilian markets to dump obsolete hardware no longer required by the defence establishment; and 2) jobs for the growing legions of annually retiring military personnel with no other skills to market except "safety & security."
So the challenge to travel & tourism is clear.
Does it want to continue being conned by the lying liars? Or does it want to start asking some hard questions about the lies told over the last 15 years and hold the lying liars accountable?
Serious consideration of the two questions above will also pose a challenge to the UNWTO and its World Committee on Tourism Ethics (WCTE).
By any definition, lying to the public is an unethical practise. There is incontrovertible proof that travel & tourism worldwide has been severely impacted by the litany of "Lies and the Lying Liars Who Tell Them". To seek accountability and encourage debate on alternative perspectives would be an ethical course of action. To avoid doing it for the sake of political expediency would in itself be unethical.
My journalistic responsibility lies (pun very much intended) in putting this challenge into the public domain. It is based on the premise that those who hold public office must be held accountable for their words and actions. The public has every right to demand ethical behaviour, trust and accountability. That means zero tolerance for "Lies and the Lying Liars Who Tell Them."
The process of making accountability a two-way street has begun and will only gain traction in the months and years ahead. It will never be possible to fool all the people all the time. That, however, will not stop the lying liars from deploying their formidable network of power to curb this rising tide.
Will they succeed?
Depends on you, the reader.
Do you like being lied to?
Order Al Franken's book via Amazon and then let your conscience be your guide.