27 Jun, 2016
A compilation of progressive, positive, inspiring and motivating events and developments in the world of Islam for the week ending 27 June 2016 (22 Ramadan 1437). Pls click on any of the headlines below to go to the story.
============
A WORD FROM MY SPONSORS: TOURISM MALAYSIA
LAUNCH OF 1MALAYSIA MEGA SALE CARNIVAL 2016 & AIDILFITRI CELEBRATION PROMOTION AT AVENUE K
Malaysia's mid-year nationwide shopping extravaganza kicked off with the launch of 1Malaysia Mega Sale Carnival 2016 at Avenue K shopping mall in conjunction with its Aidilfitri Celebration. Jointly organised by Tourism Malaysia and Avenue K, the launch was officiated by Director General of Tourism Malaysia, Y.Bhg. Datuk Seri Mirza Mohammad Taiyab. The carnival takes place concurrently with 1Malaysia Unified Sale organised by Ministry of Domestic Trade, Co-operatives and Consumerism, which is participated by the shopping and retail sector as well as from other sectors including banking, spa, hotel, transportation and telecommunication. There are 15,958 branches from 3,424 companies nationwide participating in this sales campaign. Taking place until 31 Aug, the 1Malaysia Mega Sale Carnival is set to entice domestic shoppers to celebrate the upcoming Hari Raya (Eid Ul Fitr) in style with numerous exciting deals, super discounts and in-store redemptions, as well as to attract foreign tourists to indulge in a marvellous shopping experience. Most of the shopping malls in Malaysia are taking part in the carnival, offering huge bargains that are hard to resist as well as line-ups of themed events and fun-filled activities relating to dining, entertainment and leisure. For more information about the Mega Sale Carnival, click here: http://www.tourism.gov.my/media/view/launch-of-1malaysia-mega-sale-carnival-2016-aidilfitri-celebration-promotion-at-avenue-k
For more information about what makes Malaysia one of the most popular destinations in the Islamic world, as well as on planning your next holiday or MICE event in Malaysia, please click: http://www.malaysia.travel.
facebook: http://www.facebook.com/friendofmalaysia
twitter: http://twitter.com/tourismmalaysia
Blog: http://blog.tourism.gov.my
A WORD FROM MY SPONSORS – THE TOURISM AUTHORITY OF THAILAND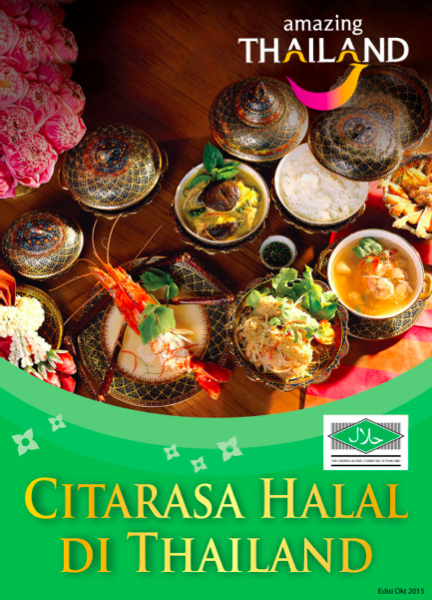 The Tourism Authority of Thailand (TAT) Jakarta office has published a Bahasa Indonesia brochure called "Citarasa Halal Di Thailand", listing many halal-certified restaurants and hotels in Bangkok, Pattaya, Hat Yai, Phuket, Chiang Mai and Krabi. The move is part of the TAT's strategy to promote Thailand as a Muslim-friendly destination, and help the growing number of visitors from Indonesia find products and services meeting their cultural and religious requirements. Indonesian arrivals to Thailand totalled 469,226 in 2015 and touched 156,853 in Jan-April 2016 (up 7.6% over Jan-April 2015). The TAT has an office in Jakarta. The era of ASEAN integration is expected to see a significant growth in Indonesian arrivals to Thailand, thanks to visa-free access, proximity and growing number of airline links. Click here to download the "Citarasa Halal Di Thailand" brochure: http://id.tourismthailand.org/fileadmin/upload_img/Multimedia/Ebrochure/644/brochure-halal-2016-1459352167.pdf. A special app has been created by the TAT to help Muslim visitors find the appropriate facilities and services. It can be downloaded by clicking here: http://www.tourismthailand.org/muslimfriendly
==========
Watch Islamic Travel Newswire Executive Editor Imtiaz Muqbil's landmark TEDx lecture on "Peace through Tourism" on YouTube — the first travel industry journalist in Bangkok invited to speak at this prestigious forum. CLICK HERE.
===========
STORIES IN THIS DISPATCH. PLS CLICK ON ANY OF THE HEADLINES BELOW TO GO DIRECTLY TO THE STORY
Malaysia Promises Good Food, Clean Restaurants To Attract More Tourists
PETALING JAYA, 13 June 2016: A total of 30 tourism industry players were feted for a buka puasa dinner at Unique Seafood PJ23 tonight, as part of an industry networking session. It was an opportunity for Unique Seafood PJ23, a growing franchise of restaurants offering fresh seafood dining, to showcase itself to tourism promoters in Malaysia.
The guests were hosted by YBhg. Tan Sri Dato' Seri Mohamad Noor Abdul Rahim, the advisor to Unique Seafood PJ23, while YBhg Datuk Seri Mirza Mohammad Taiyab, Director General of Tourism Malaysia, was the guest of honour.
In his speech, Datuk Seri Mirza thanked Unique Seafood PJ23 for the opportunity to sample fresh seafood dining at the restaurant.
He emphasized the importance of restaurant operators to maintain a high standard of service, adding, "Reasonable prices, cleanliness of the restaurant and quality of food — these are the important aspects that tourists look for."
"Good food is the way for Malaysia to encourage tourists to spend more in Malaysia, thus contributing to our economy. Currently, the top three areas that tourists spend on in Malaysia are shopping (31.3%), accommodation (25.4%) and food and beverages (13.4%). Last year, tourists spent RM9.3 billion on food and beverages out of total expenditure of RM69.1 billion."
He said, "Tourism Malaysia is always on the lookout to promote new and interesting restaurants to tourists and I believe that Unique Seafood PJ23 fits the bill. The dining experience here will be a memorable experience for tourists."
He added, "I am pleased that our industry partners and media friends are able to join us tonight so that they, too, can experience what Unique Seafood PJ23 has to offer. We look forward to working together with Unique Seafood PJ23 to promote Malaysia as a holiday and dining destination for tourists."
Malaysia's Johor State To Send Tourism Mission To China
JOHOR BAHARU (Johor, Malaysia), June 16 (Bernama) — The Johor government, through Johor Tourism, will hold tourism promotion missions in Guangzhou, Heilongjiang and Shandong in China in an effort to showcase the state's tourism products and services. State Tourism, Trade and Consumerism Committee chairman Tee Siew Kiong, who would lead a 12-member delegation for the purpose, said it would be carried out under the Xplore Johor programme from June 23 to 30.
"The main purpose of the mission is to promote Johor tourism in cities like Shandong and Heilongjiang which have a population of between 140 million and 150 million people," he said.
He told this to reporters after launching "Buletin Xplore Johor" and breaking fast with the media here Wednesday.
Tee said the state government and Johor Tourism would also take advantage of the direct Air Asia flight between Johor Baharu and Guangzhou to attract more people from China, especially Guangzhou, to come to the state.
He said based on statistics by the Senai International Airport, 3,056 people had utilise the Flight AK1395 from Guangzhou to Johor Baharu since it was launched last May 29.
The bulletin is produced monthly to promote tourism products in the state where vouchers offering discounts for various tourism products will be enclosed.
For its first edition, a 50 per cent discount voucher for visit to the Austin Heights Park is enclosed.
Malaysia's Langkawi Island To Impose Tourism Promotion Levy Beginning July 1
KUAH (Langkawi, Kedah), June 20 (Bernama) — Beginning July 1, the Langkawi Municipal Council City of Tourism is to impose a levy of between US$0.24 (RM1) and US$2.20 (RM9) on tourists for every day of stay on the resort island in Malaysia's northern state, Kedah.
Kedah Tourism Committee chairman Mohd Rawi Abdul Hamid said the quantum of the Langkawi Tourism Promotion Levy would depend on the class of accommodation.
Tourists staying in one-star or two-star hotels would be charged US$0.24 (RM1) per room per night; three-star or four-star accommodation, US$0.73 (RM3); five-star accommodation, US$1.22 (RM5); six-star accommodation, US$1.72 (RM7); and seven-star accommodation, US$2.20 (RM9), he told Bernama.
Mohd Rawi spoke to Bernama on Sunday said, the levy was not something new because similar charges had been imposed in states of Melaka, Penang and Kuala Lumpur to promote the tourism industry.
Mohd Rawi said the amount of levy was minimal and the tourists coming to Langkawi could afford it. He said Kedah depended a great deal on federal government allocations to promote tourism and the levy would help ease the financial dependence a little.
"If we can collect a satisfactory amount of levy, we can implement more tourism-related programmes for the benefit of the tourists," he said.
He said the levy could be eventually extended to other places in Kedah.
Malaysia's MyASEANinternship 2016 Student Intake Exceeds First-Year Figures
KUALA LUMPUR, June 24 (Bernama) — The Ministry of International Trade and Industry (MITI) and Talent Corporation Malaysia (TalentCorp) today announced that the student intake for the myASEANinternship programme this year has exceeded its first-year figures, reaching almost 50 interns as of 23 June 2016 compared to a total number of 40 interns last year.
Currently in its second year, myASEANinternship has on its roster close to 30 leading Malaysian and multinational companies offering regional internships to top young talent across ASEAN – more than double the number of employers who participated in the programme's debut year.
PwC, Unilever, IKEA, Group M, and MITI have joined the ranks as myASEAN employers alongside AirAsia, Axiata, CIMB, Digi, Maybank and UEM Group, to name a few. Altogether, these employers offer up to 100 internship placements this year, up from over 40 placements last year.
A collaboration between MITI and TalentCorp, myASEANinternship was launched by Minister of International Trade and Industry YB Dato' Sri Mustapa Mohamed on 26 January 2015 to increase overall awareness on ASEAN among youth in Malaysia. The programme enables high-achieving Malaysian students from local and overseas universities to intern with leading employers at various ASEAN locations. Meanwhile, ASEAN nationals studying at Malaysian universities are able to intern in Malaysia. The programme is also open to fresh graduates within six months of graduation.
myASEANinternship has received overwhelming response both in Malaysia and overseas. From last November up to end May 2016, over 900 students and fresh graduates from nine ASEAN countries – including Malaysia, Brunei, Cambodia, Indonesia, Myanmar, Philippines, Thailand, Singapore and Vietnam – have submitted applications to be part of the myASEANinternship experience.
"Two years ago, I challenged TalentCorp to come up with something to provide opportunities for our young men and women. They came back to me within a few weeks with a proposal, which we launched early last year as the myASEANinternship programme. I'm pleased to say we have gone from 12 participating companies and an initial group of 40 interns in the first year, to almost 30 companies and the participation of no less than 250 students at the myASEAN Market Day 2016 in April," said YB Dato' Sri Mustapa.
He was speaking to students at the ASEAN Youth Leadership Workshop organised by TalentCorp in Lanai Kijang, Kuala Lumpur. The three-day workshop, which finishes tomorrow, precedes the July 2016 intake of myASEANinternship which will place the students from Malaysia and other ASEAN nations in companies throughout the region. The myASEAN Market Day, meanwhile, was organised on 21 April 2016 to provide applicants the opportunity to meet, impress and earn a spot with one of the myASEANinternship employers.
TalentCorp CEO Shareen Shariza Dato' Abdul Ghani said, "I would like to thank YB Dato' Sri Mustapa for being the inspiration and guiding force behind this programme. With the personal support of YB Dato' Sri, MITI and the leading employers, I am certain myASEANinternship will provide top talent the chance to build their international careers right here in Malaysia."
For more information on the myASEANinternship programme, visit www.talentcorp.com.my/myaseaninternship.
Malindo Air Launches Search For Talented Batik Kebaya Designers
KUALA LUMPUR, June 23 (Bernama) — Malindo Air, a premium Malaysian-based carrier is organising a sarong kebaya uniform design competition, with the intention of attracting Malaysians' diverse talent in fabric, graphic art and fashion design.
The competition is open to all talented Malaysian designers and its closing date is on 25 July 2016. Designs are for Malindo Air's full set of female stewardess uniforms and male steward uniforms. Malindo Air is looking at a concept which reflects on Malaysian ethnic batik design.
CEO of Malindo Air Mr Chandran Rama Muthy said, "This competition is held to display new and original designs that reflect the Malaysian spirit and values and – at the same time – recognize the uniqueness of the batik motif that could best represent our airline and nation simultaneously."
He added, "We are giving away attractive cash prizes to the winners. Winners will be chosen by an independent panel of judges appointed by Malindo Air. The winning designs will be chosen as the official uniform designs of Malindo Air's new and enhanced image of our leading senior cabin crew."
For details of the competition, please visit www.malindoair.com.
Malindo Air is a Malaysian airline with main hubs at the Kuala Lumpur International Airport (KLIA) and the convenient KL downtown city airport Subang Skypark in Selangor, Malaysia. The airline took to the skies in March 2013 with domestic flights and has since grown to operate routes to all major airports in Malaysia and across regional destinations in Indonesia, Thailand, India, Bangladesh, Nepal, Singapore, China, Australia, Sri Lanka, Vietnam and Pakistan. The fleet itself has grown leaps and bounds to 11 ATR72-600 and 18 Boeing 737NG as of June 2016.
Today, the airline operates over 800 flights weekly across a continuously growing network of about 40 routes in the region. More recently, the airline won Airline of the Year (Passenger) at the KLIA Awards 2014 and Top Performing Airline 2015 by Travelport.
Nigeria's Abuja-Kaduna Railway Starts Trial Operation
June 20, 2016 – Nigeria's Abuja-Kaduna Railway, constructed by China Civil and Engineering Company (CCECC), started its trial operation on Friday. This is the first railway in Africa that has been built based on Chinese technical standards.
A train completed a test run on the railway on Friday with a speed of 80 km per hour, with about 100 Chinese and Nigerian staff on board.
According to CCECC, the trial operation aims to provide the Nigerian staff a training exercise before the railway starts official operations.
The 187-km rail link, which connects Nigeria's Idu to its northern business center Kaduna City, is part of the Lagos-Kano standard gauge project.
The railway has nine stops and will feature both passenger and cargo trains. It was designed for trains with an average speed of 150 km per hour.
28th Trade Expo Indonesia to be held 16-20 October
The Indonesian Ministry of Trade this year will once again hold the biggest trade show in Indonesia, namely the 28th Trade Expo Indonesia (TEI). This exhibition of international standard, which will be held on 16-20 October 2013 at the Jakarta International Expo (JIExpo), targets transactions amounting to USD 2 billion.
"Carrying the theme of "Trade With Remarkable Indonesia", we are certain that we are able to achieve the aforementioned target because the theme that we have chosen depicts a positive image of Indonesia as a country that is able to produce quality products and meet international standards," so was said by the Indonesian Minister of Trade, Gita Wirjawan.
A positive image of Indonesia can be realized through efforts to increase added value, both from the quality of the product itself and also from the development of its design and packaging. Meanwhile, added value can be achieved by utilizing Indonesia's abundant natural resource potential that is processed in a directed and sustainable way.
"Through utilization and mastery of technology transfer that is efficient and of international standard by a professional workforce, development of the trade sector and Indonesia's downstream strategy have shown rapid progress. The implementation of eco-friendly technology and local wisdom is its own strength and has become an added value to the competitiveness of Indonesia's export products," said Gita Wirjawan.
The Trade Minister explained that the 28th TEI will be held on an area of 60,000 m2 which will be taken part by approximately 2,000 participants. The exhibition is targeted to be visited by 10,000 international buyers and 25,000 domestic visitors.
The products that will be displayed at the TEI 2013 includes automotive components, cocoa, coffee, palm oil, electrical equipment, footwear, furniture, rubber and its products, textile and its products, essential oil, handicrafts, herbal medicines, jewelry and accessories, leather and its products, processed foods, farming products, building materials, chemical materials, food and beverages, household equipment, breakables, paper products and sports equipment. Apart from the potential and main products, the exhibition will also present the service sector such as trained workforces, mining, banking and insurance.
The participants that will take part in the exhibition are carefully selected companies with top products. This condition is directly connected with the management and creation of professional, knowledgeable, skillful and qualified workforces with dependable individual capabilities.
In line with the increasingly competitive and complex competition in the international market, the increase of added values and diversification of export products has become a very significant matter. Indonesia's economy in 2013 is still very strong and hardly affected by the economic crisis afflicting numerous countries in Europe and America. The government is still optimistic that the national economic growth in 2013 will be at the range of 6.0-6.2 percent. On the other hand, the Ministry of Trade will continue to maintain the export performance through the downstreaming strategy, which is supported by the 28th TEI.
According to the Minister, the 28th TEI is one of the main ways to boost exports. The holding of this year's 28th TEI is specifically an attempt to maintain and lift Indonesia's export position in traditional countries, as well as develop the access and opportunities of the export market in non-traditional countries, such as Asia, Africa, Middle East, East Europe, and Latin America.
In realizing the government's vision to establish TEI as a prestigious annual trade exhibition, the Directorate General of National Export Development (DGNED) of the Ministry of Trade are continuously perfecting all aspects of the exhibition, including the planning, execution and evaluation. DGNED will also give special attention to post-exhibition services in order to increase visitor satisfaction, especially for international buyers. DGNED is also coordinating with all representatives abroad, including Trade Attachés and ITPCs, to conduct various promotional efforts abroad.
The comprehensive efforts to promote TEI 2013 are expected to result in the increase of trade transactions and the enhancement of the image of Indonesian products as part of the Nation Branding campaign. This of course will simultaneously build Indonesia's identity as a well respected country in international trade activities.
In the series of TEI 2013, other events that will take place are the Jakarta Fashion Week 2013 exhibition, which will be held on 19-25 October 2013 in Senayan City, Jakarta; and the Jogja Trade Expo 2013 on 18-22 October 2013 in D.I. Yogyakarta, as well as the World Bali Seafood Show on 22-23 October 2013 in Bali International Convention Centre, Westin Resort Nusa Dua Bali.
Further info: http://www.tradexpoindonesia.com/
Washington to host first ever US Qur'an exhibition on October 15
22 Jun 2016 Washington (IINA) – The Smithsonian's Arthur M. Sackler Gallery in Washington D.C. announced Tuesday that the Holy Qur'an will be the centerpiece of a first-of-its-kind exhibition in the United States as it displays exquisitely decorated manuscripts from one of the top Qur'an collections.
It said that "The Art of the Qur'an: Treasures from the Museum of Turkish and Islamic Arts" will bring 48 manuscripts and folios from the museum in Istanbul together with manuscripts from the collection of the Sackler and Freer Gallery of Art, which are together the Smithsonian's museum of Asian art.
According to The Associated Press, the exhibition is set to open October 15, just weeks before the presidential election, through 20 February 2017. Islam and the Qur'an may come up during debates and discussions, but Massumeh Farhad, chief curator at the Sackler and Freer and curator of Islamic art, says this exhibition is a chance to present a different story.
Oman Lays Down Top Priorities for Health Promotion
Muscat, June 23 (ONA) — Ahmed bin Mohammed al-Sa'eedi, Minister of Health, affirmed that the ministry has laid down the top priorities for the next five years specifically activating the healthcare system, preparing new health policies, sustaining the existing achievements while at the same time focusing on the construction of integrated medical cities, investing in human resources development, restructuring medical education and boosting health care spending.
In a statement to Oman Newspaper, he explained that the Ministry of Health will strive to find alternative sources for funding while paying more attention to building constructive partnership with the private sector. "We are aware that the ninth five-year plan coincides with changing economic conditions and falling oil prices but we are relying on the results of the previous achievements and the well-qualified human resources. Besides, the strategies of the ninth five-year plan are capable of coping with the rapidly-changing conditions as these strategies focus on finding sources of funding and investments so as to preserve the achievements while pushing ahead for more efficiency and productivity, the minister said.
The health system in the Sultanate is facing several setbacks the most notable of them are the demographic and epidemiological changes, the rising cost of health care services, scarcity of medical and assistant medical cadres. These challenges have prompted us to rethink the importance of developing the health care system and lay down a long-term strategy that is capable of overcoming such difficulties, the minister pointed out.
New methodology for teaching Kazakh language
25.06.2016 http://kazakh-tv.kz – Effective methods of learning the official Kazakh language are under development. Most of them were discussed in Kostanay at the seminar devoted to the Kazakh language. Representatives of over 40 training centers from all over Kazakhstan spoke about various methods of the language.
Experts noted the importance of the state language policy, according to which 90% of the population should speak Kazakh by 2020. The educational centers in all areas have to ensure quality training. Special attention was paid to the new method the 'Kazakh language without grammar' which focuses on the verbal communication skills.
Yerbol Tleshov, Director, Center For Methodological Coordination And Language Development, said: Our teachers, trainers and scientists make efforts to promote the project. The Language Committee is preparing a more advanced method called the 'Training by Modules', developed at our center. We are going to launch a multimedia version, which one will be able to download as a smartphone application.
Source: http://kazakh-tv.kz/en/view/newskazakhstan/page164023_
S. Korean railways ready to invest in Kazakhstan's infrastructure
07.06.2016 http://kazakh-tv.kz – South Korean manufacturers of railway products are ready to participate in new investment projects of Kazakhstan. New Silk Road project prompted the interest of these companies in the railways of Kazakhstan. Previously, two countries already cooperated during the construction of the Almaty underground. Then South Korean companies learned more about the market of Kazakhstan. Now foreign manufacturers intend to deliver their products to Kazakhstan and participate in the construction of new railways.
Gook-Hwan Jeon, Professor, Seoul National University Of Science And Technology: Korea will have a great opportunity after launch of the New Silk Road. This corridor has a convenient location for transportation. We have a large amount of traffic from Japan, the East Coast of China. Therefore, we believe we are going to use this line. In addition, the railway will also become one of the most important transport systems for supplies to Eurasia, Africa and Europe. The amount of traffic will increase, and this will contribute to the development of the economies of all member countries. Implementation of the plan has already begun: Kazakh students in the master programs, trained under the government program are going to graduate the Seoul National University of Science and Technology. Employees of relevant companies in the field of railway underwent training abroad.
Nurbolat Zhumash, Chief Specialist, 'Lokomotiv' Jsc, Kazakhstan Temir Zholy: Korean railway transport is well-known for its innovation. We are actively introducing technologies such as robotics and automation to ensure traffic safety. I think that the knowledge gained in South Korea will allow to achieve great results in the modernization of the railways of Kazakhstan.
Source: http://kazakh-tv.kz/en/view/newskazakhstan/page161719_
New program for study of Kazak archaeological sites
http://kazakh-tv.kz 25.06.2016 – A special program for the effective study of the archaeological sites was developed in the Aktobe region. All ancient monuments were destroyed as a result of human activities. People started to dig mounds as early as the end of the last century. The territory, which was inhabited by Kazakh ancestors many thousands of years ago, now belongs to farmers. The initial appearance of many discoveries have greatly suffered. This program aims to explore the historical monuments.
Viktor Amelin, Junior Researcher, Regional History Museum: We have studied the construction of mound, covered by the wooden ceiling. Everything was recorded, we will continue to go down. Experienced historian Arman Bisembayev and about 30 team members settled in 50 kilometers away from Aktobe. This cemetery dates back to the early Iron Age 2,500 years ago. One of the graves belongs to a woman with a table for ceremonies, bronze mirror, stones and beads. Experts suppose that a woman was a priestess living in the period of the Golden Man. One can see animal bones, and other attributes for the afterlife near the grave.
Arman Bisembayev, Scientist, Secretary, Regional History Museum: This rampart is a sacred space we managed to fully preserve. Sequence of funerary rituals can be traced here. The graves include household items, weapons, ornaments and religious items. Here is a stone altar of a magnificent performance. These places reveal a wide variety of aspects of the life of ordinary people of the past. . The team spent almost one month in the desert in difficult field conditions. And all this was done to trace the features of a funeral ceremony. The collected data will be used for theses, dissertations and reports.
Source: http://kazakh-tv.kz/en/view/culture/page164017
Woodcarving forum dedicated to Palmyra begins activities in Tartous
25 June، 2016, Tartous, SANA – A woodcarving forum titled "Palmyra: Gate of the Sun" began its activities on Saturday evening in the town of Naqib in Tartous province, with the participation of 25 sculptors from Tartous, Damascus, Deir Ezzor, Lattakia, Homs, and Sweida, in addition to 8 other plastic artists from Tartous, Homs, and Sweida.
Sculptor Zuheir Khalifa from Lattakia told SANA's correspondent that what terrorists did in Palmyra pained him greatly and inspired him to make a sculptor that depicts Palmyra's archeological sites and features and how terrorists damaged it.
Meanwhile, sculptor Ali Baha'a Moalla said that his piece will depict Palmyran queen Zenobia unchained in an antithesis to the 19th century sculpture by Harriet Hosmer who depicted Zenobia in chains as the captive of Romans.
In turn, sculptor Hassan Sleiman from Lattakia said he intends to depict the martyred archeologist Khaled al-Assad who was murdered by terrorists, while Issa Salameh from Tartous said his piece will attempt to depict victory as a concept being realized at the hands of the Syrian Arab Army.
The forum will last for 20 days during which the participating artists will finish their pieces. The event is accompanied by several musical activities.
"Live Achrafieh" Festival held in Lebanon
Beirut, Sat 25 Jun 2016, NNA – Tourism Minister Michel Pharaon launched on Saturday the "Live Achrafieh" Festival, in presence of Interior and Municipalities Minister Nuhad el-Machnouk and various prominent dignitaries, in a press conference held at "Chase" Cafe in Sassine Square in Achrafieh.
"Tourists' requirements and various needs are available in Lebanon, both at the public and private sector levels," said Pharaon, adding that ""the road to the airport is safe thanks to the Lebanese army's efforts, in addition to a marked improvement at the airport."
He added: "All of us together, government, community and security forces, wish to see intensive movement at the airport this summer, starting July 1st, amidst an improved security situation in the country."
Pharaon urged all media to portray the joyful atmosphere in Lebanon this summertime, keeping pace with the extended invitations to tourists to visit.
In turn, Minister Machnouk considered that "probably no other European or Arab or Middle Eastern city is witnessing 32 musical festivals catering to a variety of arts as the ones featured in Beirut and all Lebanese regions."
He reassured all Lebanese and Arab brethrens that the security situation in Lebanon is under control and that all facilities are available to ensure a smooth arrival to tourists at the airport and a lovely stay in any Lebanese region.
Machnouk encouraged tourists and expatriates to come and enjoy the joyful, lively ambience of Lebanon this summertime.
Eid Travel Rush – Bahrain airport tells passengers to arrive early
Manama, June 21 (BNA): In view of the anticipated increase in passenger traffic during the upcoming Eid Al-Fitr holiday, Bahrain Airport Company (BAC), the managing body of Bahrain International Airport (BIA), advised all passengers travelling between the June 22 and July 11, to arrive at the airport 4 hours prior to their departure time to avoid any potential delays.
BAC urged passengers to utilize the early check-in facilities provided by airlines.
During Eid Al-Fitr holiday, the car parks are expected to be highly congested and passengers are advised to arrive early in order to find a suitable parking location.
In addition to the existing long-term Car Parks "B", "D", "E" and "F", Bahrain Airport Company is aiming to commission a new overflow Car Park on the Galali Road during the summer holidays, to increase BIA's existing parking capacity by over 4000 spaces and accommodate the expected surge in passenger movement during the holiday period.
The new car park is located north of the runway and will be within the BIA premises. With a competitive daily rate of 500 fils the car park will also include a complimentary shuttle service to and from the passenger terminal building every 30 minutes. Navigational directions will be available with the parking attendants who will be informing passengers once the new car park is signalled to be opened.
During the holiday break, BAC will increase the provision of shuttle buses between the Airport Car Parks and the passenger Terminal Building as well as the frequency of pick-ups and drop-offs for the shuttle buses to ensure efficiency and speed of service.
Passengers are requested to park their vehicles in the allocated BIA car parks and avoid leaving their cars on the side of the roads.
Passengers travelling during the upcoming holiday are also advised to use the new airport express bus service, which is part of Bahrain's new public transportation network. The service operates from the main terminals in Manama, Isa Town, and Muharraq and buses are fully equipped with high specifications to provide convenience for travellers.
We would like to notify passengers of the peak hours at BIA which are between 7am to 11am, 3.30pm to 8.00pm and 11.30pm to 2.30am.
BAC remains committed to maintaining operational efficiency and quality of service across BIA's operations and would like to thank passengers for their understanding and cooperation.
LEAD STORY: Bahrain holds Ramadan speakers forum to advance Muhammad Ali's legacy
Manama, June 22 (BNA): Y Access Training Solutions has brought together seven of the best speakers in the GCC region for a one-night only unforgettable speaking event this Ramadan.
In honor of the legendary boxer Muhammad Ali, this event called Muhammad Ali: The Voice of Peace and Love, will give life to the inspiring words of service and hope that Muhammad Ali has embodied throughout his life.
Among the speakers who will be gracing this event is 2015's World Speaking Champion, Mohammed Qattani frm Saudi Arabia. Mohammed Qatani is the first ever Arab who has won the Toastmaster's International Speaking Contest. His win has paved the way for members of the Arab community to go forward in the public speaking arena.
On this memorable night, Bahrain will also be treated to a showcase of public speaking with the 2016 district level winners Nashid A. Kaahliq (from KSA), and Sami Al Herbawi (from Jordan). Both of them will go to Washington DC to follow in the footsteps of Mohammed Qatani.
In addition, Bahraini's own Mohammed Isa and Mohammed Ali Shukri, and Ali Alfarai from Oman, will also deliver inspirational speeches from their own experiences as public speakers. To round out the event, Ms. Lorraine Taylor, an acclaimed speaker from New Zealand will be on hand to inspire and entertain.
Y Access CEO Mohammed Ali Shukri said of this event: "We were inspired by the life and legend of the great Mohammad Ali and wanted to create an event that will speak about service and about inspiration. What better way to do that than to bring people whose voices have been heard and will be heard throughout the world?"
"This night is one of a kind as it is the first time that Bahrain has seen such a multitude of stars gathered in a public event. I'm sure that everyone will come away elated and inspired by what they have heard. Furthermore, our speakers will be on hand should the guests have any questions that they want answered. This might even kick-start their own public speaking journey and we are always excited to be the catalyst of such bold ventures".
In keeping with the spirit of Ramadan, all the proceeds from the event will go directly to a group of disabled people. Why the disabled? Mohammed Shukri says "It is because too often, the disabled people don't have their own voice. This Ramadan, we wanted them to know that we will lend them our voice, so that they too can be heard. This – too – was inspired by Muhammad Ali, who showed special affection to this sector of the society".
Conference to discuss Islamic finance in post-oil economic scenario
Manama, June 22 (BNA): Accounting and Auditing Organization for Islamic Financial Institutions (AAOIFI) will host the AAOIFI – World Bank 11th Annual Conference on Islamic Banking and Finance on 6-7 November in Kingdom of Bahrain. The conference is organized in partnership with the World Bank, and will be held under the auspices of the Central Bank of Bahrain (CBB).
The broad theme of the conference will focus on the post oil economic scenario of the Muslim world and its impacts on the Islamic finance industry globally, in general and in the region in particular. The conference also intends to bring under the limelight and honor a key figure from the Islamic Finance industry for his services and life-time achievements. The conference will have a face-to-face session with that figure besides honoring him. Additionally, the conference will provide updates on certain key standard development areas.
The conference will also discuss the effects on Islamic finance strategies of the changing economic environment, the role of Islamic finance with the governments in the changing economic environment and considering the Islamic agro-finance as the next destination.
The conference is also part of AAOIFI's on-going consultative process with the international Islamic finance industry on the development and review of its standards on Sharia, accounting, auditing, ethics and governance. Key standard development topics will include the setup and standardization for central Sharia boards, fair value and impairment and the effects of IFRS 9 on the Islamic finance industry and the debut of gold products in Islamic finance and the upcoming AAOIFI Sharia standard on gold.
Leading the discussions will be eminent Sharia scholars as well as leading Islamic finance practitioners and academicians.
Participants at the conference comprise Sharia scholars and senior representatives from central banks, regulatory authorities, financial institutions, accounting and auditing firms, legal firms, universities and higher learning institutions, and other Islamic finance industry stakeholders from the across the world.
Shaikh Ebrahim bin Khalifa Al Khalifa, Chairman Board of Trustees, AAOIFI said: "The Islamic finance market is based on real economy and hence is wholly dependent on the economic movements. The declining oil prices and the planning for post-oil economic scenario for the regional governments has put Islamic finance to re-think on its strategies and short to medium term business targets. It needs to engage more on the macro side with the governments for infrastructure financing and bridging the budgetary deficits through Sharia compliant institutions; and on the micro side on the new areas of financing including SME, micro and agri finance."
Dr. Hamed Merah, Secretary General, AAOIFI said: "The focus of the conference will be the thought process of Islamic finance for the strategies to be developed for the new economic environment. We are looking forward to having the vision of some of the most prominent experts of the field to guide the industry in these times."
Following the conference, AAOIFI will hold training sessions for its Certified Sharia Adviser and Auditor (CSAA) qualification program. CSAA is one of AAOIFI's benchmark qualifications designed for Islamic finance professionals to gain technical understanding and assist application of AAOIFI standards in Islamic finance operations.
Mashtaga-Bilgah highway in Azerbaijan completed
Baku, June 21, AZERTAC – President of the Republic of Azerbaijan Ilham Aliyev has has today reviewed newly reconstructed Mashtaga-Bilgah highway in Sabunchu district, as well as the Absheron and Nasrulla Asgarov streets in Nardaran settlement, Baku.
Chairman of Azeravtoyol OJSC Saleh Mammadov informed the head of state about the construction work carried out in Sabunchu district.
The reconstruction of Mashtaga-Bilgah highway started in March 2016 under the relevant order of President Ilham Aliyev. The highway links three settlements with the population of 63,000 people. The highway is 9 km in length. Its width was expanded from 7 to 9.5 metres.
President Ilham Aliyev was also informed about the project of reconstruction of the Absheron and Nasrulla Asgarov streets.
The head of state was informed that before the reconstruction work the total length of the two-lane road section was 2360 metres, while its width was 8 metres. Under the project, after the reconstruction, the number of lanes will be increased to four, and the width of the road will be extended to 18 metres. New 2m-wide sidewalks were built along the street in both directions. A new circle at the intersection of Absheron and Nasrulla Asgarov Streets was built.
Nasrulla Asgarov Street was 6 metres in width. The reconstruction saw the width of the road extended up to 16 metres.
A completely new infrastructure was created here.
The head of state was also informed about Ramana-Mashtaga highway which is under construction.
The length of Ramana-Mashtaga highway is 11,500 metres, while its width is 6-7 metres. The width of the highway will be extended up to 8-9 metres. The road will have two lanes.
President Ilham Aliyev cut the ribbon symbolizing the official opening of Mashtaga-Bilgah highway after the major overhaul, as well as the Absheron and Nasrulla Asgarov Streets.
Azerbaijan to host Gabala 8th International Music Festival
Baku, June 25 AZERTAC – The Gabala 8th International Music Festival will be held one of the beautiful places of Azerbaijan from June 30 till August 5.
Organized by the Heydar Aliyev Foundation and the Ministry of Culture and Tourism, this year`s edition of the festival brings together World-renowned musicians and music groups from Russia, Ukraine, Israel, Croatia, Germany.
Gabala International Music Festival is an annual festival of classical music held every summer beginning in 2009 in Gabala, Azerbaijan. At this festival, musicians perform in the open air.
U.S. Embassy in Baku hosts Iftar party
Baku, June 23, AZERTAC – The embassy of the United States in Baku has hosted an iftar party attended by Azerbaijani officials, heads and representatives of religious confessions in Azerbaijan, and heads of the diplomatic corps in the country.
Speaking to the ceremony, US ambassador Robert Secuta congratulated the event participants and Azerbaijani people on the occasion of the holy month of Ramadan. He said he was honored to host the iftar party.
The Ambassador hailed mutual respect between religious confessions in Azerbaijan.
Ramadan is considered as the most merciful and holiest month of the year for Muslims.
Ramadan conveys the sense of emotional enthusiasm and religious eagerness among Muslims. Ramadan highlights Muslim brotherhood and customs and brings about a special feeling of closeness.
Istanbul to host 23rd World Energy Congress
Baku, June 22, AZERTAC – The 23rd World Energy Congress will be held in Istanbul, Turkey, on October 9-13.
Azerbaijani participants in the congress will include President of the State Oil Company Rovnag Abdullayev and CEO of the Southern Gas Corridor company Afgan Isayev.
The congress participants also include European Commission Vice President of the Energy Union Maros Sefcovic, Turkish Energy and Natural Resources Minister Berat Albayrak and Director General of TANAP Saltuk Duzyol.
The congress will feature an exhibition & conference titled "Embracing New Frontiers" which will see the participation of 10,000 visitors from 100 countries.
Time to accelerate growth momentum of economy: Pakistan Finance Minister
KARACHI, Jun 24 (APP): Federal Minister for Finance, Revenue, Economic Affair, Muhammad Ishaq Dar has said that economic parameters have recorded significant improvement over the last three years and it is time to accelerate the growth momentum of the economy.
He was addressing the Presidents of various Banks in a meeting held at State Bank of Pakistan, here on Friday.
He highlighted that the foreign exchange reserve position of the country has improved significantly over the last three years and appreciated the role of SBP and banks in this improvement.
He mentioned that going further reserves will improve further and by the end of the fiscal year may touch US dollar 23 billion. "We are expecting another US$ 1 billion from IFIs in the coming week", he said. Appreciating the contribution of home remittances, the Minister in this connection lauded the role of banks.
He disclosed that in respect of the reimbursement of TT changes, the government will release Rs 3 billion from the budgeted allocation of 2015-16.
The Finance Minister that it is the first time Pakistan will complete IMF Macro-economic Stabilization Program. Despite several hurdles, it is the first time in the history of Pakistan that the country has completed maximum reforms under the program.
Adding further he said that Pakistan is not intending to go to another IMF program.
While elaborating the fiscal improvements, he stated that the budget deficit has improved to 4.3% from 8.8% three years ago without compromising on development budget. The process of fiscal consolidation continuous to lower the deficit going forward.
"As a consequence government's borrowing requirements from the banking system are reduced and therefore creating space for the banks to lend to the private sector," the Finance Minister remarked.
He urged banks to take advantage of this space and increase credit to the private sector particularly to the SME and microfinance sectors as well as to the housing sector.
To promote mortgage financing in the country, he stressed importance of having foreclosure law and said that without such laws housing finance could not be promoted.
FM lauded SBP efforts in the financial sector. He said monetary policy has played a greater role in achieving economic turnaround.
Further, he said SBP efforts with regard to financial inclusion have earned international recognition.
Non-stop Dhaka-Chittagong rail service inaugurated
DHAKA, June 25, 2016 (BSS)- Bangladesh Railway (BB) is set to launch a non-stop train service "Sonar Bangla Express" on Dhaka-Chittagong route from tomorrow.
Additional Director General (operation) of BB Md Habibur Rahman said, "The Sonar Bangla Express will start from Kamlapur Railway Station in Dhaka at 7am every day and it will reach Chittagong at 12-40pm."
The train will again start from Chittagong at 5pm and will reach Dhaka at 10-40pm, he added.
The 16-bogie train will have only one stoppage at the Airport Station in the capital, the BB sources said.
Tunisia: Tunisair to begin Niamey flights from July 6
by AfricanManager, Jun 24, 2016 – Tunisair is pulling out all stops right now. The national company has decided to put the cursor on Africa, after Europe (Prague) and America (Montreal). Niamey, capital of Niger, is the next destination of Tunisair.
Flights are scheduled from Wednesday, July 6, 2016. The flights will be at a rate of two frequencies, Wednesday and Saturday combined and alternating with departures to Abidjan, that is to say TUN / ABJ / NIM / TUN Wednesday and TUN / NIM / ABJ / TUN on Saturday.
These two new flights will be the 4th and 5th frequencies of Tunis Abidjan, a link now scheduled 5 times a week.
Photography exhibition "Next to Here" inaugurated in Algiers
ALGIERS, Saturday, 25 June 2016 (Algeria Press Service) – the exhibition "Près d'ici" (Next to Here) bringing together works from photography workshops organized by the German cultural centres of ten Arab countries was inaugurated Friday evening in Algiers.
Exposed at "Sylabs", a former factory in Algiers recently transformed into a "Co-working" space (a shared working space for entrepreneurs), this exhibition offers to discover the looks of eighteen young amateur photographers from the Maghreb, Egypt, Palestine and Lebanon who were trained by professionals.
Hung on the walls of this area in arch-shaped forms of more than 100 square metres, these series of photos evoke in majority, themes such as urbanization and ecology or socio-political realities such as the issue of refugees.
Take in Cairo, Beirut or Amman, these photos show decayed building or under construction, desert landscapes or green spaces threatened by construction.
Exposed until 23 July, "Près d'ici" is the second exhibition organized at the "Sylabs" since its opening last March
Jordan gets 40 million Euro grant to promote renewable energy
24 Jun 2016 Amman (IINA) – Jordanian Minister of Energy and Mineral Resources Ibrahim Saif said Jordan will soon sign with the European Union a grant agreement for the second Renewable Energy and Energy Efficiency Program with an additional budget of 90 million euros, Petra reported.
The minister was speaking during a ceremony on Thursday on concluding the Technical Assistance to the Renewable Energy and Energy Efficiency Program, which was funded by the EU. He underlined the important role of the project in assisting the national strategic plan of the energy sector.
The minister also commended the EU role in supporting Jordan to strengthen its local energy resources, especially renewable energy that reduces the cost of the energy bill.
For his part, EU Ambassador to Jordan Andrea Matteo Fontana highlighted the importance of the project which provides substantial support for the development of investments in the renewable energy sector.
Indonesia Offers Billions Of Rupiah And Pension allowance To Olympic Medal Winners
JAKARTA, June 24 (NNN-ANTARA) — The Indonesian government has promised billions of rupiah and a lifetime monthly pension allowance as incentive for Indonesian athletes to contribute to the medal count in the upcoming 2016 Rio de Janeiro Olympics in Brazil, a minister said.
The Youth and Sports Ministry are prepared to give Rp 5 billion (US$ 376,790) to each athlete that is awarded with a gold medal in the Olympics, Rp 2 billion for an athlete that wins a silver medal and Rp 1 billion for those that win a bronze medal, Minister Imam Nahrawi said.
The government will also provide gold, silver and bronze medal winners with a Rp 20 million, Rp 15 million or a Rp 10 million monthly pension allowance, respectively.
"We don't want that to be the sole motivation for victory. [We want] the determination to arise from a desire to achieve their personal best. The bonus is for support," he said.
The Jokowi administration is to be the first Indonesian government to offer a pension to Olympic medal-winning athletes, he said.
The Ministry will urge private and or state-owned companies to consider offering a similar allowance to medal-winning athletes at events such as Asian Games, SEA games, and National Games (PON), Imam added.
Indonesia has collected 27 medals since the 1988 Seoul Olympics in South Korea. — NNN-ANTARA
9.2 Million Rural Poor Nigerians Benefitting From IFAD Programmes
LAGOS, June 25 (NNN-ALLAFRICA) — An estimated 9.2 million rural poor Nigerians are reported to be direct beneficiaries of the International Fund for Agricultural Development, IFAD, programme in Nigeria.
Benue State Project Coordinate of IFAD-Value Chain Development Programme, VCDP, Emmanuel Igbaukum, made this known at the Flag off of the distribution of inputs to rice farmers by the Olam Group at Tse-Terzar in Guma Local Government Area of the state.
Quoting reports of the Independent Office of Evaluation, IOE, released in capital Abuja recently, Igbaukum said "the infrastructural and agricultural projects supported by IFAD-VCDP in the rural communities have gone a long way to improve the livelihood and food production capacity of the benefiting rural dwellers.
"While we commend the Olam Group for partnering the programme in Benue state we are happy to state that Benue is the first under the IFAD-VCDP to embark on dry season rice farming which is currently being harvested."
Igbaukum who stated that the programme was targeting 14.2million poor Nigerians said it had already provided many idle Benue youths opportunities to embrace agriculture as means of livelihood.
Speaking, the Vice President of Olam, Mr. Reji George said as 'off takers' his firm would continue to providing rice farmers under the IFAD-VCDP in the state inputs and needed assistance and thereafter buy off the yield from the rice farmers.
George who said the programme had given a substantial boost to rice and cassava production in the country, lauded the state and federal governments for availing the rural poor a rare opportunity to improve their livelihood. — NNN-ALLAFRICA
Algeria prepares roadmap for culture, tourism sectors
GUELMA 20 June 2016 (Algeria Press Service) – Roadmap to give a fresh impetus to coordination between the sectors of culture and tourism, including tourist attractions, is to be developed shortly, Minister of Culture Azzedine Mihoubi said Sunday.
A first meeting will be held, shortly, with the ministry of National Planning, tourism and Craft Industry to give a concrete expression to the clauses of the agreement signed between the two sectors in 2015, the minister told a news conference at the University of Guelma.
The agreement, he said, provides for activities jointly undertaken by culture and tourism sectors for the promotion of tourist attractions and archaeological sites nationwide in order to make them profitable.
Mihoubi underlined that the use of the various tourist attractions and archaeological sites countrywide will provide a "considerable support" to national economy, stressing that Algeria is a "real open-air museum."
Promoting such places, carrying out relevant studies and publishing guides are among Culture Department's role, the minister said.
Tiaret: Prime Minister launches harvest campaign
TIARET, Thursday, 23 June 2016 (Algeria Press Service) – Prime Minister Abdelmalek Sellal on Thursday in Tiaret launched the harvest campaign of the current agricultural season.
The pilot farm "Si Abdelkrim" in the town of Sebaïne, the Prime Minister kicked off of the campaign.
Production is expected to hit 3.1 million quintals of grain, of all varieties.
In Tiaret, this campaign covers a total area of 340,000 hectares; including 130,000 hectares reserved for durum wheat, 65,000 hectares for wheat, 135,000 hectares barley and 10,000 hectares for oats.
This year, the crop has suffered from a deficit in rainfall especially during the period from November to January, which damaged 42,165 hectares of these surfaces.
These losses were compounded with hail that destroyed more than 104,000 hectares.
The climate hazards caused about 43% loss of the agricultural potential of the province.
For the success of this campaign, some 1,066 combine harvesters and 53 cars of crop transportation were mobilized, in addition to other agricultural equipment and materials.
The overall capacity of grain storage is estimated at 2.97 million quintals.
The previous harvest campaigns in Tiaret hit 4.72 million quintals of grain, against 6 million quintals in 2013, considered a record crop.
Global scholars, theologians attend Holy Quran Recitation competition
ALGIERS, Friday, 24 June 2016, (Algeria Press Service) – Scholars and theologians from several countries will take part in the 13th International Grand Prize of Holy Quran Recitation which will kick off on Sunday.
Organized every year by the Ministry of Religious Affairs, this one-week event will be marked by the organization of several contests whose first three winners will be rewarded, director of training and teaching of Quran Khaled Younsi told APS, on the sidelines of the tour of the solidarity caravan which set off from Dar El Imam (Mohammadia) to the hospitals of Mustapha Pacha and Zemirli.
The jury of this event will be made up, by virtue of a presidential decree, of specialists from Algeria and other Muslim countries.
The same official underlined that the last ten days of the holy month will see the organization of a caravan of knowledge and faith, to be marked by several conferences.
Emirates to deploy flagship A380 Aircraft on Moscow route
DUBAI, 14th June, 2016 (WAM) — The Emirates Airline has announced that it will be upgrading one of the two daily flights servicing its Dubai-Moscow route to an A380-800, commencing 1st December 2016.
Since Emirates started flying from its Dubai hub to Moscow in 2003, the airline has carried almost 3.5 million passengers on the route. Over the past 12 months, demand has increased, with some 400,000 passengers having travelled on the route. The increased level of passenger support and demand has led to Emirates' decision to bring its iconic A380 to the Russian capital, setting a new product quality level in the market.
From the beginning of December, on flight EK131/132, the three-class A380-800 will offer 14 Private Suites in First Class and 76 fully flat-bed mini-pods in Business Class on the upper deck. An additional 426 seats in Economy, gives a total of 516 seats on the aircraft, increasing the number of seats on the route by 23 percent.
Emirates Islamic Chairman rings in listing of US$750 million Sukuk on Nasdaq Dubai
DUBAI, 22nd June, 2016 (WAM) — Hesham Abdulla Al Qassim, Chairman of Emirates Islamic and Vice Chairman and Managing Director of Emirates NBD Group, rang the market-opening bell today to celebrate the listing by the bank of a US$750 million Sukuk on Nasdaq Dubai.
The nominal value of Sukuk currently listed on Nasdaq Dubai has reached US$41.81 billion, the largest total of any exchange in the world. Total current Sukuk listings on Dubai exchanges stand at US$44.56 billion, more than any other listing centre.
The bell-ringing ceremony was held in the presence of Essa Kazim, Governor of Dubai International Financial Centre, DIFC, Secretary General of Dubai Islamic Economy Development Centre, DIEDC, and Chairman of Dubai Financial Market, DFM, Abdul Wahed Al Fahim, Chairman of Nasdaq Dubai, Jamal Bin Ghalaita, Chief Executive Officer of Emirates Islamic, and Hamed Ali, Chief Executive of Nasdaq Dubai.
Speaking at the ceremony, Essa Kazim said, "Emirates Islamic's Sukuk underlines Dubai's expanding leadership role in all aspects of the Sukuk sector, ranging from Sharia compliance and structuring to issuance and listing. Dubai's exchanges are further enhancing their commercial and regulatory infrastructure in order to provide effective solutions for regional and international issuers who wish to raise capital through the Islamic financial markets and gain high visibility for their securities."
The Sukuk was listed on Nasdaq Dubai on June 1st, 2016.
Hesham Abdulla Al Qassim, Chairman of Emirates Islamic and Vice Chairman and Managing Director of Emirates NBD Group, said, "As one of the leading Islamic financial institutions in the UAE, Emirates Islamic is committed to strengthening the development of Dubai as the global Capital of the Islamic Economy in line with the initiative launched by Vice President and Prime Minister and Ruler of Dubai His Highness Sheikh Mohammed bin Rashid Al Maktoum. Our latest Sukuk received strong interest from across the GCC, Europe and Asia, reflecting Emirates Islamic's successful track record of profitability and expansion. Emirates Islamic has been one of the fastest-growing banks in the UAE in recent years and we will use the funding raised by the Sukuk to help drive our strategy of expansion across our business activities."
Abdul Wahed Al Fahim, Chairman of Nasdaq Dubai, said, "Dubai's Islamic capital markets are preparing for renewed expansion through the development of new products and services as well as continuing growth of the Sukuk sector. We look forward to further strengthening our relationship with Emirates Islamic and other Sharia-compliant financial institutions for the benefit of market participants."
Jamal Bin Ghalaita, Chief Executive Officer of Emirates Islamic, said, "The Emirates Islamic Sukuk issuance was extremely successful and a testament to the growth potential of Emirates Islamic within the overall UAE banking sector. The issue was oversubscribed by nearly three times with overwhelming interest from investors across the globe. It is clear that there is a strong global appetite for Sharia-compliant financial instruments and as a leading Islamic bank in the UAE, we will continue our efforts to reinforce Dubai's position as the global capital of Islamic economy."
Hamed Ali, Chief Executive of Nasdaq Dubai, said, "As Dubai strengthens its position as the global leader for Sukuk listings, we will continue to develop our services for UAE, regional and international issuers including custody and transfer. Nasdaq Dubai will further enhance its listing infrastructure and procedures, to ensure streamlined access to the exchange for issuers of diverse asset classes."
UAE embassy in Berlin organises Ramadan gathering
BERLIN, 24th June, 2016 (WAM) — The UAE embassy in Berlin organised on Wednesday a Ramadan Gathering under the theme "Religious tolerance and cultural dialogue,' which was attended by Sigmar Gabriel, Vice Chancellor of Germany and Minister for Economic Affairs and Energy, Markus Droge, Bishop of the Evangelical Church Berlin-Brandenburg-Silesian Upper Lusatia and other political and religious personalities.
UAE Ambassador to Germany Ali Abdullah al Ahmed welcomed the guests and stressed the importance of tolerance and co-existence in Islam, which is founded on the principles of amity and rejection of violence, extremism and exclusionism.
In his speech, Sigmar Gabriel thanked the ambassador for hosting the gathering and highlighted the transformation taking place in Germany when it comes to stance towards Islam, which has become an integral part of the German society.
He also emphasised the need for dialogue with Muslim communities in Germany to combat the right wing extremists.
In his speech, Bishop Droge called for more joint cooperation between Muslims and Christians to deepen peaceful co-existence.
Ayman Mazik, Chairman of the Supreme Council for Muslims in Germany, called for a unified stand against anti-Semitism and Islamophobia.
Documentary on Saudi service to holy sites launched in Australia
19 Jun 2016 Canberra (IINA) – Saudi Ambassador to Australia Nabil bin Mohammed Al Saleh and Australian Minister for Multicultural Affairs Yvette Berry jointly inaugurated the premiere of a documentary titled "Holy Cities".
The film was screened during a Ramadan Iftar ceremony held in the main square of the parliament in the Australian capital, Canberra, in the presence of a number of scholars and leaders of various religions and cultures in Australia.
The short documentary, which was prepared by the Australian SATV channel and produced by the Arab World Media company, deals with the efforts of Saudi Arabia, under the leadership of Custodian of the Two Holy Mosques King Salman, in the service, development and expansion of the Two Holy Mosques and the holy sites, as well as the facilities provided to pilgrims and Umrah performers in all fields.
OIC Journal of Economic Cooperation and Development released
The June 2016 issue of the Journal of Economic Cooperation and Development is now available for download. In the introduction, Amb. Musa Kulaklikaya, Editor-in-chief, says:
I am pleased to inform our readers that we have selected six remarkable articles tackling issues of great importance to the OIC member countries in this June Issue of the Journal of Economic Cooperation and Development. The development of modern and sustainable economy has recently gained greater importance and attention in many developing countries as a major driver of social-economic progress. In this connection, this June issue sheds light on themes related to impacts on prices and policy implication, liberalization, youth unemployment, Islamic Inclusive Growth Index, economic impact of constructing a Gaza Seaport and democracy and human development nexus.
The first article examines the input-output model by analysing the effect of removing energy subsidies on prices in Morocco. Three scenarios of increasing oil prices by 25%, 50% and 75% have set to show that the effects on inputs prices are high in intensive oil products sectors such as transports, manufacturing industries, fishing and aquaculture, and, electricity and water sectors.
The second article highlights that trade liberalization due to its improving role has been at the center of economies in recent years. To test the hypothesis whether trade liberalization boosts tax revenue, a panel of 83 countries, over 1990–2012, has been applied to perform Generalized Method of Moment regression. The results of dynamic panel estimation show more trade liberalization is accompanied by more tax revenue. Therefore, there is the need for appropriate macroeconomic policy to enhance the trade liberalization in order to accelerate government revenue.
The third article paper examines the determinants of youth unemployment in OIC countries during the period 1993-2012. The study used a dynamic panel data method for a sample of 32 OIC countries, focusing on the impact of economic, demographic and institutional factors. The empirical results show that youth unemployment in OIC countries is influenced by economic environment measured by GDP growth, inflation and domestic investment. Fertility rate and bureaucracy quality are found to be one of the significant factors behind the high rate of youth unemployment in OIC member countries.
The fourth article develops an Islamic Inclusive Growth Index (i-IGI) – a composite index of growth inclusiveness – for the Organization of Islamic Cooperation (OIC) of the member countries. It comprises of three sub-pillars to measure the countries' performance based on three building blocks of inclusiveness. Despite having a good performance on the three pillars of inclusiveness, the OIC member countries in the Central Asia are lagging behind in terms of their conformity with Maqasid al-Shari'ah principles.
The fifth article focuses on the role of infrastructure as a catalyst of economic development. Among the different types of transport infrastructure, seaports are considered as especially strategic due to the increasing importance of maritime transport in deciding transport costs and international trade in the age of globalization. The construction of a Gaza Seaport is a computable general equilibrium model of the Palestinian economy to simulate the effects on the Palestinian economy.
The sixth and last article focuses on the use of data from 46 African countries over the period from 1990 to 2012 by examining three principal issues:
(+) whether human development is affected by the level or the stock of democracy in these countries; and whether the affect varies over time.
(+) whether a country's level of development and education level foster or impede the impact of democracy on human development.
(+) whether a democratic regime helps to further improve the health of its population via redistribution mechanisms.
The results seem to contain good news for African countries that inherited bad political institutions or systems from the earlier or colonial regimes.
Iran aviation sector needs 551 aircraft in ten years
Tehran, June 22, IRNA – Minister of Roads and Urban Development Abbas Akhundi said Iranian aviation industry needs 551 new planes to renovate its aging fleet in the next decade.
Talking to reporters, Akhundi said at present the production date of only 12 of Iranian planes are registered after 2000.
He reiterated that the Iranian airlines have a total of 266 planes of which 100 are out of operation.
Akhundi put the average age of 166 aircraft that are flying in Iran at 23 years, adding that according to international standards they should leave the aviation fleet within a year.
Pointing to the memorandum of understanding (MoU) recently inked between Iran and the giant US aviation company Boeing, Akhundi expressed hope that the deal would renovate the old-age Iranian air fleet.
Iran and Boeing have signed a MoU on June 20 for purchase of modern airplanes from Boeing.
The MoU permits purchase of several Boeing family airplanes, including 737 (new generation) and models 900 and 300 from Boeing 777 series by Iran Air.
Lorestan carpet receives world registration
Khorramabad, Lorestan province, June 22, IRNA – Head of Department of Industry, Mine and Trade of Lorestan province Reza Safikhani said on Wednesday that geographical indication of Lorestan hand-woven carpet received world registration.
Safikhani told IRNA that world registration of geographical indication of Lorestan hand-woven carpet; the artistic work will be registered and supported in all member countries of Lisbon Agreement.
He said that the world registration of the indication, which necessitates revival, revision and creativity to attract the target markets was possible by cooperation of Iran National Carpet Center, Ministry of Industry, Mine and Trade and Department for Registration companies and Industrial Property.
Safikhani added that the next move is to register Lorestan carpet design.
He said that currently 23,000 weavers are involved in producing 10,000 square meters of hand-woven carpet in the province a year.
Four Iranian universities among world's best
Tehran, June 21, IRNA – Deputy of Islamic World Science Citation Center (ISC) said Leiden ranking shows that based on knowledge production quantity index, four Iranian universities are among the top ones in the fields of math and basic sciences.
Ali Gazani said that regarding the performances of 842 top international universities, Leiden ranking system introduced 665 well-known universities in math and computer science fields during 2011-2014.
Iranian top universities consist of Amirkabir University of Technology, Sharif University of Technology, Iran University of Science and Technology and University of Tehran, respectively.
Leiden Ranking showed that based on knowledge production quantity index, Amirkabir University of Technology ranked 50 in mathematics and computer sciences and Sharif University of Technology ranked 70.
Referring to the third top university in math and science, he said that Iran University of Science and Technology ranked 78 in the world and University of Tehran ranked 98.
He added that Ferdowsi University of Mashhad, Tarbiat Modares University, Isfahan University of Technology, K. N. Toosi University of Technology, University of Tabriz, Shahid Beheshti University, Isfahan and Shiraz universities ranked 182, 233, 243, 259, 330, 386, 424 and 439, respectively.
Regarding the criteria used in classifying world universities, he noted that considering better knowledge production quantity and scientific diplomacy by participating in producing knowledge and international participation will be evaluated.
He reiterated that about 145,000 researches have been done in Iran in 2014 and their outcomes have been published in prestigious national and international journals.
Tehran, Dhaka to promote cultural artistic cooperation
Tehran, June 22, IRNA – Iran's Cultural Attache in Bangladesh discussed development of cultural artistic cooperation between Tehran and Dhaka with the head of the country's Asiatic Society Aminoleslam Chaudhary.
Referring to cultural, religious and historical commonalities between Iran and other countries in the subcontinent including Bangladesh, Seyyed Mousa Hosseini stressed the need for holding cultural dialogue between the two countries in areas of mutual interest.
He pointed to the significant scientific and cultural status of the Bangladeshi Asian association and history of Iran Cultural Office's cooperation with the entity in organizing the joint seminar of dialogue among civilizations and voiced his institute's readiness for promoting cooperation in cultural and scientific fields.
Chaudhary, for his part, recalled ancient cultural and historic ties between Iran and the subcontinent, especially Bangladesh, saying that holding such talks will help consolidate cultural relations.
He voiced the society's preparedness to promote cultural collaboration with Tehran.
Asiatic Society of Bangladesh is a non-political, non-governmental and non-profit institute which was established in 1952 with the aim of creating a center for studying modern issues of Asia.
Iranian disabled swimmer bags 8 medals in German tournament
Rasht, Gilan prov., June 15, IRNA – An Iranian disabled swimmer from Gilan province Mahdi Akbarnejad received eight medals in an international competitions in Germany called IDM.
The supervisor of the public relations department of Gilan Sports and Adolescent Office Saeed Alipour said that Mahdi Akbarnejad snatched four gold, two silver, and two bronze medals.
He reiterated that Akbarnejad ranked first in 50-meter freestyle, 100-meter freestyle, 100-meter butterfly and 200-meter medley swimming.
Alipour added that Akbarnejad ranked second in 200-meter freestyle and in 50-meter butterfly.
He said that the Iranian athlete received bronze medal in 100-meter front crawl and in 50-meter Backstroke.
Indonesia to have biggest reinsurance company in ASEAN
24 Juni 2016, Jakarta (ANTARA News) – Indonesia is targeting to have the biggest reinsurance company in ASEAN after a merger of Reasuransi Internasional Indonesia (ReIndo) with PT Reasuransi Indonesia Utama (Indonesia Re).
"With total assets of Rp6 trillion after the merger, Indonesia will have a large and sturdy reinsurance company that makes IndonesiaRe the largest reinsurance company in ASEAN," the President Director of IndonesiaRe, Frans Y. Sahusilawane, said here on Thursday.
The signing of the merger agreement between ReIndo and IndonesiaRe was witnessed by the Deputy Minister of State-Owned Enterprises for Financial Services, Survey and Consultants, Gatot Trihargo, and the Director of the Chief Executive of the Finance Service Authority, Firdaus Jaelani.
According to Frans, the merger process was initiated through the establishment of a subsidiary company, PT Reasuransi Syariah Indonesia in order to transfer ReIndos reinsurance business portfolio.
After the merger, IndonesiaRe will run reinsurance businesses, which will be supported by two subsidiaries, namely Insurance Asei Indonesia, in-charge of general insurance and Reasuransi Syariah Indonesia, which is engaged in Sharia reinsurance.
"The establishment of a national reinsurance company is a government policy that will tackle the current account deficit," he said.
The bigger and stronger national reinsurance company is expected to reduce capital outflow of reinsurance premiums, which are estimated to reach Rp20 trillion annually.
"The potential of the reinsurance market in Indonesia is very large in terms of premiums, which are in line with Indonesias gross domestic product and penetration rates that are still lower than other ASEAN countries, such as Malaysia, Thailand and Vietnam," Frans said.
The national reinsurance company will target a premium income of about Rp9 trillion by 2017, up from the projected premiums in 2016 of about Rp6 trillion.
Indonesia's food, beverage products penetrate African market
24 Juni 2016 Jakarta (ANTARA News) – Low calorie healthy drinks and instant food and beverage products from Indonesia have attracted a number of potential buyers at the African Big Seven (AB7) Fair held from June 19-21, 2016 in Johannesburg, South Africa.
"South Africa plays an important role as a gateway for Indonesias exports to other African countries, such as Botswana, Lesotho and Swaziland," the Head of Indonesian Trade Promotion Center (ITPC) in Johannesburg, Pontas Tobing, said in a press release received by ANTARA here on Thursday.
Pontas informed that some potential buyers have expressed an interest in bringing these products to the South African market and then distribute these across the African continent.
Indonesias participation in the AB7 is part of the efforts to boost exports and penetrate the South Africa as a non-traditional market.
According to Pontas, South African firms showed much enthusiasm about Indonesias food and beverage products, reflected in the high demand. These products are of good quality and meet health standards.
The AB7 is the most prestigious consumer goods exhibition in Africa, and its 2016 edition saw the participation of 72 countries and 13 thousand buyers, all engaged in food and beverage industries, food and beverage technologies, retail products and food business.
Indonesias participation was initiated by the ITPC in Johannesburg in cooperation with the Association of Food and Beverage of Indonesia (GAPMMI).
For the exhibition, featuring eight Indonesian companies, the ITPC in Johannesburg cooperated with the Consulate General in Cape Town. The latter organized business matches for the Indonesian participants with the help of Chamber of Commerce of Cape Town to explore business potential in the southern region of South Africa.
The trade balance between Indonesia and South Africa in April 2016 recorded a surplus of US$121.72 million.
Meanwhile, the value of Indonesias exports to South Africa amounted to US$205.11 million and Indonesias import from South Africa amounted to US$83.39 million.(*)
Ministry explores direct Indonesia – S Korea flight
24 Juni 2016 Nusa Dua, Bali (ANTARA News) – The Tourism Ministry is exploring the feasibility of South Korean Low-cost Carrier (LCC) serving a direct flight to Indonesia as it would help bring more tourists.
"I am exploring two LCCs, namely Jeju Air and Jin Air. It is possible that they will provide direct flights to Indonesia," the Tourism Minister, Arief Yahya, said after opening Bali Beyond and Travel Fair (BBTF) 2016 in Nusa Dua, Bali.
According to him, South Korea has a big potential to bring tourists to a number of tourist destinations in Indonesia.
Every year, the minister noted, at least 20 million South Koreans travel abroad. Meanwhile, only 400 thousand Koreans visit Indonesia.
Limited number of direct flights to Indonesia, and lack of promotion about Indonesia in South Korea are some of the obstacles.
"Travel bureaus in Korea do not even know about Borobudur temple. All they know is Bali," the minister stated, adding that the ministry will intensify tourism promotion in South Korea.
He hoped there will be more low-cost carriers serving flights from South Korea to Indonesia to achieve the target of one million tourists visiting the country by 2019.
The LCC is targeted to be realized this year or can at least start chartered flights.
On the sidelines of the opening of BBTF 2016, Asita (Association of the Indonesian Tours & Travel Agencies) signed a memorandum of understanding with Jeju Tourism Authority.
The tourism cooperation between the two associations is expected to lead to mutual benefits and will also boost the number of South Koreans visiting Indonesia.(*)
President Jokowi wants priority for Natuna economic development
23 Juni 2016, Ranai (ANTARA News) – President Joko Widodo (Jokowi) wants to give priority for the Natuna islands in economic development especially in fishery and energy sectors, Foreign Minister Retno Marsudi said.
"Development of outermost areas needs special addressing and should be given priority," the minister said in a news conference after a limited cabinet meeting led by President Jokowi on board a warship KRI Imam Bonjol sailing in the South China Sea on Thursday.
The visit to Natuna by President Jokowi and a number of cabinet ministers and security officials followed last weeks incident when an Indonesian warship seized a Chinese fishing boat found poaching in the Indonesian exclusive economic zone.
The boat one of a group of ten Chinese fishing vessels was stopped after the navy ship fired shots to the air and to the sea in front of the boat.
China protested and said a crewmen was injured but the Indonesian government denied the claim saying no one was injured.
Observers said the visit to Natuna was to emphasize Jakartas determination to protect the countrys sovereignty over Natuna water territory and control of its exclusive economic zone.
Retno said the sovereignty of the country in Natuna has to be protected.
She said Indonesia is a big country and seas make up two third of the territory.
"From the beginning the government of President Jokowi has shown greater attention to development of outer regions and this time it is the turn of the Natuna islands, which are among the countrys outermost regions," she said.
She said at the meeting , the president heard reports from his ministries about projects to be built and progress of projects under construction in Natuna.
Natuna is known to have one of the largest oil and gas reserves in the world and its sea fish riches have attracted foreign fishing boats to poach in its water.
"According to Energy and Mineral Resources Minister Sudirman Said, there are 16 offshore oil and gas blocks in Natuna and five of them have been in operation and the rest are in the process of development," Retno said.
Meanwhile Marine and Fisheries Minister Susi Pudjiati reported about development of integrated project in fishery sector in Natuna, she said.
Military Chief General Gatot Nurmantyo reported about plan to build defense system around Natuna.
Also attending the meting were Coordinating Minister for Law, Security and Political Affairs Luhut Binsar Pandjaitan, Minister for National Development Planning Sofyan Djalil and Cabinet Secretary Pramono Anung.
WWF to help Biak manage maritime potentials
22 Juni 2016 Biak, Papua (ANTARA News) – WWF Indonesia will help the Biak Numfor district administration manage the maritime potentials of Biak Island for the welfare of its people.
"The presence of the WWF office on Biak Island is a realization of the organizations commitment to becoming a partner of the district administration and sharing experiences in the marine conservation program on Biak Island," WWF Indonesia CEO Benja Mambai stated here, Wednesday.
The NGOs environmental conservationists are ready to support Biak Numfors conservation program in and around Cenderawasih Bay following the opening of its 32nd office.
The Saereri Expedition just concluded by WWF has conducted surveys and collected data on the maritime and forest potentials in nine kampongs in three districts: Biak Numfor, Nabire, and Yapen Islands.
WWF Indonesias MV Gurano Bintang has concluded the Saireri Expedition by sailing along Cenderawasih Bay stretching 500 nautical miles, or 850 kilometers.
The expedition was flagged off from Wasior and ended in Biak, Captain of MV Gurano Bintang Bardin Tandiono stated here, Tuesday.
The boat made stopovers in the beaches of Sarawandori, Ambai, Barawai, Sawendui, Aisai, and Asai kampongs in Yapen District and Samberpasi, Pasi, and Yenmanaina in Biak Numfor District.
During the 16-day expedition, the vessel carried onboard 35 people, including the crew members.
Surabaya Mayor bans hotels from raising tariffs during U.N. Habitat
25 Juni 2016 Surabaya (ANTARA News) – Surabaya Mayor Tri Rismaharini has banned hotels from raising tariffs when the city hosts the International Conference of the Preparatory Committee (Prepcom) III for United Nations (U.N.) Habitat 3 from July 25 to 27.
"I sincerely hope that they will not raise their tariffs. Dont let others consider us inconsistent. It is not easy to earn the trust needed for hosting the conference," she said in a meeting with hoteliers at the Surabaya City Hall here.
Tri had urged hoteliers to be consistent with the agreement they had signed with the city government in a meeting some time ago to not raise their tariffs.
It is important for the management of hotels to provide better service to delegates of Prepcom III for UN Habitat 3 by applying room rates consistently, she said.
All hotels in the city, ranging from five-star hotels to non-star hotels must be prepared to receive thousands of guests from various countries.
She also predicted demand for hotel rooms will begin to increase three days ahead of the event.
Therefore, she said the city government will continue to make better preparations by coordinating with hoteliers, among others.
Tri noted that an estimated 5 thousand delegates from 193 countries will take part in the Prepcom III for U.N. Habitat 3.
Jakarta to build two venues for 2018 Asian Games
16 Juni 2016 Jakarta (ANTARA News) – The Jakarta government has been appointed to host the upcoming 2018 Asian Games and to build two sporting venues: an equestrian arena and a velodrome.
The construction of both arenas will be completed in time, and the groundbreaking for both venues will be held on Jakartas 489th anniversary, according to Jakarta Deputy Governor Djarot Saiful Hidayat.
"The groundbreaking ceremony for the velodrome, equestrian arena, and LRT will be held simultaneously to coincide with Jakartas anniversary that falls on June 22. We have two alternative locations for the velodrome: Pulomas and Rawamangun," Djarot stated in Jakarta on Thursday.
The governor noted that both arenas will serve as the venues for Asias best athletes to compete, due to which the construction process will focus on building stadiums of international standard.
"Once again, we will maintain international standards while building these venues, so that we can fulfill all requirements to acquire an international certificate," he remarked.
Djarot affirmed that the construction of both venues will be completed by the time the Asian Games begin. He further explained that the construction work on the equestrian arena will be completed ahead of the velodrome.
"We are intentionally targeting to complete the work on the equestrian arena first as the horses will arrive ahead of time. Since the games begin in August 2018, we will then have to complete it by February 2018," he concluded.
UAE leader says cultural heritage is key to its prosperity
DUBAI, 22nd June 2016 (WAM) – Vice President and Prime Minister of the UAE and Ruler of Dubai His Highness Sheikh Mohammed bin Rashid Al Maktoum said that the UAE's cultural heritage is key to its prosperity.
His Highness also said that the country's cultural heritage is an important factor in achieving its unique ambitions, and can inspire innovative and creative approaches to ensuring the happiness of its people. He stressed the importance of preserving the UAE's cultural heritage and helping the new generation deepen theirunderstanding of the country's past.
"History is full of lessons, and those who grasp its lessons hold the key to the future," His Highness said. "We want our youth to read our history, and be aware of the glories of the past while also being aware of the latest scientific advances in various fields in order to maintain the UAE's leading position among nations."
His Highness also called on the youth to maintain a strong connection with the country's culture and traditions, which will help strengthen national unity and inspire them to lead the nation to greater heights.
Sheikh Mohammed also said that awareness of the country's heritage will help the youth further reinforce their sense of belonging to the country and motivate them to uphold the glory of their forefathers.
"We are working to build a civilisation that will create a strong heritage for future generations. We seek to equip our youth with the knowledge that will allow them to add new chapters not only to the history of the UAE but also to humanity's journey of progress," HH Sheikh Mohammed further said.
His Highness also highlighted the role of education in ensuring the new generation has a strong connection to their history and origins.
HH Sheikh Mohammed's remarks came during a gathering organised by Dubai Press Club titled 'Saroug Al Hadeed' as part of the Ramadan Majlis held in Qasr Al-Bahr.
Director General of the Government of Dubai Media Office and Chairperson of Dubai Press Club Her Excellency Mona Al Marri was present at the gathering.
Also present were a number of ministers, director generals of government departments and leading media, cultural and academic personalities.
The event was hosted by Dr. Eid Al Yahya, presenter of "In the Footsteps of the Arabs" a programme broadcast by Al-Arabiya news channel. Speaking at the gathering, he highlighted the importance of the archeological site of Sarug Al Hadeed, which was discovered 14 years ago by HH Sheikh Mohammed during one of his visits to thearea.
Dr. Yahya highlighted the historic importance of the Sarug Al Hadeed site, which is considered one of the most significant archaeological sites in the Arabian Peninsula due to the number of ancient artefacts that have been discovered there. The objects discovered in the area, such as gold ornaments, weapons, pottery and other items, reveal the civilisational richness of the region thousands of years ago.
Dr. Yahya praised the strong connection that the UAE maintains with its origins and heritage, which is expressed in initiatives such as the Expo 2020 logo whose design was inspired by a 4,000-year-old ring discovered at the Sarug Al Hadeed site.
According to the Saudi researcher, the Sarug Al Hadeed site clearly shows that Dubai is a land that has connected people and civilisations from ancient times.
UAE Education Ministry to introduce new Islamic curriculum next year
ABU DHABI, 22nd June 2016 (WAM) – Hussain bin Ibrahim Al Hammadi, Minister of Education, revealed that an upgraded Islamic education curriculum will be introduced in the UAE's schools in the next academic year 2016-2017.
In an exclusive statement to WAM, he noted that the new curriculum is focussed on tolerant and moderate religious teachings.
He saidhe ministry's teams of experts are working day and night to develop the curricula of all subjects, including Islamic education.
The minister was speaking on Tuesday night after an awards ceremony for the second Holy Quran Tahbeer Award. The word "tahbeer" means melodious recital of the Quran.
He said the award contributes towards keeping the young generation away from extremism.
US investments in Egypt drop by 85.9% in 2015: CAPMAS
MENAFN – Daily News Egypt – 23/06/2016 – United States investments in Egypt suffered a sharp decline of 85.9%, dropping from EGP 93.7m in 2014 to EGP 13.2m in 2015, according to the Central Agency for Public Mobilisation and Statistics (CAPMAS).
CAPMAS published its annual bulletin on the "economic relations between Egypt and the United States of America" on Wednesday, which lays out the total trade volume of both countries, in addition to the current situation of US investment in Egypt and the status of US Tourism in Egypt.
According to the bulletin, the recorded value of Egypt's imports from the US totalled EGP 33.5bn in 2015, compared to EGP 37.8bn in 2014, marking a decline of 11.3%. Additionally, Egypt's exports to the US amounted to EGP 8.4bn in 2015, compared to EGP 9.1bn in 2014, witnessing a drop of 8%.
Although ranked first in terms of an Egyptian import from the US, grain imports dramatically declined by56.7%, with a total value of EGP 2.5bn in 2015 compared to EGP 5.8bn in 2014.
Egypt's imports from countries worldwide slightly increased by 8.7%, with a total value of EGP 568.9bn in 2015, as opposed to EGP 523.4bn in 2014.
The total gross value of Egypt's exports to countries worldwide slumped to EGP 163.3bn in 2015 compared to EGP 195.3bn in 2014, marking a drop of 16.4%.
Although Egyptian textile and garment exports to the US ranked highest, the sector witnessed a slight drop of 6.4% in these exports. The value went down from EGP 5.4bn in 2014 to EGP 5.1bn in 2015.
CAPMAS also revealed that the total number of tourist visits from the US to Egypt grew by 22%, reaching 188,700 tourists in 2015, compared to 154,000 in 2014.
The number of nights spent by American tourists in Egypt went down by 6.9%. This means that they stood at 1.5m nights in 2015, compared to 1.7m in 2014.
Qatar eyes more tourists at Eid and Summer festivals
MENAFN – The Peninsula – 23/06/2016 – DOHA: The annual Eid and Summer festivals have become major events in promoting Qatar as a unique holiday destination, said a Qatar Tourism Authority (QTA) spokesperson.
"For most sectors in Qatar this period is the beginning of a lull in activities, but for ours it is the peak in our calendars, especially with the arrival of the Eid Festival and Qatar Summer Festival 2016," said Saif Al Kuwari, Director of PR and Communication at QTA.
He addressed the QTA's third Annual Tourism Industry Ramadan Ghabga, on behalf of Hassan Al Ibrahim, Chief Tourism Development Officer, QTA. The event brought together QTA's partners in the public and private sector and others at the Kempinski Marsa Malaz – The Pearl.
The Annual Tourism Industry Ghabga is one of many platforms for the members of the tourism sector to connect, exchange ideas and find new and innovative ways to develop the sector through partnerships.
The Eid Festival and Qatar Summer Festival expects to drive up regional tourism numbers with a range of new attractions, cultural events and brand promotions lined up every year.
The annual festivals aim to increase the number of inbound tourists in the long-term by uilding sustainable events into Qatar's calendar, is building on the success of past years through events organised in collaboration with public and private sector partners to reinforce Qatar's position as a preferred family tourist destination within the GCC.
"We have a lot of work coming up through the Eid and Summer festivals and I want to thank everyone for coming together to prepare for these two nation-wide events and show our visitors that Qatar is a world –Class hub with deep cultural roots," said Al Kuwari. The month long Summer Festival targets visitors from the GCC with entertainment activities for families in a festive, safe environment that reflect their heritage.
In 2015 the festival featured shows to suit different age groups and tastes — from open-air public displays, theatre and classical concerts to comedy, films and popular Eastern and Western musical performances. Qatar's hospitality and retail sectors were engaged in ensuring the success of festivities.
Eid Al Fitr celebrations will be extend to all parts of the country as tourism hotspots presented a number of exciting shows, performances and activities throughout the Festival to visitors and residents alike.
Kuwait works with GCC states to implement railway project
(MENAFN – RIYADH, June 23 (KUNA) — Kuwaiti Minister of Public Works and Minister of State for National Assembly Affairs Dr. Ali Al-Omair said Thursday his country is keen on cooperation with other GCC member states to implement the GCC railway network.
"The GCC leaders instructed their respective governments to attach great importance to this vital project which will facilitate the movement of individuals and commodities among our countries," he told reporters.
Al-Omair made the press remarks following the extraordinary meeting of the GCC ministers of transport and communication at the GCC Secretariat here.
"The meeting discussed the progress de in this mega project," he said, noting that some GCC members have finalized the designing and started implementing of the project while others are still working on the designs.
"We have also discussed the GCC partnership in navigational assistance and standard controls for licensing the ship inspecting companies as well as the single guidelines for traffic controllers," he revealed.
The planned 2,117 km.-long railway will start from Kuwait and proceed towards Dammam city in Saudi Arabia where it will bifurcate into three lines – one to Manama in Bahrain, another to Doha in Qatar and a third to Abu-Dhabi and Al-Ain in the UAE and the Muscat in Oman. (end) yms.gb
Egypt receive millions in new investments from China
MENAFN – 24/06/2016 – China Petroleum and Technology Development Corporation (CPTDC) plans to invest nearly USD10 million in Egypt, based on recent reports.
Accordingly, the firm has been trying to find a local partner from the public sector in Egypt plus it has been holding talks with local petroleum companies.
The USD10 million are part of first stage investments to be injected in the country, after which the company will pump more investments in Egypt.
Furthermore, CPTDC has been deeply active in the Egyptian market for the past decade and is one of the largest suppliers of oil equipment in the world.
Contract Signed To Complete Gardan Diwar Road Project in Kabul
June 22, 2016, Kabul (BNA) Minister of public works has signed construction project of second part of Gardan Diwar road and two more projects with the contracting companies, here in Kabul on Tuesday.
At a ceremony attended by Second Vice-President, Sarwar Danesh, two more road construction projects contracts had been signed by the minister, a statement from the second vice-president said.
The projects signed by the minister included two more roads of Niman High School in Charikar and Aibak city of Samangan province, according to the statement.
At the ceremony attended by some house of people members, the vice-president said that the government of national unity was committed to kick off major projects to refurbish the country's economy and trade and improve the people life condition, said the statement.
He said the people of Afghanistan wanted to see balanced development, free of any kind of injustice and discrimination in implementation of the development projects, the statement quoted.
He reported about the projects of Dushi-Bamyan 220 kilovolt power energy to the central provinces and the 500 kilovolt energy through Salang pass, which had been signed with the Asian Development Bank at the presidential palace (Arg), according to the statement.
Construction of Gardan Diwar road as transport corridor would connect eastern Afghanistan to west and would not be only important for the central regions, but would be vital for economic development to the whole country, the statement added.
Minister of public works, Eng. Mahmoud Baligh told in the ceremony that the three projects costing some five billion and 355 million and 877,000 Afghanis would provide employment for up to 11,000 people in the country, the statement added, going on as saying the work on the projects would soon be kicked off and expected to get operational duly.
First part of the Gardan Diwar project had been completed by 65 percent, with the remaining second part would be soon started in Herat province.
Parliament Ratifies Afghanistan's WTO Accession
June 22, 2016 – Kabul (BNA) – Wolesi Jirga ratified the country's accession to the World Trade Organization (WTO) yesterday, placing Afghanistan within days of formal membership to the renowned international organization.
"This ratification marks the culmination of more than a half-decade of Afghanistan's intensive efforts to reform its trade environment, and will open the doors to lucrative international markets, facilitate transit, help resolve trade disputes, and pave the way for increased foreign investment," said Deputy Minister of Commerce and Industries Mozammil Shinwari.
Afghanistan's WTO accession package will now head to President Ashraf Ghani for his signature. The country will become an official WTO member 30 days after it formally notifies the WTO of its acceptance. Afghanistan will join more than 160 other WTO members that comprise more than 95 percent of global commerce.
"We congratulate Afghanistan on this milestone which marks the end of its long journey toward WTO membership and highlights the country's unwavering commitment to improving its trade environment," said USAID Mission Director Herbert Smith. "Afghanistan will now begin the hard work of fulfilling its obligations as a WTO member, a process that will create trade opportunities, improve the economy, and lead to a better quality of life for Afghans."
Afghanistan embarked on complex trade-related legal reforms and completed bilateral market access negotiations on goods and services with nine WTO members in the years leading up to accession.
USAID's Afghanistan Trade and Revenue (ATAR) project worked closely with the Afghan government in its journey to WTO membership and will continue supporting Afghanistan following membership.
Hydroelectric Production To Change Afghanistan Into Energy Exporter
June 22, 2016, Kabul (BNA) Construction of dams enjoys a special strategic place in stable and balance development of Afghanistan.
Because, Afghanistan is an agricultural country and management of waters can provide all farmlands with sufficient waters that will create a special change in relevant sector of the country. Providing water for agriculture sector can also grow economy of the country—a move that is directly related to pave the way for job opportunities.
In fact, if Afghanistan's water resources are properly used, the country has the capacity of 23,000MW power, and if it is implemented, power will be ensured with cheaper prices and the country's dependency to neighboring countries would be diminished. An official of the ministry for energy and water, Azimi said, using domestic resources will make Afghanistan self-reliant and it would soon change to an energy exporter in the region.
The ministry has 5-year plans to construct the dams of the country with the help of private sector and donor countries, Azimi further said. Mentioning Salma and Darounta dams in Herat and Jalalabad, Azimi said these great dams could bring considerable changes and have caused to grow the people economy in the provinces. Furthermore, the ministry called on construction of 29 other dams and the procurement works of them has already begun.
The government of national unity is committed to attract the foreign aids to construct the dams, Azimi went on to say, adding the dams' construction will take three to five years to utilize. Currently, 70 to 75 percent of Afghanistan's power is importing and its remaining 25 percent is provided through domestic resources.
The ministry of energy and water is making effort to make the country reach self-sufficiency through its 5-year plans, Azimi continued. Afghanistan is located between Middle and South Asia and is a linkage bridge between north and south. Tajikistan, Uzbekistan, Turkmenistan and Kyrgyzstan are the rich of energy resources countries and are exporting their power to Pakistan and India through which Afghanistan will receive transit fee.
For instance, the Central Asia-South Asia power project, commonly known by the acronym CASA-1000, is a $1.16 billion project currently under construction that will allow for the export of surplus hydroelectricity from Tajikistan and Kyrgyzstan to Afghanistan and Pakistan.
Groundbreaking of the project took place on May 12, 2016 in Tajikistan in a ceremony attended by the Kyrgyz, Tajik and Pakistani Prime Ministers, and is expected to be wrapped up by the end of 2018. Likewise, TUTAP is a project through which Afghanistan and south Asia countries, particularly, India and Pakistan will benefit of it. On construction of dams, Azimi said they will cost $100 to $500 million and will take time.
Bamyan Cultural Center's Foundation Stone Laid
June 21, 2016, Kabul (BNA) Financially assisted by the S. Korea, the Bamyan Cultural Heritages Center's foundation stones had been laid down on the Chawni Hill of the provincial center, an official said. Provincial Director of Bamyan Information and Culture, Sayed Ahmad Husni Ahmadpoor told that the cultural heritages center is expected to accommodate all needed facilities including exhibition hall, auditorium, separate halls for holding workshops and conferences, several rooms for art and cultural conferences, classrooms, researches and educational centers for the youths, permanent showcases for the Bamyan local handicrafts, public recreational sites, library, etc.
The center would be built based on the international standards and would help protect the provincial historical heritages as earlier they have protected in mud-made corridors near the Buddha Statutes, said Ahmadpoor adding those monuments received from excavation of the archeologists would be kept in the museum expected to be built in the center.
The cultural center would be built in three phases, the two phases would be constructed by Korea and the third by the government of Afghanistan, he said adding the project would be completed within 18 months. Using the high talents hidden in the province through enrolling in professional institutes, with many of them graduated from the faculties of fine arts would help enrich the cultural center, said the director of provincial information and culture. Lack of budget had been said to be the main problem of the center and as we once plan to conduct various art programs, but we cannot continue, due to lack of budget, he said asking the government for providing enough budget to enrich the local art and culture programs in the province.
The ceremony, which was held to lay the foundation stone of the major culture center in the province, was attended by Sayed Mansour Naderi, Minister of Urban Development, Chin Ki Hoon, Korean Ambassador, UNESCO officials, local officials of the province and other government authorities.
Positive Impact of Cultural Centers On Economy
June 22, 2016, Kabul (BNA) In recent times, different departments specially the MoIC have been attempting to focus serious attention to the country's cultural historical works and protect and rehabilitate them.
They have attracted attention of countrymen and tourists with establishment, construction and rebuilding of cultural centers. Although our country is rich due to its historical and cultural works but regrettably the three decades devastating conflicts have strongly damaged every parts of our country particularly our historical, cultural works, destroyed them or have smuggled them illegally to foreign countries.
Serious attention of government organs and cultural professionals for rehabilitation of these historical, cultural works have caused us to enrich our ancient culture with construction of cultural centers, invite attention of domestic and foreign tourists and bring positive impacts on national economy. Similarly, we have thousands additional cultural works that can be introduced to countrymen through those cultural centers, display them to thousands tourists and add affirmative impact on our economy. We appeal on all countrymen, cultural professionals and well-to-do people as well national traders to invest in cultural fields of their beloved country and focus serious attention to their country's historical, cultural riches.
They should also invest in construction of cultural centers that can play positive role in national and regional economy. For example we can mention of Bamyan big cultural center and several other small and big centers throughout Afghanistan.
Cultural, historical relic of a country describe its history and culture specially for a country like Afghanistan that owns thousands years rich ancient history and culture and in different eras of history had particular historical, cultural moments including historical cultural relic of Ghazni, Bust Fort in Helmand, ancient sculptures of Buddha in Bamyan as well as Nangarhar, Balkh and Kandahar etc. Beside these, there are hundreds other and monuments covert unearthed works in different parts of our homeland.
Famous writers, poets and cultural dignitaries have been trained and brought up in the lap of great empires including Ahmad Shah Baba, Sultan Mahmood Ghaznavi, Wazir Akbar Khan etc. Ancient monuments and historical, cultural works are great capital of a country, explain national culture and can play important role in economic development of the country. We can protect our cultural, ancient works properly in a peaceful atmosphere. The way should be paved to Afghan nationals as well as foreign citizens to travel freely to every nook and corner of the country, first recognize their national works and then introduce them to the world people.
Togo: Hotelier Program 1000 Rooms in Togo
22 June 2016, Togonews (Lomé) – Confortis International initiates Hotelier Program 1000 rooms spread over 10 hotels throughout the Togolese territory referred WELLCITY Hotels & Resorts.
This Hotelier Program is pegged to the new infrastructure developed in the country (Port, Airport, road transport, …) and anticipates the second generation of national investment in public / private partnership.
WellCity Hotels & Resorts is a Hotelier Program which consists of the construction and commissioning of a portfolio of 10 economy and midscale Hotels throughout the Togolese territory.
With a total capacity of 1,000 rooms, this green hotels will help improve the quality offer in hotel services and MICE (Meetings Incentives Conferences and Events) under management of international operators. It comes in five-year plan 2017-2021.
The program overall budget is estimated at one hundred billion franc CFA or one hundred fifty million euro.
Developed on two to five hectares of land, implementation of these hotels meets a national balance and take into account the potential of different economic areas : AIRPORT-LOME, LOME PORT, ADETICOPE, AGBODRAFO, NOEPE, KPALIME, ATAKPAME, KARA , SOKODE and DAPAONG.
The Hotelier Program aims to create 1,000 direct jobs and 10,000 indirect jobs and replacing the Togo in the regional competition in business tourism and conferences contributing Lome to play as West African hub.
Burkina Faso Receives US$100 Million to Improve Roads and Infrastructure
The World Bank's Board of Executive Directors today approved a $100 million IDA* credit to help the Government of Burkina Faso improve its road network and develop urban infrastructure.
This financing will support the Transport and Urban Infrastructure Development Project [Projet de transport et de développement des infrastructures urbaines PTDIU], which aims to improve mobility and access to infrastructure in targeted rural and urban areas and, in the event of a crisis or emergency, provide an immediate and effective response.
The project will complement Government's efforts to finance infrastructure and help reduce the infrastructure gap in the targeted regional capitals. Furthermore, it will contribute to improving connectivity between production and consumption zones and lay the foundation for a better link between the rural areas and urban centers.
"This project will invest in the infrastructure required to support economic growth and facilitate the transport of agricultural products from low-income production zones to consumption zones, and it will create jobs in the country," explained Cheick F. Kanté, World Bank Country Manager for Burkina Faso.
The interurban infrastructure component of the project will help improve connectivity between the Bagré growth pole production zone and the rest of the country as well as connectivity with neighboring countries, particularly Ghana and Togo. Investments will be focused on the Centre-Sud region of the country and relate to road paving and internet access in the urban centers located along these roads.
Another component will address the financing of physical investments in the five targeted regional capitals (Manga, Tenkodogo, Ouahigouya, Koudougou, and Dédougou) and improve access to different types of urban infrastructure. These cities were chosen based on their proximity to a number of national roads and the poverty level in the relevant regions.
The third component will target activities that will help improve the operational capacity of ministries and municipalities involved in project implementation and support the continuation of reforms aimed at improving performance in the sectors covered by the project.
The last component covers the mechanism for an immediate and effective response to disasters and crises that may occur during project implementation.
According to Aguiratou Savadogo-Tinto, World Bank Project Task Team Leader, "the PTDIU will contribute significantly to making a number of regions accessible and gives a major boost to efforts to reduce the shortage of infrastructure in the targeted regional capitals. Moreover, it will help strengthen the capacities of all thirteen regional capitals in the areas of urban management and urban planning."
This multisectoral project will be coordinated by the Permanent Secretariat of the Transport Sector in Burkina Faso, and technical implementation will be overseen by the beneficiary sectoral ministries.