4 May, 2016
Dubai, 27 April 2016, (ATM Press Release) – Newly released data from travel industry research authority, Phocuswright, has revealed that mobile transactions from Middle East travellers are set to hit double digits for the first time ever in 2016 as consumers become increasingly comfortable using their handheld devices for travel purchases.
Addressing a full house at a special half-day Fast Track session, that took place yesterday (26 April 2016) at the new ATM Global Stage, Phocuswright's Middle East analyst, Jeff Strachan, chaired the interactive event, at which regional analyst's examined the latest consumer and technology trends driving the market.
"Transactions from mobile devices are expected to cross 10% this year, reaching double digits for the first time in 2016, With exciting trends like ever-improving technology infrastructure and a young population with an appetite for travel, the Middle East region is poised for enormous growth in the next three years, both online and off; and companies need to stay ahead of the curve in order to remain competitive in the area," said Strachan.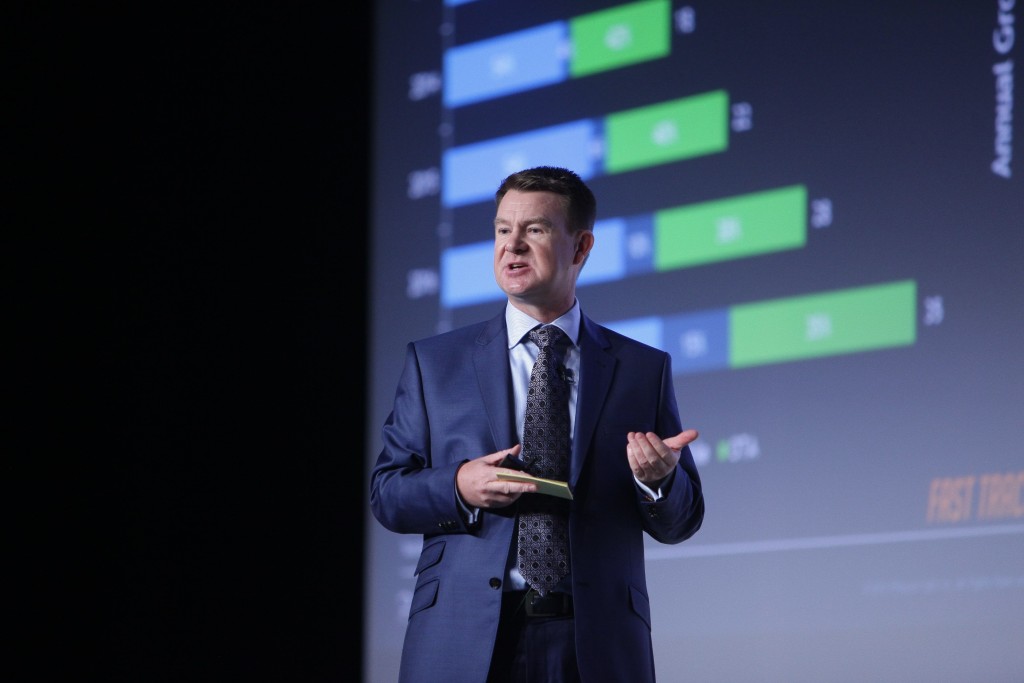 The latest round of Phocuswright research also highlights the growth in online penetration in the region, which is on track to hit 31% of total revenues in 2016, up from 25% in 2014 and 27% in 2015; with 19% of all revenues delivered online via supplier-direct websites, and 12% of all revenues emanating from online travel agencies (OTAs).
OTAs are also gaining hotel revenue share according to the data. In 2014, 56% of all OTA revenue was attributed to airlines; whilst in 2016, 46% is forecast to go to hotels, with airline share dropping to 52%.
"There's been a huge surge in confidence in the security of online transactions in the Middle East in the last 12 months and, as more and more people across the region start to rely on their mobile devices as a speedy, secure and reliable way to get things done, this can only increase. From everyday transactions such as bill paying to bigger and more emotionally driven purchases such as hotel stays and holidays, online is rapidly replacing offline interaction," said Nadege Noblet-Segers, Exhibition Manager, Arabian Travel Market.
According to Phocuswright, OTAs represent 75% of all online revenues to hotels, and 28% of all online bookings to airlines, who have a much better online direct performance (61% from website direct and 11% via mobile).
"The Phocuswright session at ATM 2016 provided invaluable market and consumer insight, and was clearly a must-attend event for the region's travel community with a packed space and plenty of questions at the end of the half-day session," she added.
The mini sessions included an overview of global trends, starting with a presentation by Florence Kaci, Director, Sales, EMEA and European Market Specialist, for Phocuswright, after which Jeff Strachan hosted a special executive roundtable to discuss the Arabic effect on online travel.
Online travel agency representatives including Stephen Ekbergh, Founder and CEO TravelStart; Mark Forrester, Managing Director, Occupancy Marketing; and Ross Veitch, Co-Founder & CEO, Wego Pte Ltd, highlighted the challenges and opportunities for online distribution in the region.
One such area that was highlighted was the importance of offering localised language options in the online arena, According to Phocuswright, key source markets including India and Saudi Arabia are making rapid movement to online travel transactions with language playing a significant role in search, particularly in Saudi Arabia where over 50% of hotel and air search terms are in Arabic language.
Understanding the Indian marketplace was examined in a single session with an executive interview with Indian online travel company, Ezeego. Its CEO & Director, Neelu Singh, shared insight into how Middle Eastern destinations can better get to grips with the requirements and interests of Indian tourists in order to drive inbound visitor numbers and increase spend.
ATM 2016 will build on the success of this year's edition with the announcement of an additional hall as Reed Travel Exhibitions looks to add to its record-breaking achievements earlier this year. ATM 2015 witnessed a year-on-year visitor attendance increase of 15% to over 26,000, with exhibiting companies increasing by 5% to 2,873. Business deals worth more than US$2.5 billion were signed over the four days.
Note to readers: Travel Impact Newswire Executive Editor Imtiaz Muqbil was a hosted media delegate at the ATM 2016