21 May, 2016
TYSONS CORNER, Va.–(BUSINESS WIRE)–May 17, 2016 – Cvent, Inc. (NYSE: CVT), a leading cloud-based enterprise event management company, today revealed its annual list of the top 50 cities for meetings and events in the United States, and the top 25 cities in Europe, the Middle East and Africa (EMEA), and the Asia Pacific (APAC) regions. The rankings were compiled according to meeting and event booking activity through the Cvent Supplier Network. Cvent sourced $9.8 billion in meetings and events globally through its marketplace in 2015.
The top 10 cities in each region for 2016 are: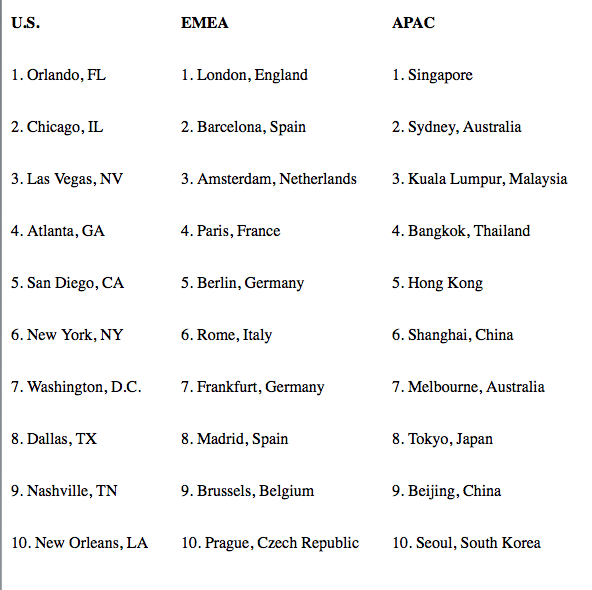 To see the full list of the top cities for each region, please click on the following links:
https://www.cvent.com/en/supplier-network/top-50/2016-top-destinations-us.shtml
https://www.cvent.com/uk/event-venue-supplier-network/top-25/2016-top-destinations-emea.shtml
https://www.cvent.com/au/supplier-network/top-25/2016-top-destinations-apac.shtml
"Meetings and events are critically important to the economies of cities of all sizes around the world," said Kevin Fliess, vice president of marketing for Cvent's Hospitality Cloud. "During the past five years we have tracked how cities across the U.S. compete. Factors that have often created a difference have included investments in infrastructure, hotel renovations within a city, economic factors that make a destination more appealing, and offering an alternative to mainstream destinations. More recently we have been tracking EMEA and APAC locations and are already seeing similar methods of competing. All of these cities can learn from multi-year leader Orlando that the only way to remain on top is to continue investing and innovating to remain competitive year after year."
Regional highlights include:
U.S.: Orlando held the top spot on the 2016 list, a position the city last held in four of the five years the ranking has been published. Chicago climbed one spot on the ranking compared to last year, while Las Vegas dropped one place from number two in 2015 to round out the top three. These three cities have jockeyed for the number one position in all but the first year, when Washington DC came in second.
EMEA: London took first place in the ranking, followed by Barcelona, just as in 2015. Amsterdam climbed into the top 3, while Paris dropped to fourth place. Dubai represented the Middle East.
APAC: Singapore claimed the number one spot followed by Sydney and Kuala Lumpur.
"We are honored, once again, to be named the No. 1 meetings destination in the country by Cvent," said Visit Orlando president and CEO George Aguel. "This recognition is another testament to the investment we and our members make to market and sell Orlando as the ideal location for meetings and conventions. It also reflects the significance of the properties, venues and services dedicated to this important industry in our destination."
Destinations around the world compete on a variety of factors including the accessibility of the destination and facilities for events, price and price flexibility, quality of facilities, quality of services, personal safety for attendees, and having a point of differentiation.
Cvent evaluated more than 5,000 U.S. cities featured on the Cvent Supplier Network to compile the fifth annual list. Activity was tracked from January 1, 2015 to December 31, 2015 and the ranking was then determined by a set of qualifying criteria consisting of:
Unique Request For Proposals Received
Awarded Request For Proposals
Percentage of Qualified Meeting Venues
Featuring more than 230,000 hotels, resorts and special event venues, the Cvent Supplier Network is one of the world's largest and most accurate databases of detailed venue information. It contains listings of hotels and other venues in more than 175 countries that can be searched and filtered based on approximately 200 characteristics and data fields. The Cvent Supplier Network is part of the Cvent Hospitality Cloud which provides hotels, CVBs, and other event venue owners a combination of event management software and marketing solutions to more effectively generate qualified demand for meetings and events, manage that demand more efficiently, and measure group business performance.