25 Apr, 2016
UAE-based hospitality company, TIME Hotels Management, is highlighting the impact it is making on local and regional communities at Arabian Travel Market 2016 thanks to an impressive roster of Corporate Social Responsibility (CSR) initiatives, including the recently-launched digital platform, Tomorrow's World (www.tomorrowsworld.ae).
The forward-thinking website makes it easy for hotel guests, and all those with an interest in building a better future, to stay updated on ways to make a difference to the social and environmental landscape in Dubai and beyond.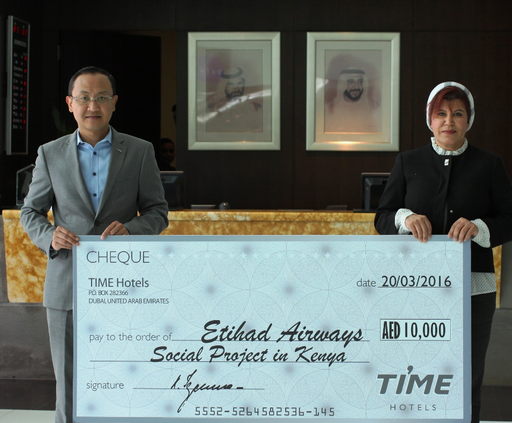 Launched in December 2015, the website contains a wealth of information about various activities and initiatives designed to enhance wellbeing in the workplace, community and environment. People can even use the portal to donate to special projects or volunteer their time to worthy causes.
"Over the years' TIME Hotels has been involved in a range of activities designed to give back to and support communities at a local but also on a global stage. Tomorrow's World is accumulation of this and a platform to ensure what we do today has a positive impact on the world, not just tomorrow but for future generations," said Mohamed Awadalla, CEO, TIME Hotels.
Extending its outreach programme beyond the UAE, for the first time, TIME Hotels has partnered with Etihad Airways on a charity initiative to support the development of three schools for underprivileged children in the remote areas of Kakamega County in western Kenya.
The Likuyani primary school, nursery and special needs boarding schools, which have a student capacity of 1,700, were handed over earlier this year after a 12-month program of building repairs and improvement work. TIME raised an impressive AED10,000 in cash donations for the cause through visitor donations in just three months.
"Our overall aim is to add value to people's lives and the community in general through a combination of cash or in-kind donations, education and employee engagement activities," said Awadalla.
Among the other activities undertaken by TIME Hotels include The Urban Garden project, which can be found at TIME Oak Hotel & Suites in TECOM, Dubai, and has attracted keen interest from organic food enthusiasts across the emirates. Managed in partnership with Slow Food Dubai, the garden educates people on how to grow their own herbs and vegetables in a challenging climate. Currently, thanks to the volunteers that work there, 14 types of vegetables and herbs are flourishing, with a selection of the harvest available to sample at the hotel's restaurants.
More than 50 team members took part in the three-kilometre-long Walk for Education organised by Dubai Cares in March 2016, while over 80 walked 3.5 kilometres in support of breast cancer research at Dubai Marina Walk last October. The initiatives are an extension of the group's Wellness Programme, which offers tailor-made seminars for employees on topics including stress management, top-to-toe physical health advice and support and nutrition counseling.
TIME has also participated in a Can Collection Initiative in partnership with Emirates Environment Group and, so far, has collected 28kg of cans which will all be recycled and reused.
TIME Hotels' flagship property, TIME Oak Hotel & Suites, recently became a member of the Emirates Green Building Council which was formed in 2006 with the goal of advancing green building principles for protecting the environment through the expertise of its members.
TIME will also be sponsoring Autism Day at the Al Noor Centre for children with special needs in Al Barsha on the 14th April. The team will distribute goodie bags to the 270 students at the centre which will include a doll of TIME's very own mascot, Alfie.
"We were recently awarded the Dubai Chamber of Commerce & Industry (Dubai Chamber) CSR Label Award which was a significant achievement for us. We are very much a community-focused company that is committed to diversity and equal opportunities and we look forward to meeting new milestones in our CSR story," added Awadalla.