1 Apr, 2016
London, ForwardKeys media release, via Tarsh Consulting, 1 April 2016 – The bomb attacks in Brussels have severely affected flight bookings to the Belgium capital, according to the latest data from ForwardKeys, which monitors future travel patterns by analysing 14 million reservation transactions each day.
In the days following the attacks on 22 March, net bookings – new bookings minus cancellations – fell by 136% when compared with last year.
Olivier Jager, ForwardKeys Co-founder and CEO, said: "Our analysis confirms what many must have suspected, that once again terrorism is having a fundamental impact on international travel.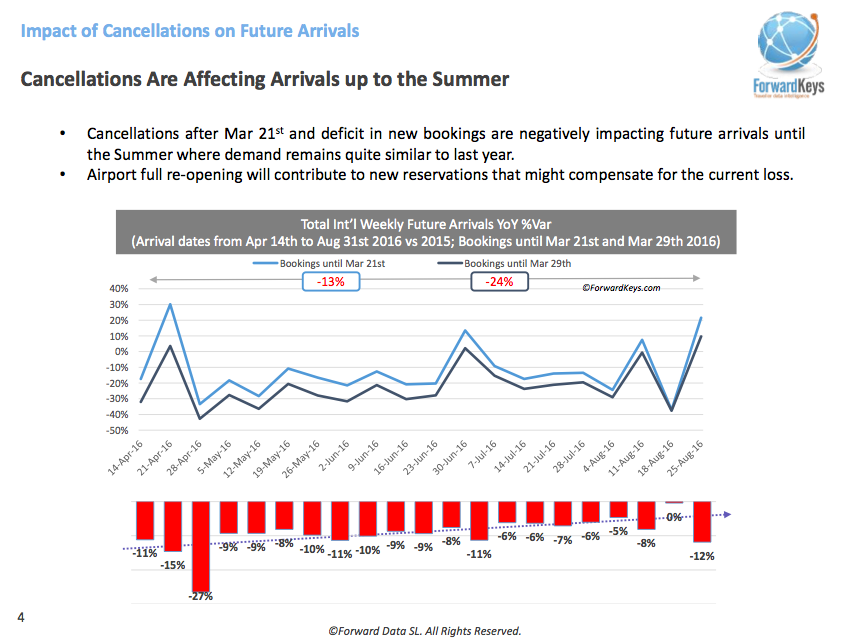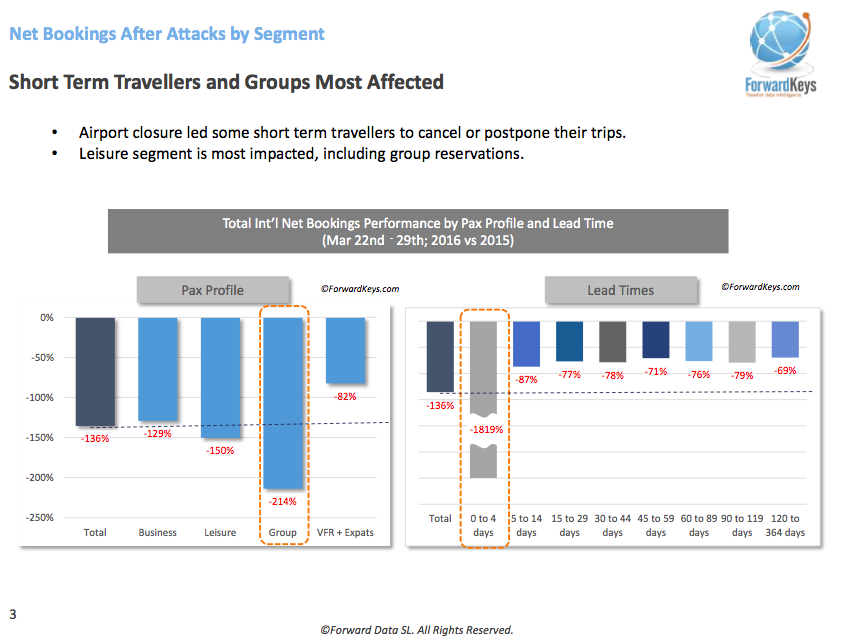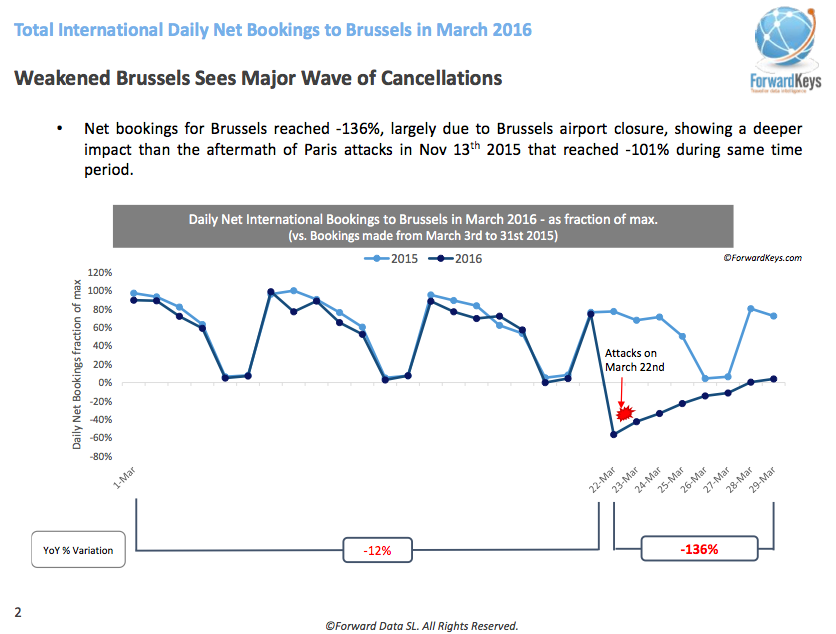 "The immediate effect of the Brussels bombings has been greater than the aftermath of the attacks on Paris in November last year when net bookings fell by 101%. This can be explained by the fact that the Brussels attacks led to the full closure of the city's airport."
After the initial wave of cancellations immediately following the Brussels attacks, cancellations have begun to return to last year's levels. The coming days will reveal whether this improvement is sustained. But new bookings remain very low, down 32% on the previous year, following the bomb attacks.
Olivier Jager said: "The recovery in new bookings is what will drive Brussels' arrival performance for the coming six months. It will require a fully functional airport and regained confidence from bookers, especially when arranging group trips. It's possible that the summer holidays might see more last-minute bookings as a result."
The segment hardest hit was group travel to Brussels, down 214%, together with the leisure segment (-150%).  But all sectors have been badly affected. Those planning immediate travel accounted for the biggest drop in net bookings.
Cancellations combined with the deficit in new bookings are negatively impacting future arrivals, until the summer where demand remains quite similar to last year.
The difference becomes narrower for the summer holidays and new or last-minute bookings could have a positive impact on this trend.
Looking ahead, from 14 April to 31 August, the biggest fall in flight bookings to Brussels is from within Europe, down 29% on the previous year. Asia Pacific is down 20% and the Americas are down 17%. By country, only China (up 38%) and Israel (up 23%) saw an increase in bookings. China is seeing resilient group bookings from provincial cities for arrivals in July and August. The figures for Israel can be accounted for by a shift in the Passover vacation, although there may still be cancellations to come.
Europe as a destination suffered from the attacks in Belgium with fewer overall arrivals than before the bombings – specifically for Istanbul (down 36%) Brussels itself (down 24%) and Paris (down 13%). This fall might be due to delayed bookings that could materialise when the situation is back to normal.
See the full data at: http://forwardkeys.com/revenue-management/article/brusselsmarchbombings.html