21 Dec, 2015
BEIJING, (Xinhua), 2015-12-20 — The ground was broken on Saturday for Chinese and Thai companies to build the first standard-gauge railway in Thailand, applying China's technology, standard and equipment, the China Railway Corporation (CRC) said. Earlier on Saturday, a launching ceremony was held at Chiang Rak Noi Station in central Thailand's Ayutthaya province, according to the CRC.
Chinese Premier Li Keqiang and his Thai counterpart, Prime Minister Prayuth Chan-ocha, sent each other congratulatory messages on the commencement of the cooperation project.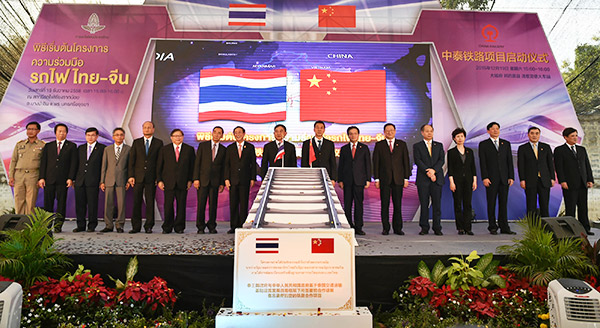 Officials from China and Thailand attend the launching ceremony of the railway project on Dec 19, 2015. [Photo/Xinhua]
The 845-km railway will allow trains to operate at top speeds of 180-250 km per hour, according to the CRC.
The whole project will be divided into four sections, namely, Bangkok-Kaeng Khoi, Kaeng Khoi-Map Ta Phut, Kaeng Khoi-Nakhon Ratchasima and Nakhon Ratchasima-Nong Khai.Chinese-built railways using advanced technologies are safe, reliable, flexible in application and cost-effective, said a CRC executive, hailing the launch of the project as a yes vote of the international community for the technological competitiveness and comprehensive advantages of Chinese-built railways.
The China-Thailand railway project, the negotiation of which was overseen by governments, will be jointly invested, built and operated by the two sides, representing a major experiment and creative move to let Chinese-built railways "go global," the executive said.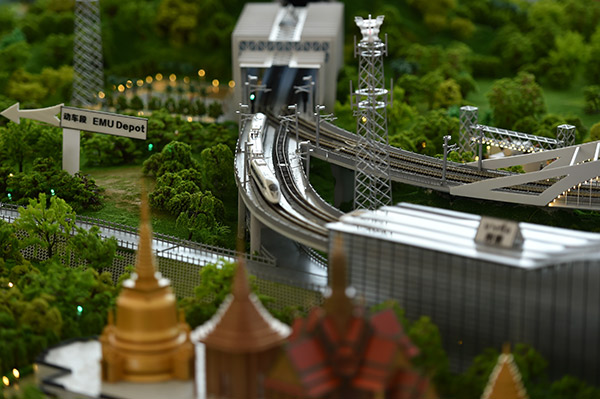 A sand model of the China-Thailand railway is on display at the launching ceremony held on Dec 19, 2015. [Photo/Xinhua]
The executive said the China-Thailand railway will be connected to the China-Laos railway, which would help promote exchanges and cooperation among the ASEAN members in trade, investment, logistics, tourism, science and technology, and culture.
The railway would also help improve transportation infrastructure, create jobs, and improve people's living standards in Thailand.Thailand-China cooperation in railway development will help Thailand make better use of its geographic advantages as a land transportation hub, and boost its economic growth, Governor of State Railways of Thailand Wutthichart Kalayanamitr said at the launching ceremony.On Dec. 19, 2014, Thailand and China signed a Memorandum of Understanding on railway cooperation under the Strategic Framework for Development of Thailand's Transportation Infrastructure 2015-2022.
Over the past year, the Joint Committee on Railway Cooperation between Thailand and China has held nine rounds of talks and reached broad consensus for the two sides.
NEW ERA FOR THAI INFRASTRUCTURE DEVELOPMENT
BANGKOK, Dec. 20 (Xinhua) — A project of railway cooperation between Thailand and China was officially launched on Saturday, marking an important milestone in both bilateral cooperation and the Thai government's pursuit of better infrastructure connectivity and resulting greater global competitiveness.
The project, Thailand's first standard-gauge double-track railway line, was launched at Chiang Rak Noi Station in Thailand's central Ayutthaya province, where the future Operations Control Center of the project will be located.
The 845-kilometer railway line, which is divided into four sections, will pass through 10 Thai provinces, including Nong Khai, Nakhon Ratchasima, Rayong, Khon Kaen, Chon Buri and Saraburi. It will use 1.435-meter standard gauge with trains operating at top speeds of 160-180 kph.
Thailand-China cooperation in railway development will help Thailand make better use of its geographic advantages as a land transportation hub, create job opportunities, raise the income of Thai people, cut transportation costs and promote economic growth, Governor of State Railways of Thailand (SRT) Wutthichart Kalayanamitr said at the launching ceremony.
Thai Deputy Prime Minister Prajin Jantong called the kickoff of the railway project"a good start"of the two countries'cooperation in transportation, saying it would improve the living standards of Thais, boost the competitiveness of the Thai economy and further propel the economic growth of counties and cities along the railway line.
Currently, Thailand's railway mileage totals 4,043 kilometers, including 3,685 single-track lines, with the average speed of passenger trains at 60 kph and that of freight trains at 39 kph.
The SRT is stepping up efforts to develop all kinds of railway projects, including constructing seven meter-gauge double-track railway lines from 2016 to 2021 and seven more afterwards.
The Strategic Framework for Development of Thailand's Transportation Infrastructure 2015-2022, which is formulated by the Ministry of Transport, has aimed at a rapid and efficient railway network so as to achieve better connectivity between Thailand and other ASEAN countries, reinforce Thailand's position as a regional hub and seek more development opportunities.
It was under the Strategic Framework that Thailand and China inked a Memorandum of Understanding (MoU) on railway cooperation on Dec. 19, 2014.
The Thai government has always been supporting and promoting the Thailand-China railway project, and wishes it to be quickly implemented and railway lines inside Thailand to be connected with those in the southern part of China as soon as possible, Thai Transport Minister Arkhom Termpittayapaisith said.
The Thailand-China project will not only be an important section of the Kunming-Singapore Railway, but also part of the preparations for ASEAN economic integration and a bridge that connects economies and peoples, Arkhom noted.
The railway project will use China's technology, standard and equipment, with the Thai side responsible for civil works, power supply engineering and part of construction materials and transportation facilities.
The Chinese side will undertake construction when it comes to tunnels, certain bridges and mountainous terrain, as well as track engineering, signaling and communication systems, traction power supply system and control system.
Relying on its own experience in railway construction and advanced technologies, China will help Thailand cultivate technical and management personnel, and enhance its capabilities for pursuing further railway development, said Wang Xiaotao, deputy head of China's National Development and Reform Commission.
Thailand needs a lot of investment and technology from China to be able to proceed with its railway development, said Sumet Ongkittikul, research director for transportation and logistics policy under the Thailand Development Research Institute.
Thailand stands to gain from its railway cooperation with China, Sumet said, adding it will be beneficial if China's technologies can be transferred to Thailand.
Undoubtedly, the Thailand-China project will bring about prosperity and new economic belts along the line, commented Dr. Kanit Saengsuphan, a Thai finance expert.
It is now necessary, Kanit suggested, to start drafting plans for future economic growth in regions along the line in order for them to better adapt to changes brought by the railway development and achieve optimal benefits.