12 Jul, 2015
Harlingen, Texas (PRWEB) July 06, 2015 – The Path of Least Resistance: The Evolution of Capitalism and Politics in America is a thought-provoking look into the economic transformation associated with the U.S. economy over the past 40 years. The book explores the evolution of the global economy and the macroeconomic consequences associated with its use. In many ways, the book is a time capsule that chronicles the economic development of the United States — from its birth to the present day. It examines the socioeconomic, political, and geopolitical issues confronting our nation today.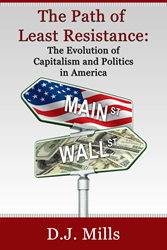 The present-day global economy model has fundamentally transformed America's past perception of wealth creation. Given the economic effects of outsourcing, business consolidations, and offshore tax havens, the U.S. economy has become largely subservient to the needs of corporate America and its lobbyist friends. In years past, "Made in the USA" still meant something to this nation and its leaders in government. Today, this label is nothing more than a fleeting memory.
It is somehow ironic, when one looks back, the economic transformation the United States made during the twentieth-century. America's Industrial Revolution helped foster an industrial juggernaut that promoted domestic production and a growing middle-class sector. Its economy would revolutionize new products and ideas that would transform the world. Unfortunately, the evolution of the global economy would change all this. The repercussions would include mounting domestic job losses, escalating government spending, and a spiraling national debt. Its most enduring legacy would eventually result in the redistribution of wealth abroad.
The author examines the various economic, political, and geopolitical factors that have reshaped the underlying fabric of our nation. These topics include national debt, health care, entitlement programs, political parties, and the role of government in commerce, among others. Another issue that will be discussed is the growing role the United States has played in global geopolitical affairs. More importantly, the United States has become a nation without effective leadership, with no discernable goals or ambitions. These subjects are all indelibly entwined with one another and the future prosperity of this nation.