20 Jul, 2015
Bangkok – One of the most poignant moments in this deeply sensitive yet highly entertaining film comes when one of the principal characters, a Pakistani journalist, tries vainly to sell local TV channels a powerful human interest story about a well-meaning fundamentalist Indian Hindu trying to reunite a lost Pakistani Muslim child with her parents. After getting three brush-offs, the journalist's despairs: "Hatred sells, but not love….." Then, he sticks it into the TV channels by uploading the footage on to YouTube, which goes viral. The message to the mainstream media is clear: Rethink the famous media dictum, "If it bleeds, it leads."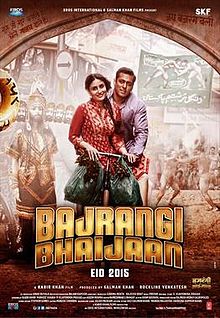 Just released globally over the Eid Ul Fitr weekend, "Bajrangi Bhaijaan" takes the lead in encouraging exactly such a rethink, and at a much wider level. Now attracting record audiences, it is a remarkable movie. In 159 enthralling minutes, it sends a raft of social, cultural, religious and geopolitical messages, all designed to promote peace and positive vibes between two countries which have been at fruitless loggerheads for several decades, with no end in sight. After years of portraying Muslims as violent terrorists, finally comes a film that puts them in a positive light. The fact that it is a box-office hit proves another point: In a world where the public is bombarded by depressing, stressful news about violence and mayhem, telling uplifting, morale-boosting stories can be good for countries, communities and peoples as well as for corporate bottom-lines.
Underscoring the importance of global film-makers as peacemakers, the movie depicts grassroots, barrier-free humanism at its best. The chief character is not Salman Khan, the muscle-bound Indian superstar who usually plays macho roles, but an angel-face, six-year-old girl who is mute and thus cannot say how she got separated from her mother, nor where she comes from. As a plot, it is totally incredulous. As a script, it is a beautifully-written fairy-tale, brought to life against a background of hardcore realism by a deft director and awesome cinematography.
Indeed, it is the combination of script and cinematography which triggers reflection about the puzzling paradoxes of human life. Kashmir, one of the most wondrous pieces of planetary real estate, is being ruined by an entirely man-made confrontation. The film begins with spectacular aerial photography of the Himalayan mountains and ends with the same scenery, except that the final shot shows a breath-taking Kashmiri valley divided by an ugly scar of barbed wire fencing.
Even though common bonds of humankind can be ripped apart by the minutiae of dietary differences and visa curbs, cultures CAN transcend conflict. Pavan, the fundamentalist Hindu who cannot even get himself to utter the word "Muslim", accomplishes his humanitarian mission and exits Pakistan with a perfectly-executed Islamic adaab. The little heroine, Shahida, cries out the Hindu mantra, Jai Shree Ram, as she farewells her benefactor. The heart-warming scenes will make your hair stand on end. On both sides of an artificial border, a limitless reservoir of humanity, peace and friendship is waiting to burst forth if man-made barriers come down.
India is making great movies these days. Many, "Bajrangi Bhaijaan" included, have subtle political messages. The present government is trying to replace India's secular, multi-cultural fabric with an extremist Hindu agenda. The Prime Minister, Mr Narendra Modi, was formerly the chief minister of a state that witnessed one of the country's worst anti-Muslim pogroms under his watch. The Indian justice system cleared him of all charges, and the people of India elected him prime minister on the promise of "development." Seeing this as proof that the gods are with them, Mr. Modi's close compatriots in extremist groups such as the RSS and Vishwa Hindu Parishad (VHP) are working behind the scenes to convert India into a Hindu rashtra. Just as the former Mughal rulers of India discovered too late to avert their downfall, trying to homogenize India's multi-cultural fabric is a recipe for disaster.
"New wave" Indian film-makers are openly trying to sound the prevention-over-cure alert. Indeed, the movie highlights faults and goodness on both sides. The public is invited to look beyond individual caste, colour or creed, and reflect deeply on which path offers the best way forward – perpetual communal conflict or win-win camaraderie.
"Bajrangi Bhaijaan" offers clear evidence of how Hindu-Muslim mergers can generate some marvellous fusion music. The lead actor Salman Khan is the product of a real-life Hindu-Muslim union. The lead actress Kareena Kapoor Khan, is a Hindu married to a Muslim. The director, Kabir Khan, is a Muslim married to Mini Mathur, one of India's most prominent TV hosts. The story is credited to K.V. Vijayendra Prasad, a Hindu. The script was written by Kabir Khan, K.V. Vijayendra Prasad, Parveez Shaikh and Asad Hussain. The Indian thespian actor Om Puri does a stellar job as a Muslim maulana.
Cited in the thank-you list of credits was yatra.com, a popular Indian travel website. I join in complimenting yatra.com for its support. Travel & tourism forums would do well to invite its owners and management executives to talk about why they backed this movie. In fact, it makes perfect business sense. If peace prevails in the Asian sub-continent, just the cross-border visitor flows between the two countries will send the UNWTO's annual visitor arrivals count to two billion in no time. Broadly speaking, industry conference organisers need to jettison social-media and branding gurus, useless futurists and boring economists from their speakers' line-up and replace them with film directors, artists and socio-cultural thought-leaders who can help redefine the meaning of "asset value."
This movie resonated deeply within my psyche. I am a Muslim, born in India, owe my education to a Christian missionary school and now eat the salt of Buddhist-majority Thailand. My mother is a naturalised Pakistani by second marriage. My best friend is a Parsi. Some of my closest professional colleagues are Sikhs. In an increasingly globalised world, I am no longer a rarity. However, I am unique in claiming to be the only travel journalist to have visited the holy spots of all the world's religions – Varanasi, Bodhgaya, Lumbhini, Jerusalem, Amritsar, Makkah and Madina.
I am also the grandfather of two twins, aged 19 months as of today. Like the entire caste, crew and makers of "Bajrangi Bhaijaan" and millions of parents and grandparents, I seek a better world for this emerging young generation. Eliminating man-made geopolitical conflicts, as evidenced by the Ramadan nuclear agreement between Iran and the Five Powers, is the best way of eliminating what I first referred to as "the other global warming." More such movies will play a major role in advancing that win-win agenda.