19 Jun, 2015
Phuket, June 18, (Royal Phuket Marina media release) – The Royal Phuket Marina has announced a five-year five billion baht (approx. USD150 million) investment plan under the new campaign #DestinationRPM, which includes two hotels, a low-rise condominium development, a first-of-its kind water facility, marina expansion and the addition of a state-of-the-art RPM Children's Zone, with the aim to position Royal Phuket Marina as a leading destination in Asia.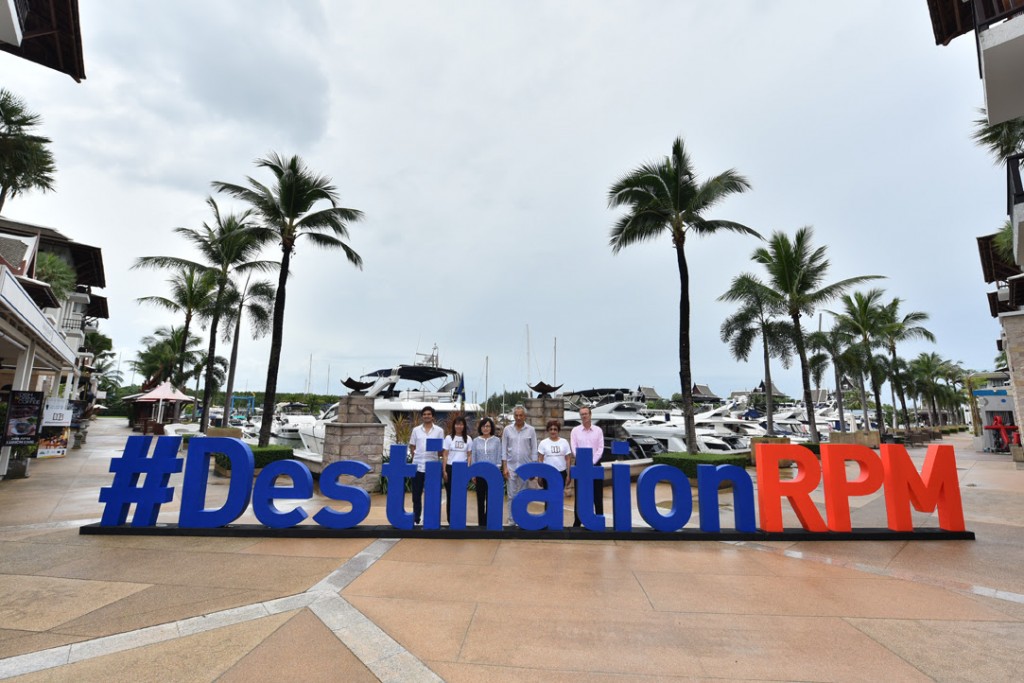 Covering approximately 200 rai and with just a third developed so far, the site is prime for additional development.
"The planned investment over the next five years is part of my vision to make Royal Phuket Marina an iconic waterfront lifestyle destination. Under our #DestinationRPM campaign, Royal Phuket Marina will become a destination in its own right – a thriving residential and business community, and a destination that will support Phuket tourism attracting visitors from around the world," said Mr. Gulu Lalvani, Chairman of Royal Phuket Marina.
The investment will be in four main areas:
Hotel Development – Over 600 rooms are planned to be added to Royal Phuket Marina over the next five years; first is a 129 key design hotel, a joint venture with an experienced Thai hotelier that will be launched mid-July; second is a 500 key hotel with a theme pool and its own private beach which will target Phuket's growing family segment. Discussions are underway with a number of international hotel management companies and the operator is expected to be announced in second half of 2015.
Real Estate – La Reserve is a modern low-rise condominium developed under the concept of "Affordable Luxury". With a total of 160 units in eight four-storey buildings located near the Town Square, each building has just 20 units and a private sky pool. La Reserve will cater to Phuket's under supplied serviced apartment niche and offers an exciting opportunity for Thai and international investors with a five year guaranteed rental return.
Marina Expansion – Royal Phuket Marina will introduce a revolutionary world-class dry stack system, the first of its kind in Thailand, whereby boat owners can store their luxury vessels under cover, protected from the elements, as you would with a Rolls-Royce or Ferrari. A concierge service will ensure boats are in the water and ready to go anytime, upon request of an owner. The expansion will increase marina capacity to 250 boats.
RPM Children's Zone – To be developed at Royal Phuket Marina. With a design and operating team of over 15 years experience in setting up and operating children's clubs around the world, the club will consist of play areas, climbing frames, a purpose built jungle gym, slides, ball pits and swings, and will be for children up to eight years old. Parents can count on professional child-care services with safe and professional supervisory care, while they enjoy all the facilities of the marina.
"Phuket's visitor demographics have changed considerably over the last 10 years. More tourists are looking to the east coast and to new destinations. Approximately 1,000 tourists and residents use the marina's facilities every day. Our marine leisure facilities and central location makes Royal Phuket Marina the gateway to more than 30 islands all within a one hour boat ride," said Mr. Lalvani.
Mr. Lalvani added, "After studying the marketplace, we have identified the need for quality serviced apartments on Phuket. La Reserve condominium will cater to that niche and provide an ideal residence and investment for Thai and international buyers. Complementing La Reserve are two new hotels, each unique in their concept, design and target market, and which together will provide more than 600 new rooms underscoring Royal Phuket Marina's drive to become the top destination in Phuket."
The award-winning marina is complemented by a collection of luxurious waterfront villas and condominiums, a plethora of dining and shopping options along the marina boardwalk, and Phuket's largest Exhibition and Conference Centre.
The investment plan will secure Royal Phuket Marina's position as the premier lifestyle destination in Phuket for residents and visitors, and an iconic waterfront lifestyle destination in Asia. #DestinationRPM