18 Apr, 2015
Beijing, (China Daily) 2015-04-09 – Companies need to take personal concerns into account when advertising for staff, because job hunters in China now think a work-life balance is as important as a higher salary, according to a survey from human resources firm Hudson Global Inc.
The Hiring Report 2015 said that 61 percent of the 1,262 Chinese mainland professionals it surveyed listed a work-life balance, including flexible arrangements, as the most important element in a new role.
This is the first time in the survey's history that work-life balance features among the top three elements of a job, second only to getting a higher salary (66 percent).
Different ages put different emphasis on a work-life balance. It was the top priority for employees aged 36 to 50, being cited by 62 percent.
This age bracket is the peak time for family responsibilities, which range from child rearing and family finances to caring for elderly relatives. But it is also an important phase professionally, thus making the work-life balance so important.
Professionals aged 20 to 35 show relatively little concern over this issue, presumably because they are still at the preliminary stage of their career, seeking higher payment and promotion.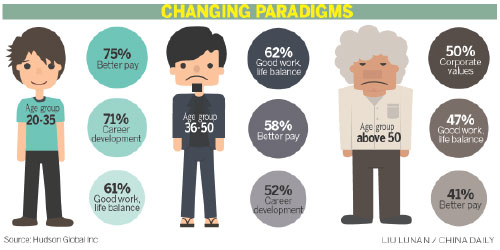 For those over the age of 50, work-life balance is the second-most important issue, because they believe that suitable company values are the key thing for those nearing retirement.Working overtime is quite common in some multinational and private-sector companies, especially for the marketing, sales or accounting departments during peak seasons. Some of these companies are located on the outskirts of a city, said Bi Lin, joint general manager of Hudson in Shanghai.
"Therefore, it is now the usual practice for companies' human resources departments to give employees the flexibility of working from home one day a week. It is also fine for the employee to make a conference call from home. Overtime payment is also provided."Work-life balance tops the wish list among senior executives, with the majority (57 percent) saying this is the most important element, especially when they are looking for a new role.
Ying Demin, 43, general manager of a multinational consulting firm in Shanghai, said that he has been trying hard to strike a balance between work and life since he turned 40. Prior to that, he used to work nearly 100 hours per week and make business trips during the weekend so that he could be in the office on weekdays.
"My health has been affected. I need to slow down and do some regular exercise. But more importantly, I would like to spend more time with my family. I don't want any more weekends made up of flights, trips, phone calls, meetings or e-mails, and I don't want any more week nights taken up with dinner meetings.
"Taking my family for a drive and savoring the Sunday afternoon breeze at a cozy cafe is life to me now. I will also try to take a short vacation every three months with my family so I can spend more time with them," he said.
But Max Ma, chief operating officer of multinational human resources company FESCO Adecco, said that there is still a huge gap between employees' expectations and actual conditions.